There was still a slight haze in the air at first light this morning, but the temperature has been climbing again. Today will probably be about 1° cooler than yesterday, and the temperature range will follow a similar pattern to yesterday. Also like yesterday, it seems that it will be another very grey, overcast day. The afternoon temperature should be 12° C. Tomorrow, the last day of the year, will be another degree cooler than today, and once again the sky will be covered in dense, 50 shades of grey, clouds.
Yesterday was a surprisingly busy day. I finished writing yesterday saying I was thinking about going out to take some photos. I did, and I ended up walking a lot further than I ever thought I might. It was essentially a train spotting expedition, although I took few pictures of trains on my travels. I started out walking very carefully to the station, avoiding all the Triffid tendrils waiting to trip me up, and I arrived there safely. I also got there feeling sort of good. Once again the fresh air seemed good, and my legs seemed to be working well - probably a lot better than the rest of my body.
My only major discomfort was when sitting down on the train. As I sat down the leg of my jeans rubbed against the damaged bit of my knee, and it was bloody uncomfortable for a few seconds before I pulled the leg up a bit to give more room inside it. That was the last time my injuries gave me any trouble while I was out and about. My first destination was New Beckenham station, just 3 stops away from Catford Bridge. Prior to 1866 the station was a further 100 to 200 yards further to the south. Until about 10 - 15 years ago the old station house still stood, but the house was demolished, and the land, along with an extensive area of garden, was built with little modern houses. Part of the old platform face still exists to this day, and it was that I wanted to photograph.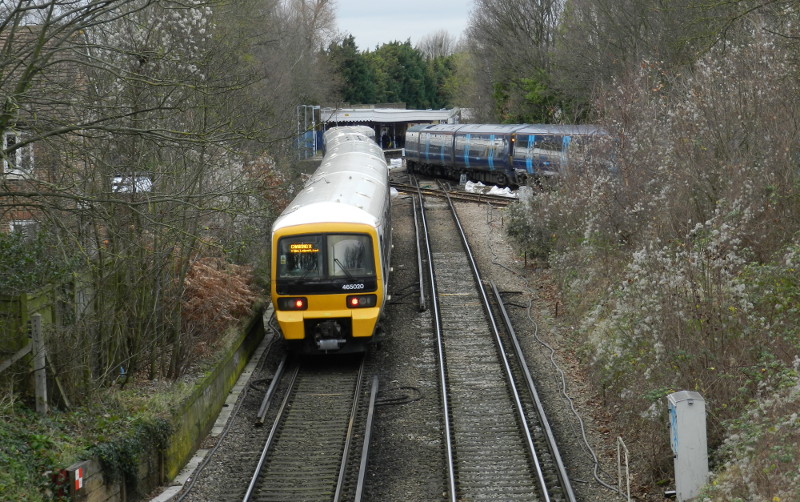 Even though the station is visible just a few hundred yards away, it is a bit of a walk to get to the road bridge that crosses the railway, and gives the best view of the old platform face. It was pure serendipity that my arrival there was a good time to include two trains in the picture. The old platform, disused since 1866, can be seen on the left of the rear of the white train. That is the Charing Cross service, and will be calling at Catford Bridge on it's way there. The blue train in the distance is a Charing Cross to Hastings service that has been diverted because of engineering work. The spur hat branches off to the right goes to Beckenham Junction.
An aerial I had seen suggested it would be easy to get to the fence at the back of the disused platform, but reality showed two big problems. The fence turned out to be far more substantial than a simple wire link fence, and worse than that was that the estate has big gates across the access road. It is possible the side gate may not have been locked, but I couldn't be bothered to intrude, and carried on walking. It was quite a long walk, although probably less than a mile, to my next destination - Kent House station.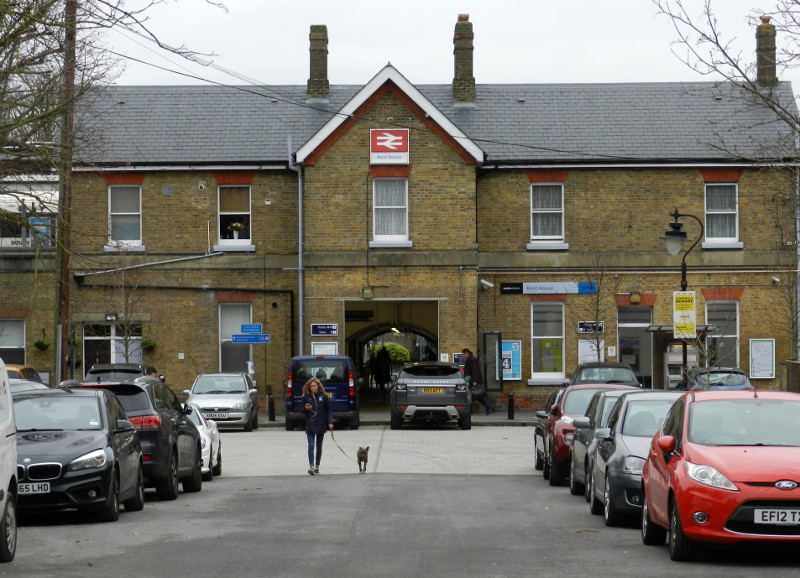 Kent House station is a big and busy station with four platform faces. I didn't actually go up to the platforms, but I walked through the subway/tunnel from one side of the station to this side of the station. The building seems to be in good repair, and well looked after, although the biggest improvement is the access road. The last time I was there, maybe two years ago, like many back roads in Beckenham, it was not asphalted, and was just gravel. It gave it a nice rustic look.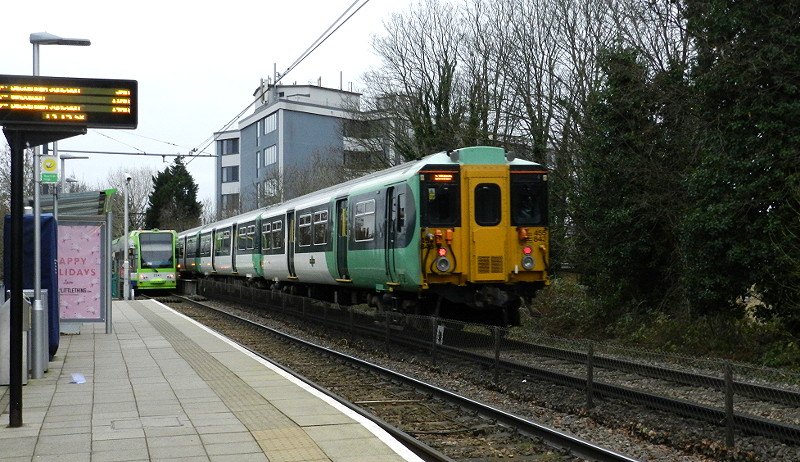 From Kent House station I walked all the way to Beckenham Road tram stop. Once again, and with no planning, my timing was just right to take a snap of the tram to Wimbledon just leaving the stop as a Southern "heavy rail" train from Beckenham Junction was passing on it's way to Crystal Palace, and probably Victoria beyond that. Four minutes later a tram came from the opposite direction to take me to Beckenham Junction.
At Beckenham Junction I was more or less ready to go home, but I opted for a little more sight seeing, and an idea for a specific destination. I went to the bus stop for a 54 bus to Elmers End. It gave me a chance to check that after all the years of digging up the high street, and the buses being diverted, everything was back to normal. It was, and it seemed a quite smooth, and fast ride to Elmers End. The speed was critical if I didn't want to have a long wait for the next train to Catford Bridge. While the bus wasn't actually going fast, it sort of surprised me how quickly we arrived at Elmers End, and instead of having to run for the train, I had a good 5 minute wait for it.
The whole idea of going to Elmers End, and getting the train back to Catford Bridge was that I could exit Catford Bridge station just a hundred yards from the new Sainsbury's Local shop. I went in there and bought a few of their excellent salads as well as a couple of whole meal "subs". Once I got home I ate them in the wrong order. I ate the rolls first. I should have saved them for later in the evening because they seemed to slow me down a lot.
I had a very relaxed afternoon, and early evening, and I wondered if I would ever find the enthusiasm to get out to the gig I wanted to go to. Fortunately I did, and so I set out into the dark roads of Catford, keeping a wary look out for any marauding plants as I walked to the station to get the 8.37pm train back to Elmers End station. The Elm Tree pub is just a 4 or 5 minute walk from the station - when you are feeling fresh !
When I got there I was greeted by a very intrusive "security operative" who wanted to search my camera bag. I decided to play games with him by initially refusing with a big grin on my face, but I then relented. The odd thing was that my stark, but cheerful refusal must have started his brain working. I had barely open the zip enough to show the camera inside when he said "are you with the band ?". I said yes, and he quickly let me through and apologised "but it was just standard security". I told him he was a trouble maker, but I did it with a grin.
Once inside the pub I was greeted by Miranda who gave me a big hug. That was a good start. A short while later, after he finished fiddling with his guitar, Brian stepped down and shook my hand. He would later buy me a pint of Guinness just as I was about to leave after the first set was finished. The only sad thing was that Angela couldn't make it because lover boy was feeling "frail". A whole month or more has gone by since he was released from hospital after a far more minor operation than the one I had, and he is still feeling frail. I can't help but think it was just an excuse not to go to the gig because he had a falling out with the band the last time they played, and he muscled in as a percussionist. Evidently he laid it on so thick that Angela didn't want to leave him and go out by herself to support her daughter singing.
Even without Angela it was an enjoyable evening, and breaking all recent tradition, I didn't leave until after 11pm, although as I have said, getting an additional Guinness from Brian did delay my departure by an extra half hour (the trains were only half hourly). So I got to see 2 or 3 more songs from the second set before I took a stroll to the station. It did seem very slightly tiring as I walked to the station. It was partly because the walk to right side of the station to go home means walking up and over the humped road bridge, and partly just creeping fatigue.
My train arrived on time, and I was soon on my way back to Catford Bridge. When I got there my legs were beginning to feel very heavy, and just walking over the footbridge seemed a bit like hard work. Despite eating those couple of big and heavy rolls from Sainsbury's in the early afternoon (which I could blame for my increasing fatigue) I couldn't resist getting a couple of chicken burgers and fries on the way home. I guess I can blame 4 pints of Guinness for that.
I walked as fast as my legs could carry me from the fried chicken shop to home, but it seemed annoyingly slow. It was nice to get home, and tuck into my food. Once I had degreased my fingers I reviewed some of the pictures I took, and even transcoded one of the bits of video I shot. I think I have a good selection of pictures to make up a photo album of the gig, and that will be my main pre-occupation today. Some of the video I shot came out really well too. The video feature option on my Canon EOS 600D has rendered all my camcorders totally obsolete !
It was about 1am when I got to bed last night. I can't decide if I slept well or not, but I do know that I would have loved to have spent a good few more hours in bed, and asleep. I feel rather tired this morning. Initially my chest was hurting too. I remember turning over in bed and hearing that crunch as something gives way in my superstructure, and on this occasion to was a bit painful, and had to shift my position a bit sharpish ! Apart from yawning at an industrial level, I seem to mostly feel OK now - although I am sure I can change that if I make a stupid move !
As I said, my main job today is going through the pictures I took last night, and tidying up the best of them. I also want to have a few extensive snoozes, and I think I want to to Aldi at some point. I think that seems enough for one day. I'll finish with one more picture. It is probably because we have had a mild start to winter that these fungus, seen a few tens of yards away from the exit of New Beckenham station, are flourishing. In honour of the famous painting by
Van Klomp
, I have named this fungus "boobies".