The newest revision to the weather forecast seems to be identical to the screenshot above. It's looking like today could be even sunnier than yesterday, but once again the top temperature may only be 11° C, and that only for a couple of hours. It may feel slightly warm out in the sunshine, and behind glass it may even feel a bit hot, but outside in the shadows, it could feel quite chilly. Once the sun sets the temperature will quickly fall to about 7° C. Tomorrow is looking like a cold and grey day, and the day after looks like it will come very close to snowing. Rain is forecast, and the temperature is forecast to dip to just 3° C. That sounds like a recipe for sleet !
I seemed to have another relapse yesterday. In the morning I seemed to throw off most of the effects of sleep OK, and I wasn't feel too bad. I had hoped that like most mornings I would continue to improve once I started doing stuff. By 11am I was brewing the idea of going out with my camera. I had decided to aim for Southminster in Essex as a final destination. The station there is on a single track branch line, and could have presented some possible interesting photo opportunities. It took a little while to get ready, and I didn't get a train until 12:04. That was a bit later than I prefer to go out, but I thought it was OK for a quick outing. I would probably get back home in darkness, but there would still be plenty of daylight at my destination.
As I walked to the station I found I didn't feel that good, but on the other hand I didn't feel
that
bad, and so I pressed on. I was still trying to work out how good or bad I felt when I got as far as Cannon Street station, but the descent from the mainline to the underground presented no problems. Neither did my exit at Liverpool Street station into the main concourse. It was there that my mind was made up for me. Engineering works meant there were no trains going through Stratford, and I hadn't gone all that way to mess around with a replacement bus service.
I could have thought of a new destination, and indeed I do have a desire to visit the Henley On Thames branch, over in the west, someday, but not yesterday. What I decided to do was to go cheese spotting instead of train and station spotting. After I had commented that that the International Cheese shop at Liverpool Street seemed to be no longer in existence, the last time I was there, I was reliably informed that it was, but it was now upstairs from where it used to be. In fact it is still downstairs, but hidden down what could be described as an alley at the side of Boots the Chemist.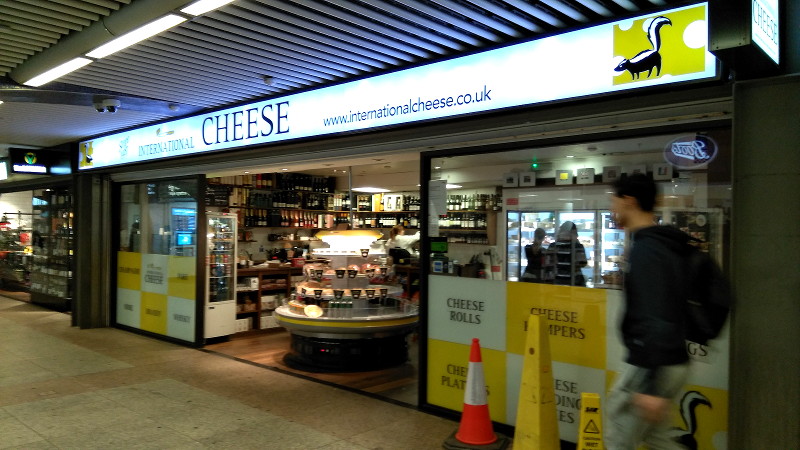 One thing I had forgotten, or maybe it was a new development because of higher rents and taxes at their new location, is just how expensive the place is. There was one particular cheese I wanted, and it was not a particularly exotic cheese because it only comes from Wales, and not the deepest jungles in Peru. It was Y-Fenni cheese, and it is like a soft Cheddar cheese infused with cracked mustard seeds. You could almost get the same taste by smearing Cheddar with mustard - almost the same taste, but not
the
same taste !
I bought a fairly big lump of it, and it cost £9. A similar sized bit of Cheddar in the supermarket would have cost half, or less. I also bought a little piece of Sage Derby cheese, and that was similarly extra expensive. I suspect I could bought both online for less money, but the deed is done now, but next time..... Maybe the important thing is that both cheeses were delicious, and I bought enough to last a good few days if I am careful. I have been eating them on dry rice cakes. The rice cakes are almost bland, and so you get the full flavour of the cheese.
With my cheese spotting task accomplished I decided to retrace my steps and head for home. I didn't feel bad, but I didn't feel like rushing around at that point. It was after getting off the tube train at Cannon Street that I suddenly felt exhausted. It was a great temptation to get the lifts up to the main mainline rail concourse, but I resisted the temptation. By the time I had walked up the stairs to ground level, and then up the stairs to the level of the trains, I felt completely shattered. It was as if I had walked 10 miles or more. I felt rather glad that I had been unable to travel into Essex, and was on my way home.
Once I had stopped climbing stairs I recovered a lot, but I did no fast walking all the way home. Obviously the first thing I did was to sample my cheeses. Once I had eaten my late lunch (it must have been 2pm by then) I laid on my bed to quietly read, and within 20 minutes I was fast asleep. I possibly slept for as much as a full hour before waking up again. I felt better for that sleep, but not so good that the idea of going to a gig later in the evening didn't even register on my conscious. I spent the next couple of hours catching up on some internet stuff.
I had been looking forward to a takeaway last night, but when it came to it I found I wasn't looking forward to one after all. I went for the simpler option of heating up the Polish "picnic sausages" I had bough recently. I had them with some overcooked baked beans. Overcooking them was deliberate, and it worked as I hoped. I microwaved those baked beans for a full 10 minutes, and they came out deliciously soft and squidgy, and with the sauce reduced to a very thick consistency. In fact they came out very like the Co-Op baked beans that I used to love in the 1980s.
The beans and sausages, with some English mustard, were very nice. I probably ought to have eaten less than the whole pack of the sausages though. I think there were just 4 of them, but they were quite big, and being already cooked, they didn't shrink when I cooked them more. After eating them I came over feeling very weary. By 8.30pm I felt ready for bed, and so I brushed my teeth, and went to bed. It didn't seem to take long to fall asleep, and once asleep I seemingly slept well.
It was sometime between 10pm and 11pm when I woke up, and I felt sort of refreshed. I got up long enough to check a couple of things on my PC, and then, perhaps half an hour later, I went back to bed, and was soon asleep again. I probably woke up every 2 or 3 hours after that, but I can't be sure that at least once or twice when I thought I might have woken up it wasn't just a dream. It was almost 12 hours after I first got into bed that I finally got up again properly. I would be very surprised if I got less than 9 hours sleep last night, and it seems I needed all of it. Even now it feel like that if I went back to bed I could sleep for a bit more.
This morning I woke with the usual pain across the top of my chest. It is still there now if I care to provoke it by, for instance, stretching. Maybe a few assorted muscles feel tender too. I can't believe I have had another relapse into 'flu, and I conclude I have some other disease affecting me. I think that some of these ailments remind me of some cancer symptoms. That could be interesting. Maybe I'll finally get around to seeing a doctor for my medication review next week, or the week after, and I'll see what he thinks.
In between times I have carried on scanning old negatives. When I first got my Practika Super TL SLR camrea I was keen to try all sorts of stuff with it. I hoped to do some wildlife photography, but I hardly went out except to work, and that limited my opportunities, but there were a few in my back and front gardens. This picture of a butterfly was taken in my front garden. It wasn't bad for an early attempt.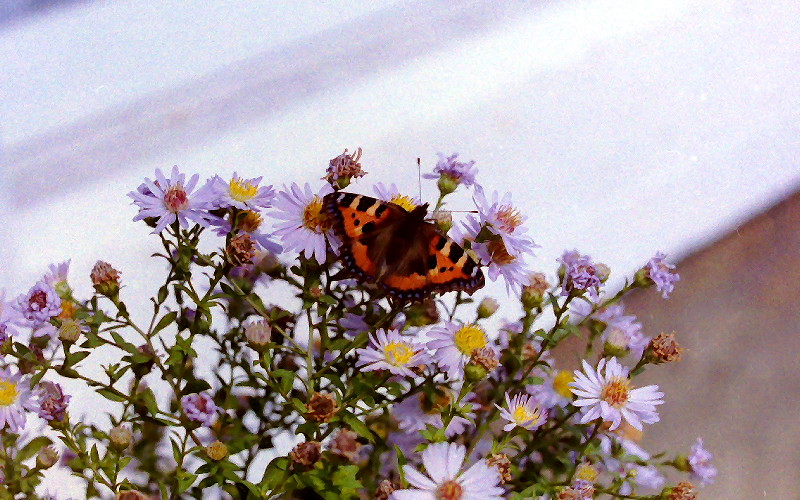 I was fortunate to have a sort of girlfriend in those days, although my relationship with Marion was never what I hoped for. However she was happy to model one of my home made tie-dyed t-shirts for me. In fact I think she added it to her wardrobe, and wore it several times. It looks like she has had several glasses of wine in this snap !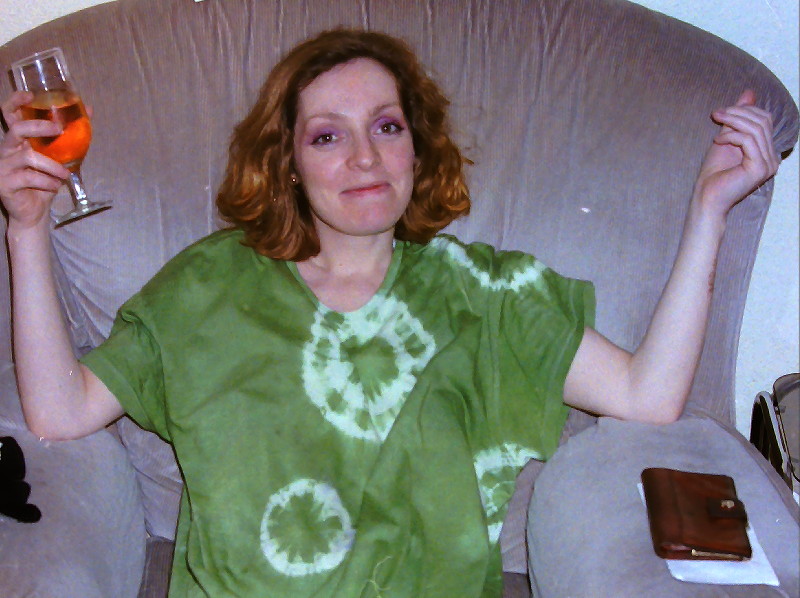 Today is Sunday - the most boring day of the week. Well maybe that is good because I don't feel like rushing around today, but than again, I don't fancy being bored either. As yet I have no plans for today except for a nagging idea that it would be criminal to waste today's sunshine - very much so considering it looks like we are heading into some very wintry weather in a day or so. Next Sunday there is a gig in The Black Cat, but no such fun today. Maybe I'll try and do something with some of the old video clips I digitised recently, and maybe if my camcorder is behaving itself again, I will digitise some more video. In the meantime, I sort of fancy a snooze !