The forecast says we should be seeing sunny intervals right now, but I can barely read the forecast without turning the lights on. It is so grey outside that I would not be surprised to see snow falling ! The chance of any sunlight piercing the dense cloud seems as close to zero as zero itself. Maybe some miraculous parting of the clouds will happen in the next few minutes, but I rather doubt it. In the meanwhile it is
almost
as cold as forecast - my thermometer actually says 4.5° C. As usual, the forecast seems to have got the temperature right, but the amount of cloud wrong. Only by tomorrow will we know what today's weather was like. Dense clouds are forecast for tomorrow, and it should be a little less cold. The afternoon high is currently predicted to be 8° C.
Yesterday was a day of two halves - just like all days, except these halves were rather different. In the morning I had the excitement of my lunchtime date with Angela to look forward to. Soon after I finished writing yesterday I got a reply to my text message. She confirmed she was looking forward to meeting me at 1pm in the usual place. Before doing anything else I gave myself a good scrub under the shower, and washed and conditioned my hair. It was while doing this that I had my second scare of the year.
My first scare was on Thursday as I was getting ready to go out for my late afternoon Thursday drink. I was putting on my jeans, and the belt seemed unusually tight. That seemed so wrong considering I had been modifying my eating in the direction where my belt should be getting looser. It wasn't until I sat down on the train, and found I was very uncomfortable, that I realised that my belt had a big twist in it. Once I was able to discretely undo the belt, get the twist out, and do it up again, I found that it was probably looser than before. It is possible I have lost as much as a half inch around my gut, but maybe a third of an inch is more realistic.
My scare yesterday happened after I had finished under the shower, and I was towelling myself dry. I glanced down and saw what I initially thought was a big dribble of blood down the outside of the bathtub. I had to do a double take before realising it was some spilled Sweet Strawberry flavour shampoo. It must have dripped off my hand when raised it to get it on my head. That stuff is bright red, and although transparent like blood isn't, it does look remarkably like blood.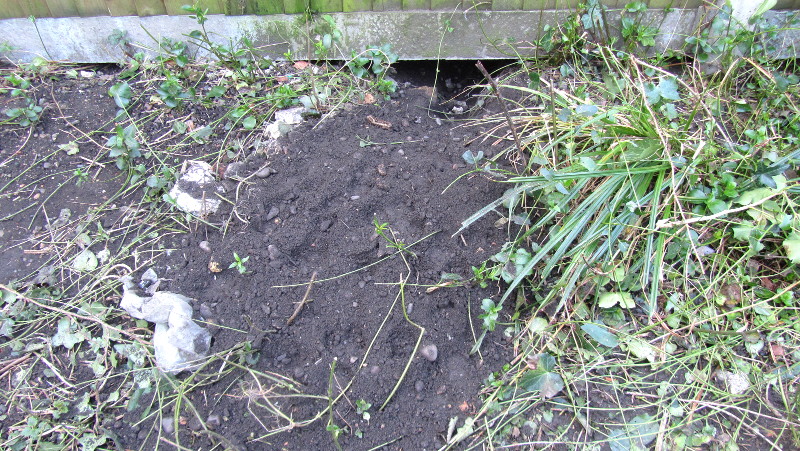 Before I left to go and meet Angela I looked out the kitchen window and noticed a lot of freshly dug earth outside the hole into the old fox earth that starts under my garden fence, and disappears somewhere under next doors garden. I assume the Mrs Fox is clearing out the old earth to use it again, and that later in the spring I might have the pelasure of seeing fox cubs frolicking in my garden....or maybe not.
In the afternoon I saw a big Siamese cat in my garden. I have seen it pass through my garden many times before. This time it boldly went down the hole. I was worried it would get trapped down there, but after a while it came out again head first. It then seemed to excavate a bit more earth from the entrance to the hole. Then it started back filling the hole. Finally it dug a hole in the loose earth furthest from the hole. It then crapped in it, and covered it over again ! Having done that it wandered off for new adventures elsewhere.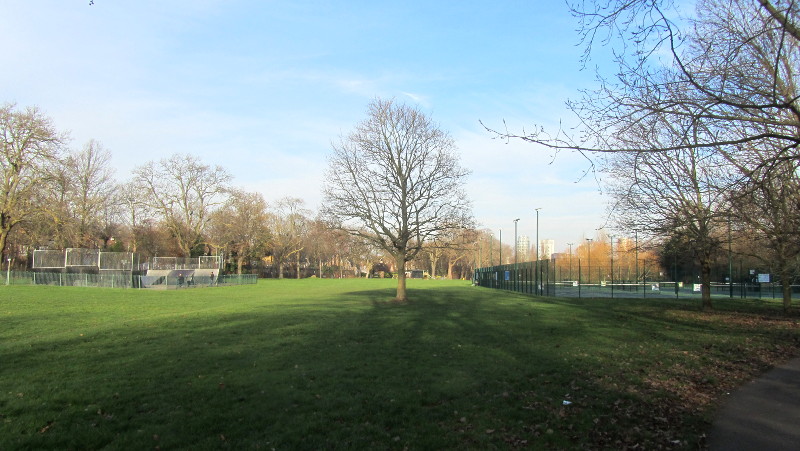 It was gloriously sunny as I walked through the park to meet Angela. The only trouble was that it was absolutely freezing. I had barely got half way before my fingers were going numb from the cold. As I walked near the river I saw several ducks swimming in the river, and while I knew intellectually that the river water was probably several degrees higher than the air temperature, the sight of those ducks dangling their bottoms in the cold water still made me shiver !
I only had a short wait for Angela to arrive at the pub, and like our meeting before Xmas we met with a hug. I am unsure if Angela was being very diplomatic, and didn't say much about her Xmas and new year, or if there was actually not much to say about them. She just kept it to a few simple words about Xmas. She had stayed at her daughter's place for Xmas, and did say it was very nice, but never went into any details, and didn't mention lover boy once. She did mention that she and lover boy went to a New Years eve event at The Elm Tree, and that she hated it. It was predictably too crowded, too hot, and the toilets were a complete mess.
Most of our chat yesterday was about medical conditions. I learned a bit more about lover boys operation. It seems he did have a heart bypass operation, but they were able to do it by using a length of artery from elsewhere in his chest. So he doesn't have the full length scar on his leg where a long bit of artery is most commonly taken from. They were also able to do the operation by going up and under his rib cage somehow. So he doesn't have a big scar down his chest like I do. Despite his operation being far less invasive from mine, he seemed to have taken far longer to get over it.
It was so lovely seeing Angela yesterday. One of the nicest things is that she is so positive about these rare meetings, and was saying to me a lot of the things I would be saying to her. I find it feels so good that we just feel so relaxed and natural with each other. In a fair and just universe we would still be lovers, but Angela has this affliction where she seems to be, or thinks she is in love with someone who so often fails to make her happy. I guess they have their times when they share some happiness, but I think, probably wrongly, that it is a very tense happiness.
Finally the clocked ticked over to when Angela had to get back to work. We finished our drinks, and I walked Angela back to work in the dazzling sunshine. Once we got there we hugged again, and semi plotted the future. I made a tentative suggestion that we would meet again in about a fortnight, but added that if Angela wanted to meet before then she contact me. She seemed positive enough about it that I would not be surprised if we met before the fortnight is up. Her parting gift was a kiss blown towards me !
After walking home I decided not to be a slave to the 2 pints of Guinness I had drunk, and so not have some lunch straight away. A combination of the sunshine and the exhilaration of seeing Angela did help me feel less hungry even considering I had eaten no breakfast before going out. I lasted maybe half an hour, or enough time to transfer the few pictures I had taken while out to my PC, and edit them, before deciding I really did want some lunch. Once again I had a light salad. This one was Italian inspired, and so alongside heaps of salad leaves and stuff, I added some shavings of Parmesan cheese. It was nice, and momentarily filling.
I had not slept properly the night before, and so after eating lunch I lay on my bed and snoozed. I also read for a bit too. An hour or two later I decided I wanted more to eat, and so I had three rice cakes with some peanut butter on them. That rather broke my intention to try and severely cut down on the amount of nuts I have been snacking on recently, but those three rice cakes seemed to do the trick.
I was intending to go out last night, and I was strongly considering changing my plans to accidently, on purpose, bumping into Angela again by going to the same gig she was considering going to. She would have been out with lover boy, but being chaperoned by her daughter, Miranda. It could have been an interesting night if it happened. It didn't - for two reasons. Angela had decided to visit her son and not go to a gig. I was feeling too rough to go out.
I had a fair amount of time to kill before going out, and the easiest way to pass it was to have another snooze. By that time the sun had set, and with no sun shining into my bedroom is started cooling off in there. I still had the heater on, but I woke up feeling icy cold, and also feeling horrible. I came to the conclusion that maybe the salad I had for lunch was too severe, and that maybe the rice cakes and peanut butter was also more insubstantial than I feared. Instead of getting ready to go out I prepared a much more substantial salad featuring two small times of tuna in a garlic and herb sauce - except it is not sauce, it is oil.
Eating that salad did perk me up a lot, and I was soon feeling warm again, but by then I considered it was too late to go out. Seeing as I would not be seeing her I thought I would send Angela a message saying that I hoped she would enjoy herself. She replied that she was, but that she had gone to her son's place instead of a gig. A little while later I felt hungry yet again, and I decided to have something nice, but more healthy. It was Marmite on rice cakes. I thought I would try the reduced salt version with the blue cap that I bought months ago. It seemed more gloopy than the normal Marmite, but tasted the same. In fact it tasted so nice that I ended up having 6 rice cakes with Marmite. I couldn't be bothered to check the figures on that, but I chose to believe, rightly or wrongly, that it was still OK for my reduced most things diet I seem to be following.
One of the things I did yesterday was start on the fourth and final book of Arthur C. Clarke's "Rama" series. After my earlier snoozes I didn't seem to feel very tired last night, and I ended up reading until almost 1am. When I did put the book down, and turn the light off, it took ages to get to sleep, and it seemed impossible to stay asleep. I seemed to be very uncomfortable, but at first I couldn't decide why I felt so uncomfortable. By 3am I decided I had trapped wind, acid indigestion, and possibly constipation.
A couple of antacid tablets did seem to help, and a series of belches seemed to deflate the top of my body. I made three visits to the toilet where I found I was not constipated at all, but I probably did have some trapped wind. The first visit ws very productive, the second less so, and the third was almost, but not completely negligible. Even after that I still felt uncomfortable, but I was starting to feel better. Eventually I got to sleep, but maybe only for an hour before I had to get up to do what it seems I had forgotten to do earlier while concentrating on other things - have a big pee.
I don't remember what time it was before I fell into what I think was a proper deep sleep, but I do know it was gone 9.30am when I woke up. This morning I don't feel very wonderful, but I am hoping I will feel up to an interesting adventure later today. Chain are playing a late afternoon gig at a pub in Maidstone. It is part of a two band gig for a birthday celebration of what I think is the pubs landlord. The pub is about a 5 minute walk from Maidstone East station, and Maidstone East is the easiest of the three Maidstone stations to get to. It should be simple to get there and back, and the only downside is that the train journey, including a change of trains, will take about an hour and a quarter each way.
The clear skies gave a nice sunset last night. I can't decide which of these two pictures are best. The first was taken at about 4.10pm yesterday, and the other maybe 5 minutes later. It is very slow progress, but the day are getting longer !