This morning has started off rather cool, but the promise of some strong sunshine should warm the day up to 9° C by midday. The afternoon may only feature sunny intervals, and before sunset the temperature will start to fall again to give another cold night. The "headline" description of tomorrow's weather makes it look as if it will be much the same as today, but a closer inspection reveals there will only be a limited amount of sunny intervals, and the afternoon will be rather dull. Even the temperature will be a degree or two less.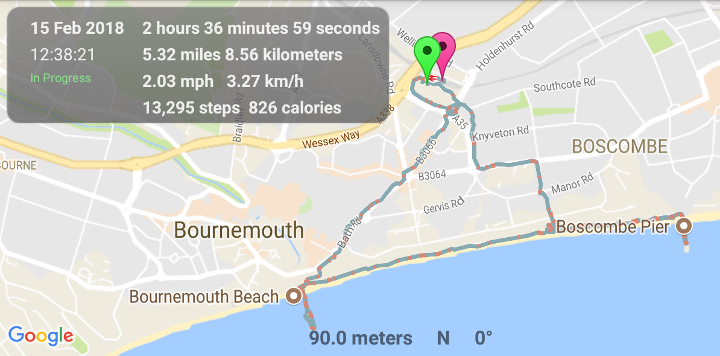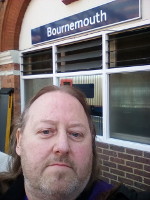 I did it ! I made the very long journey to Bournemouth, and I think I enjoyed being there (but not the journey). I started out from Catford Bridge travelling on my 60+ Oystercard, and so had to get a train after 9.30am. I actually caught the 09:35am. At Waterloo East station I reprised my working days by charging across the link to Waterloo mainline station....although maybe it was a bit less of a "charge" and more of the best I could manage considering how out of condition I felt.
At the mainline ticket office I bought my return tickets to Bournemouth. The maximum I was expecting to pay was £36.50. That was the price quoted on the National Rail website, and it didn't include and discount by making a tiny bit of the journey on my 60+ Oystercard. To my surprise the price dropped to just £30.30 when that discount was added. That was a lot more discount than I expected !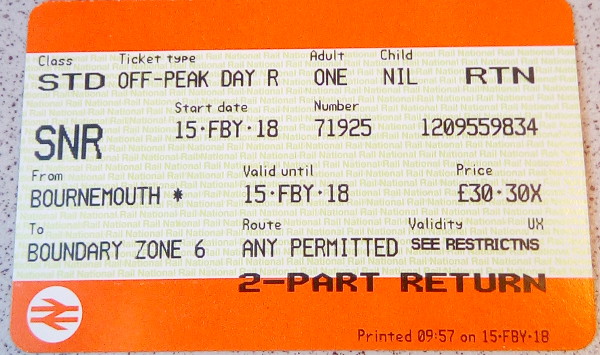 It's a horribly long journey to Bournemouth - almost 2 hours - and it was worse coming back ! I caught the 10:35 train from Waterloo, and we arrived at Bournemouth slightly late at 12:27. I don't think there is anything good I can say about the journey except that it gave me time to complete both the quick, and the cryptic crosswords in The Metro. I'm not sure if I have even done that before, and I did it within the first hour of that long journey !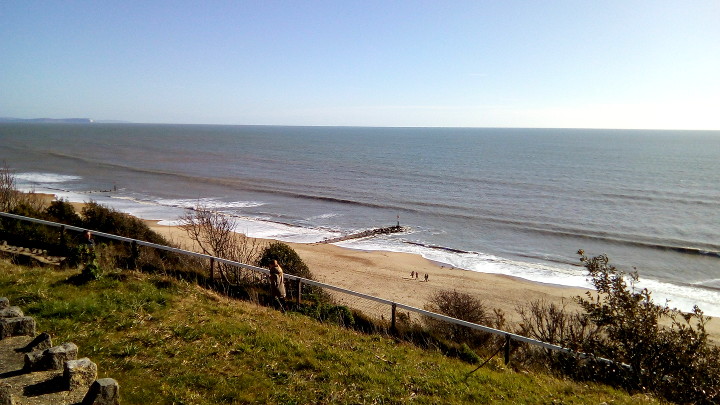 Getting to the sea from the station was not straightforward because there were roadworks all over the place that were blocking many pavements. I had take to side roads for some of the time, and that made my walk a bit longer. It was about a mile and a half walk until I got my first sight of the sea (pictured above). I had become a bit impatient and took a temporary shortcut, but it probably lengthened my entire walk. I was originally aiming to arrive at the sea by Boscombe Pier, but I went down what is known as Tofts Zig Zag - a zig zagging path down the cliff face. Going down was fine, but I would not liked to have to walk up it !
One of the first things that became apparent was that the sea was quite lively in the strong breeze. Despite that breeze it didn't feel too bad walking in the sunshine towards Boscombe Pier. It is quite a lightweight pier compared to many, and there was nothing on it, but there were quite a few surfers in/on/under the waves as they break onto the beach either side of the pier. One side was getting some quite big waves.
It is about a mile and a half between Boscombe Pier and Bournemouth Pier, and the latter was my next destination. So I turned around and started walking back towards where I had come down from the top of the cliff, and then onwards to Bournemouth Pier. One thing that was rather nice is that all the beaches were covered in sand rather than the shingle that is so common on Kent and Sussex beaches.
After I had walked about 3 miles I began to feel the strain on my legs. It wasn't too bad - provided I didn't stop. When I did stop, for instance to take some photos, getting started again was not easy. By the time I reached Bournemouth pier I was definitely feeling like it was hard work. That end of the beach, and the per was far more commercial that the Boscombe end, and it was verging on being "tacky".
More impressive was the surf around the pier. Maybe the breeze had picked up, or it was just the shape of the sea bottom, but some of the waves were quite impressive. Less impressive, with a few exceptions, were the black rubber clad surfers. A few did manage to stand up on their boards, but only for a second or two before falling into the water. I might have taken a few good pictures of this procedure !
The only trouble with being at Bournemouth Pier is Bath Road. It is the road that leads back to the station, and the trouble with it is, is that it is a semi-steep hill ! Going up that on my tired legs was a bit of an ordeal, and half way up I had to stop and take a breather. I covered up that by packing my camera in it's camera bag as I stood still. Eventually I arrived back at the station by a route that was not obvious of the map on my phone, and which shaved a few minutes off my walk.
Even back at the pier there seemed to be more clouds in the sky, and during my walk to the station it had got very dull. As I approached the station it began to rain, and mixed in with that rain were a few wet snowflakes ! With absolutely no forward planning I was lucky to get to the station with just 10 minutes to spare before the 15:22 train would slowly whisk me back to London. It was one of the slightly slower trains that stop at Clapham Junction, and to make matters even worse it did an additional stop at Woking.
We arrived back at Waterloo nearly 10 minutes late at 17:32 after a 2 hour and 10 minute excruciating journey. I felt terribly uncomfortable on the train, and it was made worse as the train became increasingly packed after Southamptom. I wondered if I would even be able to stand up when the train arrived at Waterloo, but I could, and I even made very good time going over the link to Waterloo East.
If the train into Waterloo hadn't arrived late it is possible I might have just been able to get an earlier train at Waterloo East, but as it was I only had a 10 minute wait until the 17:46 train back to Catford - which because it was so late, was done in the dark. I managed to find just a little bit of energy from somewhere when I walked from the station to home a bit faster than I thought I would be able to manage - although my feet and some assorted leg muscles were still quite sore.
The first thing on the agenda when I got home was breakfast. As usual, I went out without eating, and I also hardly drank while I was out. I had no more than a couple of mouthfuls from a bottle of water I carried with me. I was rather hungry, and a little thirsty when I got home. Breakfast/dinner was the potato, leak and peas stew I had made, but didn't eat the day before. It went down rather well, but didn't fully satisfy. Maybe an hour later I had a ready made pasta, feta cheese, and sundried tomato "salad". Not long after that I went to bed.
I managed to get to sleep quite quickly, but it didn't last. I ended up having a rather nasty night. I think, or at least I hope, that in my exhausted state I had turned over in bed in an awkward way, and pranged my chest. After a few hours sleep I woke up with my chest feeling sore on top of my sore feet and legs, plus sore shoulders from carrying my heavy camera bag plus a should bag. Actually it seemed like everything ached !
It was sometime after 2am, possibly as late as 3am that I took some painkillers, and while they got to work I made a start looking through some of the pictures I took of my Bournemouth walk. Some were good, possibly very good, but other were spoiled by some foolish experimentation with some effects filters. The violet filter did make the sky look extra blue, but only sometimes. At other times it just gave a nasty colour cast. The same was true of a green filter. I hoped it would make the sea look more dynamic, but I don't think a single picture was improved by it, and virtually all were ruined by it (some of them recoverable with some tricky post production editing).
I went back to be at 5am, and I assume I must have got some sleep because just over 2 hours passed with it seeming that long. I now feel pretty bad. Quite a few bits ache, and some aches are difficult to account for. Some combinations of aches are a bit similar to angina, and some combinations are a bit like a milder version of the aches I had when I had my second heart attack back in 2013. When every ache is considered it seems feasible to write the whole lot off as jsut strain from overdoing it yesterday.
It seem the best thing I can do today is a lot of resting. Some of that will be photo editing, and hopefully some of it will include a few snoozes. Unfortunately, or perhaps under the circumstancea, fortunately, I will not be seeing Angela today. She let me know that she is taking the day off work today. I don't normally see her at the weekend*, and on Monday she is at a funeral in Essex, and will by staying with her daughter in Romford overnight. I won't be seeing her again until next Wednesday.
* I could potentially see her on Sunday night when her daughter Miranda fronts her other band - Back To The Fray - but lover boy doesn't drum for them, and I definitely won't be going if he is running loose in the pub !