Today promises to be a much brighter day, and indeed, as I write this the sun is shining. A high of 10° C, with bright sunshine, may actually feel good of the wind isn't too strong. Tomorrow is going to be a couple of degrees cooler, but the current forecast only give a small hope of a glimpse of sunshine just before sunset. The rest of the day will be grey, maybe only light grey, but still grey !
After a damp grey morning it seemed nice to take a walk through the park. As I walked it seemed to get brighter and brighter, and although the sun never did break through the clouds, it gave a very bright patch to the clouds that was strong enough to cast a weak shadow. That was probably about the time the temperature hit it's warmest, 13° C, and it almost seemed springlike. I even spotted some daffodils with buds that looked to be just days from opening.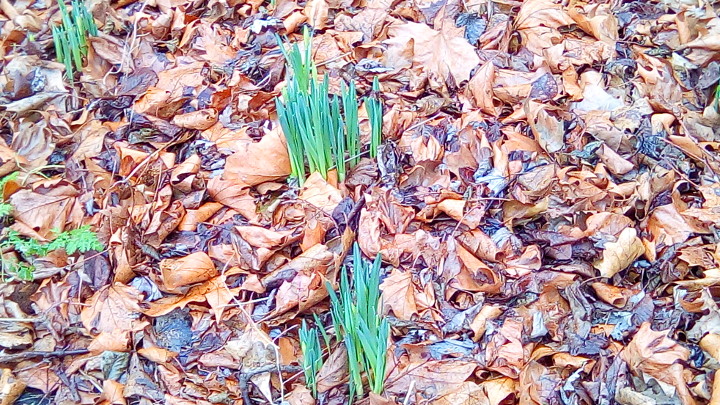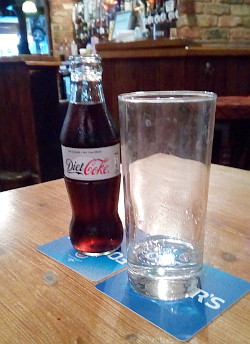 Sadly the joys of spring were false in many respects. It was still wasn't raining when I got to the pub, but I hadn't been in there that long before it began to pour down. I don't think I appreciated just how heavy it was until I left the pub after a couple of pints of Guinness and a vodka and diet coke.
The latter drink was because Angela left it too late to say she wasn't going to go to the pub yesterday. At 1pm I bought the vodka and coke, pictures on the left, on the assumption that she would arrive at the pub within minutes. I think it was gone quarter past one when I got a text message saying that she was too busy, and didn't want to face the torrential rain.
That was understandable, although I still felt very sad not to see her. After taking a day and a half off work sick she would have a backlog of work to catch up on, and that rain was heavy enough to put off anyone, let alone someone who had just been ill. What was less understandable is why she never responded to several messages I sent her, and still hasn't.
The rain was absolutely teeming down when I left the pub, and even the merest dip in the ground had filled with a puddle the size of many of the more important seas. It was lucky that I had anticipated rain, and had worn my waterproof, hooded coat. Had I realised how heavy the rain was going to be I might even have tried my old waterproof over-trousers to see if they were still wearable !
Despite the rain, and my trousers starting to get quite wet, I didn't go straight home. I went via Cash Busters. They are a loan shark/pawn brokers/secondhand shop where I have bought several cameras and accessories. On this occasion I was after a Kindle e-book reader. It wasn't for myself, but for Patricia's friend Laura back in Argentina. She has recently been diagnosed with cancer, and will be spending a lot of time in hospital. A lightweight e-book reader stuffed with loads of book should keep her amused.
Maybe it was my (our) lucky day because Cash Busters did have a Kindle in, and it seemed nice and cheap to me. It was in the window for just £40, and without really trying I got the price reduced to £35. In fact I didn't really ask for any reduction, but the manager of the shop seems to like me. Maybe it is because he often has to deal with the scum of the earth in there, and by contrast I usually have a cheery disposition, have the right money, and know exactly what I want. He wasn't actually there when I started the buying process with the young lady who was at the counter, but he came in at the right moment, said hello and a few other pleasantries, and then told the young lady to knock £5 off the price !
With Kindle in hand (safely wrapped in a waterproof bag) I sploshed my way home. My first priority was to get out of my wet trousers, and get some hot food in the microwave. It was only after I had eaten the first of too many ready meals yesterday that I turned my attention to the Kindle. It's e-ink display, which doesn't need any power at all, was showing an empty battery symbol. So I put it on charge. It took a worryingly long time until it suddenly burst into life, but once it did I had a play with it.
It is sort of annoying that the main manual for the device is stored as an e-book on the device itself. I couldn't be bothered to read it, but trial and error revealed it is quite simple to use. It does seem to be quite a nice device, and if I read more I would consider getting one for myself. When I say
if I read more
I should qualify that by adding
more e-books
. While indoors I prefer real paper books, and I do read a lot of them !
Apart from the brief excitement of playing with the Kindle, the rest of the day was rather boring, and rather depressing. As I mentioned earlier, I ended up eating far too many ready meals. This was partly the fault of getting carried away in Iceland the previous days. I had all these potentially yummy ready meals in the bottom of the fridge just waiting to be eaten. In a few cases they had to be eaten to satisfy curiosity.
I was curious about the Szechuan prawns with jasmine rice. The were nice-ish, but left me a bit underwhelmed. I was curious about the Korean barbecued pulled chicken. That turned out to be a lot nicer than I expected. My expectation was that it would actually contain very little chicken, but although it was shredded, there was quite a lot of it, and on this occasion the shredding (or "pulling") was appropriate because it made for a nice thick spicy sauce to go with the huge noodles. I am not a great fan of noodles, but when coated in that thick sauce they were very pleasant. I might even buy another of those meals one day.
Eventually it seemed a reasonable time to go to bed. I initially fell asleep fairly quickly, but I woke up coughing after a while. It was a nasty tickly cough, and it started every time I lay my head on the pillow. Eventually I had to get up for half an hour or more before I felt I stood a chance of getting back to sleep. Eventually I slept, but I seemed to have some very long dreams, and those dreams had a slightly depressing character.
This morning I feel sort of OK, although maybe a bit fragile. I don't think the cold and wet did me any favours yesterday. For instance, my knees seem, or seemed to be a bit stiff and creaky. I shall get a chance to test my knees a bit later when I go to Aldi. After that I live in hope that I will finally get to see Angela at lunchtime.....although for some reason I keep thinking it could be a false hope. Her lack of communication is worrying. Later this afternoon it's Thursday evening drinking with the lads. Tonight were are meeting in the Bromley Wetherspoons to start using our CAMRA/Wetherspoons discount vouchers.