Today has started at about the 6° C that was forecast, and it will only reach 9° C this afternoon. That is the same maximum as yesterday, but I think it is going to feel much colder because not a single ray of sunshine is forecast for today. It is very overcast now, and it is forecast to be very, very overcast later on. There is even a 21% chance of rain forecast for 10am this morning. Even if it doesn't rain it is going to be a thoroughly disgusting day. Tomorrow may be a nicer day, but nastier evening. There should be sunny intervals for most of the daylight hours, and the temperature should be 12° C with a brief excursion to 13° C for an hour in the afternoon. After sunset it will probably rain.
Yesterday turned out to be completely different to how I imagined it would. In the morning I went out to buy a bit of shopping, and a birthday card. I was a bit apprehensive that the walk would trigger some rib cage, or even chest pains, but I was perfectly comfortable - so comfortable that I chose the long way home. After that I was very confident that the longer walk to hopefully meet Angela would be no trouble at all.
Just after midday I sent a text message to Angela asking if she could spare me 5 minutes outside work at the start of her lunch hour. It took some time before she replied. Initially I wondered if she was ignoring my message, but a bit later a reply came through, and she said no because she wasn't at work yesterday. I replied to that by saying that was a shame because I would have to wish her happy birthday by text message. I also asked if she could let me know when she was back at work because I had a gift for her.
I'm guessing that the meeting in the park I had with Angela a month or so ago stirred something within her because I didn't get a text reply to my message. I got a voice call instead ! It was lovely to hear her voice, and she sounded so happy to speak to me. She told me that she would be back at work today, and we could meet then. Rather than just 5 minutes outside work she suggested that we should meet in the pub like we used to.
I don't think this indicates any great change in our relationship. She is, I'm sure, still hooked on lover boy, but maybe it might be another indicator of how he is not right for her. Now her daughter is putting all her energy into being a university student, and has suspended singing for the while, they see a lot less of each other, and I think her daughter was her best confidant who she could discuss life with. Ideally she should be able to do that with lover boy, but it's my prediction that today she will tell me all sorts of things to get them off her mind.
In the past I have been privy to many of Angela's inner thoughts. Most, if not all, were related to the moment, and not worth remembering, but an occasional one would be of greater significance - like a very common, but still embarrassing medical problem in all it's gory details ! I wonder what might be revealed today.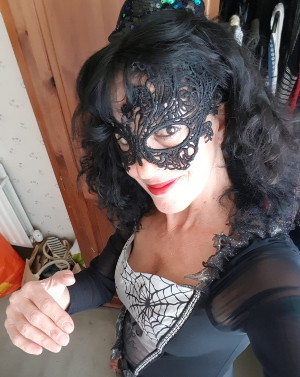 I'm not sure how long our phone went on for, but it may have been as much as 15 minutes. At the end I felt very happy, but impatient for today. I think it may have been something like an hour later that I was sent the picture on the left via WhatsApp. It is the costume that Angela will wear to a special Halloween themed open mic tomorrow night. She wondered if I could print it out for her.
I was slightly dubious because the resolution of pictures is reduced when sent over WhatsApp, but I said I would transfer it from my phone to my PC, and see how it looked. I then spent quite a few hours playing about with it, and printing out several copies using slightly different setting. It was the printing that took up so much time - my HP printer is far, far faster than the old printer I used to use 20 years ago, but it is still slow compared to, say, a colour laser printer.
Probably all the prints I made were usable in one way or another, but once I had printed out the perfect one I stopped, and didn't attempt any more. One of my first jobs this morning will be to go out to the shops and buy a few spare photo frames for these pictures.
I put my feet up for a while after doing that photo printing, but then for some reason I decided to investigate some loose photos I had in a dusty box. In some ways they were rejects from real photo albums - actual prints from film that were in a photo album book. There were some that were mostly OK, but not straight, or not centred - the sorts of things that can be easily corrected when in digital form. I have set aside a small pile to be scanned, and edited at a later date.
Another job for a rainy day is to see if I can do anything with some of the first pictures I ever took. I was about 10 years old at the time, and I didn't have a clue as to how to use a camera. They were taken on a school journey to Belgium and Holland in the last year of primary school. I have no idea of the date, but it was around Easter time, and that year Easter was late, and so was the last fall of snow. We actually set off in snow ! The camera I was given to use was a Brownie 44A. It was a was a modernised version of the venerable box brownie camera. The view finder was little more than a hole through the camera, and it had two settings - bright and brighter ! Most of the photos came out under exposed, badly framed, and sometimes with motion blur. I think I can improve them to some extent, but what can't be improved is the blandness of the shot - for instance a picture of a duck that could have been taken anywhere at any time.
My original idea was to try and eat as little as I could manage yesterday. That almost came to naught when I ended up having two "big" meals. While killing a bit of time before sending my text to Angela I cleaned up the kitchen, and decided to prepare, and part cook what should have been my dinner. It was, as I predicted yesterday, broccoli and bacon - except the bacon was actually Tesco lardons. My gut feeling that the Tesco lardons were not as good as the lardons that Aldi sell turned out to be right.
With initially nothing much to do in the afternoon I decided to eat what should have been my dinner for lunch. I found that Tesco lardons with broccoli didn't work. It was as if the two strong flavours subtracted from each other instead of complimenting each other. It wasn't bland, but it very much failed to excite. So later on I cooked another meal for dinner. This one was quite a lot of ham - slightly over £1 worth from the Tesco reduced price shelf - with runner beans, mange tout and sugar snap peas all cooked in a small amount of beef stock. It was nice enough, but not exciting in any way.
The result of getting a fair sleep the night before came to the fore last night. I thought I felt sleepy, but it was just fatigue from watching TV and doing stuff on my PC. I went to bed at 11pm expecting to fall asleep easily, but it was gone midnight before I fell asleep. Once I was asleep I seemed to sleep well. I think I can only remember waking once at about 5am this morning. After a wee I went back to bed, and it seemed I would not fall asleep until suddenly I was asleep. I slept for maybe another 90 minutes before deciding to get up.
It seems life goes on as normal - I felt lousy when I first got out of bed. My neck felt stiff, and the top of my chest, almost directly under my chin, ached and sort of felt heavy. Since then things have settled down, and I think I feel moderately OK now. That is just as well because I have a busy morning. Before I do anything else I have to finish some laundry I started, but abandoned yesterday. Once that is done I'll be able to have a shower. The first thing I need to do after that is to go out and get some shopping. There are two things on my shopping list - Diet Coke and photo frames. I can probably get both from the 99p shop, although the Diet Coke will be on the very limit of it's best before date (it has football, presumably world cup, themed labels - to someone more knowledgeable about football, that should give a clue as to how old it is). Maybe I'll get the Coke from Tesco !
Once I am home again I can see if the photos I printed fit the frames, or if not I shall re-print one to fit the best frame I can find. With that done I can relax until it's time to walk to the pub to meet Angela. After that meeting, and with a couple of pints of Guinness inside me, I intend to relax for the rest of the day, but probably won't - there are those old photos to be scanned, and edited.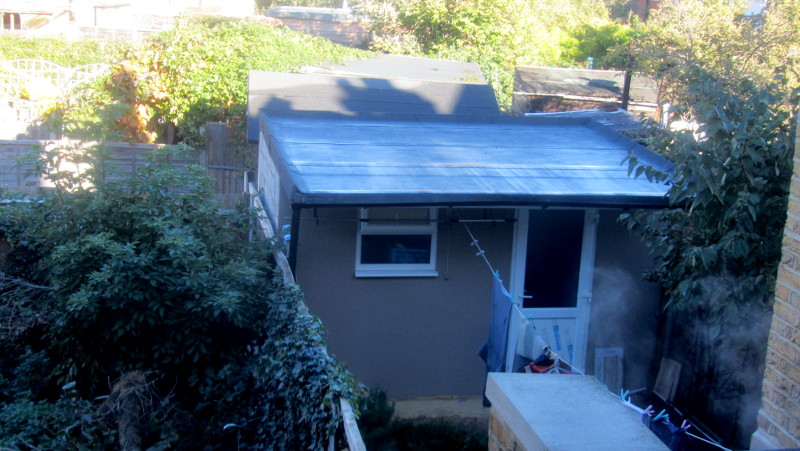 I almost forgot this picture I took through the less than pristine clean back bedroom windows yesterday morning. I think it was just early morning dew, but it did look a lot like frost on next door's shed roof !