Today will be the last sunny, warm and dry day for quite some time. Once again the sky looks milky instead of blue, and so while it is bright, it is not sunny. That has been acknowledged in the latest revision to the forecast. It now says the sun won't shine properly until after 10am - maybe not until 11am. In compensation, the maximum temperature has been revised upwards to 21° C for just a couple of hours. It should be another mild night, maybe no lower than 11°C, but tomorrow afternoon may only reach 18° C. There may be some sunny intervals in the morning, but it is likely to rain in the afternoon. That sets the downward trend for the next week or so.
Yesterday, being the Easter bank holiday Monday, felt a lot like a Sunday, and curiously enough, today feels like a Monday ! Not that these things mean much when you have retired from work. One thing yesterday was supposed to be, regardless of the name of the day, or the date, was a day of rest. It wasn't ! After being out 4 consecutive nights, straight after getting over the recent cold I had, I felt completely knackered on the fourth night, and so I planned to be incredibly lazy yesterday. My plan, if you can call it a plan, was to spend most of the day lolling around on my bed, reading and snoozing - lots of snoozing !!
That "plan" got off to a bad start when I decided that yesterday should have been excellent drying weather, and so I washed a double duvet cover. Washing on of those by hand is about as far as you can get from resting - specially the wringing out bit of the process. Wringing that double duvet out at the end of the wash, three rinses, and conditioner, was bloody hard work. Fortunately I didn't have to get it that dry because I was hanging it outside to dry, and it didn't matter if it was still dripping out there. Despite the lack of strong sunshine, it was bone dry by about 5 or 6pm.
I then spent a considerable amount of yesterday doing graphic design work, plus video editing, plus DVD designing, plus printing DVD labels on blank DVDs,
plus
burning DVDs !. Some of that was happening upstairs, and some of it downstairs. So I got lots of exercise in small doses going up and down the stairs all day. There were two reasons for this frenetic activity. One reason was that I am expecting a delivery, maybe today, of another 30 blank Lightscribe DVD disks, and so I will have a small stock of spare disks - hopefully enough until I perfect direct colour printing to disks using my new Canon printer, and it becomes a routine operation.
The other reason was that I was rushing to complete a new DVD compilation of Back To The Fray videos. Angela came back from Wales yesterday, and appears to have had a good time, and yet something tells me it wasn't
all
rosy. I'm not sure if she is back at work today, or tomorrow. I am waiting to see if any clues pop up on social media. If she is available, preferably today when it should be warm and dry (and maybe sunny), or tomorrow, I would like to see her at lunchtime to give her a DVD of her daughter singing as part of Back To The Fray both last December, and last Saturday. I know she has seen all but one of the videos already, but the two from last December had rather thin sound. I have roughly corrected that. I think she will be delighted to get a copy of the DVD (and one for Miranda), but not only that, but of course I am curious to hear how her long weekend in Wales went.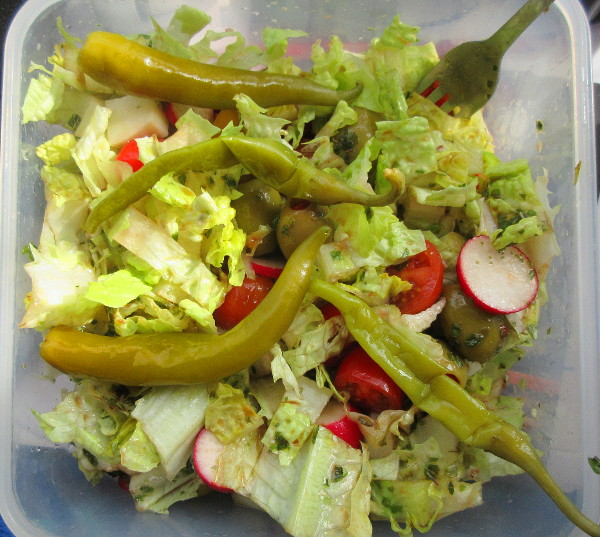 My food consumption yesterday was a bit strange. I think I had some sort of unhealthy snack for breakfast, possible some little crinkly baked savoury things, but that was all until mid afternoon. I found myself in that curious state of being hungry, but not hungry - which I know makes no sense, and is impossible to explain to anyone who has not experienced something similar.
Just before the long weekend Angela had posted a picture of a salad accompaniment to some meat and stuff. It was prepared in what I believe is the traditional Greek style. It looked very nice, and I thought I would do something similar.
Unfortunately, when I looked in the fridge I found that a lot of the salad ingredients in there were well past their best, and there was only so much that could be salvaged. Having asses what I could use I made up the salad in the picture to the left.
It contains far more lettuce, and of the wrong type, compared to Angela's picture, and my salad also contains cubed hard goats cheese because I made it as a complete meal. I dressed it with oil and vinegar to which I had added a lot of dried oregano. It turned out to be a terrible substitute for fresh oregano because I could not detect it's flavour at all in the salad. Maybe that dried stuff need to be cooked to release it's flavours.
If we had more hot, dry and sunny days ahead I would go and buy more salad, and eat more salad, but with the weather going downhill after today, I think I will probably be making more stews than salads ! However, when the weather is right again, I look forward to more salad with fresh herbs in it.
After a very late lunch I had an even later dinner, although it was more snack than dinner. It was a couple of Turkish sausages that I grilled. I noted that the pack said "garlic sausage", and I think they may have been ready to eat once the thick skin had been peeled off, but I gave them a good grilling before eating them. There were only 2 in the packet, and they were not that much bigger than the average British "banger" (uncooked), but they were jammed with much more taste - albeit garlicky taste that repeated on me for some time afterwards.
One curious thing about yesterday was that I never turned the TV on all (although I did use the big TV downstairs to check my home made DVDs). I guess it was some measure of how busy I was - which seems very much at odds with my intention to try and be a slob at a gold plus level ! I did have one unexpected addition to my activities yesterday - a very rare call from Sue. She felt bold enough to ask if I could help her with something she wants to do.
Her iPhone does a pretty good job of recording the sound when she takes videos at all the gigs she goes to. It appears that she has got into the habit of using a bluetooth connected speaker to play the audio from the videos while she is doing stuff at home, but that ties up her phone. Her idea, and with some limitations is a good one, is to copy the videos from the phone to a computer (my computer), strip off the sound from the video, and maybe with a bit of editing, generally top and tailing, burn it to CD audio disks that she can play in her CD player. The limitations are that she has probably clipped the beginning and the end of the song, and the audio quality, while good, is not
that
good. On the other hand, I guess she is comfortable with the audio quality as it is - often complete with a lot of background noise - and she will be happy with the results of a lot of hard work on my part.
Sue originally called at about 8 or 9pm, but couldn't spend too long on the phone because she had a mate with her. She asked if she could call back later. I said yes, and it must have been around 11pm when she called back. I was already in bed at that point, but I was only reading. We chatted until 1am this morning when I said I had to get to bed. It was quite an early end of a phone call with Sue !
I expected, or hoped that I would fall asleep almost instantly when I tired the light out, but was probably on my second wind by then. Worse than that was that soon after my head hit the pillow I must have breathed in some dust or something. My throat seemed incredibly dry, and I started coughing. It was just a dry tickly cough, but it took something like 15 to 20 minutes to calm down. Once I finally got to sleep I was OK for the rest of the night - except once again, I seemed to wake at first light again - hours earlier than I thought I ought to wake up.
This morning, now I have settled down, and had time to try out a few muscles, I find that I am not not too bad a condition, but far from a good one. My arms feel rather achey. Maybe it was manhandling that double duvet cover when I was hand washing it, or maybe something else. "Something else" could well be the case because it is not exactly a new pain, although a few characteristics may have changed a bit. It is still a fear of mine that it is the early stages of some arthritic, or rheumatic condition that is going to get a lot worse over time.
It is still my hope that I will find Angela is at work today, and that she will respond positively to an invite to meet at lunchtime, but I am going to assume that will not happen today. That leaves me with a few other things I might do. One thing is to go and buy some shopping - possibly two shopping trips to different stores. The other fanciful idea I had was to go out frolicking in the sunshine. As yet there is no sunshine, and so that idea just remains as a sort of pipe dream. I fear that today I will have to carry on with my project to clear up the back room - unless I want to start sawing logs in the garden. Either task has to be done one day, but I don't feel much like doing either today.