Today is a bank holiday, and by tradition it should be overcast and drizzling, but the forecast says no to that, and at least until now, as I write this, the weather has been at least as good as the forecast predicted, and possibly even a little sunnier. The latest revision says that at 1pm the chances of rain rise to 16%, but sunny periods are still forecast. They should continue until sunset, but the chance of rain rises again to 20%, and at 11pm rain is predicted to fall. The top temperature today will be about 18° C - which is lower than recently, but still very comfortable. Tomorrow should see sunny spells throughout the day, but there is a very small chance of a shower at almost any time. The top temperature will probably be a degree or two less than today.
Yesterday I commented that I had been in a strange mood the day before, but it transpired my mood was even stranger yesterday. I did mention that the weather forecast, despite reality being totally different, seemed to sap all my energy and enthusiasm, and I think "tetchy" would be an appropriate description of how I ended up. For some reason I thought that I found the enthusiasm to go to the shops yesterday morning, but I think I am mixing it up with the day before yesterday when I definitely went to the shops. I would have had no reason to go to the shops again.
Having cleared that idea from my brain more bits of yesterday are being revealed. I am pretty certain I was just very lazy for most of the morning. I may have even snoozed for a bit. The first definite thing of note that happened was a call from Jodie at around 1pm, or perhaps a little bit later. She wanted to know if I fancied meeting her to go around the Catford Food Market that happens on the last Sunday of the month. Like everytime she has asked this for the last 18 months I said no - although there may have been as many as two occasions when I did give in, and met her just to make sure that the whole thing is a load of rubbish, that doesn't have any call on my interest.
Jodie also want to know if I fancied meeting her in The Catford Constitutional Club for a beer. I declined that too. That place lost it's appeal many years ago, and I don't feel all that sorry that they are campaigning to get their lease extended. Apparently the council have a desire to build another block of flats there as part of their greater Catford regeneration plans. It is sort of sad that Catford could lose another boozing establishment, but the venue knew they were on a short lease when they took the premises on. One particular reason why I didn't want to meet Jodie for any reason is that when she phoned I hadn't washed and dressed for the day. I could have done that before she actually arrived in Catford, but I just felt too lazy.
One non lazy thing I did in the early afternoon was to cook some lunch. I had some fresh cod that had to be used before it went off, and I decided to poach it with some pak choi. That has worked well in the past, although in the past I have had some fish stock to cook it in. This time I just poached it in plain water with some vinegar added which should have kept the fishy smell to a minimum - it didn't ! I added one more ingredient, and I wish I hadn't. It was some thinly sliced turmeric root. The two just didn't go well together. I had to fish out the turmeric, and put it to the side as I ate the fish, but by then it had tainted the taste of the fish, and my lunch was not at all pleasant. What was worse is that despite my precautions the kitchen, and back room stank of cooking fish,
and
it was seeping elsewhere too !
After being lazy, doing stuff on my PC, and reading, the time came around to go out to Chain's gig in Bromley. I wasn't in the best mood when I left because I had had an online fracas with somewhen who had posted a video of the most godawful music and light show. I didn't realise it was made by their son (or daughter), and under the impression it was just some disco/rave/techno/dance crap, I slagged it off. That didn't go down well. If I had been aware of it's origins I might have bitten my lip, and made it to the toilet before demonstrating my thoughts about it privately by copiously vomiting.
From the moment I left to get the bus things just got worse and worse. I hadn't gone very far before there was a light shower of almost misty rain. It really wasn't enough to fog my glasses, but it was the principle of it. Once again the bus I wanted was standing at the bus stand, 150ft from the bus stop, and it drove off as soon as I was within 10 ft of it. Like last time I may have been able to stop the bus, and the driver may have let me on at the bus stand (in theory it is not allowed, but I expect that some drivers would take pity on me) if I had managed to get to the doors before he started off.
There was nothing for it but to walk to the main road in the hope that a 208 would arrive before the next 320. Fortunately it did, and I saved about a 20 minute wait for the next 320. That very slightly brightened up my outlook, but it was still in negative figures, and plunged lower still when the bus driver said that the buses were still on diversion in Bromley. I had to get off the bus at Bromley North station, and walk to the pub. It is only a 5 or 6 minute walk, but still bloody annoying.
Yet another annoyance was going to the cash machine just before the pub. I didn't actually need any cash, but it feels better to have a small excess for emergencies. Unfortunately both HSBC cash machines were not in order, and I had to walk back away from the pub by a matter of a 100 yards or so to use the Barclays Bank machines. Finally I got in the pub, and had a warm welcome from Jo, and I bought myself a pint of Guinness - two things that cheered me up. My good feeling didn't last long !
It was still daylight outside, and there was enough light coming through the windows to allow semi decent photography, although as usual the bloody stupid pub turned the light down when the band started. I got a few usable snaps in the ambient light, but I soon resorted to using flash. There was still a problem of the camera not being able to focus on dim faces before the flash fired. I noticed for the first time that the camera seemed to focus on a better lit face . The camera has face detection software, and I am wondering if that is turned on, and the camera thinks it is cleverer than me - maybe it is, but
I
decide whose face I want to photograph.
The band should have started at 8pm last night, but typically they were a bit late. It seemed many people thought they were starting at the usual weekday time of 9pm, and so it wasn't very crowded at first. that suited me nicely, but gradually I ended up fighting for the best positions to take pictures. It wasn't long before I got pissed off. My decision to give up a leave was hastened by the appearance of someone who I am uncomfortable with. He's probably autistic or something, but I find him sort of creepy.
I took my last photo, had a pee, and exited out the back entrance. I was just passing the front of the pub when I saw Nina approaching. We greeted each other with a hug, spoke for a bit, and parted company with another hug. That put me in a temporary frame of mind, and passing, but ignoring Nigel heading to the pub didn't dent it. In fact the knowledge that I wouldn't be in the pub when he was, was probably another positive feeling. I didn't have long to wait for a bus - which was good - but the bus did seem to be slow - which didn't fill me with enthusiasm.
I guess when I got off teh bus I was feeling slightly on the good side. I thought I had taken some reasonable photos, and I had the piri-piri chicken, part of the previous night's takeaway, to look forward to. Sadly every last bit of feeling good was washed away when the heavens opened, and I was pummelled with solid stair rods of rain. I didn't feel in a happy moody when I squelched through my front door. Oh well, the chicken was pretty good, although I did think that I had over done it a bit by eating it all.
I was in bed, reading, maybe half an hour after finishing my chicken. By 10pm I was struggling to fall asleep. It was yet another occasion where I seemed to have severe insomnia, but evidently I didn't because the next thing I know was that it was gone 1am, and I was needing a pee. After that I may have had another pee before waking up at just gone 6am. It was early, but I had got close to 8 hours sleep - maybe around 7 hours. I got up pretty slowly, and once my eyes had become accustomed to being awake I copied the picture from my camera, and started editing them. As usual there was a mix ranging from the most awful to fairly good.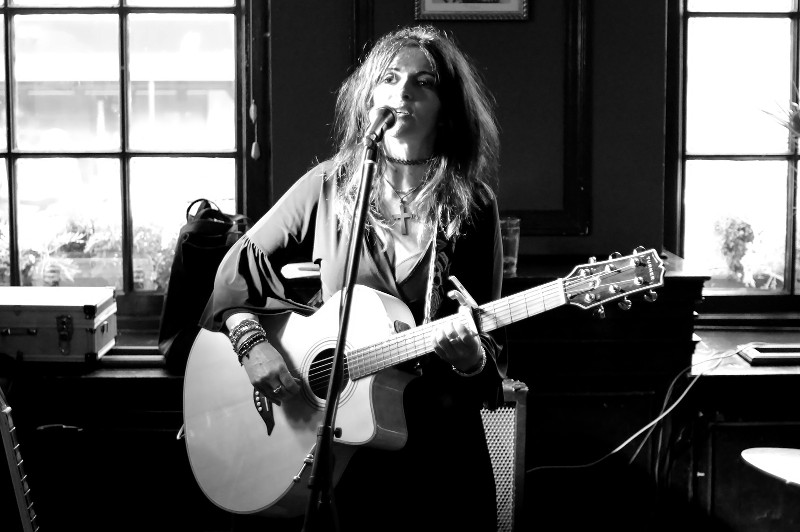 I think this was the very first picture I took. Jo was heavily back lit by the daylight outside, and it gives her a slightly strange expression. I thought it might look better in black and white - I'm not so sure now.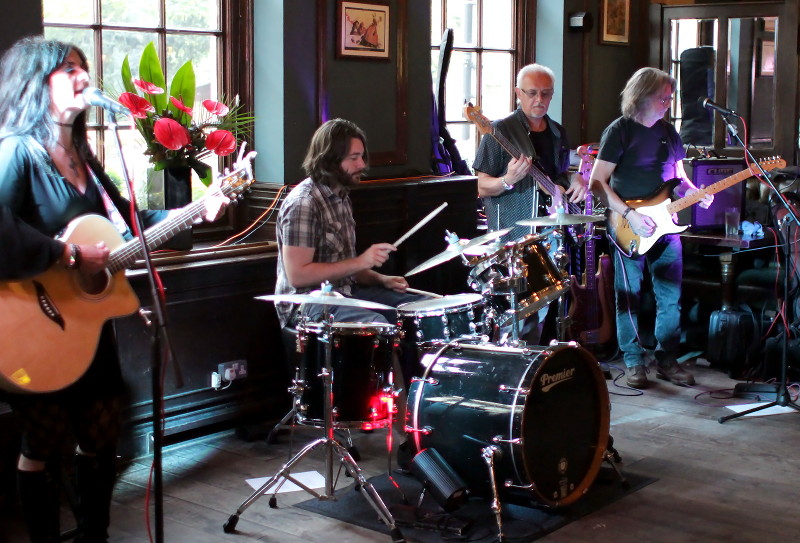 There was almost enough light to use a wider angle lens to attempt to get all the band in one shot, but I had to have the aperture of the lens wide open, and the depth of field wasn't deep enough to get Jo in focus on the far left of the picture.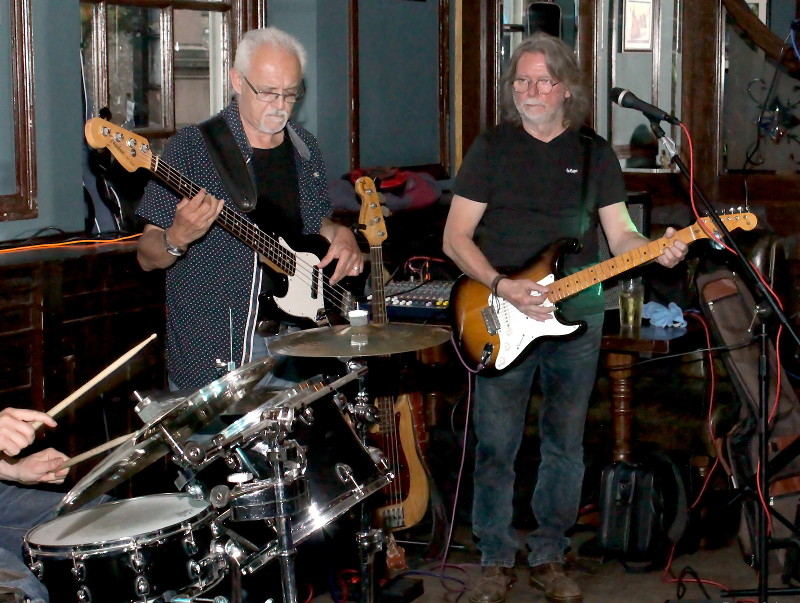 Before long I got out my flash gun, and I could take photos with a greater depth of field, and photos that included Chris who all too frequently manages to be poorly lit.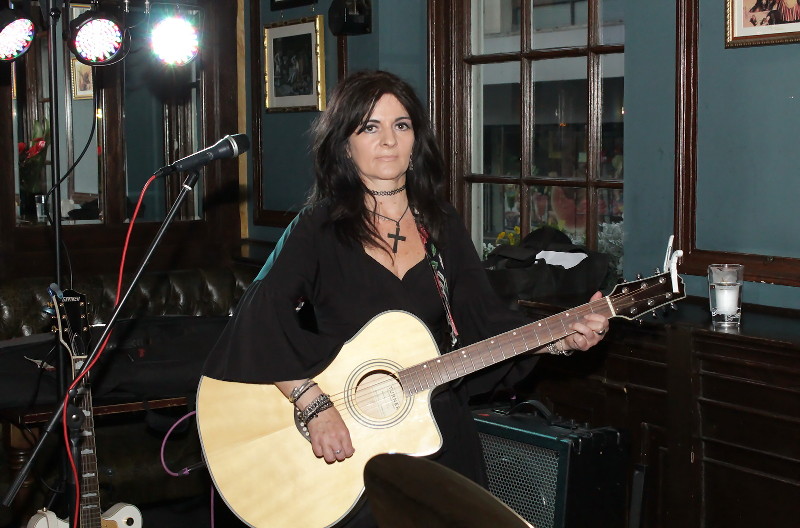 I both like and dislike this photo. The exposure and focus is good, but Jo has a strange sort of look. I then realised that it is very similar (in my warped mind) to the expression on the Mona Lisa's face in the famous painting. So maybe it is a good picture !
With all my photography done, and all my notes written, I have little more to do today. I have eaten a certain amount of junk food, and don't think I'll be cooking or eating any lunch. It is now almost 1pm, and I think I may try and have a snooze next. After that I will....... I have no idea, but I am wondering if I have the patience to watch a movie or something. I think I might start plotting for tomorrow. It is not forecast to be particularly warm, but it should be bright, if not actually sunny. It would probably be a good idea to get myself out for another walk like I did last Tuesday. The seaside would be nice, but there is also a walk between Chislehurst and Petts Wood stations that is just 3.5 miles that I am interested in trying some time. 4 miles proved to be just a bit too long last week. So maybe a 3.5 mile walk would make more sense until I get back into practice.