The forecast didn't predict it, but there has been at least one short sunny interval this morning. That was several hours ago, and no the sky is just uniformly grey - which is what is forecast for today. There is a very small, 6%, chance of rain coming up soon, but the chances are it is just going to be another dry, horribly grey, overcast day. The highest temperature today will probably be a degree or two less than yesterday at 12° C, although the latest revision to the forecast does say there might be a short period of 13° C at 2pm. (It also reduces the chance of rain at 11am to 0%). Tonight is not set to be a mild night. The clouds will break up and let all the heat away, and tomorrow could start cold enough for a frost, but there will be sunny intervals all day long, and the temperature could rise to 13° C in the afternoon.
I don't know if it was a rather extended hangover, but I felt rotten for much of yesterday. I felt very tired, and I had some back ache to add to the more usual aches. Maybe the lack of sunshine got to me too, and I felt most depressed. It was hard to motivate me to do anything. I spent almost all morning laying on my bed trying to snooze, but failing despite non-stop yawning. I did do a lot of reading. I chose a much lighter paperback book instead of the big, heavy hardback I have been reading recently.
The book I chose was another Arthur C. Clarke book, and one that was supposed to be fact instead of fiction. It was called 1984:Spring, and was partly written as a counterpoint to George Orwell's 1984. It consisted of copies of speeches and other stuff written by Clarke. It is curious looking back at his predictions for the near future. They were made before the internet was invented, and before home computers. Many things he predicted did come to exist, but in a totally different form, and used in ways that were completely different. Perhaps the biggest bit of unfulfilled optimism was that better communications would lead to more peace, and harmony. Maybe the US and USSR are no longer on the brink of nuclear war now, but other skirmishes still go on, and of course Brexit is a local instance of (so far) bloodless divide and conquer. One thing Clark did not appreciate is that his beloved communication satellites proved to have to long signal delays (speed of light problem) for many uses, and most fixed international communications is done by undersea cable now.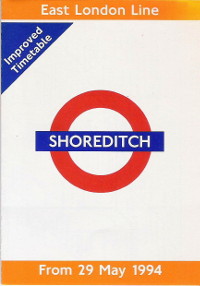 After a bit of lunch I decided that maybe a can or two of lager might help, and to some extent it did. It helped shift some of the brain fog, proving that some of the problem was a hangover, but it couldn't make the sun shine, and I still felt depressed. I'm not sure that "depressed" is actually the best description of how I felt, but I guess it is as good as any.
One positive action I decided to take was to take my old broken printer with the good flat bed scanner in it (retrieved from a waste bin when I was at work) downstairs and hook it up to my creaky old laptop. The scanner works perfectly in that combination. It also works when attached to my big desktop PC, but I have another printer/scanner attached to that, and I can't get the scanner to be recognised. I have a feeling that the Linux software cannot wake the scanner from sleep mode because it can't detect it exists when sleeping.
I had several attempts to make it work, but the printer that won't print because it's innards are broken, works perfectly as a scanner, and one thing I did yesterday was to scan some East London Line memorabilia from 1994. The East London tube line no longer exists because it is now part of the London Overground, and the old Shoreditch station is now disused. That makes some of the leaflets I have collected sort of rare now.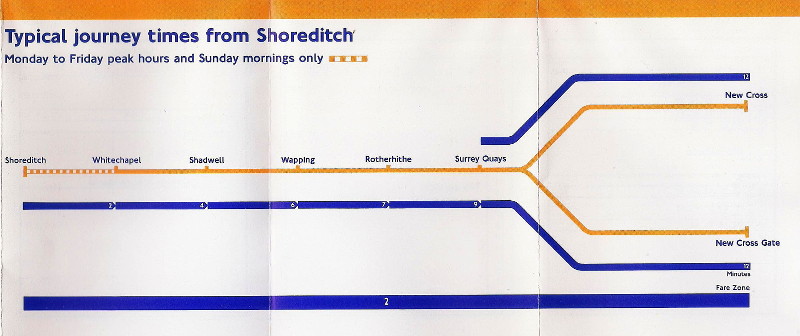 This is how the East London Line used to look. Now it is part of London Overground the line continues to Highbury And Islington in the north. Trains still terminate at New Cross, but trains continue beyond New Cross Gate towards Crystal Palace. There is now also a third spur to the south of Surrey Quays that goes to Clapham Junction.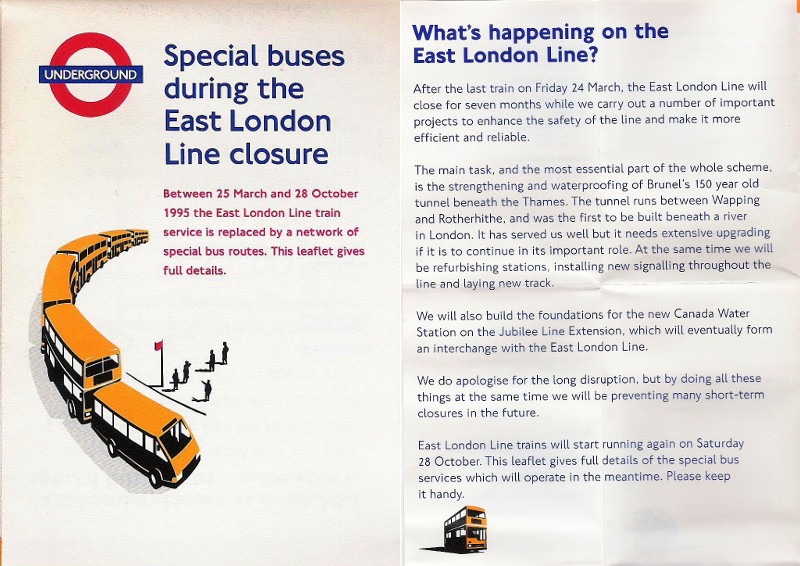 In 1995 the East London Line was closed at Easter for improvement works which included some heavy maintenance on the Thames Tunnel, as built by Brunel 150 years previously. The original estimate was that the line would be closed for 7 months, but it was far longer than that. It was closed for a whole 3 years in the end ! It would close again in 2007 for 18 months while being converted into part of London Overground.
Scanning all the parts of the leaflets, and there were many that I have not shown here, was about the last practical thing I did yesterday - apart from preparing the scans by straightening up the edges, and resizing some images, and then uploading them for consideration by the Disused Station group (where they went down well). The next few hours were spent on the phone to Sue. She had made two postings the previous night on social media to say that she had terrible back pain, and to say that she was in hospital.
I thought I had better give her a call to see how she was. It turns out she had spent the night in A&E where, after a very long wait while tests were made, she was offered strong pain killers before being released. Amusingly enough, the first painkiller she was given was in the form of a suppository ! Well I guess that was the orifice nearest to the pain, and apparently it was fairly effective.
We talked mainly about medical stuff, or anything else that would distract her from the pain she was still in. After a couple of hours the subject of food came up. She, like me, was hungry, but was in too much pain to do any cooking. So I volunteered to order and pay for a Chinese takeaway. Sometimes it feels good to help. Of course the only problem with doing that was that it got my taste buds dribbling, and I had to go back online and order myself a Chinese takeaway.
Last night's dinner of Chinese takeaway almost certainly contained more sugar than was good for me. I ordered a selection of dishes, as I usually do, and I have enough for dinner today as well. The first dish I had was King Prawn in a vegetable laden sauce, and it seemed quite sweet and syrupy. That was not what I was expecting. At least my second course of roast pork foo young was not sweet.
I whiled away the rest of the evening watching TV. It feels like a bad habit I have got into. In a way it is, but the underlying reason is that by flicking channels there are several programmes that I enjoy on one after the other. Of course they are all repeats, but living in the TV past has always seemed to be far preferable to the present for the last 10 years or more ! Finally it was time to go to bed. Actually, in this case, I decided not to watch QI, and went to bed earlier than I might have done, but I did read in bed for quite a long time.
I am unsure when it was that I went to sleep, or even when I put the book down, but I have a funny feeling it might have been as late as just after midnight. There is a chance that it after midnight BST. My electronic clock, a Sony digital picture frame, is still set to BST for reasons that I can't explain, and it might have been one final glance at that, that I based my idea about getting to sleep after midnight from. It is either tomorrow, or next Sunday when the clocks change from GMT to BST, and my electronic clock will be right again until the clocks change back again.
I seemed to sleep quite well, but I woke up far earlier than intended, although what my intended time was is anyone's guess. I guess I woke up because it was light outside, and sunrise is now just before 6am now. I was up doing a bit of this, and a bit of that on my PC (including preparing smaller versions of the East London Line memorabilia pictures to show here), and I may have been awake for an hour before deciding to go back to bed again. Once again that strange miracle happened, although it happens so frequently now that it is hardly a miracle any more. I lay there thinking I wouldn't get to sleep, and then suddenly several hours have passed.
So far this morning (part 2) I have done nothing except having a shower before sitting down at my PC to write this. I usually do it the other way around, but it seemed so late in the morning that I thought I would get the shower in first. Much of me feels in fair working order this morning, but my right elbow, or a muscle or two near it, is still sore. I am wondering if it is something like arthritis of the elbow rather than the muscle strain, or something even more bizzare that I once thought it was. If it is that then it it is still at the stage where I can work through it if I have some reasonable motivation.
Maybe there is some motivation today. From time to time is seemed to get bright enough to make me think that the sun is trying to break through the clouds, but there is no sign of anything sun like in the sky, but there is a very large patch of milky white cloud that is almost to bright to look at comfortably. I hope it is enough to motivate me to push a little further ahead with my rehabilitation of the back room. I have very little to do before I can push the chest of drawers into the alcove next to the chimney breast, and that should make the room seem a lot bigger, and provide some scope for further changes for the better.
I hope that I feel good enough to go out tonight to a gig. It is at the easy to get to Lord Northbrook pub in Lee (little more than 12 minutes away on a 202 bus). I am not terribly keen on the band, Out The Box, but they are pleasant in small doses. I don't think I would stay there for the whole gig. There is a possibly alternative path from mid afternoon onwards though. I think I said that if she still felt terrible I would go and visit Sue, although she is determined to go to a gig herself tonight. It seems unlikely she will be able to go unless her back fixes itself very quickly. I guess it all adds up to the fact that like most days, I have no real idea what I will be doing later !