Some days ago the forecast for today said it would probably rain. Yesterday morning the prediction for today was that it would be a bit cloudy, but that there would be sunny intervals all day long. This morning reality intruded, and the forecast above was revised to mirror it. This morning it is still very mild, but the skies are grey and it is raining. If the forecast retains some credibility it will dry up in a few more hours and we will get the sunny intervals promised, but only until 6pm when the rain will start again - maybe. Today is still going to be warm, but considerable cooler than yesterday - just 23° C. Tomorrow is now shown as being a sunny day, but probably no warmer than today.
One of the first things I did yesterday was to get the hoover out. This is always a traumatic thing to do, but this time it was more important than vanity. I wanted to hoover up any crumbs in the living room, of which there were a few, and while I was at it I hoovered almost the whole room. Even more important was to hoover up a lot of crumbs and other dropped stuff under the desk in my bedroom where I eat quite a lot of meals while using my PC. There was a lot to hoover up there ! No food should discourage the mouse I saw in the middle of the night loitering in my bedroom or living room. Since that one brief sighting, that was over in the blink of an eye, I have not seen or heard of any mice. It is a stupidly optimistic hope, but maybe it got out the way it got in.
One thing I didn't do was to clean up and set my collection of mousetraps in strategic places around the house during the morning. I was eager to go out, and I didn't want to delay myself any further. My aim was to get to Southminster in deepest Essex, and walk back to Burnham-On-Crouch, taking in the Mangapps railway museum on the way. To get there I caught a train to Cannon Street, and changed to the Circle Line to get to Liverpool Street station. I would buy my tickets there. Unfortunately the queueing arrangements were a bit haphazard, and some people effectively pushed in. That slowed things down, and many people, maybe most, seemed to have extremely complicated enquiries. It seemed to take ages before I was able to complete my 10 second purchase.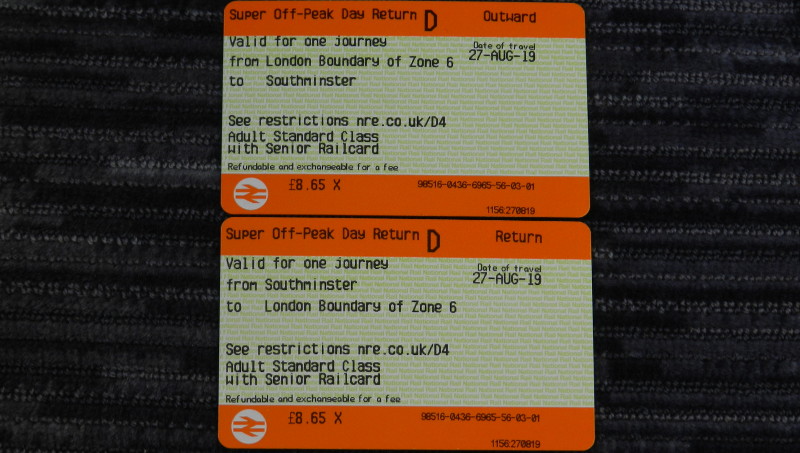 Having got my tickets - £8.65 for a Super Off-peak day return (don't think I have ever had one of those before) - I went out onto the concourse to see when my train was - it wasn't. The next train was delayed because of a train fault. Eventually it was cancelled, and I had an extra 20 minutes wait (maybe 40 minutes in total) before I could board a silly 4 coach train that was soon almost crush loaded. It was like the rush hour at 1pm !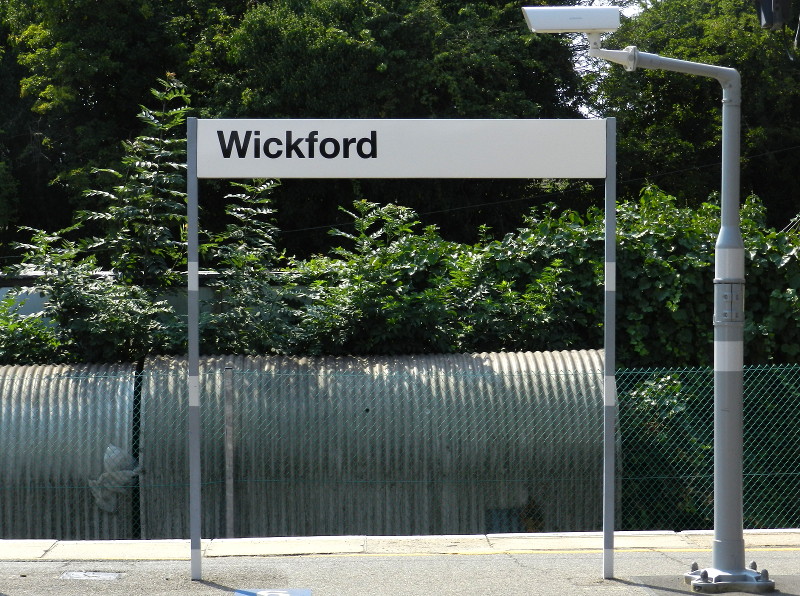 Some parts of the journey to Wickford, where I had to change trains, were very fast, and at other times annoyingly slow - and all the time it was really crowded. The periods of slow running meant we arrived at Wickford a bit late, and the branch line train to Southminster had left without us. So there was another long wait for the next one. Just to make life more amusing it came in on platform 4 instead of the more usual platform 1, and we all had to rush over the footbridge.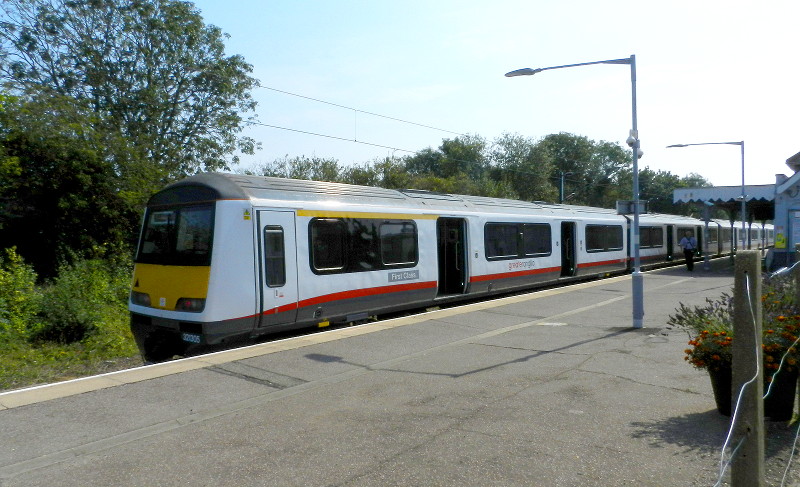 Maybe it was worth waiting for. It was basically the same sort of train, a class 321, but 321005 has recently been refurbished, and it was fitted with deliciously cold air conditioning ! After the 30° C or more of the platform, it was pure luxury. It was just over another 30 minutes on what I now know to the The Crouch Valley Line before I arrived at Southminster station. It is a single track line with a passing place at either North Fambridge or Althorn stations (I forget which).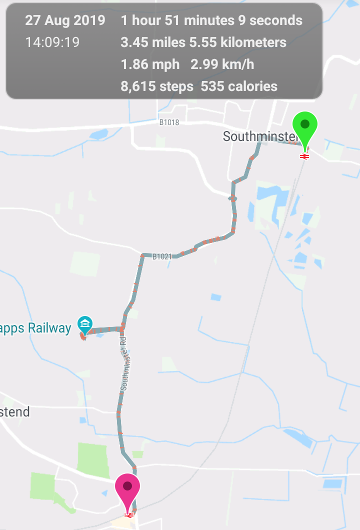 At Southminster station I started my long walk. It would turn out to be 3.45 miles, and it was a killer in the 30° C heat. I had selected what I still think should have been comfy shoes, but in that heat the soles of my feet were soon burning hot, and I had barely walked a mile before it became quite painful to walk. Yet I managed to keep the pace up for much of the walk.
I had walked just over a mile when my phone rang. It was the nurse from the Cardiac Rehabilitation team. She immediately asked why I sounded out of breath, and I had to explain that I was just over one mile into a long country walk. That seemed to satisfy here, but she still gave a short lecture on keeping hydrated. The actual point of her call was to ask if I would accept an appointment with the cardiac rehabilitation team on the 3rd September. I had to remind her I was miles from anywhere, and even further away from my diary, but that I thought that should be OK. She will be sending me a letter with my appointment details plus a questionnaire. I am sure one of the questions will be about how much walking do I do ? I will be able to answer that one by saying 3.45 miles (not including walking to and from my local station and crossing London to get the train to where my walk started).
According to my OS map there could have been some footpaths I could have walked along, and that would probably have been very slightly cooler than walking along small, but still main roads. Plus I would have missed the pleasure (????) of being passed by several lorries emitting very farm like smells ! The other thing was that I felt I was in a very unfamiliar area, and I seemed to have no natural sense of direction. So the direct roads took the guesswork out of the walk.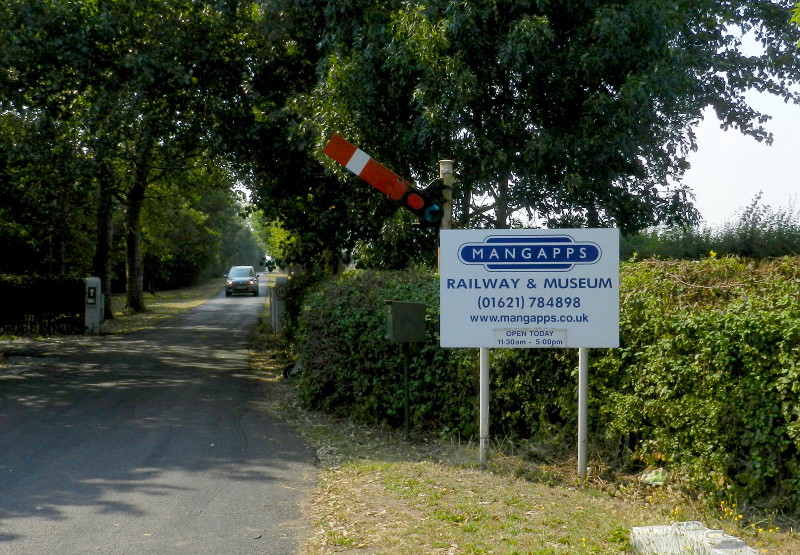 It was with some sense of relief when I finally arrived at the entrance driveway to the Mangapps Railway Museum. I think the place was started by a farmer who was a rail fanatic, and his collection of artefacts got a bit out of order. It was originally called Mangapps Farm railway museum, but since being properly curated the Farm part of he name has been dropped.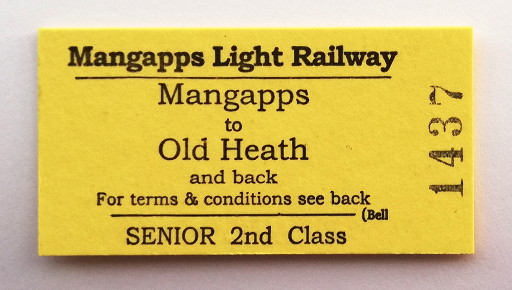 It's a fairly long walk, particularly with sore feet, to the actual entrance and ticket office. I duly bought a ticket (with Senior discount) for £7. For someone spending the day there, closely examining all there is to be seen, it is good value - maybe not for me so much. I was really only doing a flying visit, but at least I got to use their toilets, and could wash my face in cold water.
I was too foot sore to stay too long, but before I set off for the mile and a half walk to Burnham-On-Crouch station, I wanted to at least see their small collection of ex-London Underground carriages. There are few places outside the official London Transport museum that bother with London Underground stock. It doesn't easily couple with other stock to make longer trains, and I think it is probably only used as static exhibits.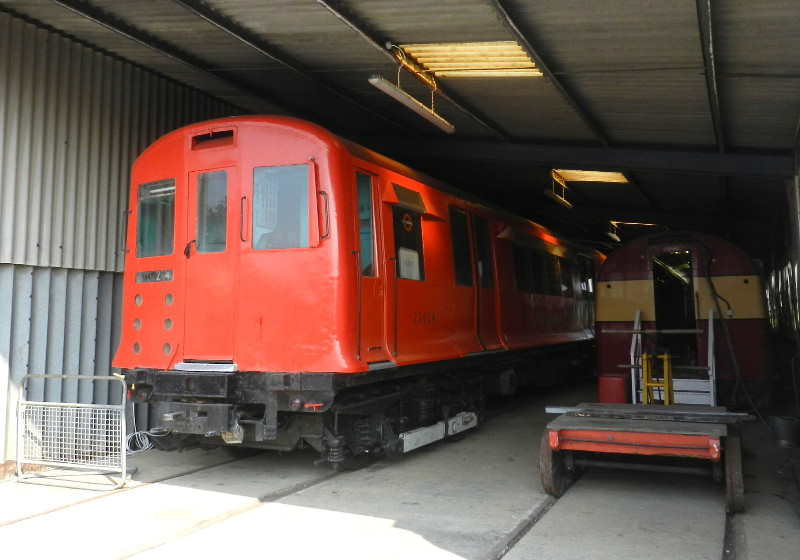 This is one carriage I wanted to see. I think very few of these have been preserved. They are known as
CO/CP stock
, and were used on The District Line. I very vaguely remember them, but they had all gone by the time I became interested in The London Underground.
I may have spent 20 minutes at Mangapps, but I had to move on. If I had taken the opportunity to sit down and rest for a while I might never have got back up again ! It was about another mile and a half to Burnham-On-Crouch station, and it continued to be a painful walk. I probably stopped ever few hundred yards to check on my phone that I was making progress. Eventually I reached the station. Like Southminster station the original station building was intact, but no longer in use as a railway station. I saw signs suggesting there was a coffee/refreshment shop on the premises, but I don't think it was open when I was there.
After a good 10 minute wait the first train was going in the wrong direction towards Southminster. It would be another 10 - 15 minutes before it would return, and heading back to Wickford. Sadly it was an unrefurbished unit with no air conditioning. It was very lightly used, and so at least it was fairly airy in it, and when the wind blew in the right direction there was a cooling breeze through the windows. It drew into platform 1 at Wickford, and that meant another painful trek over the footbridge to platform 3 for the train to London.
Fortunately there was a 2 minute wait for the London train, and I just had enough time to nip into the gents to let rip an uncomfortable build up of gas. It was one of several that caused some discomfort. Luckily it was a 12 car train back to London, and once again the carriage was mostly empty when I let another one go. Back at Liverpool Street station the place was heaving with commuters, and that 12 car train would soon fill up. Meanwhile I had to try and weave my way through a dense mass of commuters to get to the toilet. I almost wish I hadn't bothered. It really stank down there. I think they may have had a flood because it was also very wet down there. My wind was almost odourless by comparison.
I then reversed my incoming journey by getting the circle line back to Cannon Street station. One feature of Cannon Street station (and probably most busy London rail stations) was a water bottle refilling outlet. I had noticed it on some previous visit, took a closer look when passing through there in the morning, and actually used it on my way back home. The water was not very cold, but relatively pleasant. I glugged through half a bottle during the 15 minute wait for a very full train back to Catford Bridge.
It was very, very nice to finally get home. I was feeling very foot sore, but otherwise very good. It felt like a great achievement to have completed that walk, and to have seen Mangapps Railway Museum, but it probably felt even better to partly strip off and sit down, but first there was the matter of food and drink. I had a two part meal. The forst part was breakfast, and the second was dinner ! Breakfast was a Tesco ready made "House Salad" with nothing added apart from some mayonnaise. Dinner was 6 grilled meatballs with a large pickled onion !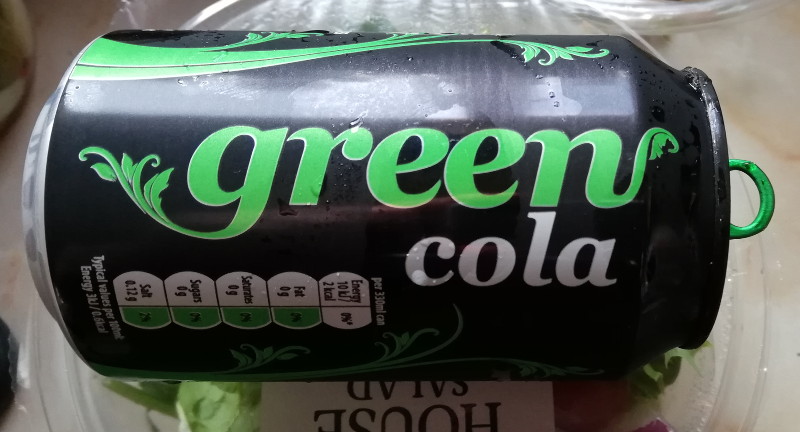 Amongst other drinks, my first drink was of a can of "Green Cola". It was one of a pair of cans I had bought from Poundstretcher a few days ago. It contains no sugar, and no aspertame, but otherwise is a fizzy brown drink that resembles cola. In fact it wasn't bad, and I could even imagine drinking more if it came in 2 litre bottles. I may buy a few more cans from Poundstretcher for special occasions, but for everyday drinking I prefer it in big bottles.
I spent some time going through the photos I took yesterday, but I was feeling really tired. I lost track of the time, but I am sure it wasn't a lot later than 8pm when I decided I would have a lie down, and a snooze before doing anything else. That snooze turned out to be a night's sleep. I had become rather dehydrated during the day, and despite getting through about a litre of water while out, and maybe even more in the evening, I was very little bothered by getting up for a wee more than twice in the night. By 5am I was almost ready to get up, but I managed to go back to sleep until it was light outside.
This morning I almost welcome the rain, and definitely welcome it being a bit cooler today after being baked yesterday. I feel very variable this morning. My usual aches and pains seem to be less than usual, but maybe that is because they are de-sensitised by the more obvious and expected aches and pains from a day out. I must admit that those expected aches and pains are maybe actually less than expected. I can't help but feel if there was a way I could stop my feet hurting so much, I could have pushed myself a lot harder yesterday, and walked even further (my original plan included walking down to the riverside if I had the energy, but that was on the assumption the first part of the walk was going to be as much as a mile shorter).
There are several things I will be doing today, and only one will involve my feet. That will be to go shopping in Aldi. Another job will be to wash some very sweaty clothes. With luck I will be able to dry them outside. I think the rain has stopped now, but it still looks very grey and wet outside. Another job ought to be setting the mouse traps in case that mouse is still around - which it almost inevitably is (unless it was dream ?).