It is definitely feeling very cool right now, although it seems to be at least a degree higher than the forecast temperature. (My thermometers agree it is about 14° C at the moment). Despite seeing at least 5 seconds of sunshine just now, it is forecast to be a very overcast day until 4pm when the sun might make a few brief appearances between the rain that is also supposed to fall in the latter half of the afternoon. With an afternoon temperature of just 17° C, and a cold morning, and cold evening, and hardly any sunshine, today seems like it could be a thoroughly miserable sort of day. Having said that, the forecast has just been revised ! There is good news and bad news. The bad is that there is a 92% chance of rain at 10am, but a much smaller chance of rain this afternoon. It might just be a single shower around 4pm. Even better is that for a few brief minutes around 6pm the temperature may touch 18 ° C ! The temperature tomorrow may follow the pattern of today very closely - very cool morning and evening, but 18° C for a couple of hours. It should be brighter too, but there probably won't be that much sunshine. We are truly in the grip of Autumn now.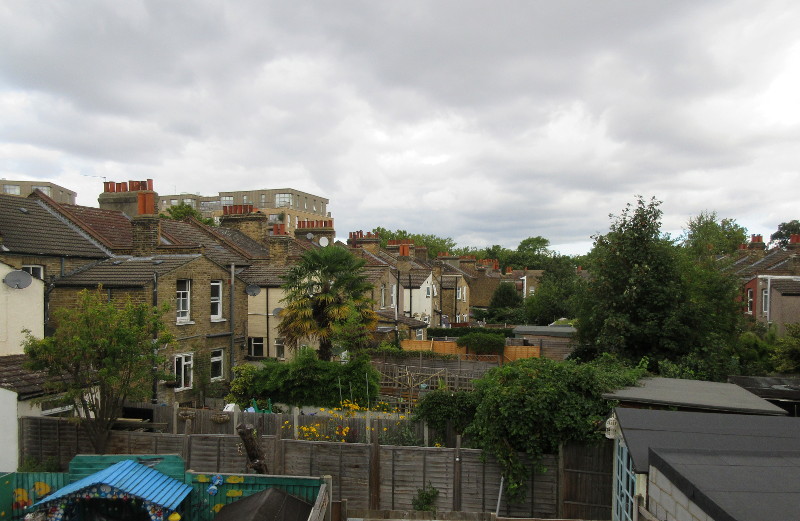 Before finishing with the subject of the weather, I took this picture at almost exactly 11am yesterday. The most up-to-date weather forecast said that 11am should have been bathed in bright sunshine from clear blue skies. As you can plainly see, there was no sunshine, and the skies were not blue at all. I have to confess that 20 minutes later the sun was shining, and a lot of the sky was blue, but at 11am the chances of rain seemed much higher than sunshine.
For a lot of yesterday I was just filling in time until it was time to go out for my late Thursday afternoon drink. I filled in some time with a needed visit to Tesco where I bought lots of fresh salad stuff. I also wasted money on a couple of reduced priced items that didn't live up to expectations. One was some "firecracker" prawns. I followed recommendations, and cooked them in the oven, but I don't think my oven was hot enough. The batter coating didn't come out very crispy. If I had left them in longer I think it would have dried out the prawn inside the batter. So the texture was not very good, and the taste was "nice" but not wonderful as I had hoped.
Those prawn made for little more than a light snack, and because I wanted something more solid inside me before drinking I also cooked some chicken goujons. They were allegedly "southern fried flavour", but I found then to be rather bland in that respect. I wouldn't expect them to taste like genuine Kentucky Fried Chicken, with it's "secret herbs and spices", but I would have hoped they would have a bit more black pepper in the coating. Rather than coating/filling my stomach they left a sort of soggy feeling that initially you wouldn't want to pour beer on. It needed some rest, and a walk to the bus stop before I felt like drinking.
I have to admit I have strange feet. 60 years of being overweight has left them rather wide, and now it seems rather thick too. Both problems seemed to come to a head with a pair of cheap Asian made lace up plimsoles. I bought them years ago, but have never been able to wear them comfortably. In fact they were incredibly uncomfortable for one particular, and quite unusual reason. The toe end seemed to far too little height, and my toes were being crushed every time I took a pace, and the shoe bent as I did it.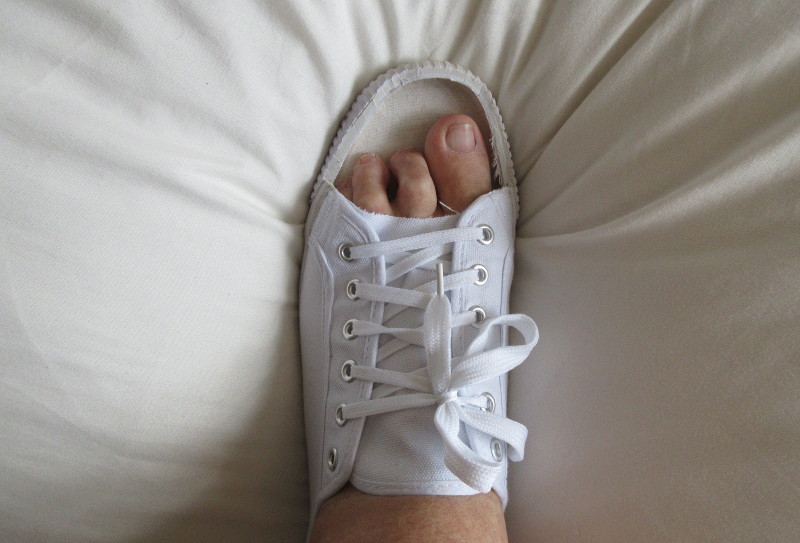 With little to do, and nothing to lose, I took a blade to those plimsoles, and cut off the top of the toe area as can be seen in the photo above. They are now far too silly to wear in public, and have no use indoors, but they now seem comfortable to wear. Maybe it is possible I will wear them indoors until I have put a bit of mileage on them, or maybe I'll just toss them in the bin. The important thing is that I have proved to myself where the discomfort was coming from, and also, at the same time, opened a window (if you'll excuse the pun) and seen just how my feet fit in the length of a size 11 shoe. There is plenty of room for my toes, although a wider fit would be better.
Unlike going to The Shortlands Tavern, which I can do door to door in about 21 minutes including the walk to and from the stations (and which includes a short waiting time for the train), I had to allow 45 minutes to get to my drink in Bromley yesterday. I think it might have even been quicker to get a bus up the hill from Shortlands - the Bromley pub is less than 10 minutes away from Shortlands station by bus. Just to be on the safe side I left home a little bit earlier than needed, and was rewarded with a longer wait at the bus stop, but I did make it to Bromley no later than a few minutes after 4.30pm - out notional meeting time.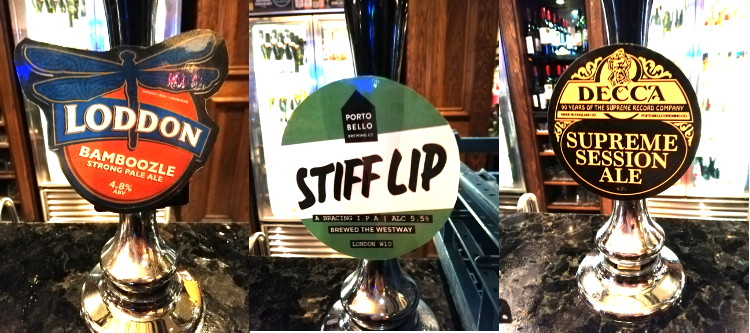 I drunk one extra pint over my usual three yesterday. The first three are illustrated above by their pump handle labels. All three were not very enjoyable, and that is one reason why I had a fourth pint. That fourth one, like the other three, was a guest beer, and of unknown enjoyability, but fortunately it was quite a pleasure to drink. I can't remember all the details from the pump label, and I neglected to take a snap of it, but it was called Kazoo !
Out Thursday beer meetings are gradually thinning out. Andy moved away to Brighton, and Dave moved away to Buxton. During the week Alan moved to Suffolk. That leaves just Chris, Steven, Paul, and on most weeks Jodie as being the only current members of "the club". In a fortnights time both Chris and Steven are away on holidays, and so there could be just three of us. I'm not sure what we will do that Thursday. Paul can be a bit intense if not diluted by banter from the others. I may just have a drink with Jodie in Catford.
After four pints I felt a bit drunk. Not wobbly drunk, but my willpower was definitely legless. I couldn't help myself from ending up buying fried chicken and chips on the way home. After not having any for weeks, if not months, they did have a very special loveliness. Curiously enough, they did seem to do me some good too - at least in a few important respects. I can't blame the beer for what I did after eating. I had promised to do it while very sober.
For the first time in weeks, not including some mainly test messages exchanged while I was in hospital, I called Sue to exchange some general gossip. I managed to finish the call after just 4 hours as 1am approached. With hindsight this turned out to be a very good decision because the Giffgaff "Goody bag" I bought at the start of the month only had just over 4 hours of talk time on it. Any further voice calls to her will have to be made using Whatsapp. Fortunately I make few other voice calls, and the few I do tend to be more normal 5 or 10 minutes long !
Once I got into bed I fell asleep rather quickly, and as far as I can tell, I slept very soundly for three or four hours. I think it was around 5am when I woke up needing a pee, and feeling rather cold. I had to make sure that everything apart from my head was tucked under the duvet before I got back to sleep. I only slept for an hour before I woke again, and it was just beginning to get light. It seemed a reasonable time to get up for a while. I visited the toilet. Took my morning medication, and took a screenshot of today's weather forecast, and checked my email and other messages.
After a while, maybe as long as an hour, I went back to bed. I wasn't really expecting to sleep much, and like most morning when I do it, it is a sort of quiet defiance of when I had to get up to go to work. I go back to bed because I can, and not because I need to - although a bit of extra sleep feels good. This morning's extra sleep contained a bonus - a dream that turned very erotic at the end (why is it always at the end just as I am waking up, and I miss the outcome ?). The dream, or in reality more like a string or dreams that followed on like chapters in a book, actually started off closer to a nightmare.
I was apparently staying in a friends house, and almost a prisoner of my own room because the place was crawling with very young kids. That part of the dream was rather vague, but in what could be called chapter 2, it was suggested that the adults go out for a meal together. In chapter three it turned into a sort of road trip that seemed to last a long time, but didn't seem to go anywhere. Chapter 4 had us turning up at the house of a friend of my hosts. I didn't like it much because it seemed too crowded, but after a while we were due to move on.
The house we were in, like most houses I guess, had a fair small space by the front door, and we were all crowded together as several of us wanted to use the toilet before continuing on our way. I was standing in a sort of corner, and I had a very beautiful looking woman standing in front of me. I don't think she had appeared in the dream(s) before. Gradually she backed into me as she made space to allow people to pass in front. The next thing I knew was that she was pressing her buttocks against my groin area....which was very nice. I hope I have written enough to trigger some very pleasant memories in the future because I am not going to describe the next few minutes before I woke up.
I will say I woke up feeling quite good - and not just because of the dream. It seemed that maybe my body had needed the chicken and chips earlier, or something in chicken and chips. I did seem to feel remarkably good compared to normal. Several common aches seemed to be absent upon waking up. Right now I don't feel quite so good, and I feel sure it has something to do with feeling cool. It seems so cool in my bedroom right now that I have done a very rare thing - I put on a t-shirt while I am writing this, but even that is not keeping as warm as I would like.
I could put the heater on for a while, but I am resisting that. The electricity bill before last showed I was in debt. That was true, but I pay by standing order, and under the original scheme the electric (and gas) company expected it to be swings and roundabouts - going into debt in the winter months, and going into credit in the summer. at the end of a notional year the credit and debit would equal out to nothing. My current supplies seem to be a lot more sniffy about it. I am a couple of hundred in credit at the moment, and so using some heat now would be OK, but leave less for real winter.
One particular pain, albeit not a strong one, but still irritating, is another chest pain. In nature it is a bit like a very mild heart attack, but in completely the wrong place. This pain is slightly unusually very high up my chest at collar bone height. It very much depends on posture, and is worse when standing up. I may take a couple of painkillers if it doesn't fade out soon.
My evening is pre-planned today, I am going to a gig in The Birds Nest pub in Deptford to see The Flame Pilots who are supporting Porcelain Hill (who look a bit scary, but apparently are really good). The Flame Pilots are actually the middle band of a three band line up. There are a few things I will definitely do today. One is just a very short job - provided I can find it quickly - and is to change my duvet to a winter grade duvet. The other job will be a bit more labour intensive. I bought two "reduced price"/"special offers" from Tesco yesterday. I have no idea why I thought I needed two extra hand towels, but at just £1 each they won't break the bank. They look to be medium quality, or better than the Poundshops offerings. The need a good wash before use, and once I've washed myself, I will wash those two towels, and may a few other bits and pieces. It's shame that I think they will probably have to be dried indoors today.