It certainly feel fresh this morning, cooler than the 17 or 18° C forecast, but I think the forecast is probably right. At the moment there is little more than some very thin, very high cloud adding some milky streaks to a fairly blue sky, and sometimes the sunshine is a little hazy, but it seems more like "sunshine" than "sunny intervals". The latest revision of the forecast says we will lose any sunshine from 11am right through to 5pm when sunny intervals will resume. I have a suspicion that the earlier forecast, as in the screenshot above, may come closer to reality, but we will just have to wait and see. One other change in the latest revision is that the afternoon temperature is now thought to be just 22° C instead of 23° C. Tomorrow may start overcast, but that should quickly give way to sunny intervals, and just sunshine for the last 4 hours of daylight. It could be quite a warm day with 27° C predicted.
I did not feel terribly enthusiastic yesterday morning, and I struggled to really do anything at first. While I initially thought I didn't feel that bad, I noted that while towelling myself dry after washing me and my hair, my right elbow was more sore than I thought, and the inflammation, or whatever it is, appeared to be making the muscles that attach to the bone either side of the elbow were sore too. This is becoming a far too frequent occurrence. Fortunately there is a partial cure that involves Ibuprofen and some form of exercise.
In yesterday's case, that exercise was to do some laundry by hand. I washed two small towels, and small tablecloth, and two tea towels. I did this around midday, and during the time the sky almost went black. I made mental preparations to hang it all up indoors to dry, but by the time I had finished the sun was out, and much of the sky was blue. So I hung it all on the line outside, and it was as good as dry by 6 or 7pm.
That almost sudden change from a dark sky, with a shower of rain, to blue sky and sunshine had an unexpected outcome. It was a painful outcome because it distracted me from a lesson I had learned a day or two previously, and had managed to follow when drunk, and when bleary eyed in the middle of the night. It all concerns the extra shelf I added to the bookshelves at the top of the stairs. They mean unlearning what I had been doing for the last 30 years.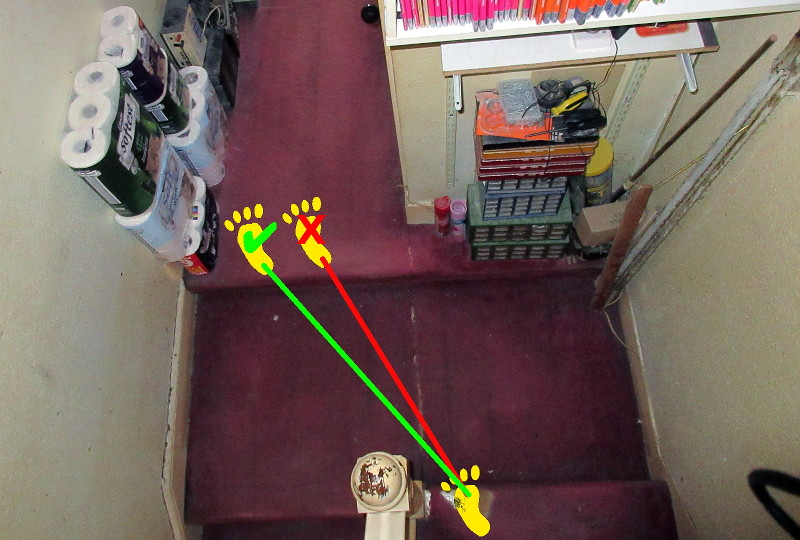 It is best described using the diagram above. When moving from the bedrooms to the bathroom I would take one long stride across the landing at the top of the stairs. I would aim for the middle of the passage to the bathroom. Now I have to aim to the left, where the spare toilet rolls are, if I want to avoid clipping the corner of the new bookshelf. Failure to do so is very painful, and draws blood. I thought doing it once was a good enough lesson, but yesterday I did it again !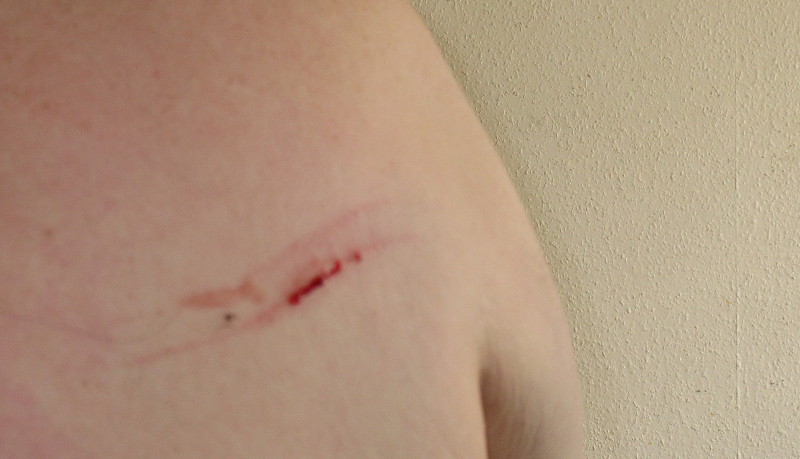 This picture of my back was difficult to take, and the relevant bit is out of focus, but it still shows damage to my back from scraping it on the corner of the bookshelf. The slightly higher scrape has almost healed, but the one half an inch below shows fresh blood seeping out. I have now used some white duct tape, which matches the white Contiboard nicely, to cover the offending corner. It will still hurt if I scrape across it, but it shouldn't be sharp enough to draw blood. Since my second lesson I have been most careful, even when crossing at speed, and maybe I am getting close to being able to do it without thinking.
With the washing hanging on the line, and the corner of the bookshelf covered with three layers of duct tape, I took a rest, and that rest turned into a long siesta. I enjoy an afternoon nap, but sometimes it feels like more than just a mere nap. I am unsure how long I was asleep for, but it may have been a couple of hours. I woke up feeling like I was wasting the day. I hadn't really planned to do anything in particular in the afternoon, but I thought I might pop out to Iceland and/or Tesco to get a few bits - some of which would have been to make a more enticing dinner.
I didn't get to go out because I started on a small bit of a project, and ended up getting close to completing it. Ignoring a few minor details, I did complete a full phase of it. It all concerned my long term project to rehabilitate my back room, and get it into a state where it could be used as a dining room again. At the moment it is more like a tip. One phase of it was to move a chest of drawers through a right angle, and park in the alcove next to the chimney breast. I had already done a fair amount of preparation for it, and I think I expected I would do some more preparation, in small stages, before attempting to move the chest of drawer. Yesterday I did the whole thing !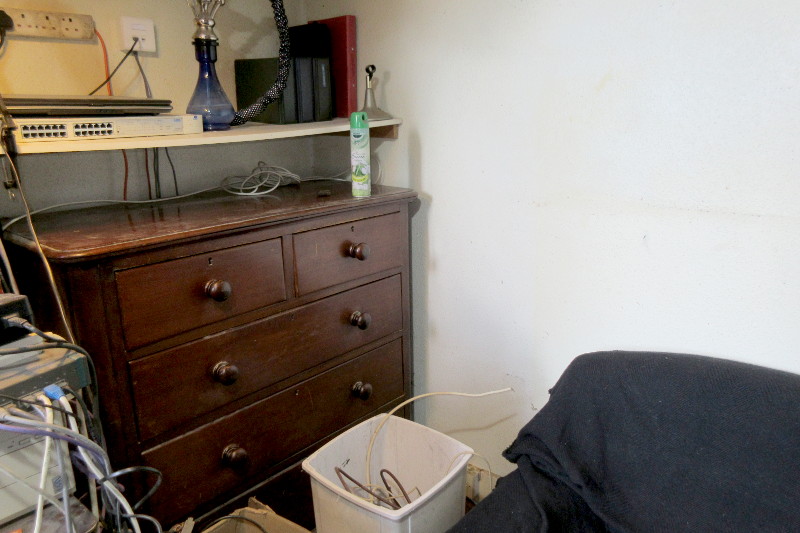 It was hot sweaty work, and it involved emptying the hoover twice ! At the end I had the chest of drawers safely tucked into the corner, and that left room for a spare armchair to be moved from the front room into the back room. So now I have more room in the front room. At this rate I will have enough room to manoeuvre in the front room to risk painting it - something that Angela thought would be a good idea. It is a shame she is unlikely to ever see it if I do it. Maybe without her influence it will never happen.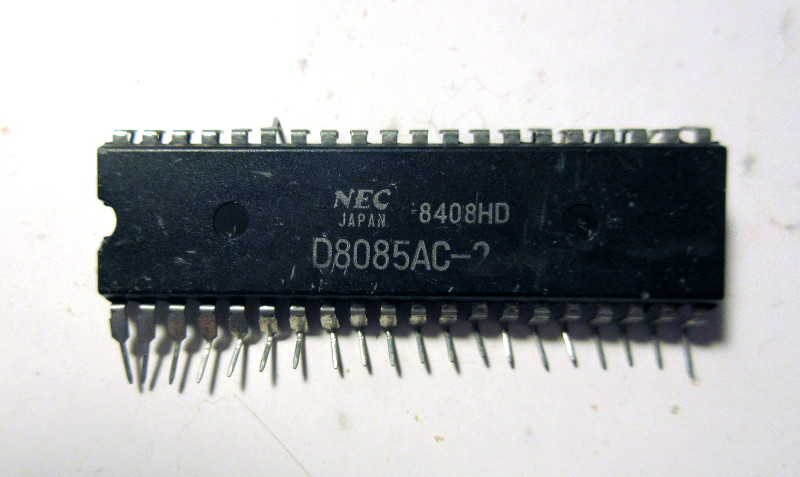 When I had finished all my hard work I retired to my bedroom for a lie down, but when I got up there I realised there was something stuck to my foot. It was the item in the picture above. It is a microcontroller - an all in one chip low power computer. They were never powerful enough for use in even a simple "home computer", but this particular one was very popular in all sorts of control units, and in things like CD player and TVs - although the latter would probably use a version with the program on an internal ROM (read only memory), and only need 28 pins instead of 40. Quite how it got to where it was that I trod on it is anyone's guess. I think I have another couple of them somewhere - probably taken from some old junk I was dismantling for spares or something.
All the heavy lifting I did was not without it's consequences. Perhaps the worst was later in the night when trying to sleep, but I was feeling the effects quite early in the evening, and that did two things. The first was that I no longer fancied going out to a gig. The one I was going to was nothing great, and while I would have liked to take a few pictures, I didn't feel I was missing out on much.
The second was maybe more a consequence of the first. If I wasn't going out then I could have proper dinner at the proper time. I hadn't really planned for that except for a vague idea that I would pick something up if I went out shopping - which I didn't. It was another extravagance, but I ordered a Chinese takeaway. It was very slow arriving. The web page initially suggested 30 to 50 minutes delivery time, but the prediction when the order was accepted was a full hour, and that actual delivery time was almost 90 minutes later. I think it was probably still worth it because it was very tasty - plus, as usual, I have enough for a second meal today. In fact it could be a small lunch and a small dinner.
After a few hours of watching TV I went to bed, but it took ages to get to sleep. While watching TV my eyes were starting to droop, and I was expecting to fall asleep very quickly, but from the moment I got into bed I felt wide awake. I don't think it was caused by multiple sources of discomfort, but they couldn't have helped. For the first time since I had done it I could feel how sore my back was where I had scraped it. At the time it had been a couple of seconds of agony that seemed to subside to nothing in the space of a few minutes.
My back was one specific and easily understood sore spot, but everything else was much more general, and individually very low level, but the cumulative effect was enough to make relaxing very difficult. All those tiny little aches and stiffnesses were the result of manhandling the chest of drawers and armchair. Most were built on well known areas of difficulty, and the worst of these was my chest. No matter what position or side I used to lay in bed, some part of my chest would ache.
This morning there is a tiny little bit of a possibility that something happened to my chest that I mentioned quite recently. Some, what I shall call an anti-strain, may have reset the damage I did recently while doing garden clearance. It would not be the first time that some reason for discomfort has been popped back into place, and once that particular discomfort has settled down, my chest is as good as gold until next time. It is too early to say if this has happened, but my chest does seem to feel less clicky and poppy so far.
It was not long after 10pm when I went to bed, and it must have been as late as 2am before I got any meaningful sleep. Even then I was only managing to stay asleep for about an hour. Everytime I woke up I would find a new pain, or a hand had gone to sleep after laying on my arm or something. Gradually my sleeps got a bit longer, and the last period might have lasted for almost three hours, and seemed close to normal. I had quite a variety of now all but forgotten dreams. My overall impression was that they were mostly happy sort of dreams. One was definitely erotic, but mostly they were about things like the happier aspects of being at work - although as I write that down it starts to sound unlikely, but with no actual memory of the content of the dream I just have to go along with the overall impression that they were more inclined towards nice and not nasty.
I am still probably under the influence of some Paracetamol that I took sometime in the night, and it does feel that my usual aches, pains and stiffness are not that bad this morning. I have already mentioned that my chest, which is best calmed down with Ibuprofen, and not Paracetamol, is feeling almost benign this morning. I guess this means I should feel fit enough to go and ruin it all again by doing something like some more garden clearance.
I have no specific plans for today, and being a Sunday it is tradition that it should be a very boring, and pointless day, and yet... Maybe I will do some garden clearance, and maybe I will go to Iceland and Tesco. (I am definitely missing Jalapeno cream cheese in a squeezy tube, and that means I will have to go to Iceland sooner or later). I suspect I will be having a long siesta this afternoon, and once that it over I can get down to the serious business of moaning about what a terrible dull and boring time Sunday afternoon and evening is !