I haven't seen any mist, as forecast for about now, but it is still dark outside. As far as I can see it is still clear outside. It seems that the first few hours of the day may be heavily overcast, but maybe by 11am the clouds will thin a bit. None is shown, but maybe it's worth crossing fingers and hoping that there might be a sunny period sometime in the afternoon. Even a few minutes of sunshine would make the forecast 11° C feel quite good. It's a shame that the forecast has just been updated, and the 11° C has now changed to just 10° C. Tomorrow is forecast to be similar to day except that tomorrow afternoon may have some sunny periods. The predicted temperature is currently thought to be 10° C again.
Boxing day, the day before yesterday, was a miserable sort of day, but yesterday was one of the good days - very good ! I started yesterday by washing my hair, and having a good shower. I also put a couple of t-shirts, and some underwear into soak, but I didn't actually finish that bit of laundry until late afternoon. The final thing was to try and psyche myself up for a long walk. I didn't manage that, but by the end of the afternoon I had managed to clock up a few miles.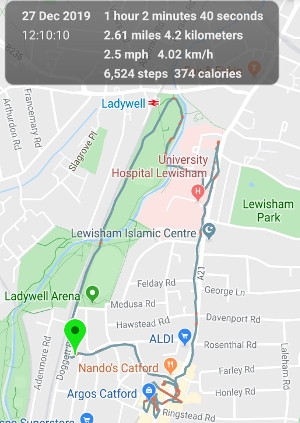 If you look carefully at the map showing my walk you'll notice a bit of a mess at the bottom of the map. Once again I forgot to pause the tracker when I went into a shop TWICE, and it got all confused when it lost the GPS signal inside the shops. The first time I had a sort of excuse, but that, and what I was buying in those shops, a bit later.
I managed to make my walk exactly 1 mile from home to the pub my walking a slightly convoluted route. I should have done a turn around Lewisham Park, or something, to pad it out a bit more, and also to use up a bit of time. I didn't, and ended up in the pub about 20 minutes early. I had sent a message to Angela to say that I would be in there at the usual time of 1pm, and I was a bit worried that she didn't acknowledge it, and that by 1.10pm she had not arrived.
One minute later she breezed into the pub and told me that she hadn't seen my message, but wondered if I would be there. She did say that she had a busy morning, and maybe had wanted to finish something before going to the pub. With hindsight I think she was more than wondering if I would be there, and more like hoping I would be there.
Seduction is not the right word, but it the best I can think of to describe how I have been working my charms on Angela - by doing almost nothing but being a different sort of person to lover boy. Yesterday it showed in two rather different ways. The more direct was a result of a new sweater she was wearing. It was ordinary and plain except that one side was exposing a lot of shoulder. I can't quite remember how, but I ended up stroking that small bit of skin, and remarking how wonderful it felt as part of a general compliment about her skin.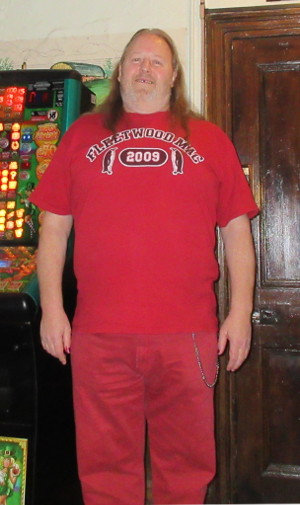 I wish I could remember her exact words when I apologised for maybe being too over familiar, but I think she said it was nice, or of that wasn't her words, it was what she implied. I finished with stroking her cheek and chin. It was all very innocent, and yet it wasn't. A little there came a sort of confirmation that it was OK, and hopefully enjoyed. Angela had mentioned that she was curious about the quiz night they have in the pub some time ago. Yesterday she explicitly said that maybe we should have a go at some future quiz night, and that it would be just me and her.
Maybe it was being dressed all in red (including red boot laces) that brought out the devil in Angela (or me). Anyhow, pub quiz nights are not my natural forte. I think I possess a wide range of knowledge, but there are some glaring holes in it, and I never remember details like dates. To take part would probably end up as a sort of ritual humiliation, but I think I could take that with Angela as my partner. It is even possible that Angela can fill in some of the gaps in my knowledge. I agreed I would join her, and that she was to let me know when it would be.
The only bad thing was when I went to the toilet before leaving the pub with Angela. The belt I was wearing with my red trousers (which still feel comfortable despite being as much as a kilogram heavier than when I first ventured out into the world wearing them again) was a belt I had been experimenting with reinforcing the holes with eyelets. One of them hadn't been done properly, and left a very sharp edge which split my right thumb open !
I had to walk Angela back to work with tissue wrapped around my thumb because it was bleeding quite profusely. Fortunately it was my right thumb, and Angela was on my left. It could have been messy if the other way around when for some reason I felt it appropriate to give Angela a sort of sideways hug as we walked down the road. Outside Angela's work place we had a proper hug - possibly for longer and tighter than usual. I think being injured, even if it was only a scratch, brought out extra love from Angela.
After saying goodbye I continued walking, but not directly to home. As I walked I couldn't help but thinking that Angela and I, at the same age of 64 and a half, had been acting like teenagers while together. I certainly didn't see that coming when I was a teenager. Compared to the miserable day before, it was like I was walking on air as I headed for my first shopping stop. It was to pop into Poundland to buy a packet of plasters, and then to try and put one on my thumb when I was outside the shop.
It was quite important to try and stop my thumb from bleeding before I went into the shop I was heading for - Peacocks. There was one particular item I wanted, and two optional items. The one I most wanted was socks. Not just any socks, but long thin socks. My experience of wearing hiking boots with dress socks instead of chunky hiking socks has been very positive, and the pair I had been wearing with my boots had started to wear through, and needed replacement. I think I found some suitable socks in Peacocks.
The two other items were a very low priority. A spare pair of black sweat pants (as I believe they are called) seemed like a handy thing to have. Unfortunately I couldn't see a similar pair that had an internal lining like the one pair I have and occasionally wear - as just indoor pants/trousers rather than for any sporty, sweaty reason. I did find something similar, and added them to my shopping basket. The other thing was a winter coat. I was more curious as to what they had until I spotted what looked like a good coat, in what should have been the right size, and only £25. I added that to my basket too.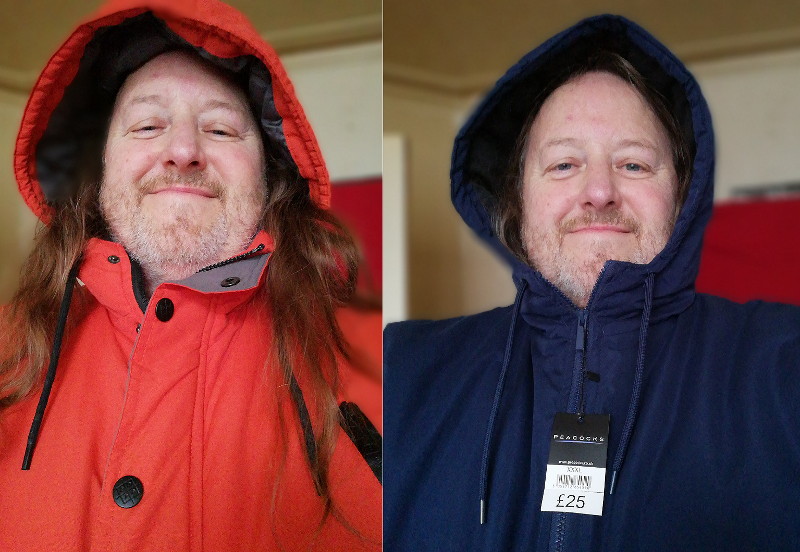 The orange coloured coat on the left in this picture, was one I bought quite a few years ago, but at the time of purchase it turned out to be a lot smaller than the XXL size suggested. I could barely do it up, and it felt like I was in a straight jacket when I did manage it. There was no way I could wear it at the time, but now I have lost some weight I could wear it if, for instance, we had some very severe weather. In the interim, I thought that the blue coat on the right would be a a more comfortable fit - it being a XXXL size. In reality there is little difference in the size, and I will have to lose a bit more weight before either of these severe weather coats becomes very comfortable to wear.
When I went in Poundland I didn't exactly forget to pause the tracker on my phone, and I left it running because I knew I would be near the front of the shop most of the time, and the GPS signal probably penetrates a little way inside (although it will lose a lot of accuracy). There was also the fact that I didn't have full use of my right hand until I got a plaster on my thumb. I did forget when I went into Peacocks, and so the tracking trace ends up as a mess, and that mess would add anything from half a mile to a mile to my total walk.
I slightly made amends to it by taking another un-tracked walk to Tesco and back after I had dumped my shopping from Peacocks at home. The two walks combined possibly come a bit closer to the 2.61 miles shown for the first walk. Neither walk was particularly comfortable. I was testing out another old pair of hiking boots with thin socks. My feet were up to the threshold of pain, and neither were they damaged, but those boots were certainly not as comfortable as the pair of hiking boots I took out of retirement a few weeks ago. I do have one more pair to test, but I don't think I'll chance then on any walk likely to be more than 2 miles long - or maybe less.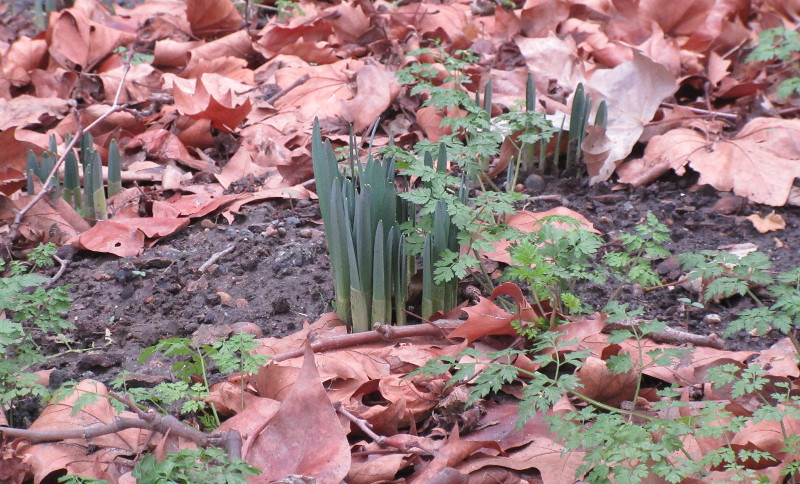 I didn't take many pictures on my walk through the park. The picture above showing a clump of daffodils just starting to come up, was just one of two pictures. Despite it being very often wet, and very often very dull, I guess we are having a very mild winter, and these daffodil shoots seem to agree. Of course February seems to be a more traditional month for snow, and maybe I'll get the chance to test one or both of my severe weather coats in the sort of weather I bought them for. By February they could even fit better if I can just lose a bit more weight.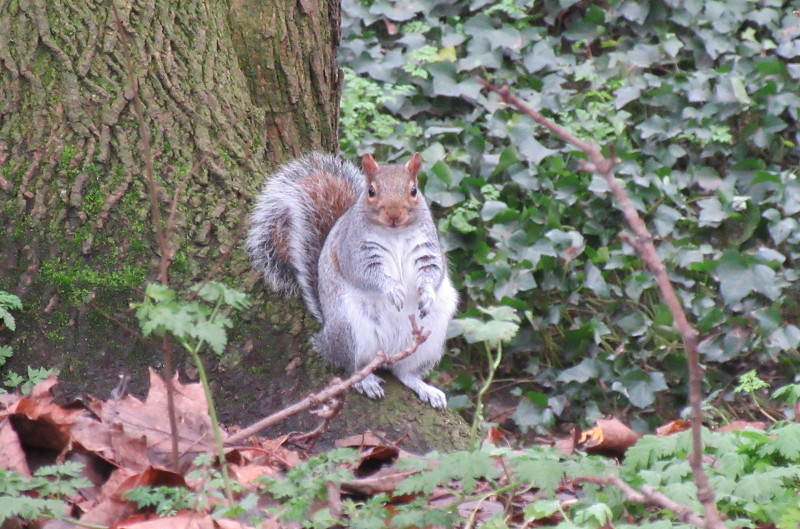 As I am sure this fat little squirrel would agree, winter is really the time to put weight on, and not to lose it. I really should think more positive thoughts that I am doing well to keep my weight down, let alone lose any. However it seems I am almost back on track to lose some weight again after a few days of madness.
I have to confess that I did buy some bad things from Tesco yesterday. The big lump of blue cheese (not officially Stilton, but very similar), reduced from £4 to just £1, just had to be bought. I ought to try and make it last a few days ! The two slices of pork and egg roll, also reduced price, seemed too tempting to ignore, even though their calorific value was probably quite high. The Colmans mustard flavoured pork scratchings main failure was probably he salt they contained.
I also took a good look at the soups on the shelves in Tesco, and selected 4 (or was it 5 ?) of them with what seemed like the lowest sugar count - although they also had to satisfy the criteria of being nice flavours too. Apart from the two bottles of Diet Coke, and the bottle of whiskey, my one other purchase was of a bag of flavoured chicken wings. Within the big bag were three smaller bags containing wings with three different marinades. I am not sure why I dared to buy them after finding the wings I bought from Iceland seemed to contain a lot of sugar. Fortunately the wings I bought yesterday didn't seem to have a sugary glaze like the Iceland wings.
I was in an extremely good mood yesterday. It was partly from a couple of successful shopping trips. Partly because I had actually gone out on a less than ideal day for a walk, but mostly because of Angela. She really does raise my spirits. The downside, if indeed it can be called a downside, is that my mind was still buzzing when I tried to go to sleep. I thought I felt tired, but I just didn't feel sleepy. It felt like I lay in bed for ages trying to get to sleep, but maybe it was less than it felt like. I can't really remember what time I turned the light out, but it was probably around 11pm.
I guess I was probably asleep by midnight, but I can't be sure of that. I know it was about 2.15am when I first woke up. I managed to get back to sleep for another couple of hours fairly quickly, but it was by no means instantly. I didn't think the last hour or two was going to happen, but it did - just. At 7am it seemed like I may as well start getting up. I sort of felt OK with what sleep I had managed to get, and apart from my right shoulder, which is still playing up, I feel fairly OK. My blood pressure is it's usual moderately low, and my blood glucose is, as usual, not quite as low as I think it should be, but pretty typical of the last month or two.
Now comes the bit where I have to try and decide what I am going to do today. The great outdoors doesn't look too attractive right now, but there is hope that it will brighten up in another couple of hours - although the chances of any sunshine are quite low. What I am going to try and convince myself to do is to go for a country walk - specifically the approx 4 miles from Eynsford to Shoreham (Kent). On nicer days it used to be may favourite practice walk. I have often thought about doing it in less pleasant weather, and today
could
be the day. At least the trains are running, and that is a good first step.