Contrary to what this morning's forecast seems to suggest, the sun has almost made it through a narrow break in the clouds a few times this morning. Maybe the cloud is not so dense as the forecast says, although I doubt we will ever have any real sunshine today. There is a very low chance of rain in the afternoon, and into the evening, but it will probably stay dry. As I write this the sun managed to shine at about 90% strength. It's a shame it only lasted for about 90 seconds, but it gives hope that it might happen now and again to break the monotony of a miserable overcast day. The days are slowly getting colder. Today may see 12° C for a while, but 11° C is more representative of the afternoon. Tomorrow may only be 10° C, but at least there could be some sunshine.
I did say that my aches and pains were much diminished yesterday morning, but that may have only been partly true, although I didn't really realise it until I went out. I found that I had some assorted mild pains when moving around. Each individual pain was almost nothing, but I found there were enough little nothings to take the pleasure out of a sort of expedition. It certainly put me off doing any great amount of walking, and yet by the time I got home I had covered quite a lot of ground in small measure, and had been up and down a lot of stairs !
My plan for the outing had a lot of flexibility, and I bent that flexibility to the extreme. I guess things first went awry when I realised that the first train from Catford Bridge was a Cannon Street service, and didn't go to Waterloo East station. My plan was to basically reprise my old commute to and from work, and so I had to change trains to get to Waterloo East. The best place to do this was Lewisham, but having got off the train I saw that the next two trains were both Cannon Street services. So I got back on the train, and changed at London Bridge.
Without escalators at London Bridge I could have been completely knackered before I started. That concourse is really deep below platform level, and each stairway up and down is twice the height of the steps up and down the old footbridge. The only fortunate thing is that trains to Charing Cross (calling at Waterloo East) are very frequent, and I only had to wait 3 or 4 minutes before I was on a train to Waterloo East.
Going over the link between Waterloo East and Waterloo mainline station was just as hard as it always was. I guess I didn't have to do it at commuter speed, but I did it that way anyway. Maybe I wasn't quite so out of breathe at the end as I sometimes used to be, or maybe I was. It is hard to remember. One thing that I am sure of is that my subconscious was in more control than I thought. I was drawn towards the high numbered platforms instead of going to the low numbers where I would get a train direct to Earlsfield.
Some of the bias towards the high numbered platforms was to see how the old international (Eurostar) platforms were being used. They now seem to be in regular use, and all the building work appears to have been finished. With all the hordings taken down I could see that there is no a new lower concourse for those old platforms. The lower concourse has it's own stairs down to the tube, and it appears to have it's own toilets. I presume there is also an exit out to the road as well. I didn't see anyone down there, and so maybe it is not in use yet.
One of the things I was thinking of doing was to visit Queenstown Road station, and I think that is why my subconscious steered me to the high numbered platforms, because it is only services from there that stop at Queentstown Road. I used to pass the station every day during my commute to work at my last job, but I never got off the train (my trains never actually stopped there) to investigate it.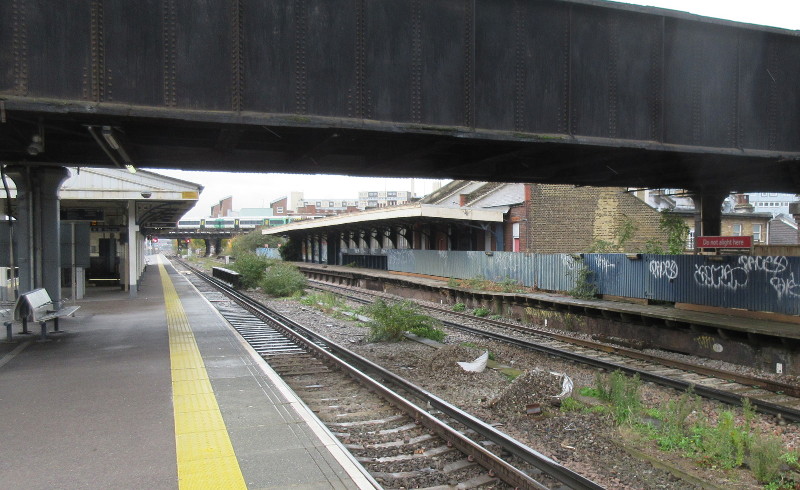 The most visible feature when going through the station is the disused platform on the far side of the station. I have no idea how long it has been disused, but most of it is all wood, and wood hasn't been used for decades. Before the station was run by South West Trains, it had been given a retro look by using the traditional "Totem" type railway signs, and extensive use of "Southern Region" green paint. Eventually the platforms, and signage was mostly changed for modern designs, but the booking office still features a lot of green paint.
I had never seen the outside of the station until yesterday, and I like that it has not been modernised, and appears to retain it's original name of Queens Road Station, and the initials L.S.W.R (London & South West Railway). The windows seen on the road bridge actually look out from the disused platform. Having spent a bit of time here I got back on a train to Clapham Junction. I spent 10 minutes or so "trainspotting" before walking over the long connecting overbridge to get a train to Earlsfield.
It wasn't a long wait until I was on my next train, and just a few minutes later I was at Earlsfield. With hindsight I don't think I could call it a plan. Maybe it was an option instead. I could have either taken a 20 minute round trip to see where I used to work, and maybe see who now used the old workshop, or there was a more ambitious option of walking up, and over the hill to Wandsworth Common station, taking in some of Wandsworth Common at the same time. I rejected both options because I didn't feel comfortable. I had developed lots of little aches including my upper back, and midriff, but I was also getting some mild complaints from my left ankle. So I turned around, and went for a train back to Clapham Junction.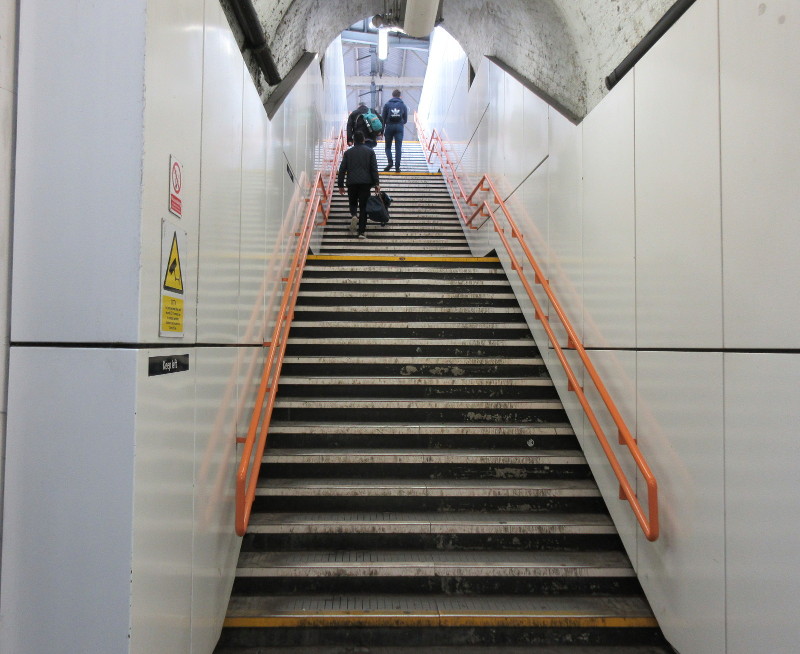 To get to the trains I had two choices. I could use the lift, something I had to rely on when I was suffering from angina in 2013, or I could tackle the stairs. As this picture shows, it is a very long flight of stairs, and even when I was at my fittest, it used to knacker me walking to the top. I can remember that it was hard work to force myself to keep walking to the far end of the platform even when I was feeling good. Despite my assorted aches and pains, I guess I was feeling better than I thought because I didn't feel that bad when I reached the top, and my breathing seemed not much deeper than usual at the top, although I could feel the effort my legs had put into it.
For a bit of variety I decided I would use what used to be my emergency route home, although it was also a good route if I wanted to get straight to The Shortlands Tavern (or Bromley) after work. I got the next train to Clapham Junction, and changed there to the London Overground service to Dalston Kingsland, although only as far as Denmark Hill. It always seems a very slow service, and I don't like the Overground trains with their longitudinal, tube style, seating. At Denmark Hill I found some new signs had been put up.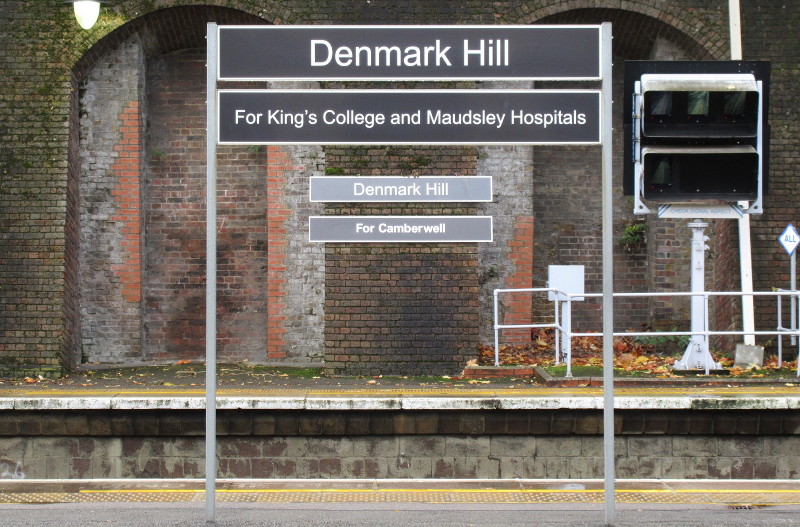 Depending on where your eye focussed it could be Denmark Hill for Camberwell of Kings College and Maudsley Hospitals. In reality it is both, although it is a long walk down the hill, past the hospitals, to what I think is the middle of Camberwell (it's where Camberwell magistrates court is). Once upon a time Camberwell had it's own station, and there is occasional talk about re-opening it, although there is not much left to re-open.
One unintended consequence of this route home is that I would arrive at Catford station. That makes the final walk home a bit longer, but also means passing the Sainsbury's Local shop by the station - and passing it when I was feeling very hungry. There were many things I could have bought, but I thought that their excellent, ready made, Greek salad was best.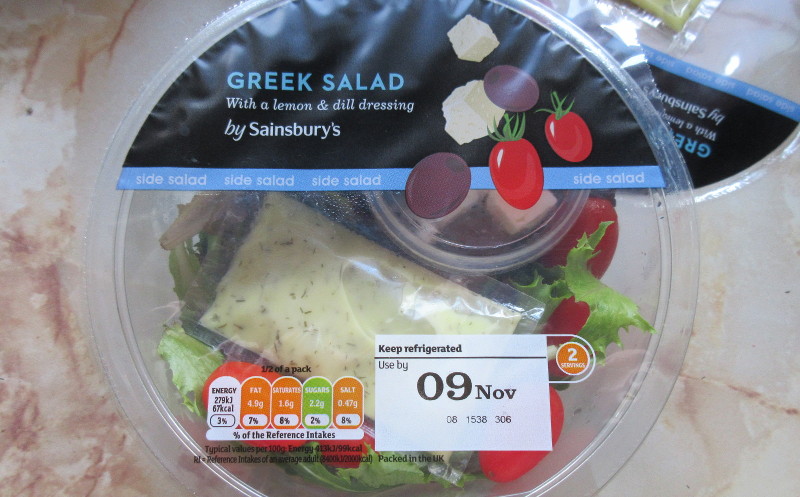 It all looks very innocent, but there is a flaw in my reasoning. The first flaw is the ridiculous idea that this package serves 2 people. Well maybe as a side to a far bigger meal that might be possible, but to me it is an individual snack, and I was so hungry that I ate two of them ! It seemed to have a bigger effect on my blood glucose level than expected, and that reverberated until this morning.
For a time those salads filled a hole, and helped my defer dinner by almost 15 minutes ! My dinner was essentially diced lamb and diced courgette. The lamb made the meal a bit fatty, but it was not swimming in it, and I poured away a lot of the stock I had cooked it all in. Nevertheless, this morning my blood glucose, jumped up a couple of points, and I seemed to have gained some weight. (Although as I write this I have not had poo, and that could make my weight gain a little less alarming).
I had hoped that while I hadn't walked any long distances in a formal way, all the up and down stairs, across link ways, and up and down platforms, would have added up to a fair amount of exercise. It certainly had me feeling quite tired when I got home, and yet is seems the end result was the opposite of what I had hoped for. Maybe it is an extension of what I thought was some sort of malady I was suffering from after my recent walk in the rain. I certainly didn't feel well last night.
All through the evening I felt uncomfortable in various, but hard to describe ways. It was lots of little aches, some of which came and went depending on movement or posture, adding up to a general feeling of "not nice". I did my best to get to sleep in a position that shouldn't have aggravated anything, but a few hours later I woke up feeling horrible. The worst thing was a sort of chest pain that seemed very suspicious. For a while I was thinking that it might be time to pack my bag in case another visit to the hospital was called for.
I took some Ibuprofen, Paracetamol, and some antacid tablets. Eventually one or the other helped a lot, and I was able to get some more sleep. This morning I think it was a combination of a lot of things rather than one thing. The lamb and courgettes was quite rich, and I might have had some acid indigestion. Some of the pain was a lot like when I allow my chest to became cold and damp. Other supporting aches were just usual things like some upper back pain plus my frequent shoulder and elbow pain. Each one by itself is almost ignorable, but combined they made for a miserable night.
This morning nothing really aches unless I provoke it. My original thoughts about today was that I would stay in the warm, in the dry, and partly rest. That was on the assumption that today would be wet and gloomy. It now seems that it will probably be dry, and we are still getting short bursts of sunshine. It could feel like I am wasting a day by staying in, and what is worse, leaving myself open to the temptation to snack on stuff instead of fasting until dinner time. At the moment I do have one extra ache - a headache, plus I can't stop yawning. Maybe I'll have a shower, and then lie on my bed with my eyes closed and see what happens.