I expected the temperature to be a little lower than 5° C earlier this morning, but maybe the forecast was right...or maybe not.
It says sunny intervals this morning, but I seem to be in the middle of a v e r y long sunny interval at the moment. These sunny intervals should last until 2pm according to the forecast.
The latest revision of the forecast now says it will be sunny until 10am, and then sunny intervals will continue until sunset at 5.22pm. Unfortunately the extra sunshine will not be increasing the temperature beyond the old forecast of 11° C. Tomorrow might see 12° C, but it is going to be a rather grey, overcast day with a very small chance of rain. We have to wait until Friday for some really interesting weather. The temperature could reach 16° C, and it should be a sunny day.
Yesterday morning I reported feeling a bit fragile, but otherwise quite comfortable. Maybe for a while I felt slightly better than that. Once I had washed and dressed I went out with both a camera and my shopping bag. My route took me past The Black Cat pub. There was nothing of interest there, but next door to the pub was a planning application notice for the old Brookdale Club. I had never been in there before it closed down, and I assumed I never would because the entire premises and grounds were bought by Lewisham Council as part of a grand regeneration project.
I can only guess that the money ran out for that, and the place has been leased out to new operators. They want a licence that covers all sorts of things as well as selling booze. There are such odd things as film shows and plays on the list, but what caught my eye was "live music". It might be, and probably is, pure fantasy, but I hope that some bands appear there in the future that play "approved" music. Maybe one day I will get to see inside The Brookdale Club.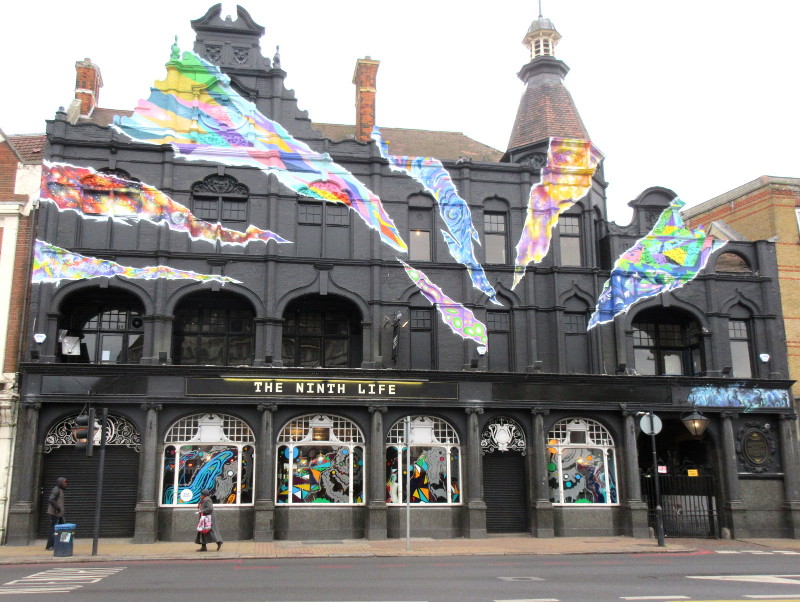 This is another venue that might have some bands on one day. It is the old Black Horse And Harrow. It has gone through several changes of ownership, and the latest owners had probably wanted to turn it into flats, but the council put their foot down, and insisted that it had to stay as a pub. The owners were reported to be looking for a management company to run at least the ground floor as a pub, and it seems they have finally found one - one with some pretty psychedelic ideas about how to decorate a building. I know of one band, who are quite good, and who say they will be playing there some time, but I have a fear that most time there will be "disco music" and "disco DJs" playing there. That will, of course, mean that they will have to have SAS trained armed bouncers outside !
If I had thought about it a bit more I could have gone shopping in Lidl yesterday. It is a bit of a walk to Lidl for an ordinary shopping trip, but I do like to check it out now and then. While I was checking The Ninth Life I was only a couple of minutes walk from Lidl, and I even had my ruck sack and a big shopping bag with me, but I thought I would press on with my original plan to check a few charity shops for CDs and DVDs.
I bought three CDs, and two of them were a disappointment for very different reasons. The third was a novelty, and probably worth less than the £1 I paid for it. It was a CD of songs performed in various episodes of The Simpsons. The next CD was Alanis Morrisette's "Jagged Little Pill", and I like a few songs on it. The only major problem is that I found I already had a copy of it bought on some previous trawl of the charity shops.
Then we come to the CD pictured above. I remember the Righteous Brothers having a hit with "You've Lost That Loving Feeling". It's not that wonderful, but acceptable when mixed in a playlist with a bit of Motorhead, and Sex Pistols. There were many other titles that I recognised listed on the CD, but...oh dear, oh dear, oh bloody dear...I wanted to shove a skewer through my ear drum when I heard some of them. This was definitely the dark, smelly underside of the swinging sixties. Their truly awful covers of some of the great soul tracks might have been liked by a few old grannies, and those who thought buying "Music For Pleasure" LPs (not original artists badly covering famous songs) from Woolworths was a good idea. I'm not even sure I like the title track to the CD anymore.
My other rummaging around was OK. I found one more Hazelnut Cream scented candle in the SAM 99p shop, and they had a few more of the mildly pleasant Woodland Cornucopia scented candles back on the shelf too. Then I went into Poundstretcher to seek out some new bathroom mats. I found a couple of suitable mats, and they are now ready to put down to replace the smelly mats when Patricia visits in, or before July. I would also put them down of I thought there was any chance of a visit from Angela, that seems highly unlikely at the moment.
I felt good while out walking, and I don't recall having a single twinge. I arrived home feeling like I had just had a short stroll. I must admit it wasn't that much longer than a long-ish stroll. It was around 1pm when I git home, and I felt like a bit of breakfast. I had been thinking along the lines of having a salad, but I decided to eat a couple of sandwiches I had bought the previous day in Aldi.
I probably wolfed them down too quickly and ended up with what must have been heartburn, but it was in a very funny place for that. It was the return of the pain mostly just under my left man boob. It was the same pain that spoiled so much of my Sunday. It is interesting that it seemed to be caused by eating, and it was interesting that ant-acid tablets didn't provide any relief to it. It is a very localised pain - unlike the more widely spreading pain that seems to be the signature of my costochondritis, but I think it was/is just another facet of that.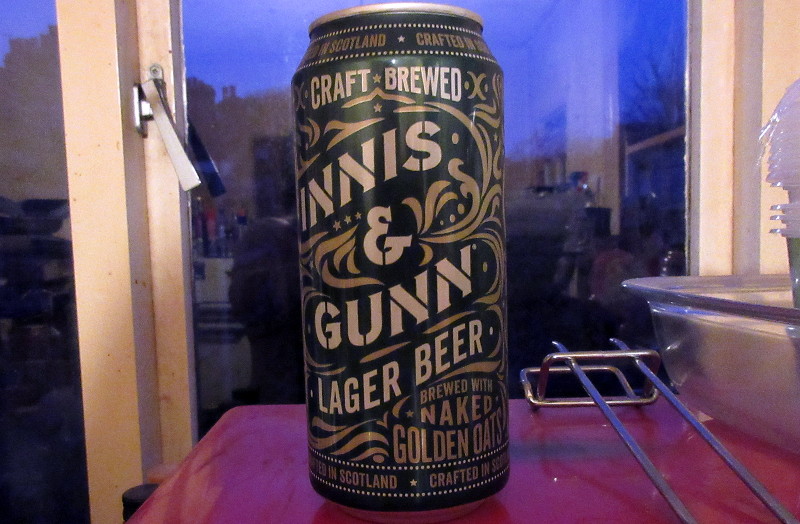 Yesterday evening I had an impulsive idea that I wanted to drink lager. I had 8 cans of lager in the fridge that were bought in the expectation that Sue might come over one afternoon for a bit of photography, and possibly to go on to a gig together. It was a loose plan that was made with Sue probably before Xmas, but it now seems unlikely. I am fairly sure I bought these Innis And Gunn cans of lager before Xmas in Aldi, and last night seemed to be a good time to finally try them. They were very good, and tasted more like a beer than a pissy lager.
One strange thing is that the first three cans went down quite quickly, and the first half of the fourth can went down a little slower. That would have been about three pints worth (each can being a little less than a pint) - my usual ration at my Thursday evening drinks. The last half of the last can went down very slowly. It was still very nice, but I seemed to have lst my desire to guzzle down booze. Maybe I was satiated.
Even before I started drinking the pain in my chest had waned a lot, and the lager finished the job. I was worried that eating my dinner might bring it back, but it did no more than just remind me about it. I watched some TV last night. It included watching some of the news. That made my blood pressure go up a bit, and I waited for something more relaxing before I checked my blood pressure again. I was a bit dismayed that my first reading seemed so high despite it would have been a reading I would have been very happy to get 12 months or so ago. After a bit of extra relaxation I got it down to a level I wouldn't have dreamed of a year ago (or was it 2 years ago ?).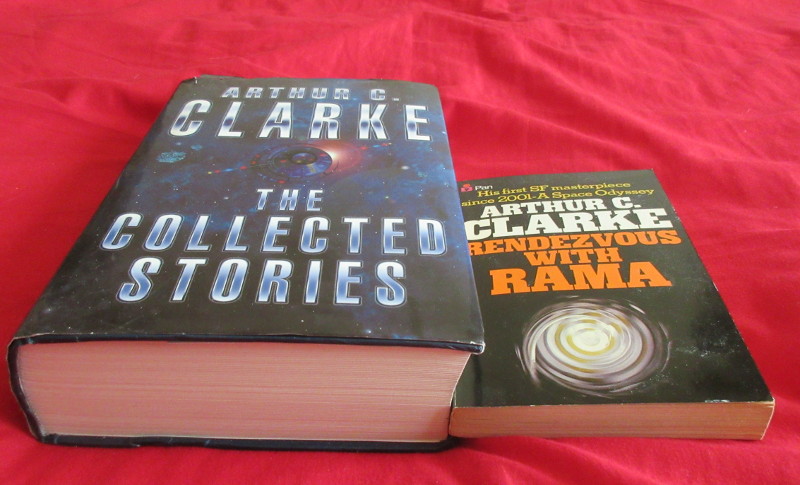 My bedtime reading has recently got very difficult ! The book I am currently reading is the book on the left in the picture above. I have pictured it next to a typical paperback book. The latter is very convenient for reading in bed. The big slab on the left is not ! Luckily most of the stories in it are just a few pages long, and I can read an entire story, and then put the book down, and allow the blood to drain back into my overstressed arms !
I'm not sure what time it was, but I think it may have been about 10pm when I put the book down for the last time, and turned out the lights. I lay down on my right side, and stretched out. As I did so there was a sensation like a series of poppers had popped open down the middle of my chest, for the entire length of my operation scar. It didn't hurt at the time, but past experience warns me that my chest could be very sensitive after sensations like that. In last night's case I am wondering if what I felt was more or less the opposite of what it seemed like. It is possible that what I felt was all my misplaced joints and twisted ribs settling back into their right places. Well, that was the optimistic idea, and for the moment it seems like it was possible.
I somehow doubt I will ever sleep the perfect sleep ever again - a sleep where you close your eyes, and wake up again 8 hours later feeling comfortable and rested. Last night was a typical neither good nor bad night. I woke up 3 or 4 times in the night, but I was mostly comfortable until I woke up for the last time. After that the bed, the pillows, and probably my entire body felt too lumpy and uncomfortable to even consider trying to get more sleep. I probably did get about 6 hours of decent sleep in all the time I was in bed.
This morning I feel something close to refreshed, and nothing actually hurts, but I do feel a bit creaky. It feels like a day when I should do a bit more walking, and ideally go a bit further than the 2.8 miles I did last week. I must admit I don't feel very keen to actually try it, and maybe I will have to force myself to get started. I have a few things I need to do first though. I have a backlog of washing up in the sink to get through before I turn down the temperature of the water heater. Now that was have left the frosty days behind the temperature of the water coming out of my shower has got painful. Sometimes that is good on my aching shoulder, and maybe other bits of my body, but it is now approaching unendurable !
Once I have had a good shower I can get dressed for the outside world, and can go out. It will be a bit easier if the sun continues to shine. Just now the sun went in for about a minute, and that was the first time this morning as far as I am aware. I guess I am going to time things to be in the park at about the same time I would expect Angela to be there. Maybe this time I will get lucky, but somehow I don't feel lucky. Maybe if I have any luck today it will be in finding something wonderful to do later this afternoon. At the moment my plans for the afternoon are a complete blank.