Sometimes a picture is worth a thousand words....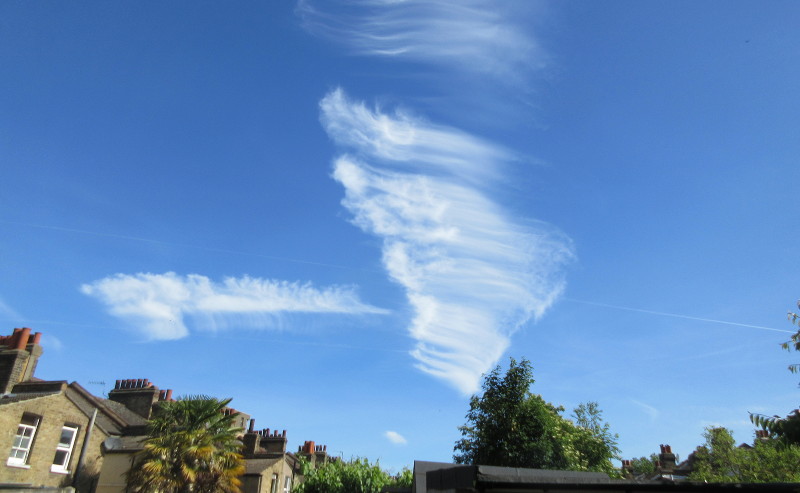 This was how the sky looked at about 8.45 this morning - very high whispy clouds set against a deep blue background. For one day only, summer is here ! I went out into my garden to take this picture, and the forecast 17° C felt fine with no shirt on. A fair bit more very high cloud has appeared since taking this picture, and it is currently making the sunshine slightly hazy. It's still sunshine though, and whether strong or hazy, the forecast predicts the sun will be shining all day, and the temperature will reach 25° C. Tomorrow may see similar temperatures, but less sunshine. The day after should still have lots of sunny intervals, but may only reach 20° C. The day after that, Tuesday, the day that Patricia should arrive to stay with me for 10 days, it is currently forecast to be overcast, and just 19° C. Sorry Patricia.
I didn't feel that good yesterday morning, but with hindsight it was probably partly a hangover. I took it easy (aka lazy) yesterday morning, at least in a physical sense - I did go through the pictures I had taken at The Entourage Band gig the night before. I found the light at that gig to be "funny". It didn't seem dark in the pub to the eye, but I think that was because there were bright spots, and a lot of backlighting. Unfortunately that was no good for my camera which does like faces to be lit up for best effect. The pictures I took on my new Huawei phone were rubbish even when I switched to "pro mode" and selected my own ISO rating, and shutter time.
The resulting pictures confirmed my worse fears - at high ISO ratings the pictures become intolerably noisy/grainy. It is an excellent example of "just because you can, doesn't mean you should". My big Canon could just about take usable pictures in such light, although they did need some post production noise smoothing. After a few shots I resorted to using the Speedlite flash gun. From then on my only problem was trying to find pictures of Kornelia with her eyes open. She is such a dramatic/emotional singer that she screws her eyes up a lot of the time. Meanwhile, Richard often pulls weird faces - and it is not just me who thinks so. He commented on my pictures "I must work on my guitar face".
I was feeling particularly rough after sitting at my PC for so long. Even my chest was starting to feel like I had a Costochondritus flare up coming on. It initially felt good to finish on the PC, and lay down to do some quiet reading, and I may have had a short snooze too. I wasn't keeping track of time, but I may have been laying there for over an hour. At first it felt good, but then I began to feel uncomfortable. What I did next took me by surprise !
While laying down the brown wheelie bin (for garden waste) was emptied. It was a day late because of the recent bank holiday. I think my first plan was just to take it out into the back garden, but once out there I felt a surge of enthusiasm...or was it masochism ? First of all I grabbed a saw, and sawed off an 8 inch long log from the old tree trunk. It was from the thicker branch, and I had to rest for a few seconds now and them while sawing through that thick branch. I decided not to saw off another piece until another day or something, but I did saw through a branch from a much older tree that was half the thickness. That branch was almost rotten, and I had managed to snap off a suitable sized log, but when I tried sawing through the longer piece, it fought me all the way, and it was only about 3 inches thick !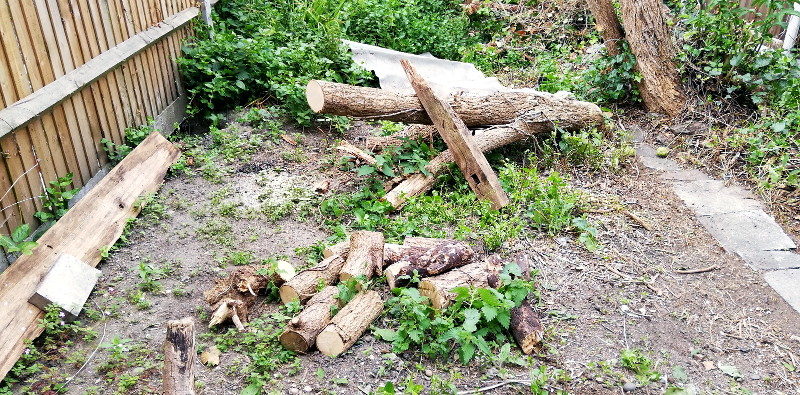 To add to the sawing I have to do (or not*) there is also the part rotted remains of a square fence post found under a pile of stuff by the right hand fence, and it is far too big to go into the wheelie bin (although I have taken a few liberties from time to time with the stated maximum sizes of stuff on the label on the wheelie bin.)
*
I think it is inevitable that when the time seems right, I will have a bonfire, and just burn some of the thicker wood rather than cut it up
.
If I had been feeling the same way as when I started I would have stopped after that bit of sawing, but I had warmed/loosened up my muscles, and worse than that, I had stoked my enthusiasm. I still didn't want to do any more sawing, although I thought I might possibly come back to it later. What I did do was to tackle the area between the garden path and the right hand fence.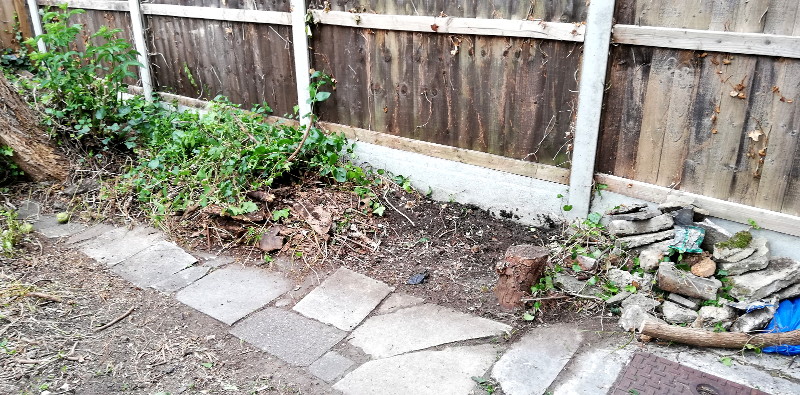 It looks small in this picture, but when you consider those fence panels are 5ft wide (or some whole metric number that is possibly a bit more than 5ft), I cleared about 3ft back to bare earth, and another foot that is free of weeds, but has some rotting wood and other small debris on it. You might even notice that more of the width of the garden path has now been exposed. It was this area that had the most junk on it.
I am unsure how I will dispose of it all yet, but among the old twigs and rotting tree branches, left over from a tree felling 10+ years ago, were two metal frames chairs, and old ironing board, and a length of industrial quality lino. The lino was an off cut of an off cut that I acquired from where I used to work when I first moved here in 1983 ! I used it on the floor of the little box room I used as a workshop. The rest I put in the cupboard under the stairs. It may have been 10 years ago that the cupboard under the stairs became home to several mice that had probably escaped from my cat when he brought them into the house while still alive and kicking. It was also home to a rat that had come up from under the floorboards.
Unfortunately it was a dead rat, and it had died on that lino. I didn't fancy cleaning dead rat off that lino, and so it was thrown out into the garden. Yesterday it was just home to an ants nest, but it still seemed to be in fair condition after all the years in the elements. It is currently unfolded, and sitting on top of a patch of nettles. Eventually I will either cut it up to be disposed of in the black wheelie bin, or it too will end up on a bonfire - maybe in small pieces because I can imagine it will generate thick black smoke. I think the metal work of the old chairs will need cutting into 6 inch lengths, and disposed of in the recycling bin.
I'm nit sure how long I was working in the garden, but I was working without a short on, and I was still freely sweating out there. I feel sure it was at least 2 hours of (to me) very physical work I did out there. I was enjoying most of it, but it came as some relief when the wheelie bin was filled to the brim, and I had to stop. It wasn't all that long before I was under a nice cleansing shower, and had washed my hair. I waited another hour to cool off, and for my hair to dry before I got dressed, and went out.
I had originally intended to go out in the morning to the pharmacy to collect the rest of the drugs from my repeat prescription. It was about 5.30pm when I left to walk to the pharmacy, and I felt slightly concerned that they may have closed, but when I checked I noted they actually close at 9pm on a weekday. Despite all the promises my drugs were not ready to take away, but the assistant was the good one. It seemed there was no actual printed prescription because it had already all been dispensed, and so she just worked on the records to get me the correct drugs.
While she was doing that another person who may be a trainee pharmacist came from stock area and asked me "if I enjoyed the concert last night ?". She was actually referring to the gig I went to in The Catford Bridge Tavern. "Concert" sounds a bit posh for a rock and roll band ! I always though she was Spanish. She looks very Spanish, but it turns out her name is Monika (which rung a bell as soon as it was mentioned), and she is Polish. What's more she is yet another of Dik's friend (Dik, aka Richard, is the guitarist, and who formed the band). She had seen my photos that Dik had shared on a well known social media website.
Walking to and from the pharmacy used a different set of muscles to those used clearing the garden, but I was still happy to get home again. It was about 6pm when I got home, and it seemed like a good time for dinner. I could have cooked something, but I fancied treating myself to a Chinese takeaway. The restaurant I chose to order from, because it scored a maximum 5 on it's last Foods Standards Agency visit, did seem a bit expensive, but not excessively so, and maybe not at all once my order was delivered. The delicious chopped ribs was not a starter as I thought it would be, but a full meal in itself. I could imagine it would serve 2 if combined with a heap of rice. I had it without rice, but I did follow it with pork with black bean sauce. Oddly enough, although that was definitely a main course dish, it was smaller than the ribs. I still have a large rice, and a large chow mein left over to eat today.
I enjoyed that meal, and afterwards I watched some TV while I started to digest it. The last thing I watched was Have I Got News For You. Soon after that I went to bed, and on the whole I seemed to sleep well. My garden clearance work left it's legacy on me when I got up this morning, but maybe not as much as I feared, and now, many hours later, I feel basically OK.
Many hours have passed since getting halfway through that last paragraph, and maybe that was a good thing. If I hadn't been speaking on the phone for four (!!!) hours to an old friend, I would undoubtedly have been moaning about how much I hurt, but now it is well into the afternoon, most of the aches and pains have evaporated. I'm not sure how I will feel if I actually do anything more than talking, typing, or going for a wee, but it seems possible that I might feel fine.
Hopefully I'll be feeling fine when I go out tonight. Chain are playing in The Mitre, in Greenwich again, and I think I would like to go and watch the first set. I guess there is a 15% chance I might even stay for some of the second set, but the first set provides ample opportunities for photography, and enough musical entertainment for me.