Today has started gloriously sunny, and it should stay sunny all day. The penalty for the clear skies that are allowing the sunshine in, is the cold start today. The forecast says 8° C at 8am, but all my thermometers say it was only 7° C. Worse still is that the afternoon high may only be 14° C, and that only briefly. 13° C seems more like the representative temperature for the afternoon. Update: I should have checked for revisions before writing that. It seems the latest prediction is there could be 4 hours when the temperature hits 14° C now, but apparently it will only feel like 12° C ! Tomorrow could start even colder than today. At the moment the best guess is just 6° C ! A few sunny periods are predicted for the morning, but mostly it will probably be a grey day, and not a very warm one either. The predicted high will be just 13° C. Winter will be here quicker than we thought !
The worst of my cold seemed to fade away during the morning. It was a very slow process, and it took some time to realise that I was coughing far less, and my nose was mostly no longer blocked or dripping. At 11am I was only getting hints of this, and I hadn't really believed it could be happening, but it was bright and sunny, and I thought I would throw caution to the wind, and go for a walk. It had been ages since I had taken a walk in the park, and it had been ages since I had used my Canon Digital Rebel (known here, and in Europe as the Canon EOS 300D). So I grabbed the camera, and shunning a coat in the warm feeling sunshine, I set out for a small walk.
I didn't get off to a good start. The first thing I tried to do was to take a snap of a very large garden spider in my front garden. Some strange mental aberration meant that I didn't set the exposure properly, and that snap was well over exposed, and useless. Then I felt a few drops of rain on my face as I walked up the road. At that time the sun was still shining, and so I just ignored the rain. At that time it was very light, and easily ignorable.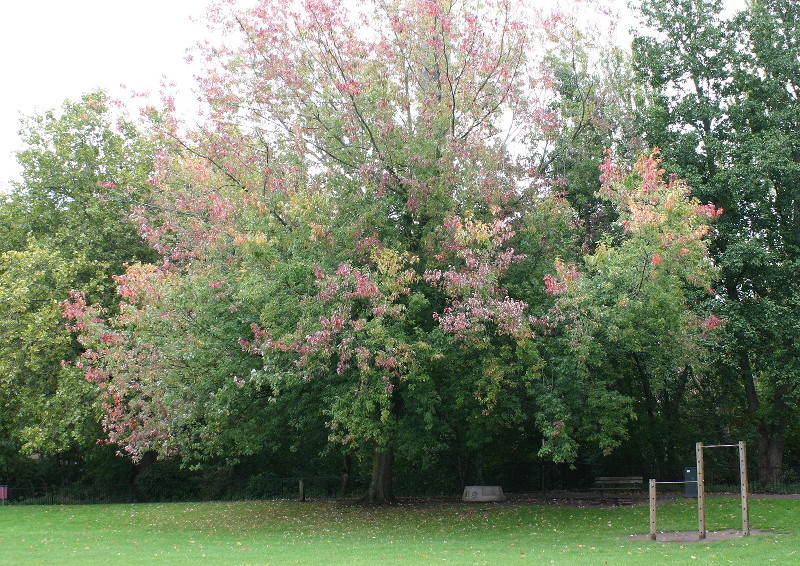 At this time of year the trees are only just starting to show their autumn colours This one had many leaves that had turned pink. I'm not sure what type of tree it is, but I want to go back in a week or so to see if it gets more colourful.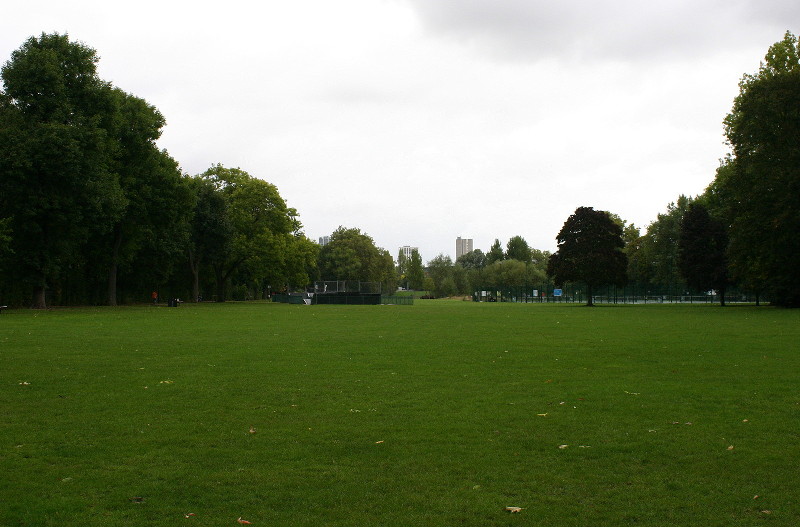 By the time I got into the centre of the park, and had some long views, the sky was well and truly grey, the last ray of sunshine had been cut off 10 minutes earlier, and the rain was light, but persistent. I ought to have turned around and rushed straight home, but I continued on my walk.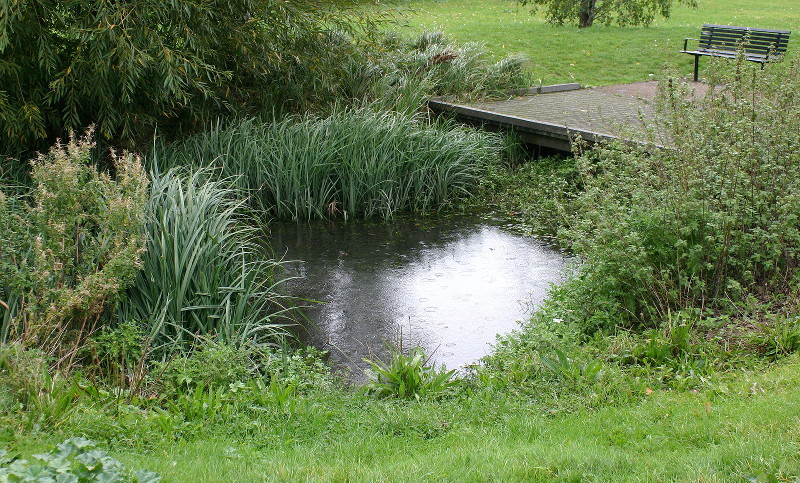 Towards the Ladywell end of the park there is this backwater/pond feature filled from a small spur of the river. It is a favourite place of mine having once met Patricia there many years ago. It was not a romantic liason, but I hadn't seen her for a year, and it was nice to catch up again. The ripples from the falling raindrops add something to this picture, but I am not sure what.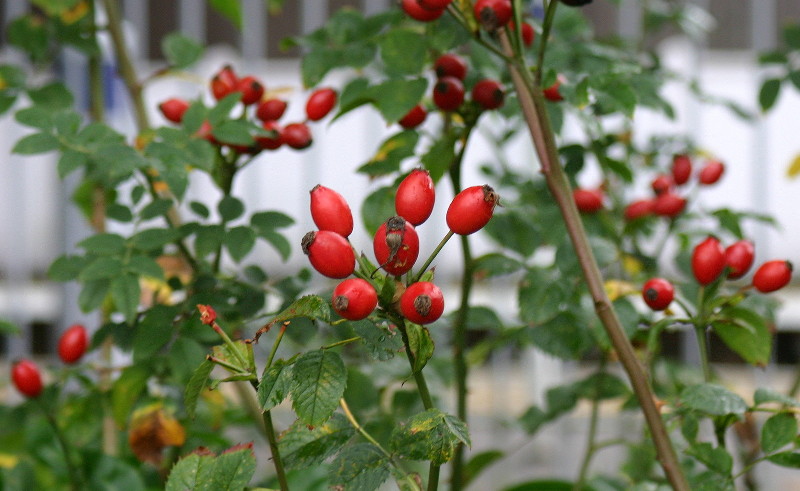 It seems that just as my walk was ending, I was finally starting to drive that camera properly. These rose hips are in perfect focus, the background is out of focus, and the exposure is perfect - all on a very dull day in the rain ! I bought the camera from a second hand shop, and if I recall correctly it was very cheap - maybe just £100 - which isn't bad for a DSLR camera. I found it had a couple of problems when I first bought it.
The first, and most obvious problem, was that the two batteries it came with were on their very last legs. I think the best one powered the camera for little more than 10 minutes ! That made the second problem worse. Everytime you too the battery out to recharge it, the camera would forget all it's settings. I didn't have a manual for the camera (although I did later download one), and so I it wasn't until a bright sunny day that the sun just happened to penetrate into the opened battery compartment, and there, in bold print, I saw "CR2016" embossed into a little plastic drawer. Upon sliding out I found the back up battery I didn't know it had, and solved the memory problem.
I rather recently solved another annoying problem. The pictures always looked rather dull and under exposed. I have a theory that an exposure setting had been corrupted by that failing backup battery, and that while playing with it, I managed to reset it. The pictures I took yesterday were the first real pictures I have taken since seemingly correcting that exposure problem.
That Canon Digital Rebel camera is not a very high spec camera, but now I have fixed all it's apparent problems, is now a very useful camera for daylight work, and I feel I ought to treat it as more than the curio bought cheaply from a second hand shop. I'll still use my Canon 600D for more demanding, low light work, and my Canon 1200D is a good back up camera for it, but the Digital Rebel (or 300D as I like to think of it) may accompany me of more walks.
Mum, and probably relatives and teachers would always warn about being out in the rain while suffering from a cold, and I did wonder if I was being foolish to do almost a complete circuit of the north part of the park (about 1.5 miles in total) in the rain. That was particularly so towards the end when the rain got heavier. I did complete the last half mile as fast as I could manage, and got almost breathless doing it. Actually "breathless" is not quite the right word - I was merely breathing at a greater rate, and at no time did I feel I couldn't catch my breath.
It must have been half an hour or more after I got home that I suddenly realised I hadn't needed to blow my nose, or cough since getting home. It was as if I was now cured of my cold, and that did seem to be the case unless I wanted to nick-pick. That was particularly useful because I didn't want to cough and sneeze all over the nurse when I went to get my ear syringed at 5pm.
I was not actually seen until about 5.15pm, or maybe even 5.20pm, but I guess it could have been worse, and at least I wasn't in pain or anything. The nurse, not the one I thought I was going to see, inspected both ears, and agreed with the doctor that my left ear had so little wax in it that it wasn't worth bothering with. She then said she would get the machine ready. Machine ????
When I had my ears syringed by the elderly doctor I used to see, at least 20 years ago, it was like something out of a carry on film. He had a syringe about the size of a bicycle pump that he filled with lukewarm water straight from the sink. He whooshed this water into my ear at quite high pressure, and collected it, and the wax, in a white glazed kidney bowl. All the equipment, being just two items, was easily sterilised in a steriliser tank set to a good rolling boil. It is all high tech now !
The "machine" was a little microprocessor controlled device that warmed the water to blood heat, and then pumped it out in rapid spurts through a small nozzle that could be sort of aimed at where the wax was. The water and wax was then collected in a disposable cardboard cup. The original big syringe was one or a couple of momentary painful "whooshes". The machine was less painful, but it was quite an extended discomfort. I think I prefer the old method. On top of that, in these green days, the idea of a disposable nozzle for the machine, and disposable cardboard cup, seems almost naughty. I can't recall if it was the HIV or BSE scare that took hygiene over the top, and maybe for some procedures, involving known carriers, some of the precautions are worthwhile, but otherwise....
Of course the nurse was not happy that all I had was a simple ear wax removal (and I was surprised at how little there was of it), and felt the need to drum up more business. She wants to give me a 'flu jab, and give me a diabetic foot inspection next week. I did tell her that I have an appointment with the diabetic clinic at the hospital next Tuesday afternoon, and that they would probably check my feet, but she insisted that she had to check my feet as well. Oh well. At 2.30pm I am at the hospital, and assuming they let me out again, I am seeing the nurse at 5.40pm.
There was some moderate heavy rain when I went to the surgery, but very little rain when I walked home. I got home in time to prepare some dinner, and then to watch the 6pm TV news. As usual it was all depressing stuff. The antics of our current politicians, who individually are probably no worse than many politicians, are collectively acting like they belong in some 3rd world tin pot country. Could Boris Johnson turn out worse than Idi Amin ??
Having already seen the nurse, I could wash away some of the negative thoughts with some beer. At least that was the theory, but I only had a few small cans and bottles, and I don't think I drank more than just over a pint and a half of beer. It was nice beer, and if I had more I would have drunk more. In point of fact I did have more, but the 6 cans of Stella Artois are for Sue's next visit, and the Innis & Gunn bottles are for some sort of special occasion (but I don't know what yet). Anyway, it might not have been much beer, but it seemed to set me up for a fairly good sleep.
One thing I noted before I went to bed, while I was brushing my teeth, there was an icy cold wind blowing in through the bathroom window. I decided that I would leave the heater on low in my bedroom all night. I ended up having one of those nights where most of it is a blank - one minute the clocks is saying it's so and so time, and the next minute the clock has advanced 2 or 3 hours - or so it seems. Even the few times I got up to wee are like half remembered fuzzy dreams.
It was nice to wake up this morning without my right ear popping, and having to wait 5 or 10 minutes for the final pop to give me stereo hearing again. It was also nice to wake up without my nose feeling like it was full. I did have to cough once or twice when I woke up, and sat up, but once or twice, and neither needing much exertion, was also nice. Even my usual aches and pains seem a bit muted this morning. I feel I should be saying that I feel wonderful this morning, but I couldn't go that far. Maybe I feel "satisfactory" this morning. That is probably the same "satisfactory" that teachers would use on an end of term report when they can't think of anything horrible they can say, and don't want to show any praise !
I have no definite plans for today. I feel I ought to take advantage of it being a sunny day, even if it is a cold sunny day. I think that means I ought to think of somewhere to go out to with my camera. Maybe I'll think of somewhere when I have a shower. On the other hand I do have a bit of laundry to do, and the weeds are not dying off in the garden yet. I probably ought to help them on their way.