Page composed using


1




Saturday 8th February 2020

08:54 GMT

Yesterday's weather was good, bad, and indifferent. The day started with a frost, but there was glorious sunshine as soon as the sun had risen high enough. There was very little wind, and that sun felt very warm when soaked up by my blacker leather (look) jacket. That inspired me to go for a walk in my sleeveless denim jacket at midday. As I opened the front door the sun was eclipsed by a cloud. From then on there were just sunny intervals, and the wind started to pick up. The afternoon temperature was probably around 8 or 9° C, but during the evening the temperature rose to 10 or 11° C, and that seemed quite mild because the wind seemed to have dropped again.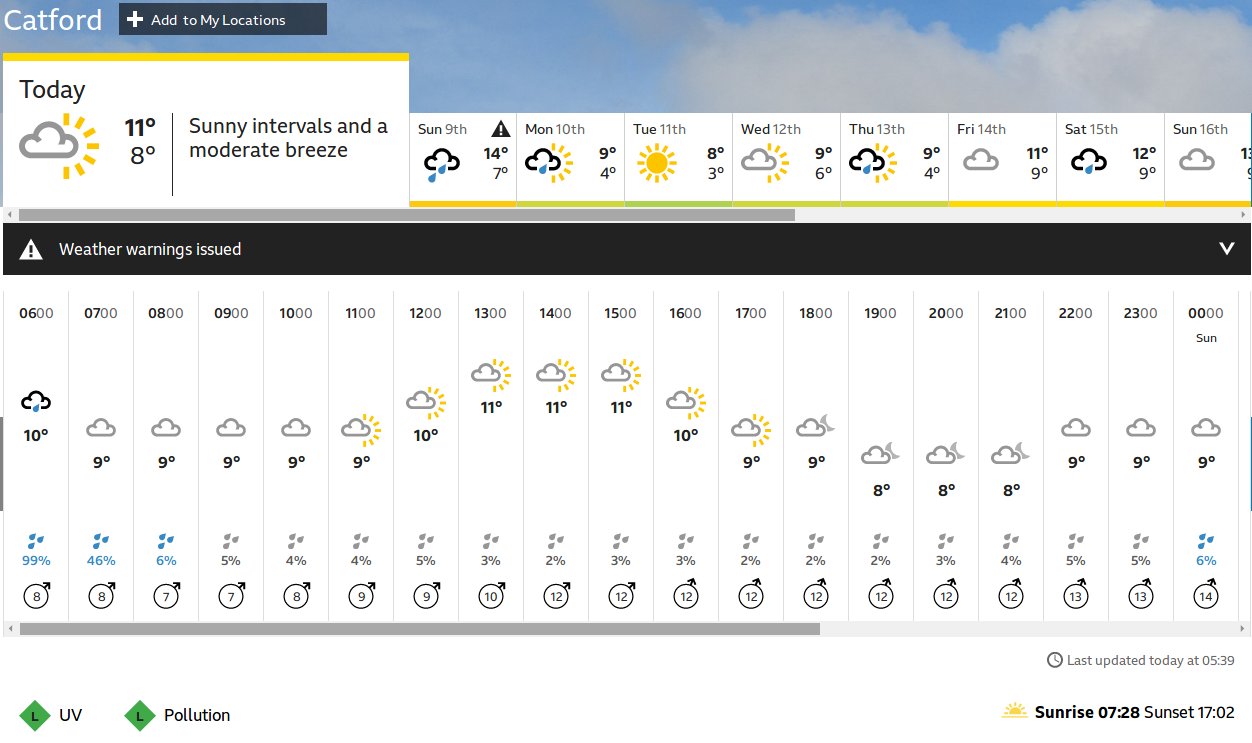 There was some rain in the small hours. I'm not sure when it stopped, or even if it has stopped now. It still looks very damp outside as if there might be some very fine drizzle. The forecast insists it has stopped now. It also says it should brighten up enough to give sunny spells from around midday until sunset - now at 17:02, and getting later every day !! During those sunny spells the temperature may rise from a mild 9° C now to what might be pleasant in a bit of sun - 11° C. Until midnight it looks like the day will be inoffensive, and occasionally nice, but tomorrow sees a big change. Gale force winds are still predicted, as is plenty of rain. Most of the rain may be light rain, but the current prediction is for about 4 hours of very heavy rain around the middle of the day.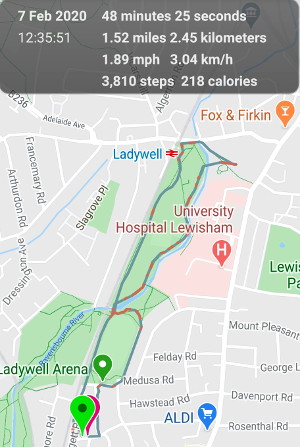 Yesterday was one of those days that was both good and bad. Fortunately the bad was only mildly bad, but then again the good was only mildly good. My day probably started properly with a walk to Iceland (the supermarket). I specifically wanted to buy some sugar free wafers. The company who make them produce three flavours - chocolate, vanilla, and hazlenut - and Iceland had none of them yesterday ! They did have sugar free Digestive biscuits, as well as sugar free chocolate biscuits, and sugar free chocolate chip cookies. I bought a pack of each, and I will eat them with care. I know the wafers I wanted have no measurable effect on my blood glucose level, and I hope these others don't.

By the time I had walked to Iceland and back, which is little more than 6 minutes walk away, I was feeling hot. The sun didn't feel warm on my face, but it was really heating up my black leather (look) jacket. It gave me the stupid idea that I could go for a walk with bare arms to soak up some of that golden sun. As soon as I opened my front door to go out the sun dipped behind a cloud. I still went out with bare arms, wearing my sleeveless denim jacket, and it felt good and bad.

It felt good to be mostly free of a coat, but the wind, which seemed stronger than when I went out shopping, now seemed to have quite a nip to it. As a consequence I didn't push my walk to any more than (roughly) once around the northern end of the park. There was also another reason for this. I received a reply to a message to Angela to say I was heading her way, to say that she wouldn't be in the pub. She had to go shopping in Lewisham. That was a bit of blow because half the reason I went out was because Angela suggested yesterday as a good time to meet again after our Tuesday lunchtime meet. It made being out in the cold wind seem even worse.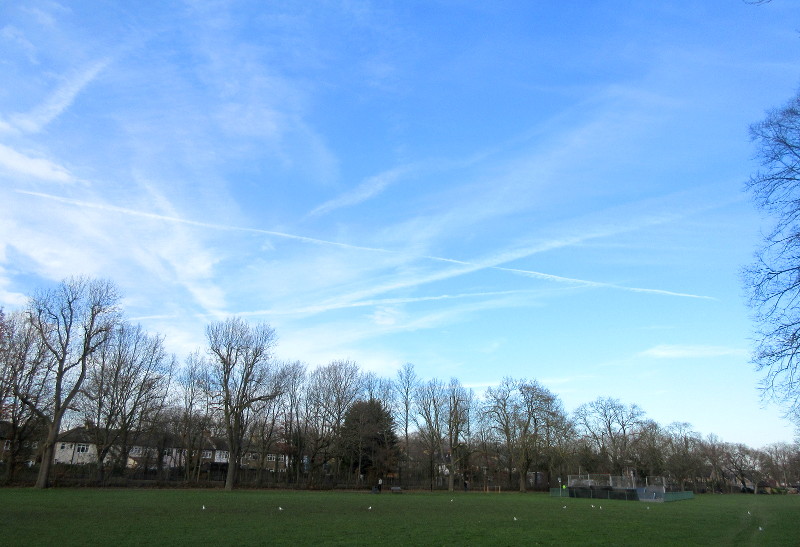 The sky certainly looked nice most of the time I was out - at least it did when looking north. The view to the south looked a lot more cloudy, but the sun did break through a few times.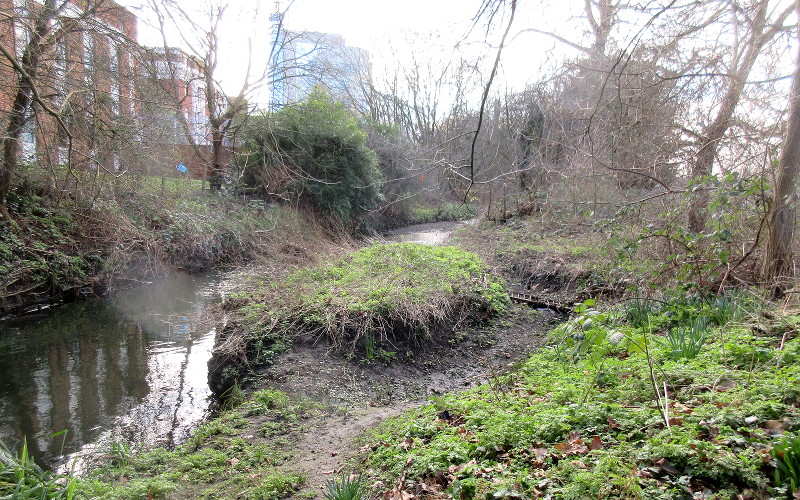 Over the years of my lifetime the river has changed several times. After the floods of 1968 there were some brutal flood defences built to shore up the river banks. Many years later it was realised it would be better if the river was allowed to flood in a controlled way. So there are several places where the river is allowed to flood, and the park is the most obvious choice. Once upon a time the river had several islands on it as it meandered through the park. They all disappeared when the river was "re-sculptured". Now it seems that after the recent very wet weather, and the river running very high, one island is being reformed. I only found this by going through the trees and bushes that screen the river from the path at this point. I hope that next time the river runs very high it might finally carve a proper channel through the mud, and this embryo island is fully born. Then I can probably get a bootful of water trying to cross to it like I did as a kid !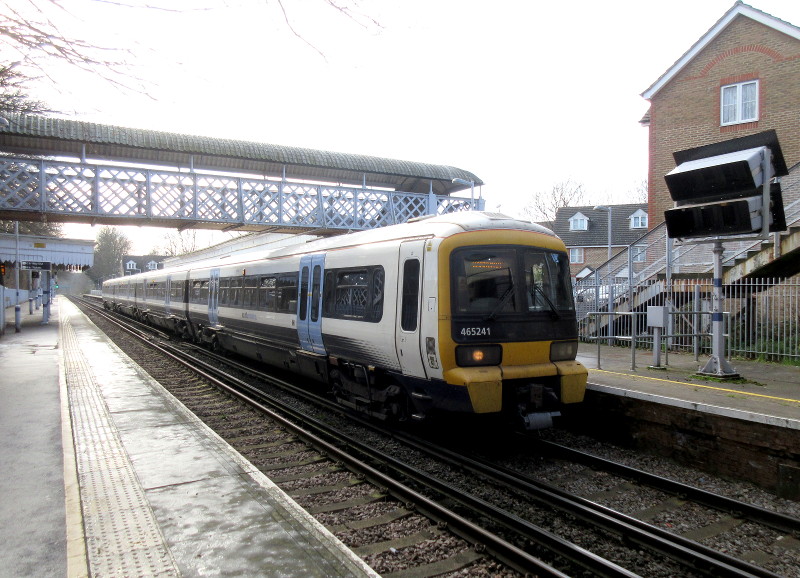 Just for a change I stepped onto the down platform of Ladywell station. It was just as this train arrived. It is a very unremarkable scene, but if anyone finds this in 50 years it might seem old and quaint. There is persistent talk about turning over the line to London Underground to be an extension of the Bakerloo Line. I bet the station would look very different after that ! For the sake of records, this is the 13:05 service to Charing Cross.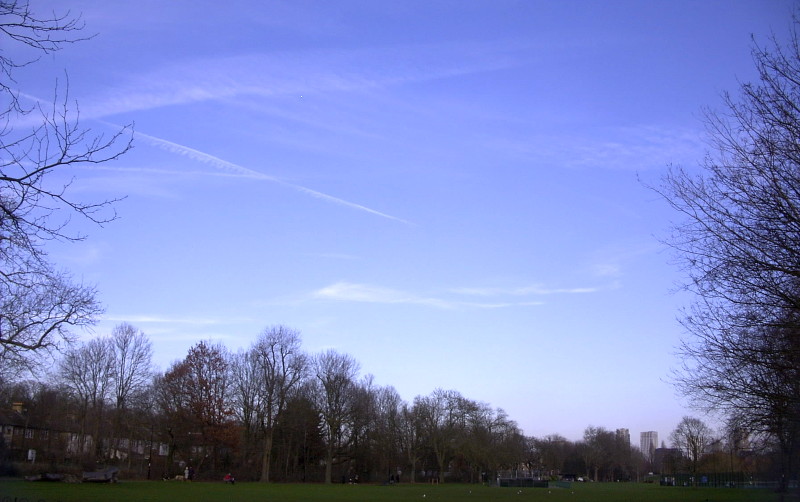 For some time now I have been wanting to take my Toshiba PDR-M61 camera out on a bright day. It is the camera I bought for under £5 in a charity shop, and then spent about 3 or 4 times that amount to seek out and buy an obsolete "Smart Media" memory card for it. This first picture seemed to overwhelm the camera, and it came out dim and wishy washy. I tried to pep it up a bit, but it still looks lousy.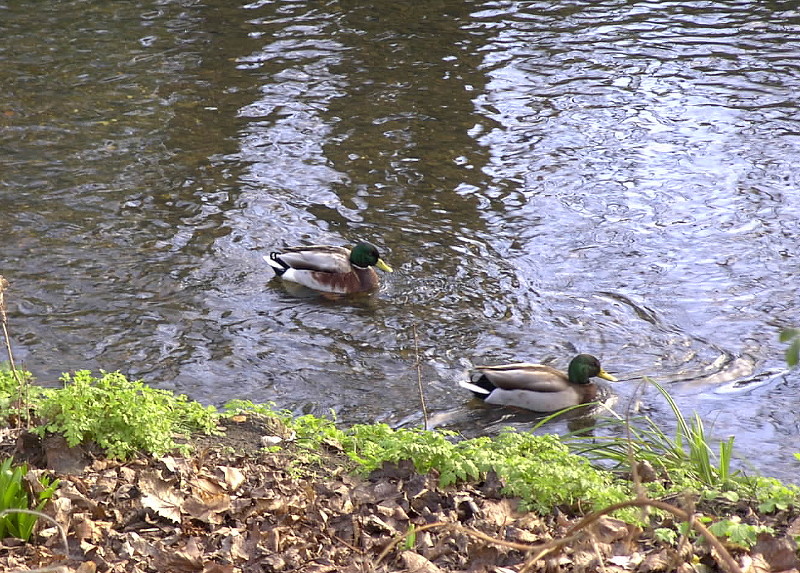 On the other hand, this more gently lit picture came out more like I was expecting it to. With only three times optical zoom I couldn't get a close up picture, and I had to crop this picture to make it look larger. It is that cropping that gives it a slightly soft look because at just 3.2 megapixels there were not many to spare.

I got home feeling rather chilled after my short walk - just 1.52 miles. I could have made some hot soup, or I could have cooked one or more of the ready meals I had in the fridge. I actually had the last two Greek salads I had bought the night before. I had one with cheese, and the other with spam. It probably turned out to be a good choice. After eating I just relaxed. I think I even had a snooze. I was saving my energy for the evening.

I will admit that I really had to push myself to go out in the evening. It would have been so easy just to put my feet up, and perhaps watch several hours of telly, but I wanted to see M.T. Pockets playing enough that I forced myself out the door. It was a bit irrational because I already had a very good idea what the gig would be like. As it happened, it was worse than my worst fears.

M.T. Pockets were playing in the Railway Tavern almost next door to Bexley station. It is a straightforward journey there even if it involves a bus and train, and on average takes about 50 minutes. I first went to the 202 bus stop where I waited no more than 5 or 6 minutes for a bus to Lee station. That journey took a little bit longer than usual because of road works on Brownhill Road (part of the South Circular), and temporary traffic lights. I arrived at Lee station just in time for the 8.31 train - except it's place was taken by a late running freight train. My train arrived a few minutes later.

When I arrived at the pub my worst fears were not worse enough. It is a small pub, and it was packed out like a short formed rush hour train. It was difficult to actually get in the door, and once in there was no way to get to the bar, or the toilets (which I didn't need because I couldn't get to the bar to buy a drink). I managed to wave hello to an Murphy, M.T. Pockets lead man, and to say hello to Dan's mum. I then inched my way out again, and took the first train back to Lee.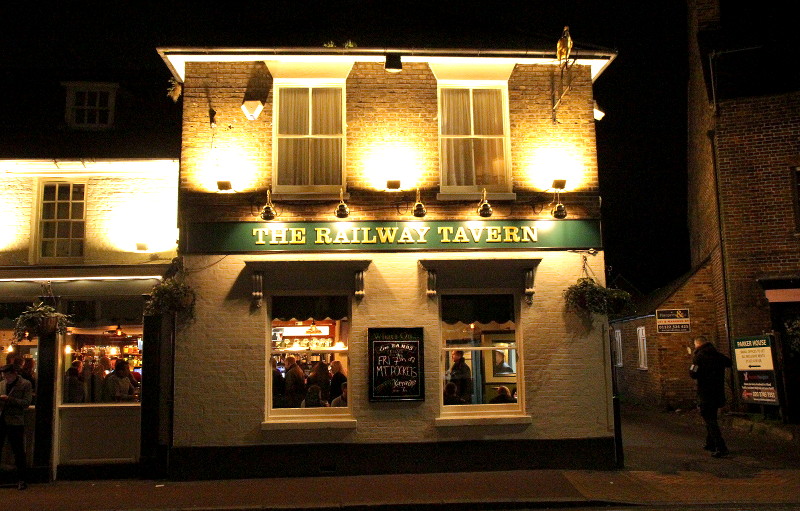 I only had to wait about 8 minutes for a train. (There was an earlier one, but it was fast from Albany Park to London Bridge - on a warm summers evening I might have taken it just for fun). I guess my luck was still with me because I only had to wait 3 or 4 minutes for a 202 from the Lee station bus stop to take me back to Catford. The entire round trip - door to door to door took 1 hour and 40 minutes, and that included calling into the fried chicken shop for some dinner.

That dinner tasted nice, but it was slightly tainted by some guilt. I knew that if nothing else I should not have ordered the "fries". My blood glucose was predictably high as a result. My other failure was in predicting I would by asleep in bed by 11pm even if I had stayed to see some of the gig. That was on the understanding that the gig was going to start at 8.30pm, and I would be there earlier than that. I actually arrived close to 9pm, and there was no sign that the band was close to starting. If they were I might have stayed to take at least a couple of snaps. It turned out that I was not in bed until 11.05pm, and it probably took me 10 minutes before I went to sleep.

I have no idea if I slept well or not. Much of the night was a sort of blur, and I only have the vaguest of recollections of getting up to pee once, twice, or whatever. I know my sleep became intermittent after about 5.30am, and I know I could not seem to get back to sleep from about 7.30am. It should have been light by then, and if it was it might not have seemed like a bad idea to get up, but I really wanted to sleep until it actually looked like daylight outside. I'm not sure I could describe the light outside as daylight even now, although maybe it is starting to brighten up. There is a bright patch of sky where the sun should be. If the clouds thin a bit more then maybe those forecast sunny intervals will come true.

I definitely don't feel very dynamic this morning even if I feel otherwise not bad. It is possible that my high (compared to my average, but not in real terms) blood glucose level is slowing me down a bit, but I think the gloomy weather deserves equal or more blame. I have no definite plans for today beyond a possible aspiration tonight. If I can raise the enthusiasm I might go to a gig in The Morden Arms in Greenwich. It is very easy to get to - a single ~20 minute bus ride, but I have been warned that it is a small pub. If I get there and find it cramped I will probably just walk out again.

For the rest of the day I think I can imagine doing some more cleaning/tidying in the back room. I probably will go to Aldi at some time - probably this morning. Other than that I have stuff to read, snoozes to take, and if the sunny spells are looking good I may take a turn around the park.