09:04 GMT

A pattern emerges....Like the day before, yesterday started bright, but it didn't last. It wasn't long before the clouds gathered, and it started raining - earlier than forecast if I recall correctly. The rain was supposed to stop after sunset, but I have no idea if it did or didn't. It was a rather cool day. The afternoon started at just 8° C, but finished at 9° C.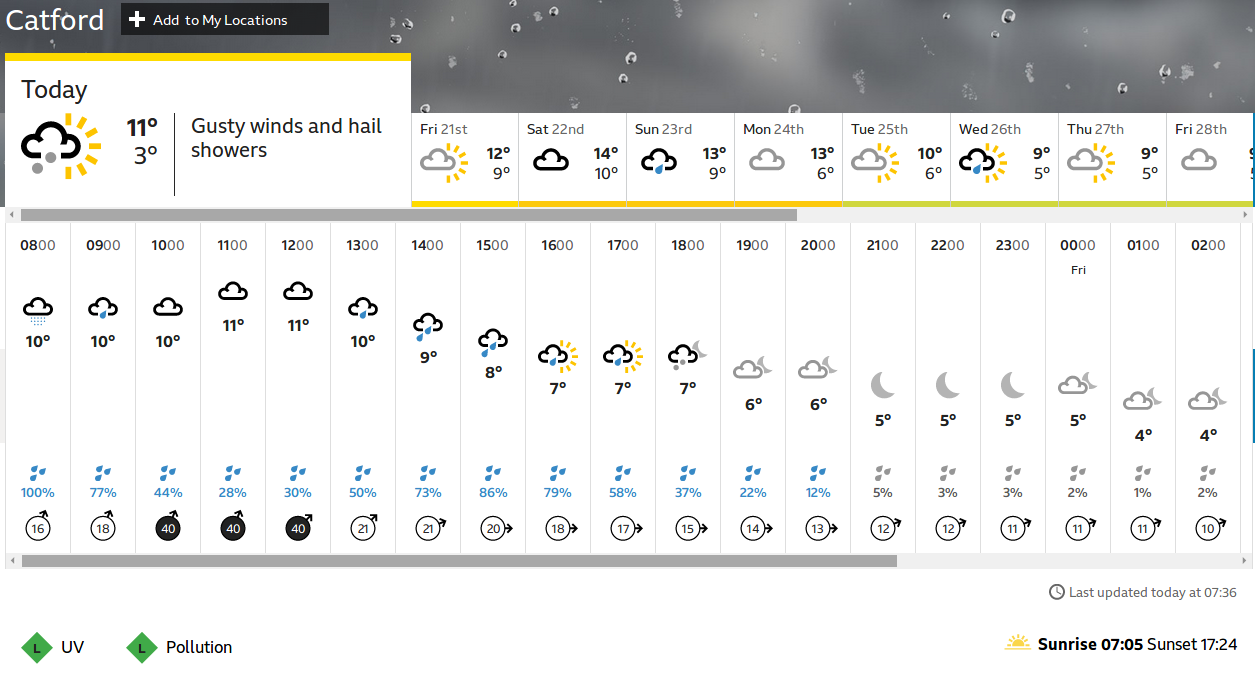 The ground was certainly very wet at first light, but there was a period of brightness, although not full sunshine, this morning. According to the latest revision to the forecast it should be drizzling right now, and maybe it is, but it is too fine to be seen from indoors. Once good thing is that the strong winds (shown as white numbers on black circles in the screenshot above) will only blow for two hours instead of three. Just for a change, the morning will be less cool than the afternoon. This morning may be 10 or 11° C, but by sunset the temperature may fall to 7° C, and keep falling after that. One of the features of the headline is hail showers. Each revision of the forecast over the last 36 hours has insisted hail will fall at 6pm, and at no other time. I think the headline is more worthy of a red top newspaper, and not of a serious forecast. Hail or not, it seems most of the afternoon is going to be wet ! y contrast, tomorrow may feature a sunny morning, and be almost warm (but not actually warm).

I had hoped that I might be able to get some shopping done, and still have time for a walk in the park, and to meet Angela at lunchtime (if she was available). That didn't happen, but I did go out on two shopping trips. I bought food, and some new boots from Aldi, and I bought wooden boxes and compost from Poundland. My eating turned out to be more controlled than I thought. Both my weight and blood glucose were very satisfactory this morning. There was one sour moment in the evening when I saw a picture of Angela kissing lover boy on Valentines night. That left me feeling very desolate, and the feeling echoed into my dreams. Read all about my whole day, with, as usual, pictures, plus a picture of my breakfast this morning - a formal breakfast is unusual for me ! I have also written how I might start writing these diaries in the evening, instead of the morning. It can all be found by clicking right HERE.