08:20 GMT

It was bright yesterday morning, but earlier than expected the sunshine gave way to just sunny spells. I think the last continuous sunshine ended before midday. Then the sunny spells were after fairly short, and there was sometimes a long interval between them. It was a cold day with a maximum temperature of only 7° C, and the wind, which was quite strong in the morning, made it feel particularly chilly.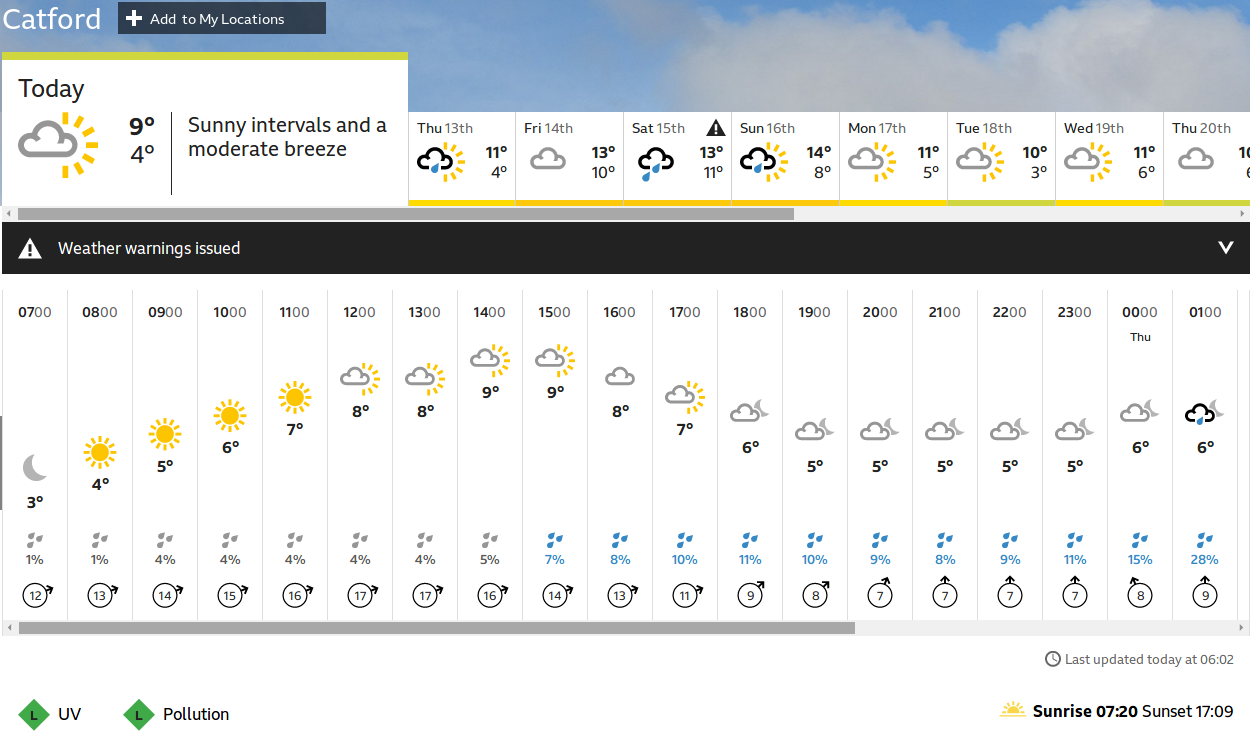 Today looks like it could almost be a re-run of yesterday, but with two exceptions. The temperature if forecast to rise to 9° C, and with only light winds it may feel more pleasant than yesterday - although still a bit chilly. The current forecast for tomorrow predicts some heavy rain to start the day, but becoming light rain by 7am. The rain may dry out by mid morning, but the rest of the day will be overcast with a temperature of 10° C.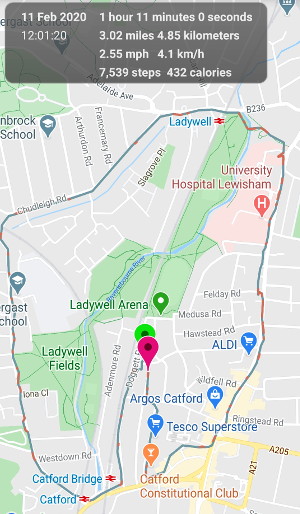 Several factors made me want to push myself a bit harder when I went out for my walk yesterday. The mistaken belief that it would be sunny, and possibly warm in the sunshine, was one good reason. The other reason was a small amount of joy that I seemed to have lost half the weight I put on since mid January. It was the result of going down with something between the common cold, and 'flu. Well, that got me started eating more, and the lousy weather did the rest. I also hoped to reduce my blood glucose level a bit.

I didn't have particular route in mind when I set out, and it sort of evolved as I walked. I thought I would start off by heading towards Catford station. I could have walked directly into the park from there, but chose to walk all the way to the top of Ravensbourne Park Road, and enter the park there. I did stop at the park to shoot a bit of video that turned out to be very boring.

I then decided I would continue walking along the road, and head towards Ladywell. All was going well until I had turned into Chudleigh Road (which can be seen on the left of the map). I suddenly desired to go to the toilet, and there were no nearby toilets. I clenched my buttocks and carried on walking until I reached The Ladywell Tavern, near Ladywell station.

I went into the pub, and ordered a half pint of Guinness. While that was pouring I rushed into their toilets - and nothing happened apart from a small pee. I don't think I even farted. Despite so little happening I came out of the toilets feeling comfortable, and took my time to savour my half pint of Guinness - actually I didn't take the time to savour it. I drank it quite quickly, but I did take the time to take a snap of what appeared to be their only real ales. Maybe they were good, or maybe not. At a different time it might have been good to give them a taste.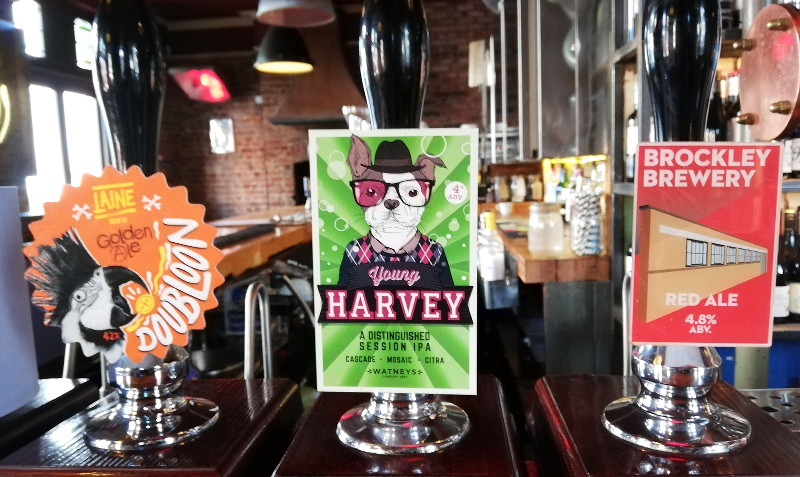 I actually took very few photos on this walk. These are the beers I saw in The Ladywell Tavern.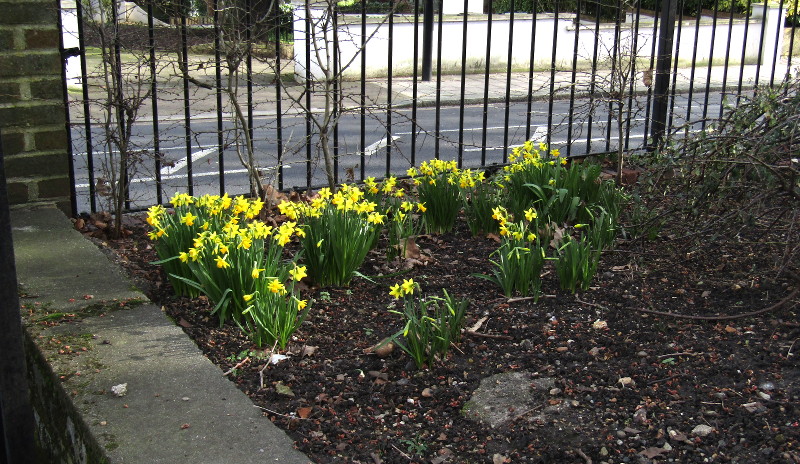 Some daffodils in full bloom by the entrance of the little park on Ravensbourne Park Road.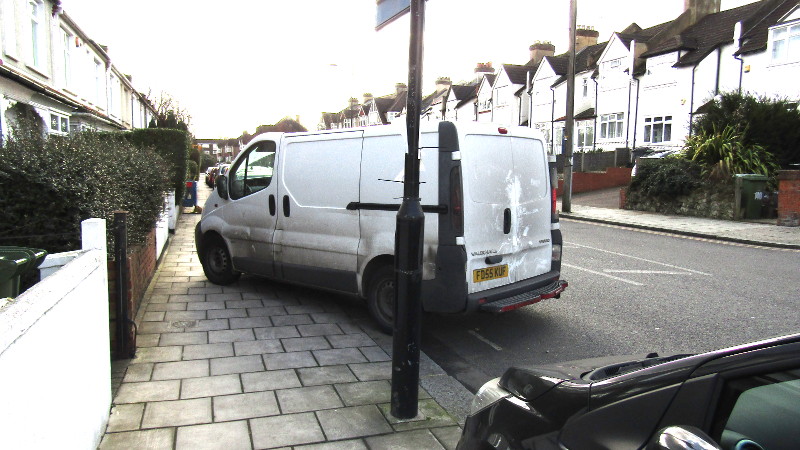 As I approached this van from the other side I thought it was a stolen van that had been dumped. As I passed it I notice a big pile of Amazon parcels on the front passenger seat. A minute later I saw the van driver coming out of a house a few hundred feet away. There seemed a big enough gap to have parked properly, but I guess "white van man" just doesn't care.
I only walked through a very small bit of the park yesterday - just the 100 yards or so from the Ladywell Road entrance down the the bridge across the river behind St Mary's Church. It is the best place to see squirrels, and I shot a bit of video.
Note the squirrels reaction to the low flying, and screeching parakeet. A wider angle shot would have shown about 4 squirrels dive for cover ! After shooting my video I went straight to the pub, and this time I sent Angela a message to say I was in there. I quickly received a reply to say she was on her way. Apparently she had been in the pub yesterday, but had arrived after I left. One of my guesses that she was busy on Monday was correct, but for the wrong reasons - she had been at work the previous Thursday and Friday. In fact once she said so I suddenly realised that she had told me she had to go shopping on Friday lunchtime.

Apart from saying they (her and lover boy) went to a gig on Friday night, I didn't hear anything about her weekend. I presume it must have been OK. I did hear about her future plans. Her daughter, Miranda, is visiting on Thursday night, and on Friday Angela has the day off work. The two "girls" are going out together on Friday for some unspecified beauty treatment.

I wasn't expecting to see Angela again until next week - I'm busy on Thursday with my regular Thursday drink, and Angela is busy on Friday. I had a little gift for Angela that would have been more appropriate for Friday, and by tradition should have been sent anonymously. It was a Valentines card, and it was home made because I wanted to give her a small, discrete, credit card sized, Valentines card. On the front was just a simple red heart with 100% underneath. Inside it just said "a small discrete card to say how much you are loved". It was received very well - so much so that after a long goodbye hug Angela said "I guess I won't see you again until next week....small pause....but why not tomorrow ?" I now know what I am doing today !

I left Angela feeling good, or almost good. I had another tremor in my lower bowel, and decided I would have to abandon plans to go home the long way via the Sainsbury Local store by Catford station. I had wanted to buy some salad, and in particular I hoped they may have some Italian salad in, and maybe they did, but I wasn't going that way. However I would pass the small Tesco on the high street with only a tiny detour. By the time I got there I was feeling OK again, and after buying a couple of their inferior salads I felt OK to stretch my walk out by walking into the centre of Catford, and head for home from there. That is how I managed to stretch my walk to 3.02 miles.

Apart from a desire to be near a toilet, I had another reason for wanting to get home without too much delay. Before setting out on my walk I was doorstepped by a builder. I was very wary about him, and he came out with the old spiel that he was just passing the other day and had noticed my gutter leaking. However he first presented his credentials in the form of a post card sized card with phone numbers, address, company name, and even email address. He also had a smart sign written van rather than a more typical dirty white van.

He pointed out a broken bracket that was causing the plastic gutter to sag, and overflow in heavy rain, and offered to fix it for £40. Soon after 3pm he knocked on my door to say he was ready to start work. He had another man with him whose job was just to foot the ladder. Maybe 10 minutes later he knocked on the door again to show me what he had found. It was something I knew already - that the soffit/fascia board was rotten. He said he could still put the bracket in, but more as a temporary measure.

Another 10 minute passed and he knocked again to say the job was finished. I paid him the agreed £40, and that was almost that. Unlike the last "builder" I had dealing with, this guy was not pushy at all. Before he drove off I had to ask him for an estimate to replace the soffit boards, and rehang the existing guttering. He said he realised my money was tight (I had told him earlier that I was running on savings until I got my state pension next year), and he said he would do it all for £600. That sounded reasonable, and I said I would think about it. I will get another estimate or two, but a deciding factor may be if his temporary repair lasts through the next few downpours - there will be one tomorrow morning in the early hours, and maybe again the day after.

Last night was another semi-early night. I was in bed reading soon after 8pm, and I was probably asleep just after 9pm. All was well until 2am when I woke up and just couldn't get back to sleep for around 2 hours. I evidently needed more sleep because once I got back to sleep again I slept for a few more hours before waking up for a pee. After that I only slept in small snatches. In the end I tried getting back to sleep first laying on one side, and then on the other. The last two times I turned over I felt a pain down my sternum. That seemed to be my cue to get up.

I ate two things yesterday, one being a prawn and pasta salad, and the other being a prawn curry with rice. Both contributed to my blood glucose being the same as the day before - in the safe, or even good area, but not the very good that I am trying to achieve. I really must watch my carbohydrate consumption today. That could be tricky because a complication has arisen - two of them to be precise.

I am expecting a parcel deliver today. It is coming via DHL, and they are an unknown quantity to me. However, they just sent me a text message to say they estimate my parcel will arrive between 10:51 and 11:51. That is handy because at the very latest I could still get out for a long walk that would take in the pub at 1pm. However, it would stop me travelling further afield that I could do if I could leave earlier. The second complication is that I also just heard from Angela. She is going shopping today, and so she won't be in the pub. That is a little annoying considering it was her suggestion to meet today. I am wondering if she is actually meeting lover boy. She has warned in the past that he might want to meet her at lunchtime. Maybe he has said that it will be today.

One thing I can do today is something that without a lot of discipline could stop me getting my blood glucose down, and losing more weight (which I seemed to do yesterday - but only a bit). It is to go shopping. I think that provided I go before primary school chucking out time, it could be almost civilised in Aldi - unlike last Saturday lunchtime. If the sunny intervals are good sunny intervals this afternoon, I may attempt to do some work in the garden - perhaps just raking the pebbles and rubble from what should end up as a lawn one day. Maybe I might make enquiries to see if anyone else fancies and afternoon pint.