It would seem that the latest revisions to the forecast from The Met Office, and also the BBC, show less chance of rain today. Although the originals didn't show that much rain. It does seem to be a rather cool start to the day, but not cool enough to frost. It does not feel like May this morning ! There is going to be very little sunshine today. The sunny spells in the screenshot of the forecast above have changed a bit. We can expect sunny spells now, at 3pm and 7pm. That is not much sunshine ! Tomorrow is predicted to be very sunny, and a smidge warmer at 14° C. The day after could be a degree higher than that, but at the moment the prediction is for a very grey day with copious amounts of rain !
I did end up going for a walk yesterday, but it was a very short one. I went to Poundland, and managed to buy a lot of stuff from there, but not one of the two specific things I wanted. I wanted a window washer thing - a bit of sponge on one size, and a wiper blade on the other all on a long (2 ft) handle. I have seen them somewhere, but not in Poundland yesterday. The other specific want was some cheap dog food for the foxes. I did find and buy 4 cans of it.
It seemed like an almost pleasant walk to Poundland and back, and I though that once I got my shopping home I might go out again to Poundstretcher and see if they had one of those window washer things. Once I was home I seemed to be a lot less keen with that idea, and decided I would not go out again. I was feeling something in the general area of weary or tired, but neither really. I think it was that I just couldn't be bothered. There was also the feeling that I could do it tomorrow (as in today). On top of it all was the depressing idea that going to the shops these days has lost any pleasure, and is now a chore what with having to put a face mask on.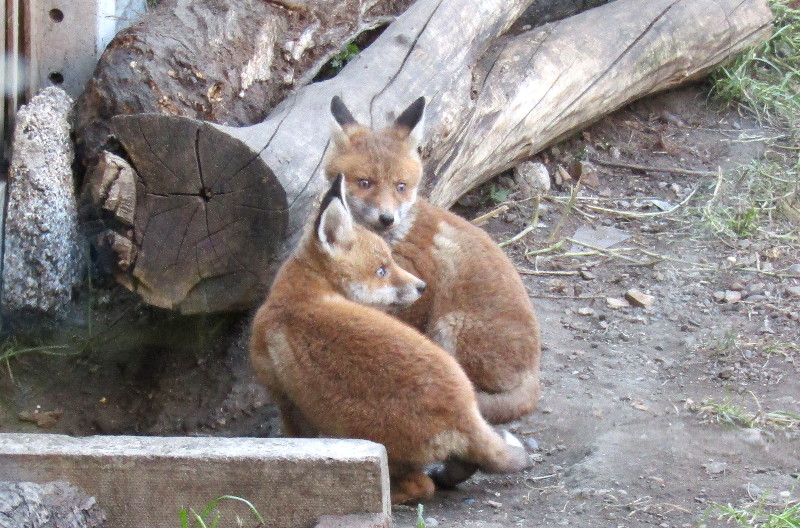 With clean windows, and a camera on a tripod, I could take a few better pictures of the fox cubs yesterday.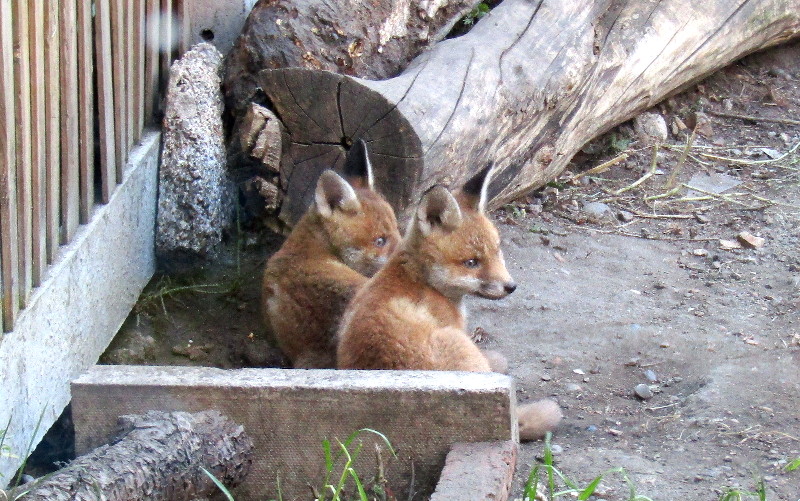 The pictures still aren't as good as I want because I was using an automatic camera, and it couldn't do a fast exposure in the low early evening light. Those cubs were constantly moving even when apparently sitting still, and most pictures I took had some or more motion blur.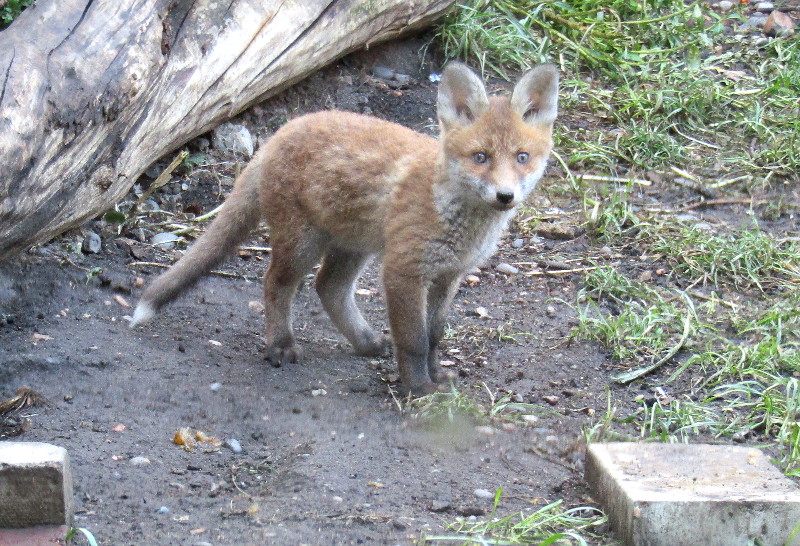 Last night I decided to swap the mostly automatic Canon Powershot 420 camera with my Canon EOS 1200D DSLR camera. I took a few shots, that I haven't checked yet, through a zoom lens, but the aperture on that is not big enough to allow a fast shutter in low light. I think I need to use the lenses I would use at a poorly lit gig. I think it could be the first good use for my 100mm lens which has a f1.4 aperture. I hope that should work well.
I have shown the pictures of the fox cubs, and the stuff about photography to prove I did
something
yesterday. It wasn't like a few days ago when I felt tired after a few bad nights sleep. It was more like I just couldn't raise the enthusiasm to do anything yesterday. The one thing I should have done, and for which I spent a fortune on printer ink, was to design and print a cover for the DVDs I recently made. For some reason, and I think I blame the dull weather in the afternoon, I just did not feel creative. I preferred to read my book, and to catch up with some of my internet reading.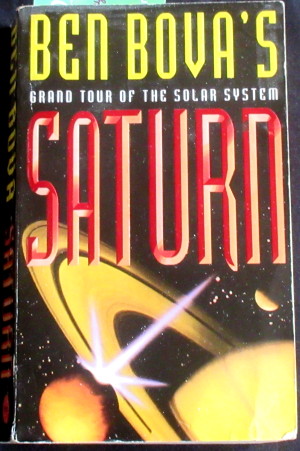 The one thing I did manage to do yesterday was to be careful about what I ate. I made sure almost everything I ate was low sugar. There was one exception that I noticed too late to do anything about it. It was some Heinz dressing which was a mix of tomato sauce and mayonnaise (it has a compound name that I can't remember - tomonnaise - or something silly like that). It was really quite predictable, and I really should have realised before over using it that being an American company, Heinz puts loads of sugar in everything (even stuff actually made in the UK).
My dinner was a lot safer than the cheese on rice cakes, with the cheese stuck on with that Mayomato sauce. It was quite simple - well grilled bacon with grilled (under the bacon) big mushrooms, and a bit of Dijon mustard. I had something after dinner, but I can't remember what it was.
I can't work out if it was just boredom or actually feeling tired that sent me to bed fairly early last night. I didn't go to sleep that early because I wanted to finish the last book I was reading. It was the final part of Ben Bova's asteroid wars mini series called "Aftermath". From today I move on to the next book in the chronology of Ben Bova's "Grand Tour" - a series of fictional novels about the human colonization of the solar system. Each novel (or mini series) is a stand alone story, but they do make references to the events of previous books so it is worth reading them in Ben Bova's suggested order. The next book is called "Saturn".
Once I had finished "Aftermath" I turned out the light and tried to go to sleep. Sleep did not come quickly, but once it came I slept solidly for at least a couple of hours before waking up. At first it didn't seem like I would sleep well, but in the end it seems I did sleep well. I even slept late this morning, and I didn't get up until just after 7am. I can't say I felt good when I got up, and I am not sure how good I feel as I write this, but I know I have felt a lot worse, and so it can't be that bad.
There is good news this morning. The best is that my blood glucose has dropped down to 8.6mmol/l this morning. It is still high, but out of the danger zone. I have doubts I will get it any lower by tomorrow because beer will be involved today. It might even go up a bit ! The other good news is that my latest beer order is scheduled to be delivered today - hopefully in time to drink some of it in this afternoon's boozing session with Jodie. The final bit of good news is that I have had another win on the premium bonds. I don't know how much, but it is under £100 because it has been automatically invested as more premium bonds. It is most likely just £25 - enough for a few beers, but not enough to retire on.