Every revision to the forecast shows less and less sunshine for today. It was sunny until I refreshed the weather forecast, and then the sun instantly went behind a cloud as I saw that there should only be sunny spells. Yesterday the forecast predicted sunshine for most of today, but now, in the latest revision, sunny spells are only predicted for 9am, 1pm, 3pm, and 7pm. The rest of the day will just see 100% white cloud. Rain is still predicted to start at about sunset. The forecast still says the temperature should reach 19° C, but maybe not until 3pm now. That is still 2° less than was happening most days in May last year. Tomorrow may reach 16° C, but the afternoon is currently predicted to have a 30 or 40% chance of light rain.
Yesterday turned out to be very different to how I thought it would. I was feeling generally miserable during the morning because of the dull grey sky and almost constant rain. I was finding it very difficult to not have too many snacks, and as soon as the clock hit midday I poured myself a large whisky ! I was looking forward (well, sort of) to a lightly sozzled lazy afternoon of snoozing and reading, and had just started a second glass of whisky when Jodie phoned me.
She wanted to ask me something about beers, but then she dropped a bombshell. Apparently, on Thursday I had agreed that we would be drinking on Saturday (yesterday) instead of Sunday (today) because of the weather forecast. Today was going to be a far better day for any outdoor activities, like walking, and yesterday far better for indoor activities, like drinking. It was fortunate I didn't have to do much to prepare for an afternoon boozing session.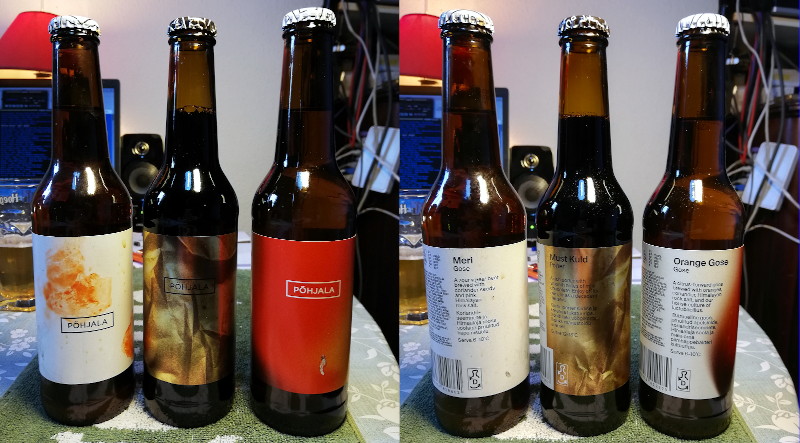 On further consideration this was not a good way to show some of the beers we drank, but it will do for now. These beers were from the Pohjala brewery in Estonia, and on the whole I did not think they were that nice. The two on the outside were very sour beers brewed from wild yeasts. I think the Orange Gose was the closest to nice, but I still can't imagine drinking pints of it. I think there was one other Pohjala beer we drank that I didn't take a photo of.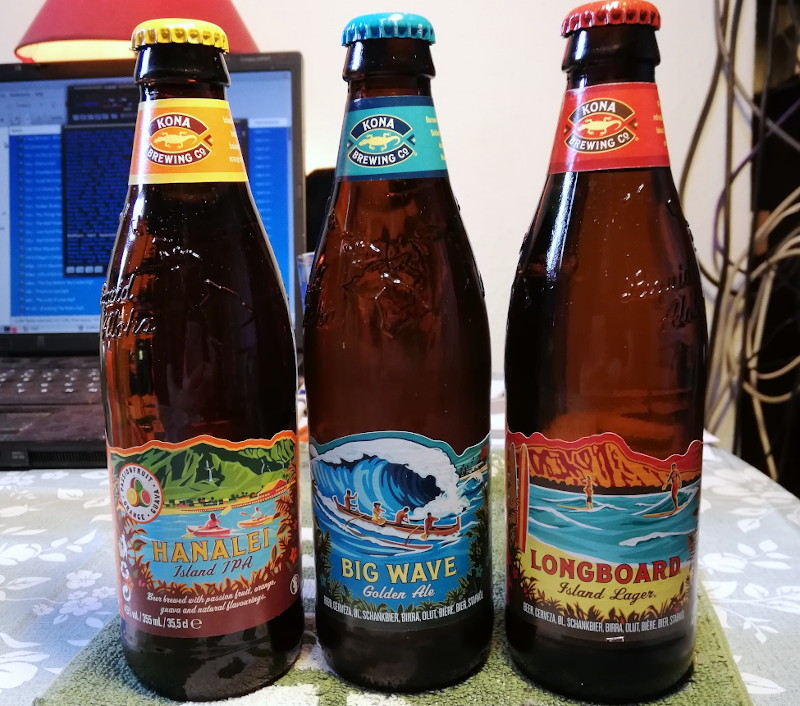 The Pohjala beers came in my recent beer delivery from Beer Merchants. The beers above, from Hawaii also came in the same order. I don't think we actually tried the beer on the left, the island IPA, and that was saved for next Thursday. These Hawaiian beers were nicer than the Estonian beers, but not so exciting. They were basically just lagers.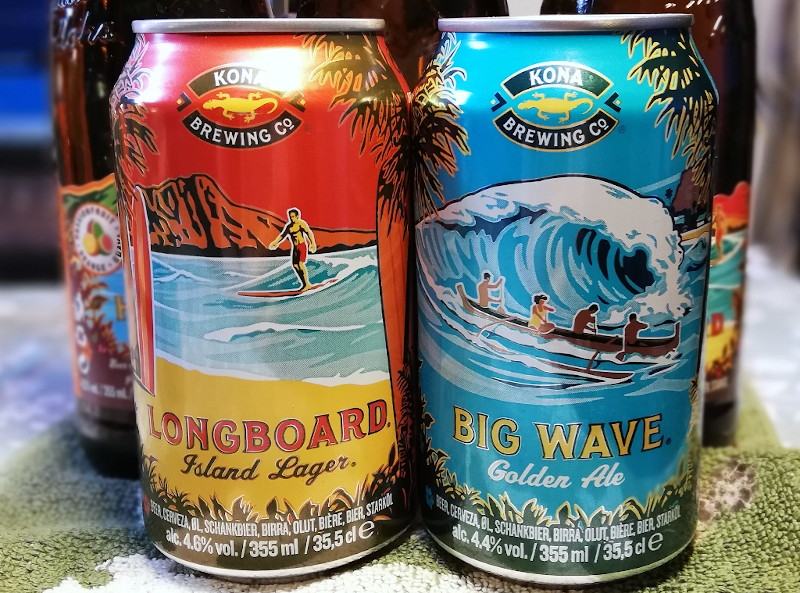 It is fortunate that the Hawaiian beers were fairly cheap or it might have been annoying to get the same beers in cans and bottles. I thought I could taste a small difference, but Jodie said it was just that the cans were a little more gassy. It is worth a reminder at this point that we shared each can and bottle half and half. We therefore drunk half the amount of beer than it might appear !
The sun was doing it's best to come out when Jodie left just after 6.30pm. She decided to get the bus to Bromley so she could have another beer or two in the beer garden of The Star And Garter. I sorted out my dinner. I thought I had indulged enough, and decided to have a very simple dinner, but it turned out bigger than it should have been. I blame the beer. I had two cans of soup that I know to have a very low sugar count. I also had some cup noodles and some instant noodles. It was the noodles that spoilt things - probably.
I don't think it was the beer or the soup that was the reason for my pleasant nights sleep. I think it was the change in the weather. My bed seemed unusually comfortable, and seemed to sleep under the duvet for most of the night. Of course all the beer I drank, and then all the soup and noodles meant I had a lot of water to dispose of, and I woke up several times in the first 4 hours of sleep to go for quite big wees !
Until I had been sitting here at my computer for too long I was feeling quite good this morning, but now it feels like a need a good stretch to straighten out my legs and stuff. On a more, but not a lot, positive note, my blood glucose has dropped a bit more. It was 8.6mmol/l, down from 8.8mmol/l yesterday morning. If I hadn't had those noodles as part of my dinner it may have been a bit lower.
I guess today I really ought to go for a walk. It will be plenty warm enough without a coat even when the sun isn't shining, which it seems is getting less and less likely. I don't know where I will go, or how far I will walk today. In theory I will walk further if it's warm, but I just feel so out of condition that even 3 mile walks seem like hard work recently. Maybe I'll surprise myself by walking further, or less than expected.