I was surprised to see there had been some rain earlier this morning, but there have been sunny spells since that, and the temperature is currently 12° C - a figure that would have seemed luxury in the afternoon not many weeks ago. We may lose the sunny spells for a few hours soon, and light rain is predicted for 11am, but the afternoon is still predicted to feature sunny spells until sunset. In fact the last hour of daylight could see clear skies. Once again the afternoon temperature should peak at 16° C. Tomorrow could start with a few sunny spells, but most of the day may feature a covering of light cloud, and in consequence be a degree or two cooler than today.
I kept thinking that I should force myself to go for an afternoon walk, but around midday a great excuse came along to stay in. My morning did feature some activity. As I said yesterday, I went out early to do my weekly shop from Aldi. I then spent the rest of the day trying not to eat everything I bought. Fortunately I made a point of not buying anything too tempting. That included a pack of rice cakes - something I did want to buy, although they don't really count as tempting.
Towards the end of the morning I started some laundry. It wasn't a big load, but did include a hand towel. After soaking it all for an hour or so I did the three rinses, and then the fabric conditioner, without stopping, but then held back a bit until the weather looked good for drying outside. I'm not sure what time I hung it on the washing line, but it was not long after a period of heavy, dark cloud. I wasn't sure if I was taunting the Gods too much at that point, but maybe they approved because from then on there was a nice breeze and plenty of sunshine to get it all dry within 3 of 4 hours.
Much earlier in the morning I noted that an order placed with Amazon had arrived at their Dartford depot in the small hours of the morning. That meant it would be out for delivery later. It was 12:30 when I got the email to say it was out for delivery. I knew it would not be delivered for hours, but it still seemed a good enough excuse to stay in all afternoon to wait for it to arrive. It wasn't until 5pm that it arrived.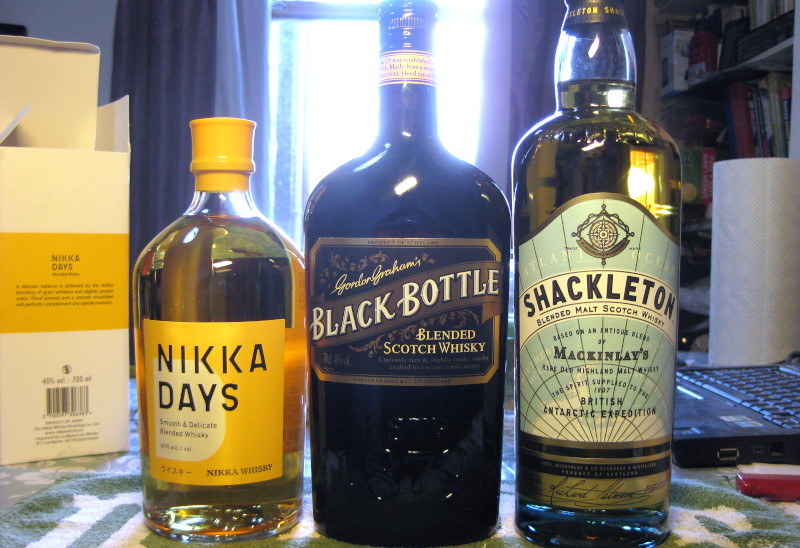 My order was for some assorted blended whiskies. Naturally enough I had to have a nip of each one to find out what they were like. The first one I tried straight after it was delivered, was the Nikki Days. It was one of the cheapest Japanese whiskies (some are horrendously expensive), and it was the first Japanese whisky I have ever tried. It has quite a bite, but is quite pleasant. Later on I tried the Shackleton whisky. I had really hoped it might be something special and really good, but I found it a bit too smoky for my palate. I'll have to drink it with a mixer. I had several nips of Black Bottle whisky in the evening, and found it to be very pleasant.
Not much else happened yesterday, but it seemed a nice enough time. With nothing else to say about it, it would seem to be a good time to record some news I got on Saturday (8th May). It seems my oldest brother died after spending quite some time in a nursing home suffering from dementia, and/or some other neurological disease. He was about 12 years older than me. I also heard some news of my older brother (it is confusing having an older and eldest brother). He is apparently well, but has several new joints, and a few stents fitted.
I had managed to avoid an excesses during the day, and continued to eat mostly safely when it came to dinner. I had a fairly nice dinner of diced lean beef with beansprouts, and half a can of mixed beans. This time I used a less violent chilli sauce, and was able to savour it more without burning my tongue ! I had a few squares of sugar free dark chocolate for a dessert.
After my poor sleep the night before, I felt ready to go to bed fairly early last night, and this time I did fall asleep soon after turning the light out before 9pm (but I can't remember exactly when). I can remember having dreams and waking up quite a few times in the first 4 or 5 hours of sleep, but everything was overshadowed by the dream I had sometime after 4am. It was an erotic dream - very erotic ! It featured a fantasy from 30 to 35 years ago, and of course in the dream she had not aged at all. The best, most wonderful, thing is that I didn't wake up just as it was starting to get interesting - and it got very interesting indeed !
I can't remember how that dream ended, and to be honest many of the details are now hazy, but that doesn't matter because I still remember the important bits !! I don't know how many hours of sleep I got last night, but I think it was almost enough to wipe out my sleep deficit. This morning I feel almost OK, but my chest still feels delicate, and I managed to provoke some discomfort just by opening a door earlier on. On a more positive note, my blood glucose has fallen to 8.6mmol/l this morning. It is still too high, and doesn't leave any room for complacency, but at least it is well clear of the danger line.
I really don't know what I am doing today. So far I have had a wet shave, washed my hair, and had a shower. I could be dressed up with nowhere to go. I was contemplating the idea of a walk today, but in the last half hour the weather has gone from bright, with some sunny spells, to dark grey. The idea that it will rain at 11am is looking almost certain now. After that it should brighten up, and maybe I might regain the mild enthusiasm I had for a walk, and maybe not. I probably out to discipline myself to make the DVD cover for the DVD I made of camcorder footage shot by Sue of the band Warehouse playing in The Rutland Arms. I have put off doing it for too long now. Maybe today I might find the spark of enthusiasm somewhere, sometime.