It feel very fresh this morning, but the temperature is almost 19° C. It is rather dull now, but sometime in the afternoon, and around 2pm is the latest estimate by both the Met Office, and The BBC (Meteogroup), when the cloud will break up to give sunny spells followed by pure sunshine. The temperature should rise to at least 24° C, and it might touch 25° C for a short while. The change of weather should continue tomorrow with lots of sunshine, and maybe the temperature will hit 27° C,
Yesterday was another good, and rather busy day. I'm happy to say my guts were behaving themselves well, and I was close to feeling good. It was almost like I had more energy or something. I had a good shower, and got myself ready to get the 11:49 train from Catford Bridge to London Bridge station. My first "appointment" was to see Carrie and Steve busking on the concourse of London Bridge station.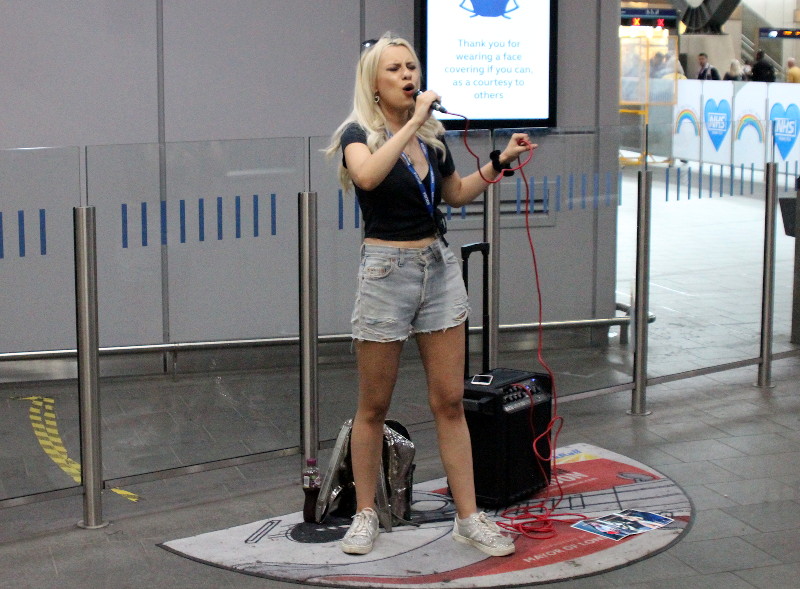 When I got to London Bridge I found Carrie was singing alone to a backing track. Once she finished the song she told me that Steve was on his way, and would be there soon. He had accidently forgotten a lead for his guitar, and had had to race back to Hither Green to collect one.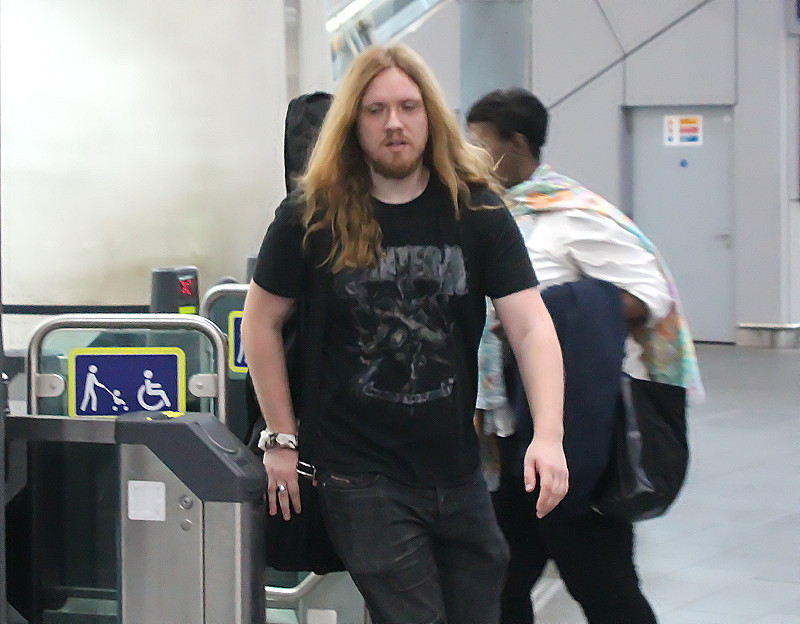 I managed to snap Steve as he came through the ticket barrier. Yesterday I said they would be performing as the Cazbar Duo, a name they used 3 years ago, but on this occasion they thought Carrie & Steve Duo sounded better.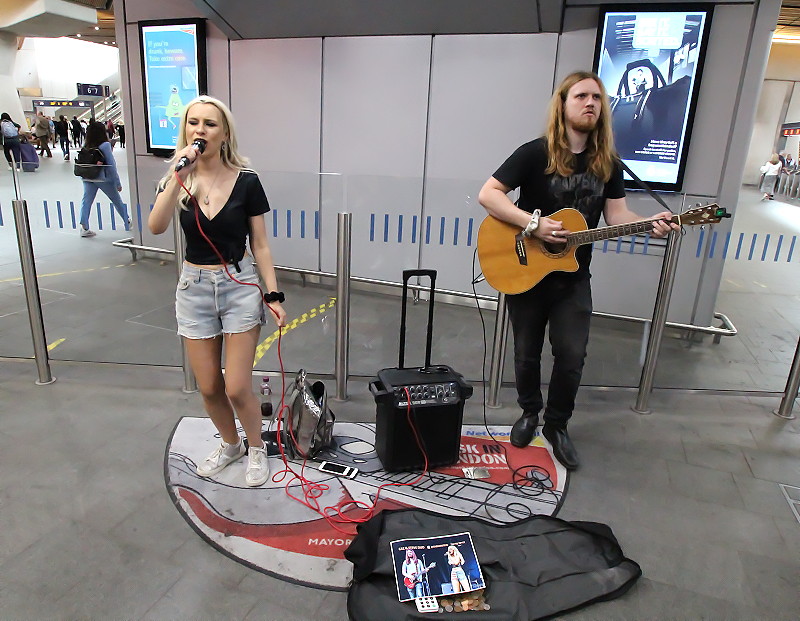 One thing that was not immediately obvious was how dimly lit the station concourse is lit. There is plenty of light to see by, but after using my camera to take a few snaps on the sunlit platforms above, I really had to turn up the wick to take pictures on the concourse. Many looked slightly grainy, and I used some noise smoothing, followed by a bit of sharpening to make some pictures a bit bolder looking.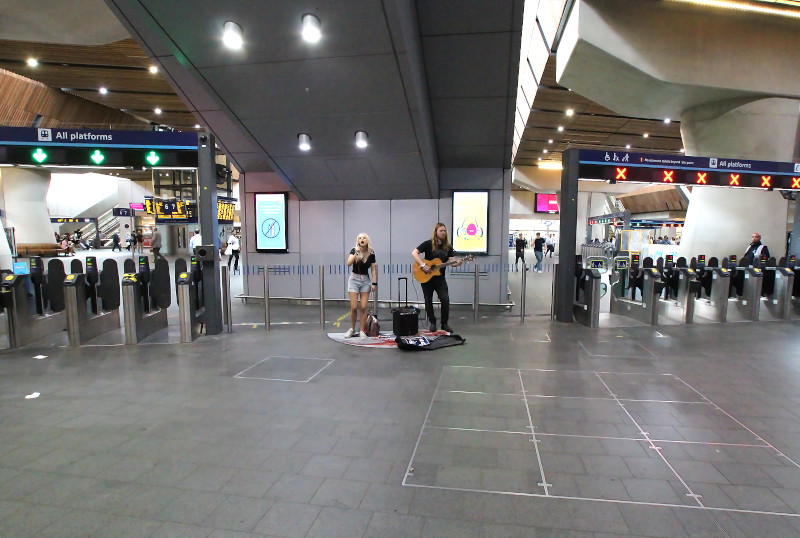 One trouble for Caz and Steve was that at midday, the station was very quiet. It was made worse for them by most people going straight through the barriers, and then checking the displays to see what platform they need, and the time of their train. Waterloo Mainline station would have been better because the ticket barriers are at the ends of the platforms, and so everyone waits on the concourse, and they would have more time to watch the band, and maybe put some coins in the hat.
I only stayed at London Bridge for maybe half an hour before going on my quest to visit a couple more stations at the limits of my Freedom Pass for free travel. My original plan, before I knew about Carrie and Steve busking at London Bridge, was to get a Thameslink train from Catford to Farringdon, via a change of trains at Blackfriars, where I could change to a Metropolitan Line train. I was going to do the four furthest reaches of the Metropolitan line - Amersham, Chesham, Uxbridge, and Watford.
Starting at London Bridge gave me a different opportunity. I could, and did get a Thameslink train through to Finsbury Park station. From there I could get trains to Hadley Wood, or Crews Hill. I would get the first train that came along. My timing was such that the first train would take me to Hadley Wood station.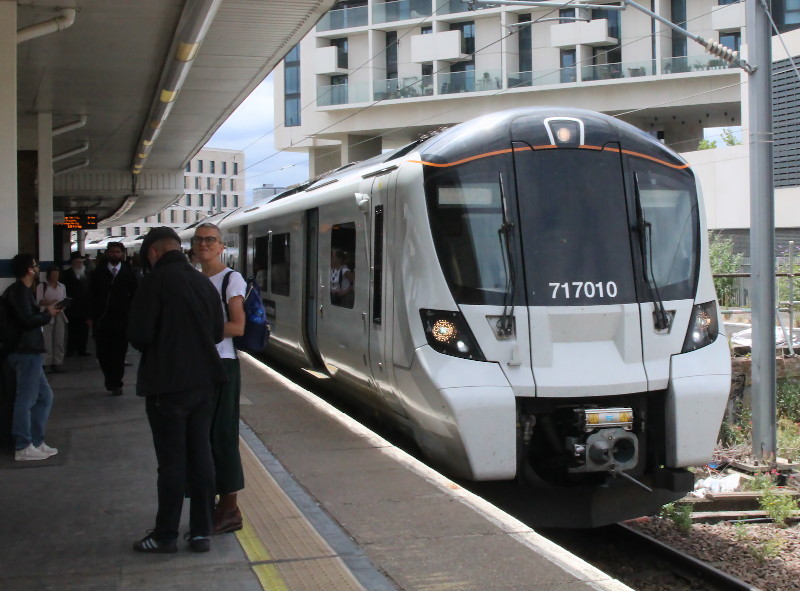 I had a pleasant surprise at Finsbury Park station - a new type of train. I had no idea Great Northern trains were running a new fleet of trains. The class 717 trains were built in 2018, and introduced just in time for lockdown to stop me using any trains.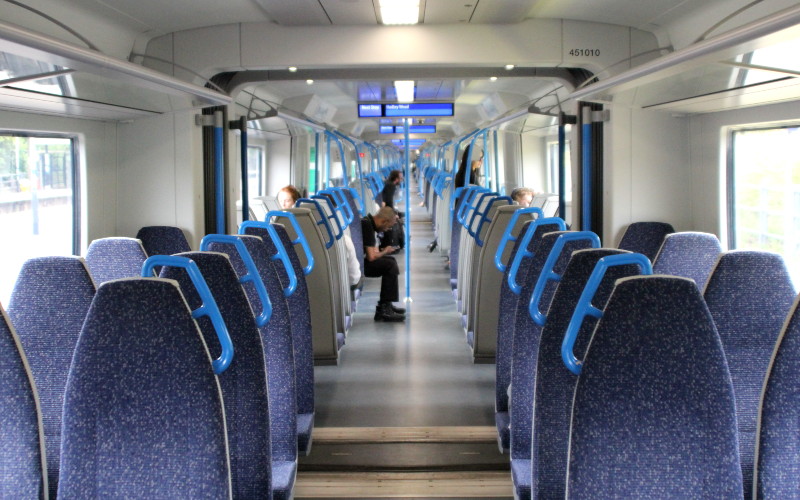 From the inside you would think you were in a class 700 "Thameslink Train". Even the recorded announcements are the same. The difference is that the front and rear of the train have a drop down emergency exit. It is in case the train needs to be evacuated in one of the single bore tunnels to Moorgate which is the southern terminus of these trains.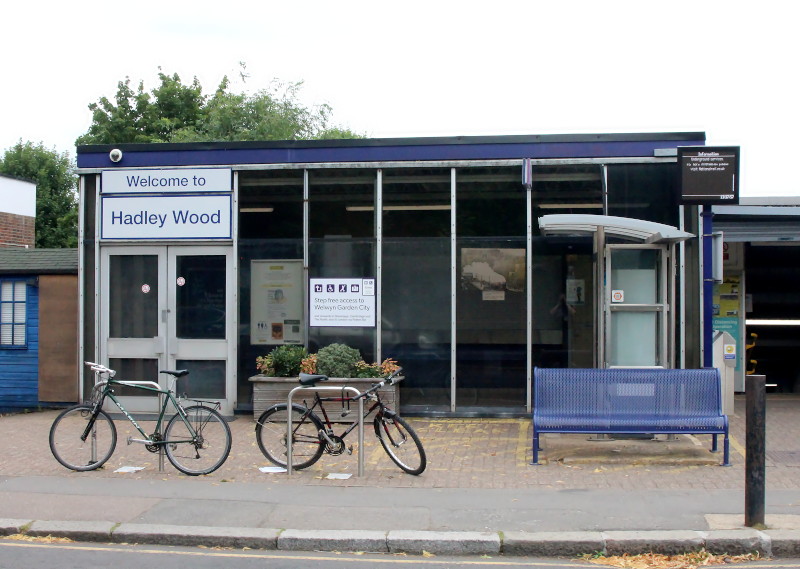 It was a fairly long, but interesting in places, ride to Hadley Wood station. The station is on a four track section of railway, and the outer tracks are for stopping services while long distance trains go thundering through on the inner track. Some of those fast trains come from a depot between Alexander Palace, and Bowes Park stations. Back in the days of slam door trains, with drop down windows, I could have got a lot of shots of the depot, but there is no point in taking picture through the fixed, and usually slightly dirty windows.
I would get the chance to see that depot four times, and two of those times from a slightly different angle. After reaching Hadley Wood I got a train back to Alexander Palace where I changed for a train going to Crews Hill station. Once past the depot the line reminds me of the Mid Kent Line. It is obviously not exactly the same. The biggest difference is that the Mid Kent uses 3rd rail electrification, whereas the line to Crews Hill (and ultimately Stevenage) is all overhead wires. I guess it was the feel of the place that felt similar.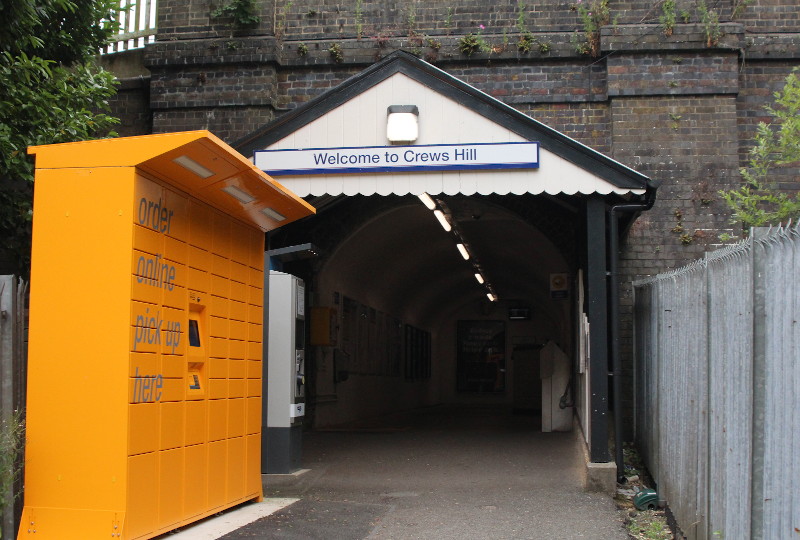 The entrance to Crews Hill station is not very inspiring. It has no ticket office, and there are very few facilities at platform level - basically a couple of shelter, and a departure board. There might have been something to see on the other side of the railway, but there seemed nothing to see on this side to show there had ever been any more extensive facilities, and yet it would seem unlikely that it didn't have the usual station house/booking hall back in the 1950s.
It was quite a long ride (30 minutes or more) back to Finsbury Park station where I would change trains to a Thameslink train to take me back south. Once on that Thameslink train there were lots of tunnels that made getting a signal to my phone tricky. I was trying to work out where I would change trains. The train I was on would call at London Bridge, and if I changed there I would have a choice of roughly four trains an hour to take me back to Catford Bridge station.
The alternative was to change at Blackfriars station for a train back to Catford station. I was frantic trying to get my search done in the brief moments when the train was out of tunnel, and I could get a mobile signal. I just managed to find that if I changed at Blackfriars station In would only have to wait 7 minutes for a Catford bound train. That sounded good even though it meant trundling up and down the stairs at Blackfriars to change platforms.
I had been out for just 10 or 15 minutes short of four hours when I got home again, and I felt tired, but not exhausted. I certainly found the energy to select and edit two photo albums of the pictures I had taken (including the few I have used here), and to also do the pictures of trains that I added to my great spreadsheet train spotting catalogue. I think I added about another 6 trains I had not seen before.
I did all that without taking a rest, but I did have a snack of 4 Tesco four bean salad, along with two small bags of Hula Hoops quite soon after getting home. My dinner was quite healthy-ish. It was a whole Romaine lettuce with "tikka" flavoured chicken breast meat chunks liberally dosed in mayonnaise. It was what came later that blotted my copybook. I had done all my photo editing work, and I amusing myself with some TV. I felt sort of strange. A sort of buzzing sensation of fatigue, and feeling good about having a productive day. I also had the munchies. I ate another 3 small (25gm) bags of Hula Hoops. If only I had eaten them many hours earlier....
Some of my sleep was good without having to use any painkillers, but I can't say I liked some of my dreams. One was about my old (and maybe ex) friend Lee. He is now almost a tramp as a result of his severe alcoholism. In one dream he had somehow opened my front door, and came in with another foul smelling tramp. I leapt out of bed when I heard them, and confronted them. I don't think I had persuaded them to leave before I woke up for a pee.
There were other dreams that were not happy dreams, but that one was the worst. Naturally I don't really know much about my good sleep, but there were times when I was not comfortable. I think it was around 1am when I could not work out if I was hot or cold. It is not the first time this has happened. It felt like my skin was something like itchy, but not exactly. Maybe tingly comes closer to the feeling. I tried pulling the duvet over me, but that felt too hot, and so I got back to sleep mostly uncovered. It wasn't until about the last hour of sleep when I was sleeping mostly under the duvet.
This morning I feel fairly OK. It is still to early to be rash and say I feel fairly good ! My guts definitely seem to be good this morning. The bad thing is my blood glucose reading. It is still at 9.0mmol/l - not dangerously high, but annoyingly high, and I am sure all the blame lies on those three little bags of Hula Hoops I ate as late at 8pm, and maybe later. If I had eaten them when I came home from my troubles, I would probably have got away with it. I think that if I had the definite test for blood glucose, using a blood sample sent to a lab, I think the result would be fairly good because that tests the long term average, rather what can be short blips like my home meter.
There is one thing wrong with me this morning - tooth ache. I am pretty sure (or desperately hoping so) that it is nothing more sinister than damage to my gums after a rather enthusiastic, and very deep flossing to get bits of lettuce out from between some teeth last night. It is not the first time that has happened, and fingers crossed, like previous times, once the gum has healed the sensitivity will go away.
I only have two things on the agenda today. Before the morning is over I hope to go shopping in Aldi. There are a couple of things I want that are best got from Aldi, and of course I'll probably fill a small shopping trolley with other stuff too ! This afternoon, being a Thursday afternoon, I expect I'll be having a beer tasting session with Jodie. I had better make sure the fridge is stocked with some interesting beers !