May ended with a bang, and then later with a rainbow. We seem to be going through a time when the BBC weather forecast is often more accurate than the Met Office forecast. The former did predict thunderstorms for mid afternoon, the latter said only light rain ! The Met Office did correctly forecast sunny spells just before sunset. Both forecasters got the afternoon temperature right at between 14 and 15° C. Before I forget, there were sunny spells at the start of the morning.

The Met Office forecast is a bit gloomy, and so let's use the BBC forecast for a change.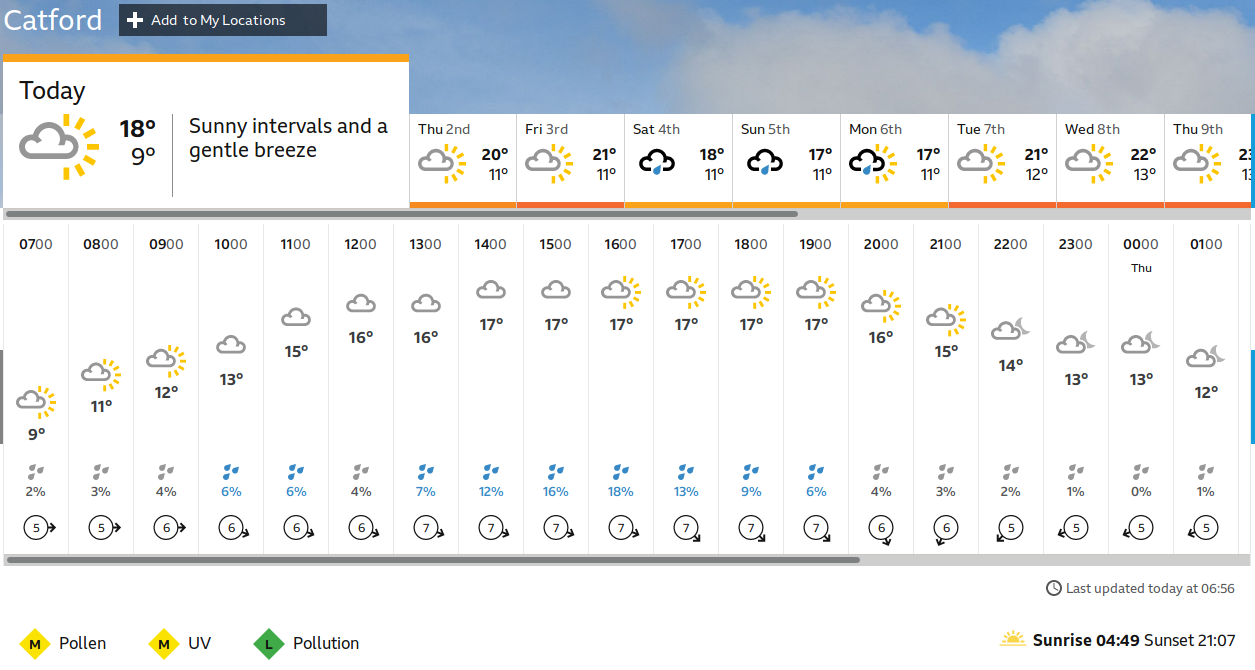 There have been some sunny spells this morning, as per the BBC weather forecast, but they seem to have finished for now. This too is in accordance with the latest revision. It also says there will be light cloud until 4pm when sunny spells start up again.Meanwhile, the Met Office can't seem to get over it's fixation with rain this morning, although the latest revision has reduced it to just a 40% chance at midday, but it retains the dark and heavy clouds for several hours either side of midday. Both agree on a later afternoon temperature of 17° C. Both currently agree that tomorrow will see a mix of sunshine or sunny spells for the whole day, and a top temperature of 19° C.
Yesterday, the last day of May, could have turned out like the day before, but something in the weather perked me up a bit, or maybe that with rain, or thunderstorms forecast, I didn't feel the slightest guilt about staying in all day. It could be argued, with 100% success, that yesterday morning was actually worse than the day before, but by the afternoon something seemed to be stirring. The full description of yesterday, last night, and the start of this morning, can be read in
my complete archived page for today
.