09:19 BST

Yesterday morning was bright and sunny, but from mid afternoon there was increasing amounts of cloud, although I can't seem to remember any length of time when there as no sunshine at all. It was another dry day, and the temperature only peaked at around 25° C.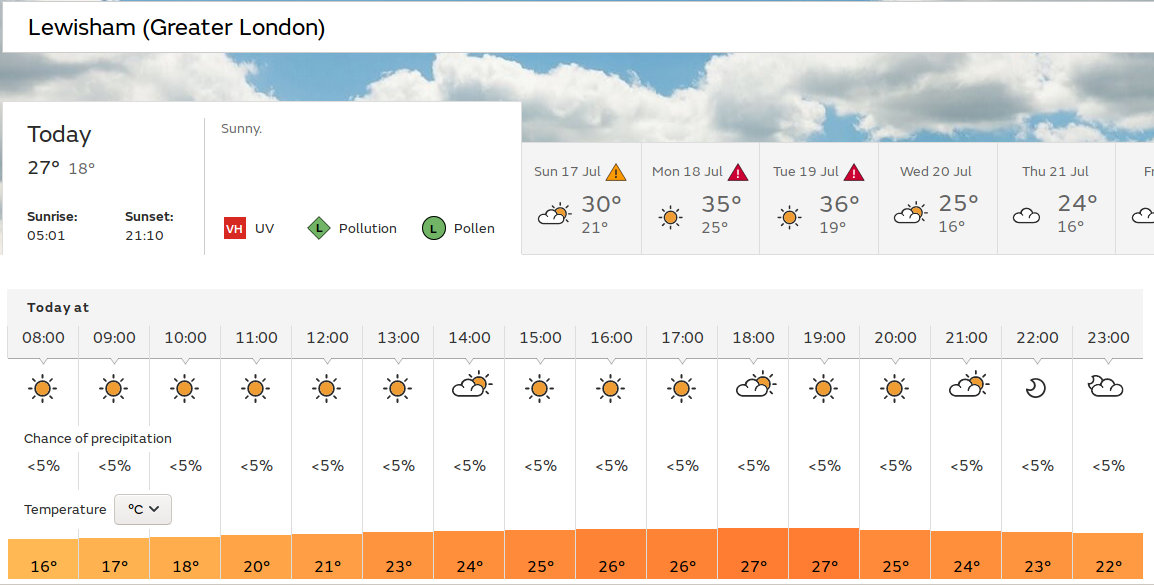 It seemed quite fresh this morning, and at 5am I was almost feeling too cool to sleep, but I did sleep - for quite a long time. Today the temperature is currently predicted to reach, and stay at 27° C for at least 3 hours late this afternoon/early evening. There may be a few almost random hours when we will only see sunny spells, but most of the day should feature full on sunshine. Tomorrow will feature almost non stop sunshine, and the temperature should rise to 30, or even 31° C. The day after tomorrow features a
RED
weather warning of extreme heat. Apparently this is the first time ever the Met Office had had to issue on. There is also one for next Tuesday when the temperature might hit 40° C. Even in my book that is
HOT
.
Yesterday was a sort of disaster ! During the course of the morning I made two substantial deposits in the toilet, and I thought I would be fine to go to Bromley to take some photos of Caz and Steve busking. I got myself washed and dressed, checked my camera, and clipped a water bottle, in a holder to the camera bag (it being a small bag for my Nikon P500 "bridge camera", rather than a full sized DSLR camera with extra lenses). I was ready to leave, but my guts still felt a bit odd. What didn't happen next, and what did happen instead is described in
my complete archived page for today
. It also includes stuff about last night, and my dreams plus some terrible news this morning.