Monday 31st August 2009
09:22 BST

Today was forecast to be the last great day of summer with the temperature "soaring" to 26° C, clear blue skies, and bright sunshine. It doesn't look that way at the moment ! It is very mild right now, and the morning clouds are breaking up. So it could happen as forecast.

Yesterday was quite a dull day, weatherwise, and I thought that I might even be christening my new cagoule, but it stayed dry somehow, and it was quite mild out.

Apart from the weather being dull, the rest of the day was anything but dull (except for a few odd moments). Along with Aleemah, who had originally spotted the posters advertising the event, Iain, Kevin and myself went along to the open day at Upminster District Line tube depot.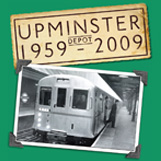 click on the picture for the full poster
I wasn't due to meet Kevin until 11:15 am, and that gave me time to go shopping in Tesco (which opens at 10 am on a Sunday). There were several things I needed to buy, and several things I wanted to buy, and armed with a fistful of Clubcard vouchers, one of those things was a new camera. I seem to have a small collection of cameras now, and each one seems better than the last. The first was a 1.3 megapixel Olympus C100, and although the images were comparatively small, and there was no optical zoom function, it was, and still is an excellent camera. The next was a Traveller D1 camera. It was a 4 Megapixel camera with 3x optical zoom, but it had some problems. It had a raging hunger for batteries, and would really only work with rechargeable batteries, and the pictures were a bit noisy, but otherwise quite good. The next camera was a 3 megapixel Practica DC Slim 315. It is an excellent small "point and shoot" camera, but lacks optical zoom. My new camera cost £64.87 and is a 10.1 Megapixel
Samsung S1070
(the black version, not the pink one shown in the link). I had a mere five minutes to learn how to use it before I set out to meet up with Kevin.
I met Kevin at the bus stop in the high street, and we had a choice of getting on either a 199 or 47 bus towards Canada Water tube station. Along the route we hoped to pick up Iain. Happily for Iain the first bus that arrived was a 199 and there is a bus stop for that almost right outside Iain's home. At a prearranged point, Deptford Fire Station, I called Iain, and several stops later he joined us on the bus to Canada Water station.
At Canada Water we got a Jubilee Line tube to West Ham station where we met up with Aleemah. From there we caught the mainline train service to Upminster. Aleemah wanted some lunch then. So Kevin and Iain went off to the depot while Aleemah and I went into the nearby Wimpy Bar. Aleemah had haddock, chips and peas, while I just had a diet coke. We finished in time to get the free vintage bus from the station to the depot. There were about 5 different buses in use on the day, and we got a Routemaster bus. I am not sure which one we actually got because it was all a bit of a rush to get on it, and at the other end, to get inline to buy our tickets. It could have been this one......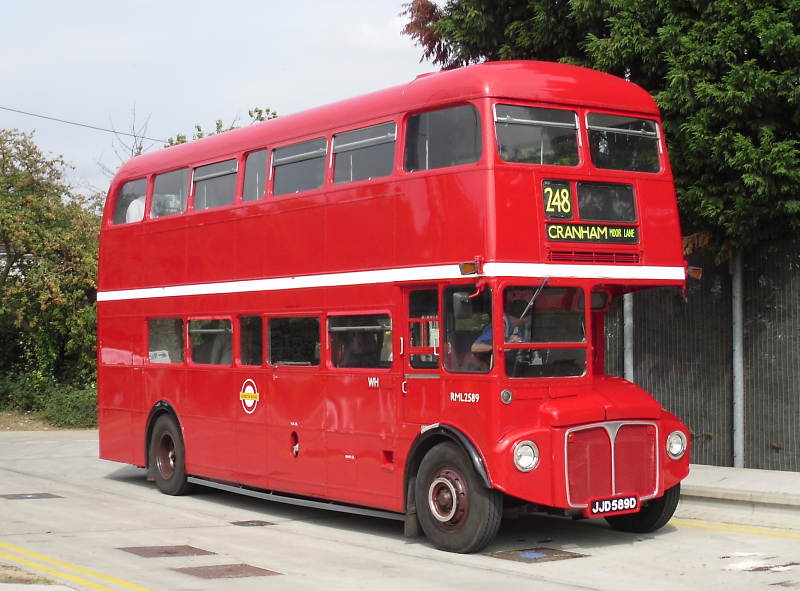 RML2589 in the yard at Upminster
The picture above is just one of many I took on my new camera at the open day. This actual picture has been heavily cropped, and shrunk to about quarter size for display here, and I think it still looks pretty good. I am very pleased with my new camera.
After my
long walk the previous day
I started out feeling reasonably OK, but the slow walking, and standing about in the depot soon raised a few aches and pains. For some time my right thigh was feeling very painful for some unknown reason. Then later on my right foor started to complain. That was almost like I had tied the laces so tight that they were cutting into the top of my foot. That wasn't the case, but that's what it felt like. This morning my right foot is still having some painful spasms when I walk about on it, so I will not be going out today to give it a rest.
The depot visit was quite interesting, in fact very interesting in parts, but in reality there was not a lot to see. Kevin and Iain spent quite a lot of time just hanging around the vintage buses (both being bus anoraks !). I must admit that I too considered the vintage buses to be very interesting, and it was quite nostalgic to ride on two of them again in their original condition. The Routemasters that are in current operation on
route 9
and
15
are refreshed/modernised versions of the Routemaster that have, amongst other things, modern flourescent lighting. The buses we caught to and from the depot were in original unadorned condition with tungsten light bulbs. The one bit of authenticity they didn't have was the smell of smoke, the brown ceilings, the cigarette ends on the floor, and the drunk slumped in the rear seat (all on the top deck of course). This was a great pity, but those bastards at the health and safety militia, aided by the medical nazis, would never permit such a thing these days.
We left the depot some thirty minutes after Aleemah became bored and my right foot started to become very painful, and some fifteen minutes after I had seen everything I wanted to see (and in some cases twice). This time we all boarded the bus together. It was nice that it was RM1, the very first prototype Routemaster bus. Back at Upminster station we boarded a mainline train. Aleemah alighted at West Ham station to change onto the Jubilee Line to make her way back home, while we carried on to Limehouse station where we changed onto a Docklands Light rail train to Cutty Sark station.
The handy thing about Cutty Sark station is that there is a Wetherspoons pub almost adjacent to it, and the 199 bus stops very close by. The 199 would take Kevin and myself back to Catford in one direction, and Iain back to Rotherhithe in the other direction. Kevin decided he wanted to have his dinner in the pub, but didn't get around to ordering it until we had already drunk three pints of beer. That was enough for me, so I said my goodbyes and caught the next 199 back to Catford.
The first thing I wanted to do when I got home was to see how well my new camera had worked, and the other thing I wanted to do first was to eat my dinner. I had some stuff that I had bought at Tesco in the morning that I was going to eat, but after three pints, and the bus stopping right outside the fried chicken shop, I had given into the smell of fried chicken and brought fried chicken and chips home with me. So I munched my chicken and chips before downloading the pictures from my new camera onto the PC. I was very, very pleased with the results ! Now I must read the manual to find out how to use the camera......or maybe I shouldn't ! It seems to be giving excellent pictures just from my own intuition on how to use the camera. Even the video function gave some good pictures. I have recoded one little video of a 7715, an ex-GWR tank loco that was giving demonstration runs on a very short length of track yesterday. I have recoded it into mp4 format, and it is just stored as a file
here
. Either right click on the link to save it on your PC to view it with the media player of your choice, or just left click the link and see if anything pops up to play it.
With my foot still aching (or at least I presume that when I get up from the PC and try to walk on it, it will ache) I am not going out today. So I will get on with some other stuff that I can usefully do. That includes some laundry, and more slash and hack gardening. Taking priority over those, although one load of laundry has been doing it's stuff in the washing machine while I have been writing this, is to prepare a reasonable selection of pictures I took yesterday for a new special web page that I also will have to write today. When it is finished, hopefully by sometime later this afternoon, you will be able to find it at the bottom of my
site map
page (and I'll link directly to it when I write more stuff here tomorrow).
Sunday 30th August 2009
04:25 BST

Today, as far as I know, is forecast to be similar to yesterday, but with more cloud, and yesterday was a lovely day. After a slightly chilly start the sun started to shine, and continued to shine for much of the day. By about 11 am it was very mild, and the day ended with it being pleasantly warm.

I woke up early yesterday morning and was not sure if I wanted to go out for the day. I felt tired, and after I had been up for an hour or two I went back to bed. I felt better after another 2 hours of sleep, but I was still unsure if I really wanted to go out for a very long walk by myself. The alternative was to stay in, get bored, and probably eat too much. In the end, spurred on a little by the obvious sunshine, I set out with the idea that I might turn around even before I had left Catford. I didn't give up until close to the end of the long walk I had planned, and in the end I had a good time. The full story, with pictures, is here.

This morning I feel a few aches after my long walk, and I think I may have got a little sunburnt. I have got up far too early, and I feel a little tired. So soon I will go back to bed to catch up on another hour or two of sleep. Then later this morning I am off out again. This time I won't be on my own, and this time it is not to the seaside. Along with Aleemah, Iain, and probably Kevin, I am off to the open day at Upminster tube depot. It should be quite interesting. There is a "vintage bus" service from Upminster tube station to the depot, and several vintage tube trains on static display. Afterwards I predict that Iain, Kevin, and myself will end up in a pub somewhere.

Tomorrow is set to defy the traditions for an English bank holiday, and is forecast to be an almost scorcher of a day. The sky is supposed to be very clear, and the temperature is supposed to go up to 26° C. That's 2 or 3 degrees higher than yesterday, and really rather good for the end of August. I really ought to go out again to take advantage of it, but I am not sure if I will. Public transport gets a little sparse on a bank holiday, when it usually provides a Sunday service. Going out is not so much of a problem, but coming home again can involve some long waits unless a strict timetable is planned in advance, and then followed to the letter. I have emailed Patricia in the hope that she may want to go to the seaside with me, because that will definitely make my mind up.

If Patricia doesn't lure me out it may be just as well. There are things that ought to be done here. I haven't done any shopping for this weekend, and I doubt I will be doing any today. I have a pile of laundry to do, but I could do that when I get back from Upminster, maybe. I'll possibly be wanting to make up a special web page of photos from the visit today, and also knock up a web page for September. Finally, I ought to do a bit mre hack-and-slash in my back garden. The wheelie bin is empty once again, and just yearning to be almost filled with piles of foliage. Hopefully I will actually end up spending several hours at (probably) Shoeburyness with Patricia, but I feel a bit pessimistic that will happen.
Friday 28th August 2009
08:17 BST

With the sun rising later and later in the morning, it is now getting difficult to get any clue as to how the weather is looking before leaving for work in the morning. At first it looked as if the sky was very grey and cloudy, but as the sky began to brighten I could see that it was mostly clear. Since then there have been extended periods when there's hardly been a cloud in the sky. It is looking promising for a pleasant day, but it will need to warm up a bit to make it truly pleasant. As I came to work there was quite a cool wind blowing. It felt almost cold enough that I should have rolled down my shirt sleeves. Had it been another degree cooler I would definitely have been thinking about wearing a jacket.

Yesterday remained dry, and during some of the longer sunny spells it felt very nice. With no rain, my idea of testing my new cagoule never came to fruition, and maybe it never would have. It arrived quite late in the day, and I didn't have any spare time to give it a proper look. Once I got home I examined it a little better, and tried it on. It looks better than I thought, and it has a zip up the front rather than being a smock like thing as I had imagined. So one set of fears was unfounded, but my other wasn't. As I predicted, it was too small for me - but not totally useless. I can do up the zip with ease, but it is very tight around my gut, and tighter round my chest than I'd prefer. In an emergency, and after all that is what I bought it for, it is usable, but in light rain I probably wouldn't bother doing it up. With the zip undone it still provides quite a lot of rain protection, and is very comfortable to wear like that.

I can see that cagoule being more useful during commuting, but I think I want something better for when I am out walking in "the wild". Before coming to work I had a quick search on the internet for all the shops I could think of in the local vicinity, and to see what they may offer. One store, Millets who have a branch in Lewisham, list a "Men's Waterproof Jack in a Pack" in an XXL size, and that ought to do me OK. The price is almost double compared to how much I paid for the Tesco cagoule. So it ought to be quite good, or at least it had better be ! Of course the chances of them having one in stock at the Lewisham branch are pretty slim, but I am going to break my journey home from work tonight and have a look. While I am in Lewisham I may find that Iain is in the pub. In which case I will either stop by for a celebration drink if I have managed to buy a bigger cagoule, or drown my sorrows if I haven't.

I am hoping I will be able to get that cagoule tonight so I can take it with me when I go out tomorrow. Maybe I should say, if I go out tomorrow. I still have not checked that all my trains (including the Docklands Light Railway) are running OK, and because I am most probably going on my own I could easily back out if I don't feel like it at the time.

I have done some preparation for a day out tomorrow. I managed to eat a sort of diet dinner last night. It was one of stews, or soups, that have gallons of filling hot water as part of the ingredients. Well maybe not gallons, but I could have consumed almost as much as a pint and half of the stock that I cooked half a large leek, several small tomatoes, some mushrooms, a large red pepper, and something else that was not exactly the sort of thing I should have included, but was the thing that made it ultra delicious. That thing was a pile of sliced chorizo sausage. Along with some West Indian pepper sauce, all the paprika in the chorizo gave the meal a wonderful flavour. Unfortunately chorizo has an awful lot of fat in it, and so on balance it was not a healthy meal. On the plus side, it was sufficiently filling that I felt no need for snacking or anything. In reality it was all the liquid that was so filling, and of course by this morning I had pissed all that away. As I walked to work I felt a little empty, and the cold wind was chilling me a bit, and I gave into temptation and had I "spicy chicken tikka wrap" for breakfast.

Tonight I am having white fish stew. That is very low fat, and the entire thing should be quite healthy. Once again I'll be cooking it in plenty of stock, and it should keep me satisfied all night. In the morning I won't be passing the shop that keeps tempting me on my way into work, and so I won't be stuffing myself before I go on my long walk. If I don't go on that long walk I don't know what I will do, but it may well involve eating !
Thursday 27th August 2009
08:42 BST

There are similarities between the weather this morning, and yesterday morning. Both started out fairly mild, overcast, and a little bit humid. The main difference is that there has been no rain so far this morning. I think it is also a little misty compared to yesterday. I think the forecast is that it will mostly stay dry today, but there is enough doubt in there for a splash of rain not to come as a surprise.

Yesterday was a very mixed bag. We had a mixture of bright sunshine and clear blue skies, and some quite substantial downpours of rain. I did get a little damp a couple of times in the morning while out having a fag, and I probably actually got wetter from sweat as I walked to the station on my way home. It was very dull when I left work, and I put my coat on as a precaution. In the end I didn't need my coat, and by the time I arrived at the station I had to take it off because it was too uncomfortable wearing it. The air felt very humid and muggy last night, and I was convinced we would have a storm. That storm never happened as far as I was aware. The garden was quite damp this morning from some overnight rain, but I have no idea how heavy it was.

While the forecast may suggest otherwise it may still rain today, and I could be unlucky and it might rain when I leave work to go home. Another explanation is that I could be lucky if it does rain. That sounds unlikely, but sometime today my new cagoule should be delivered. If it fits (and that is a very big if), and if I am brave enough to wear it, I could test it out tonight if it rains on the way home. On second thoughts, it would be handy to give it a test while I am not miles from civilisation, but I definitely would not be lucky if it rains. While it is so muggy it would be uncomfortable to wear anything at all, let alone a "souped up binliner" in the steamy heat.

Last night I had good intentions of cooking myself a low calorie, low fat, stew/soup type of thing. I have been eating too much, or if not too much then the wrong sorts of food, lately, and I have been feeling a bit stodgy. If I am to walk 6 miles on Saturday I need to feel better than that. Well, last night I did eat less than I have done recently, but it was definitely the wrong sort of stuff. I could not resist buying a hot bacon joint from the Tesco hot meat counter last night. It had been reduced to just 99p, and was irrestistable. They look quite big, but they do have a very big bone running through them. I ate the whole lot including the skin (but obviously not the bone). It was delicious, but I dread to think how many calories, or gallons of fat I consumed, but I know it was far too much.

This morning I managed to walk straight past the shop that does nice sandwiches and wraps that I have been eating for breakfast far too frequently lately. It started out as a treat when I called in there once or twice a week to buy Diet Coke, but I seemed to end up doing it every morning. It probably explains why I found it really hard going getting to the station last night. As well as the high humidity I was still feeling too full after eating two chicken wraps in the morning. Well, not this morning, and tonight I go straight home instead of going via Tesco, and I still have all the ingredients for my stew/soup type of thing. If I stick to this plan, and do the same tomorrow, I should be fighting fit for a long walk on Saturday. Whether I can avoid a double sized feast of a meal after that long walk remains to be seen, but I am going out again on Sunday. So I ought to try and curb my enthusiasm for eating on Saturday night.
Wednesday 26th August 2009
08:23 BST

The weather forecasters, or at least the less crap ones, have finally got something right. They said rain this morning, and indeed it is raining. The sun didn't exactly rise this morning, but once there was enough light to see some sort of detail in the sky, it was obvious that it was very cloudy. As I left the house I could see the sun as a pale glowing diffuse blob behind some thinner cloud, but that was the last I saw of it. As I walked to the station there I felt a few drops of light rain hit my face. At Waterloo the sky looked very dark and sinister, but I don't think it was actually raining. As I walked from the station to work I came close to getting damp from some light rain. Now, half an hour after arriving at work, the rain has definitely got heavier, and I think it may have unfortunately set the pattern for the day.

Putting my coat on when I came to work this morning was an obvious choice, but even though it is a lightweight coat, I still felt a little too warm in it. All the overnight cloud has kept some of the heat in, and although it is far from being warm outside, it is probably warmer than yesterday when I came to work in a short sleeve shirt. The fact is, I don't like being encumbered with a coat while travelling unless it is definitely cold, or definitely wet. I was thinking about this yesterday, and came to the conclusion that what I need is some very lightweight rain protection that I can stuff in my bag, or back pack. It would be particularly useful for when I go out walking. So although I think they look a bit silly, I have ordered a cagoule. It will definitely look a bit silly if it is too small for me. I ordered the extra large size, but there was no indication of what exactly extra large means. Had I ordered it from the high street chain Peacocks, it would have probably fitted as snugly as a straightjacket, or maybe a garrote ! I actually ordered it from the internet branch of Tesco's, and I usually have much more luck with their extra large sizes than with Peacocks. I am expecting the cagoule to be delivered to me here at work tomorrow, and then the truth will be revealed. Will it fit, and will I look like a total jerk ? The first will be a huge difficulty, but if I am out on a long walk, miles from shelter (i.e. a pub), then looking like a jerk is better than getting soaked. I must confess I had similar worries when I first went public in my shorts, but at least one person said they looked good, and they are very comfortable to walk in. Now I don't care what others thing, I will wear my shorts when ever I need to (although with autumn looming upon us it might not be until late next spring - or will it ?).

I have been thinking about my next day out, and it could be this coming Saturday. The long range weather forecast suggests it could be warm (but not hot) , and dry. That sounds good enough for me, and I have a route planned already. I was rather taken with the ease, and the relative cheapness of getting to Thorpe Bay last Friday, and so I have planned a route that expands on what we did last Friday. The plan is to go one more stop to the end of the line at Shoeburyness, and then to walk all the way along the seashore to Chalkwell station. It will be a six mile walk if I can manage it. I am pretty certain I can manage that distance, but I am not sure if one place is passable without turning back to go round it inland. It is where some (ex ?) Ministry Of Defence land borders on the foreshore. I think it is now disused, and there are future plans to make a walking and cycleway path along the foreshore, but as far as I can make out from Google satellite images, which could be a couple of years out of date, there could still be barriers in place.If no other distractions come along on Saturday I may well find out for myself.
Tuesday 25th August 2009
08:51 BST

Once again it is another bright morning. It is almost cool outside, but it doesn't take much rushing around to work up a slight moistening of the body. I have no idea what sort of weather we can expect for the rest of the day, but I have made the bold assumption that it will remain dry, and I have left my coat at home.

I am coming to the conclusion that Accuweather, who do the weather plug in for Firefox, should be renamed Inaccuweather ! Their forecast for yesterday, in the Lewisham area, was for thunderstorms at 4 pm. There were no thunderstorms yesterday. There was not even any rain, and when I got home, admittedly an hour later, it was a pleasant sunny evening ! (In)accuweather also got it very wrong for several of my days out, but did manage to correctly predict rain for my day out to Southend even if the got the time very wrong, and the intensity of the rain very wrong too. I think I shall uninstall my Firefox plugin, forecastfox, when I get home tonight, and look to alternative sources of weather forecasting (maybe I'll bring some seaweed home when I visit the seaside next).

Last night was one of those nights when I didn't seem to achieve much. In fact I don't think I did anything, and yet I can't recall what filled in the hours between getting home from work, and going to bed. Well actually there are two things I do recall. Firstly I called into Tesco to do some shopping. I intended to buy some fruit to take to work today, but I seemed to forget to do that. I did buy some other human, and some catfood, and it was consuming an excess of the human food that was the other thing I remember doing.

This morning I felt very sluggish when I woke up. Some of it came from eating too much of the wrong foods, and some was quite possibly the result of a fight I had with the duvet during the night. It was too hot to cover myself with the duvet last night, and I distinctly remember going to sleep with the duvet heaped up on my left hand side. This morning I woke up feeling very cold with the duvet on my right hand side.

I don't think I will be doing anything in particular tonight, but I can foresee another overnight fight with the duvet if it gets fairly warm today.
Monday 24th August 2009
08:24 BST

The morning has started out very fine, but there were a few vivid red clouds in the sky as the sun rose. Traditionally, red skies in the morning are shepherds warning (or anyone else's warning) that bad weather is on it's way. Since the sun rose there have been an odd assortment of clouds appearing, and disappearing in the sky, but even when the sky was not almost 100% blue, the clouds have been white and either thin or fluffy. It is not forecast to be all that hot today, and the estimate is about 22° C, but it seems even that is enough to possibly trigger a thunderstorm later this afternoon. One forecast predicts that Lewisham (whose borders contain Catford) is due to get a thunderstorm at 4 pm. In an ideal world that thunderstorm would move to the west and arrive at Earlsfield after I am on my way home, and be clear of Catford when I arrive there.

Yesterday's warmth was very pleasant, but there was one downside to it. Until recently I had left the duvet out of the duvet cover to make my bed a little cooler at night. On Saturday I started using the duvet again because the nights were getting cooler. Last night it was steaming hot again in my bedroom, and I had to sleep on the duvet rather than under it. At least at first I did. As the room cooled down it would have been nice to use use just the duvet cover until the last few hours of the night when it had cooled enough to get under the duvet. When it felt too cool to sleep on the duvet it was still too hot to sleep under it. So I thrashed around with bits of me sticking out from under the duvet as I tried to find some balance between feeling cold, and feeling hot. In theory I slept quite badly last night, but I don't feel too bad at the moment. Maybe this afternoon I will be falling asleep at my desk, or maybe not, but I feel I will be getting to bed quite early tonight.
Sunday 23rd August 2009
18:48 BST

It has certainly been a hot sunny day today. The temperature at the moment is around 26° C, or as near as I can tell. Unlike some of the muggy days we had a week ago, it has been a fairly dry heat, and there has been a reasonable breeze to make it feel fresher. One thing is for sure, it is excellent drying weather for laundry. I did two lots of laundry today. The first was the bedlinen I took off the bed yeaterday, and the second was a new duver cover and some new pillowcases I bought yesterday. The first lot had almost dried before the washing machine had finished the second load.

This morning, before it got too hot I spent and hour or two doing a bit more "gardening". Although I had previous claimed to have cleared the entire path/area at the side of the kitchen, that was not exactly true. There was still some heavily foliaged rubbish against the last 3 feet of wall before it goes round to the true back of the house. All that is now in the wheelie bin, and I have pushed a very narrow path about a yard long into the actual garden itself. At that point I had to stop for fear of over filling the wheelie bin.

As I dug into the deepest recesses of the junk up against the wall I uncovered a lot of wildlife, and apart from the odd worm, it all had too many legs, and was almost furry. I find that sort of thing a bit unnerving - especially when I am wearing shorts! As I push deeper into the garden there are quite a few substantial webs, and their owners I am going to have to push through as I hack and slash my way through the foliage. Next Sunday I am going out to an open day at Upminster tube depot, and I won't be doing any "gardening" then, but I may do some next Saturday instead. As yet I am undecided whether to carry on trying to get to the back of the garden, or to clear the path at the back of the house. (I say path, but it is just a 4ft patch of concrete between the brack wall and where a lawn could start). What it needs is a picture to illustrate this, but I haven't got one ready.

One picture I do have is this......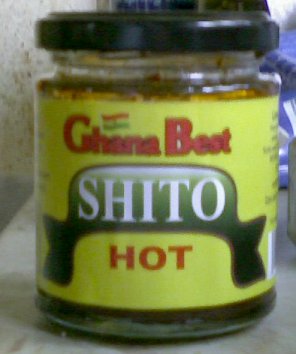 ...... I bought this jar in Tesco last week, but have forgetten to mention it until now. With such a name and origin I am highly dubious about it, and I have not tried it yet. The (coincidentally) Ghananian girl at the checkout strongly recommended it to go on fried rice and chicken. Maybe one day I'll try it on something similar to that. When I bought it I assumed that it would be very similar to some stuff I used to buy from the corner shop. That was an oily paste of chopped/ground prawns and chilli, and it was very nice too. I think it was either Chinese or Japanese in origin, and I loved a good thick smear of it on corned beef sandwichse, or any other sandwiches when I come to think of it. Shito would appear to be similar except that it also has fish in it, and it smells almost nasty. I have a suspicion that it will be viciously hot. So when I do try it I shall be most wary.



09:02 BST

The weather forecasters promised that today would be one of the better days, and so it is, or at least it has started OK. Most of the sky is blue, and the sun is shining. In the 3 hours since sunrise it has warmed up a lot. When I first got up at 6 am it felt very chilly with the window open to let Smudge in (and out, and in again). Now the same window is open and it feels very pleasant. If the sky stays clear for the rest of the day we could end up with quite a hot afternoon.

Yesterday was just slightly better than Friday. I know that it rained here once or twice while I was in Southend, but my personal experince was that it was a warm, mostly sunny, day. One difference, which was purely down to being on the coast, was that it was a lot less windy here in Catford yesterday. The other difference was that yesterday was totally dry, but we did experience one very short, very light shower in Southend, and I experienced another even briefer and lighter shower for the first few minutes of walking back to home from the station.

I saw Aleemah yesterday, and she brought over the film (movie, DVD, whatever) "The Day After Tomorrow". It was interesting watching it, but with a plot straight out of "Disaster movie plots for beginners", and having seen so many trailers for it, it was all very predictable. It was also very easy to pick holes in many things that happened in the movie. The simplest nonsensical thing to use as an example concerns one group of "our heroes". As New York slowly disappears under first water, then snow and ice, our heroes are holed up in a public library. Fortunately in some sort of boardroom there is a large fireplace, and they need to get a fire going to keep them warm as the temperature drops to sub artic levels. So in a place filled with wooden furniture and bookshelves etc. what do they burn ? Yes, they burn the books ! One dramatic effect that was nonsensical was the formation of frost on building, people and other things. The outside air had already dropped to well below zero, and as far as I am aware the air would already be very dry as all the moisture freezes out as frost. Then during one of the major climaxes of the movie the air temperature suddenly drops again to -150° (probably Fahrenheit being an American film), and thick frost starts to form on everything including buildings, and people. Well I can imagine that the people are exhaling some moisture that could form an extra frost, but where did the moisture come from to add a thick rime of frost to the top of the already sub xero Empire State building ? We have probably all seen pictures of stuff dunked in liquid Nitrogen, and the frost forms on that only once the object is exposed to the warm, moisture laden, outside air. To keep the pedants (like me) happy they should have had someone explain that it was actually carbon dioxide frost that was forming on everything (carbon dioxide sublimes at -78° C), although the amount that formed would suggest that the concentration of carbon dioxide in the atmosphere of New York was way above that needed for runaway global warming, and quite possibly so high that nobody could actually breather there. So even the technical explanation of the "dramatic effect" is complete nonsense. Despite the predictable script, and the weird science, I did enjoy the film - sort of !

As you are probably aware, my mobile phone got a little too cosy with seawater on Friday. After drying it out, and even giving it a quick check inside, it is still not working. I will be taking it in to work tomorrow to see what else might be revealed when I put it under the microscope there. Although the phone is dead the sim card is fine, and I have put that in my old "O² Ice" phone which in some ways (but not others) is actually better than the Nokia 6300 that I appear to have killed. Killing the phone was one thing, but stored on my phone are all my contact numbers (I thought I had them stored on the sim as well, but apparently not). So if you think I should know your number the best thing to do is to send me brief text message with your name on it, and I'll add that to my list of contacts again (this time I will try and make sure they are stored on both the sim and the phone).

With today being sunny and warm I ought to go out and enjoy it somewhere, but I can't be bothered. For one thing transport is always a bit crap on a Sunday, and there is stuff I ought to do here. I don't know if it is actually important, but I feel like I want to try and push the jungle in my back garden back another couple of feet. The wheelie bin is now empty again, and I will once again probably half fill it with foliage and other debris. I have also a little washing to do, but aside from that nothing else of any great significance. This afternoon could be boring and I may end up just doing some reading. I enjoy reading, but if I can think of something more creative I would prefer do whatever that is.
Saturday 22nd August 2009
06:35 BST

This morning looks nice enough. It feels fairly chilly, and there is some patchy cloud in the sky, but I think once the sun is up properly it will warm up, and there will be a lot of sunny intervals.


If the above weather chart is to be believed, it could be nicer than my own prediction. If, on the other hand, that chart is as accurate as the one for my day out yesterday, then we could be in for anything !
Yesterday was a fantastic day. You can read all the details of my day out
here
, and I'll only touch on the highlights now. The two main plus points were that the weather was far better than forecast, and that Patricia accompanied me on this day out.
I first met Patricia just over five years ago on the 2nd August 2004 while on a jobseekers course during a long period of unemployment. I thought she was lovely, and even made a
special web page
about that course just so I could include some pictures of her. It's been a long wait to have a proper day out with her instead of just a walk in the park, or a quick visit to London.
Even though we went our own separate ways when we arrived back in south east London, the joy of the day must have carried over into the evening for me. On my previous days out, after lots of walking in the fresh air, I have come home and generally eaten like a horse, and mostly, if not completely nullifying any advantage from all that exercise. Last night was different. I was still tempted to get an unfeasibly large takeaway, but mysteriously I somehow avoided that temptation. What I did eat could hardly be described as healthy - sausages and potato wedges - but it was mild compared to what I could have eaten. If I were brave I would weigh myself this morning, and maybe I would find that I was a pound lighter, but without a recent measurement to compare it with it would be pointless. However, my gut does feel a little less bloated this morning compared to others. So maybe that is a good thing.
Very soon now I will have to start rushing around doing some housework, and some shopping, prior to Aleemah coming over to visit me. With the inside of the house being cooler now than during the hotter spells of weather we have had, and the outside temperature being still very bracing at this time of the morning, doing all those chores should be a lot easier, but I don't feel very keen to start pushing a hoover around at the moment. I am not exactly sore after yesterday, but some bits of me, mainly my legs, do feel a little stiff. This is true of most mornings so I can't blame the day out, and like most mornings, once I have had a shower and start moving about a bit I will feel much more active. Even then I doubt I will feel keen to do any hoovering, but I can't recall
ever
feeling keen to do any hoovering !
Friday 21st August 2009
06:32 BST

This morning has started off bright and dry. Soon the clouds will bubble up, and it will eventually rain. It is fairly chilly right now, and apparently the best we can expect today is something like 21° C.

Today's the day I am going to Thorpe Bay with Patricia. It's not exactly the most brilliant day for a day out, but I think it will be mostly enjoyable. The last weather update I saw at midnight suggests it will be raining when we arrive there at 10:44 (if we catch the train I plan to get).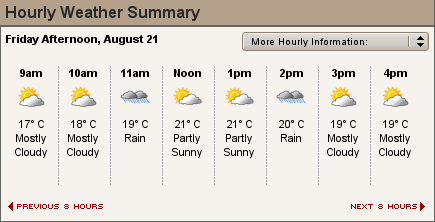 If the weather forecast holds true we will have a couple of hours of partly sunny weather to walk along the beach to Southend. Once we get there I predict we will end up sheltering in a pub before catching the train home again. Alternatively, because the staff meeting that Patricia was bound to is not happening today, we could go out again when the rain stops at 3pm (if that can be believed). In complete defiance of the forecast weather I am going to wear my shorts. If I am unlucky it will be a cold, wet, miserable experience, but otherwise they do seem to be good for hiking in, and are most handy for when I go into the sea for a paddle. With luck the sea water will have retained a little warmth, and it will just cool my feet off rather than freeze them off !

I'll try and write the conclusion to this story tomorrow morning, and as usual I will be making up a pictures and commentary page soon after. That may have to wait because I will probably be rushing around in the morning preparing the place for Aleemah to visit.
Thursday 20th August 2009
08:48 BST

Yesterday, as forecast, was deliciously hot. The sky was blue almost all day, and it did hit 30° C, or as near as dammit. This morning it is fresher, but only just. It didn't take too much effort to raise a sweat while rushing around as I made my way to work. The sky was fairly clear when I first got up, but since then there has been a slow, insidiuos, build up of cloud. As I write, that cloud is broken white clouds with blue bits peeping through, but later on it could thicken up. The weather forecast suggests any rain should fall some time after I have got home. I hope that forecast is correct becuase I didn't bother bring a coat to work.

Last night I tried the chicken sausages that I mentioned yesterday. They were certainly different, but actualy quite nice. One thing I neglected to do was to see if they had any advantages over the low fat pork sausages I still have in the fridge for tonight, or more likely tomorrow night. It should be possible, but is actually unlikely, that they are lower in fat, and hence lower in calories, than even the low fat sausages (which are almost certainly still rather unhealthy anyway). The only problem with my meal last night was that my, so called, extra hot salsa was anything but. It seemed rather tame to me. It was still a good pouring it onto the sausages and potato wedges, but I would have classified it as mild. It really needed a good dose of West Indian pepper sauce. Now that really does have a kick !!

Out of curiosity I called Patricia last night. I had been waiting to find out when she wanted me to do some work on a laptop she was buying for her mum, and she hadn't called about it for over a week. The job is actually a simple one - re-install Windows XP in Spanish, or it least it should be simple with Patricia in attendance to translate what I am clicking on. While talking she mentioned that she had booked the day off tomorrow like I have. Unfortunately there seemed to be a communications breakdown at her workplace, and even though she was having the day off she was still wanted for a staff meeting at 4.30 pm. To my amazement she expressed some regret that she couldn't join me on a trip to the seaside because of that late afternoon meeting. In all the years I have known Patricia we have never done anything bolder than take a walk along the Southbank, or go for a walk in the park. So a trip to the seaside was something not to be missed. I explained that the trip I had planned for tomorrow would probably get me back to Catford by about 4.30 pm. Patricia didn't sound too keen on the 4.5 mile route march along the south coast I had planned, and suggested Southend as an alternative. I said I would work out a timetable and email it on to her.

I based my planning on getting the first available train after 9.30 am so that we could get cheap day (off peak) return tickets. If we went to West Worthing, and walked the 4.5 miles back to Lancing, as per my original plan for a solo day out, we would have just enough time for a quick paddle, and quick bite to eat, or a pint, before going back to London. That would have been fine for me, but the timings would have to be a little tight to make sure Patricia was back in time for her meeting. If we went to Southend we would have a more leisurely journey there, and back, and a full 4 hours in Southend. I think 4 hours in Southend is probably as much as anyone could stand, or at least it would be if we stayed around the centre of Southend. Maybe it will be more exciting if we walk a mile or two along the coast.

The final bit of planning I did was to research some weather predictions for both Southend and Worthing. Now I don't trust the accuracy of these predictions, but there seemed to be a good chance that we would get soaked somewhere between West Worthing and Lancing, if indeed it was not already pouring with rain when we arrived. Southend did seem to offer a reasonable possibility that we would arrive just after some rain, and more rain would fall after we had left. So Southend was my final recomendation to Patricia in a text message I sent this morning. She has replied that we are going to Southend, and will arrange when and where we meet by phone tonight. I think I am rather looking forward to this day out !
Wednesday 19th August 2009
08:18 BST

It has been confirmed : today will be hottest day of the year since last time it was the hottest day of the year. It was actually quite cool before sunrise, but in the last couple of hours it has started to warm up. The forecasters are still predicting that the mercury will hit 30° C today, but I think that also came with a rather dark understated hint that it could trigger off a thunderstorm tonight. Tomorrow seems likely to be quite wet, but Friday, that I have now officially booked off work, will probably be dry. Could be slightly sunny, and could be slightly warm. Yesterday remained warm and dry, but there were times when the sun was obscured by clouds.

I could have cobbled together something to eat from the freezer last night, but as I was running low on catfood I thought I may as well do some shopping on the way home from work. I can't remember if it happened before I left work, or if it was on the train home, but I had another sausage fixation. I am not sure why it is, but Tesco seem to have a fixation for doing special offers for sausages. When I got to Tesco I found it was the "Butchers Choice" range of sausages that were on special offer at "any three for £5". So I bought a pack of low fat pork, a pack of beef, and a pack of chicken sausages. I had the beef sausages last night, and with some potato wedges, and a very liberal dowsing of hot salsa, they satisfied my sausage fixation nicely. I don't feel any unusual desire for sausages tonight, but having bought three packs last night, I will be eating some anyway. I think I'll try the chicken sausages tonight. I am not sure if I have ever tried chicken sausages before, and to be honest it sounds like an unlikely sort of recipe, but I'll give them a go, and see how they are. That assumes I can taste them because tonight I have some extra hot salsa to smother them in.
Tuesday 18th August 2009
08:01 BST

It was surprisingly cool when I left to come to work this morning. Fairly clear skies overnight had let out most of the heat of the day. I think the mercury hit about 24° C yesterday afternoon, and today it is forecast to be a degree higher, and unfortunately more humid. So far the air is delightfully cool and fresh, and with the bright sunshine it makes for a most pleasant morning.

The weather after today is forecast to get interesting. Hot air blowing in from the south will take the temperature up to 29° C tomorrow, and I fear I may be forced to inflict my legs on my fellow workers as, for the first time ever, I wear my shorts to work. I expect that tomorrow could easily end in a big thunderstorm, and the day after, Thursday, is forecast to be wet and cool. The forecasters bit of old seaweed hanging outside their back door starts to get less reliable pushing any further into the future, but they reckon Friday, when I am contemplating a day out, will be dry again, but not very warm or bright. I am still unsure whether to book Friday off work, or not.

Even as I age, and apparently gain greater wisdom (although I have no idea who thought that claptrap up), there are still things that I completely fail to understand. Why, for instance, with less than a few minutes warning, and without a single iota of any previous hint of trouble, did the exit end of my digestive track explode last night ? From feeling 101% normal to a veritable tsunami occured, not just once, but 4 times at approximately 10 minute intervals (although I'll admit that after the first occurence I did have ample warning that something was amiss). Such events are normally preceeded by at least some sort of tummy ache or nausea, but not this time - absolute normality to complete destruction of the London sewage system in the space of five minutes !

Another thing I don't understand are trousers. How is it possible that two pairs of trousers with identical measurements can fit so differently. In fact for the purposes of comparison let's make that three pairs. The jeans I am wearing now definitely need to be worn with a belt. Without it, 10 paces and they would fall down. The shorts that I have worn on a couple of days out, and that I am threatening to wear to work tomorrow, are a little more snug, but when my belt broke during my day out to St Leonards and Bexhill I had no major fears that they would either fall off, or that they would burst open. I'll admit I did have minor wories about it, but everything was safe, sound, and comfortable for the rest of the day. Those jeans, and the shorts have identical waistband measurements, and at the same time as I bought those shorts I bought another pair at the same time from the same shop, the same day, the same size, and yet they are considerably tighter around the waist. How can this be ? They are not so tight as to be unwearable, but considering they are for use during hot weather I would have liked them to be looser than they actually are. They will definitely need a belt as a safety precaution against the top fastener exploding, and they ain't going to look good if the waistband is cutting into my gut. I feel they are more suited for wearing to work than the more rambler style of my best shorts, and I think I will try to actually wear them around the house for a little while tonight, and see how they really feel. Maybe I will wear them tomorrow, or maybe I'll wear my good ones (or maybe I'll just put on a lightweight pair of long trousers), but I think there is a reasonable chance my work colleagues are going to get a shock tomorrow !
Monday 17th August 2009
08:39 BST

I don't think I was aware that there had been any forecast suggesting that this morning would start out bright and sunny, and even if I had seen such a forecast I don't know if I would have believed it could have been so accurate.There is a slight coolness to the air this morning, but I was still quite comfortable in just a short sleeve shirt, and no coat. Later today the temperature is forecast to rise to 24° C. There was something I read in my morning paper about the temperature rising to 29° C somewhere, sometime in the near future. Maybe it was not for London, but somewhere abroad. If I later find out it is for the South East of England, and for the end of the week I guess I will have to see if I can get Friday off to go for another paddle in the sea.

I don't recall that much sunshine yesterday, but the sky was mostly bright, and it was quite warm at the end of the afternoon. There was probably more breeze than sunshine, but that too helped dry the kitchen floor. I wrote that I was going to wash the kitchen floor yesterday, but I am unsure just how confident I was that I was actually going to do it when I wrote that. Well it actually happened, and not only did the floor get a good wash, but I also used the waste water from the second bucket of hot water to sluice down the newly revealed concrete path outside the back door. Before I started my defoliation operation two Saturdays ago the concrete out there was fast disappearing under bramble and ivy (not to mention other debris).

That was almost a job well done, but it could be argued it is two jobs still unfinished. There is still a deeply engrained greasy patch in front of the gas cooker, and I have only driven about a foot into the garden jungle. I feel no urgency about doing more work on the kitchen floor, but over the next few weeks I do want to do more defoliation of the garden. Perhaps I need some "agent orange".

I was quite pleased with what I had achieved, but I still found myself feeling very morose last night. The seeds for this were probably set on Saturday night. I stayed up later than usual to watch some of the Woodstock film that was showing on BBC4. I was just a few years too young for the whole vibe around Woodstock to affect me when it took place, and of course it was in America, but in later years I did latch on to the whole idea of love, peace, and good music :-) Many of the acts that played Woodstock were, to be honest, crap, but the bad were totally overshadowed by the good. I think the last act I saw on the film on Saturday night was probably The Who, and what a truly astonishing performance that was. I think there was something like another two hours of film to be seen, but I went to bed soon after that.

Late on Sunday morning I watched the film "The Boat That Rocked". Although it was 99% fiction it was very (very !) loosely based on Radio Caroline. Despite only 1% being anything like true (mostly the facts revealed in the opening sequence) it was still a great nostalgia trip even if the facts were wrong because the music was right (and wonderful).

Later on Sunday I went through some unmarked CDR, and DVDR disks to see what was on them. A few turned out to be long superceded backup disks of my radio archives. I listened to bits of programmes that had been recorded, and transmitted in the 70's, 80's and 90's, and became rather nostalgic about that. The final straw was finding a recording of the last ever episode of "Drop The Dead Donkey". I enjoyed that comedy series immensly, and that final episode was actually written to be both funny and sad in a semi serious way. While watching it I had a couple of large whiskies, and that is always a bad thing to have on an empty mind.

I went to bed feeling that all the good times have been and gone, and there is nothing new or exciting ever going to happen again. Mostly that is true, but this morning's sunshine challenged that idea at a low level. Now all I have to do is to try and stop myself thinking about whether we actually recognised the good time while they were happening. Sadly, in writing that, I have thought about it, and I am sure the answer is no. So maybe today is one of the good days and I'll never realise until tomorrow, or next week, or next year, or.......... Time to go outside for a fag I think !
Sunday 16th August 2009
06:00 BST

The sun has barely risen, but it looks as if it could be a fine day today. Yesterday started with more cloud than today, but there were plenty of sunny spells, and it did get quite warm by the end of the day. It is possible that with less cloud than yesterday, today could get even hotter, but that doesn't really take into account the temperature of the air that is blowing in from places unknown. There isn't a great deal of wind at the moment, but there is sufficient to move some of the stale air through the house with a couple of windows open. That is quite good because one of the projects I have in mind for today is to wash some of the kitchen floor, and a bit of breeze will help it dry.

I had a text message from Aleemah late on Friday evening saying should would not be coming to see me yesterday, and so I had to make alternative plans to entertain myself. Most significant of those plans was to continue the clearing of the junk outside the back door towards the garden. I made very good progress in that, and I have now got to the point where I am entering the jungle of the garden itself. At that point I had to stop because the wheelie bin was practically full, but I did cut some more stuff back and left it as it fell. By next weekend that will have wilted, and be easier to stuff in the bin. I estimate that if my enthusiam continues I will have made sufficient space to have a bonfire in a few weeks time, and that will help speed up the process, and unfortunately, but unavoidably, annoy the neighbours. However, give it a few weeks after that and we will be getting into autumn when these things are more traditional.

One of the other things I did yesterday was to set up printing, via my new print server, on some of the virtual machines I can run on this PC. This, of course, was mostly pointless because I don't really have any use for those virtual machines, but it was an interesting intellectual exercise anyway. One thing I have yet to do is to set up printing on the ancient laptop I use in my bedroom (almost exclusively for internet radio). I am not even sure if it would a wise thing to do anyway. That old laptop is running Windows 98 (second edition) and it's very limited resources are already stretched. At the moment it seems pretty reliable, but introducing the extra software for network printing could just send it over the edge. Apart from that I would only be doing it because I could, rather than for any need to be able to print from that machine.

I am not sure what I am going to do today. There is a fair bit of housework that I could do if I had the enthusiasm, but washing the kitchen floor, or at least part of it, is the only thing that has some importance. Not only has doing what could loosely be called gardening introduced a fair bit of mud, and other stuff onto the kitchen floor, but Smudge has had another "accident". She rarely has to use her litter tray. Usually she does her "business" outside in the garden somewhere. However when she does use it she uses it correctly to have a crap, but for a pee she has a bad habit of missing, and doing it over the side, and I end up with a puddle on the floor. A sprinkle of the very absorbent litter granules soaks it up very quickly, but now it is time for a wash with disinfectant.

One other thing I have in mind for today is to experiment with an alternative operating system on one of my old PCs. I am not sure if the AMD Athlon XP1900 processor is supported by this operating system. In fact I don't think it is, but the point of the experiment is to see what happens. A further experiment I might do is to see how I like Monowall as the operating system for my new firewall box. Many weeks ago I made up a new firewall box but had some difficulties with the configuration, and so I continue to use the old firewall. From time to time that makes some worrying noises from it's hard disk, and sooner or later I know it is going to fail. If I don't get it's replacement up and running soon I am going to have a disaster on my hands !
Friday 14th August 2009
09:13 BST

Slowly, slowly, the misty clouds that heralded the start of the day are dispersing. The air was definitely fresher this morning, and that made my commute to work a little more pleasant. With luck the clouds will disperse even further, and by this afternoon it will be a pleasant afternoon.

I had one little project that I did last night. I aquired a HP Jetdirect 300X printer server box. It is a box that connects a printer to a network. I set it up to connect my old Epson Colour Stylus 640 printer onto my LAN, and then set up some of my PC's to print to it as their default printer. Setting up the boxes running Linux seemed easier than Windows XP and Vista. The only thing that failed, but might work with a little more confguration, was my Aspire 1 netbook when booted into Linpus Linux. I found that a little surprising because that Linux distribution would be used in a situation where printing to a nework printer would probably be the most obvious way of doing it.

It was cooler, and fresher, in my bedroom last night, and it was easy to get to sleep. Unfortunately it cooled down a little too much last night, and I awoke several times feeling too cold. So once again I had another poor nights sleep - in theory. I don't actually feel too bad this morning. Another evening of being a bit more careful of what I ate probably helped a lot, but I am thinking I have been missing out on at least one food substance that would make me feel a bit beter still. One ongoing problem that has been apparent for a ot of this week is that my ankles seem sore. I think I need more fish oil in my diet to loosen them up, and to a lesser extent, my knees too.

Two things have had a negative impact on me this morning. The first was a memo that makes me feel angry, or if not angry, very irritated. It was a moan about cigarette ends being not welcome on the floor outside the back door. Sometime, possibly over a year ago, one of the cleaners said he would get a sand bucket placed outside the back door to put our dog ends in. We are still waiting ! I can understand that a pile of dog ends in the corner may look bad, but if the cleaners who do the yard here swept them up more than once a fortnight it would not look so bad (they do sweep the rest of the premises once a day, or more, but not the one corner where the dog ends accumulate for some reason). Overall it just make me angry because it feels like yet another attack on us poor third classes citizens by the anti-smoking militia.

The other negative things was to hear about the death of Les Paul. I am not sure exactly how I should feel about this. Les Paul was the man who invented the solid body electric guitar, and who was, in effect, responsible for most of the music I love and enjoy. It is sort of sad that he died, but his legacy gives him a sort of immortality.
Thursday 13th August 2009
08:50 BST

It was raining when I left home this morning. This concurred with the weather forecast that said there would be drizzle this morning. The next bit of the forecast seems to be true as well, and that was that the drizzle would soon clear. There was a fair amount of blue visible between the clouds a little earlier, but the sun never managed to find one of the blue patches to shine through. Now the cloud looks a little heavier again, but I think it will stay dry, and I am optimistic for some sunny spells today.

It was bright, but not sunny when I left work to go home last night. The sky was mostly full of bright fluffy clouds, but amongst them were some evil looking dark clouds. Later on in the evening they would give some rain. I am surprised we did not get a thunderstorm. The air did have that thick muggy feel to it that proceeds a good thunderstorm as I made my way home from work, and it stayed muggy into the evening.

I slept better last night, but I had to put the fan on to avoid drowning in my own sweat. I really was sticking to the sheets before putting that fan on. After sticking to my idea of eating quite lightly last night I can't blame what I ate for making me feel too hot, at least I don't think I can. I ate pretty much what I intended to eat. I had marmite on oat cakes, and some nectarines for my main meal, and I snacked on the raw peanuts and raisins that mentioned yesterday. In terms of bloat, I feel far better for it this morning, but other bits of me are stil complaining.

It felt hard work walking to the station this morning. I felt quite sticky before I left home, and then because of the rain I put my coat on when I went out. Despite the rain the air outside felt as muggy as the air inside the house. Walking to the station with my coat on felt horribly hot and sticky. I felt more than just hot though. My legs felt like they were underpowered, and my chest was a little wheezy. I was glad once I was on the platform waiting for the train to arrive.

I took my coat off once I was on the train, and with the drizzle cleared I didn't need my coat again for the rest of my commute into work. The walk from the station to work is about twice as far as it is from home to the station. That final walk into work did not feel as bad as the walk from home. Maybe it was because I was not wearing a coat, or maybe it was the same sort of improvement in everything I get once I get moving. Although it was not as bad, it was still bad enough that I would not even contemplate going out for a long walk while feeling like that. I think there is a fair chance that I actually have some sort of illness at the moment. Maybe it is swine 'flu. Normal 'flu knocks you for 6 for a few days, and then is pretty bad for a few more days after that. After that it can still take ages to feel totally recovered. Some reports of people getting the "new, deadly, improved" swine 'flu suggest people are getting over it in 3 or 4 days. That seems remarkably quick for something so, apparently, deadly. It actually sounds remarkably mild to me, and maybe the only thing I have missing is a high temperature. It is even possible I have had a high temperature and not realised it such has been the variability of my personal experience of the variable weather and air quality.

I suppose I can dream I have had swine 'flu, but I guess I haven't really. That is actually a pity because I would rather get it now while it does seem mild, and before the season turns cold. I think there is an excellent chance that if I do get a stronger dose of swine 'flu in the winter it will definitely kill me. My smokers cough is going really well at the moment, and there are moments when I am already on the edge. So come winter it's "goodbye cruel world" !

Wednesday 12th August 2009
08:42 BST

The weather forecasters did get it right yesterday. Once the morning cloud had dispersed it was a nice sunny afternoon. I am not so sure that they got it right for today. This morning was supposed to be bright and sunny, and the clouds were supposed to appear later in the afternoon. After that there was a chance of some rain. This morning did start off bright and sunny, but only for a very short time. With the sun not rising until almost 6 am now (and getting worse every morning), we had about two hours of sunshine before the sky clouded over. As I came into work it was bright and sunny at Waterloo, but by the time my train reached Clapham Junction most of the sunshine had gone,and when I arrived at Earlsfield it was positively gloomy. I now fear that I am going to get very wet going home.

Last night did feel a bit fresher than the previous two nights despite the afternoon probably being hotter. This did help me get a slightly better nights sleep. It wasn't perfect though, and I still feel rough this morning. What may have aided my slightly better sleep was that I cut out some of the crap I have been eating lately, and substituted some fruit. I had a couple of very ripe yellow plums, a small punnet of strawberries, and a papaya. I am not sure if I have ever had papaya before. It was a bit disappointing in a way. I found the taste and texture to be a little bland. All that fruit did have a detoxifying effect on my digestive tract, and in fact is still doing so. It was one of the reasons why I feel quite rough this morning. So by altering my diet I made improvements in one direction while making things worse in another.

Tonight I have more fruit to eat. It is possible that I will eat little else than fruit, and oat cakes with Marmite on tonight. In theory that should be rather good for me, but as the whether that is all I will be eating remains to be seen. When I consider what it in my cupboard it actually seems unlikely. I have a big bag of peanuts and raisins, and I feel sure that I will end up eating many handfuls of those. As a rule peanuts are bad. Salted peanuts even more so. One thing I am unclear about, and a bit of research would solve the mystery, is whether it only seems that standard salted peanuts are more saturated with fat and oils compared with raw peanuts. I expect that it is the roasting that causes the oil to be brought to the surface of the nuts, and considering that some of it then comes off on your fingers it might be logical to assume that they have less calories than raw nuts. I am going to be illogical and make my assesment of the situation based on pure ignorance. Salted peanuts are eaten with beer in a pub, and thus are bad, while raw nuts are eaten by thin pasty faced vegans and so must be good - or this is what the veggie botherers tell us !

This morning I was most pleased to recieve a surprising compliment. It concerned the picture of me in the sea, wearing my new shorts.......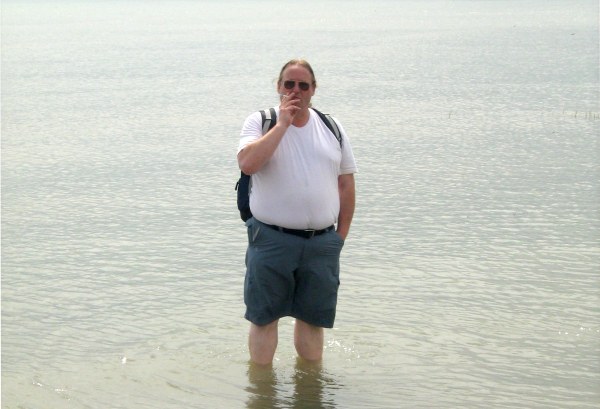 Apparently they look OK and apparently it looks as if I have lost a fair amount of weight. After some initial doubts about wearing those shorts I found them to be quite comfy and practical, but I didn't realise that they actually look OK on me. As to my weight, I would have thought that I actually weighed less when my complimenter last saw me at the end of the last century, but maybe not, or maybe my shape has changed. Anyway, thanks for your kind words.
Tuesday 11th August 2009
08:31 BST

The weather forecasters promised us a nice sunny day today, but so far this morning there is just a grey sky with not a single hint of any sun. The air is almost cool this morning, but it is also rather humid. This follows on from a very hot sticky evening. Maybe the grey sky is beginning to get lighter, or maybe that is just blind optimism.

I do feel very lousy this morning. I think it is just the result of bad sleep for the past two nights. That was probably aided by eating two much crap in the evening, and raising my blood glucose level too high. Like the night before, I felt very hot and sweaty when I went to bed, and like the night before I didn't actually use any covering until the early hours of the morning. Even then I only pulled the duvet cover over part of me - the duvet cover being equivalent to two cotton sheets, and not even a blanket. At something like 3 am I woke up and my face felt like it was burning. I guess this was caused by some sort of medical condition, but I am not sure what. It is more likely to be related to my blood glucose level (that I couldn't be bothered to measure) than swine 'flu, SARS, Asian 'flu, Hong Kong 'flu, Ebola, Rhuematic fever, slight death, or anything similar. Although the last one is indeed a possibility. I did measure my temperature when I got up this morning, and it was quite low at 35.8° C. I guess that was the first indication of the onset of rigour mortis.

About the only thing I did of any significance last night was to consult some maps. I have enough Ordnance Survey Landranger maps to cover the south east corner of England (except for one small area). These are the equivalent to the old "One Inch To The Mile" maps. I was looking at where I had been, and considering new places to go when I noticed something of interest. Looking at the distance between West St Leonards station, and Bexhill station, I thought it looked closer to 4 inches than 3 inches. Google maps said the distance I walked was just 3.3 miles, but they were wrong ! Using the edge of a sheet of paper like a ruler, I carefully marked off every bit of road and path that I walked, and then compared the entire thing with the scale on the bottom of the map. I had actually walked 4.5 miles. That does rather tally with how far I felt I had walked. I feel less inclined to trust Google maps for measuring distances now. I also checked how far it was from Rye station to the shoreline and that came out to an extra half mile compared to how Google measured it.

Tonight I may do some more map study, but mostly I am going to bed very early again to read my book. I am going to try to eat far more sparingly, and avoid anything that might raise my blood glucose level, tonight, and then hoopefully once I have read enough I will be able to turn over and get a good nights sleep tonight. Of course this could all go wrong.......
Monday 10th August 2009
08:19 BST
Yesterday's TV weather forecast, and the forecast I heard on the radio as I woke up, both said that the day would start bright and sunny. They were both wrong, or maybe just a little premature. As soon as the sky became bright enough to see how it looked it was obvious that it was very cloudy. A couple of hours later the forecasts did get it right. The clouds thinned out, and as my train approached London Bridge station we were bathed in sunshine. The clouds are coming and going a bit, and some showers are expected for later today. Meanwhile the temperature should rise to a respectable 24° C.

Although it raised a lot of sweat, I don't recall my slash and burn (without the burning) gardening that I did yesterday being all that much hard work. Yet this morning it feels like I did a lot of work I am unaccomstomed to. My arms, and upper back seem to be making the most complaints about it. They are not exactly painful, but they are letting me know that something unusual has gone on. The other explanation for these mild aches is that I slept awkwardly. It was hot last night, and I didn't even bother getting under the duvet cover until the early hours of the morning. (The duvet itself was not inside the cover). Sometime in the small hours I did wake up feeling a little chilly, and I then got under the duver cover. It was still slightly cool like that in the morning. I suppose it is likely that some of the discomfort I can feel from my arms and back is from sleeping in the cool, and quite possibly in a draft.

One bit, or area, of me is still working well. As I walked the walking bits of coming to work, my legs and feet made the walk almost effortless. As other bits of me fall off, or wither away, it seems that all the exercise I have done lately is keeping my legs in first class condition. Maybe I ought to offer them for transplant when I die. The rest of me is probably only good for cat food, or being ground up for fertiliser.

I was thinking about my days out this morning. The idea of walking 6 or 7 miles is almost feeling casual. Maybe I ought to stretch myself a little more and try and plan a walk of 10 miles (that being a nice round figure). I am not sure what sort of walk it would be, but maybe it might be nice to have a fair proportion of that inland rather than on the coast. I am sure that if I looked I would find there are plenty of bits of coast that are far from any railway station, and that could be the genesis of a plan. That was the basis for my first visit to Rye Harbour, but at only 2.5 miles from the station it seems almost close now.

I don't think I'll be doing much exercise, beyond my commuting, today. I started reading a book last night, and I rather think I will be going to bed very early tonight so I can get in as much as a couple of hours reading in bed. One good thing about reading in bed is that I am very rarely hungry, or tempted to eat, while in, or on, my bed. I think there is something about sitting on settees that makes you want to nibble all the time (or maybe it is just the Homer Simpson in me).

While I am thinking about food I am trying to recall if there was something I ate yesterday that I can't seem to remember. When I consider what I remember eating it doesn't come to much. I didn't have a single conventional meal yesterday. What I did lack in quantity I probably made up for in calorific value. There were two things I ate yesterday that I really shouldn't have. The first was a big bar of grenadine and chilli chocolate. I bought that from the 99p shop, and it was genuine Lindt chocolate that they had imported from Germany (I think). I have never seen chocolate like that before, and it was very, very, very nice ! The second rather high calorie stuff I had was a large bag in Indonesian crackers. Some I ate on their own, and some I ate with some dips. Strangely enough that accounts for most of what I ate yesterday. I think that if I had been offered a bucket of fried chicken and chips I would have gorged myself on it. In fact I know I would be unable to resist it, but with no obvious temptation I somehow just didn't feel the need to eat more. That's never happened before, I think I must be ill or something !
Sunday 9th August 2009
16:14 BST
Today started mostly clear and bright. After a while the day soon warmed up, but it was, and still is, a sticky sort of heat. I suppose this is fairly typical sort of August weather. It is probably only when June decides to be "flaming June" that we get the sort of dry heat that is (allegedly) more like the heat of overseas holiday destinations. It is 24° C now, or so the
Accuweather.com
Firefox plugin is telling me. I think that feels about right. There is some cloud gathering now, and tomorrow it is probably going to rain.
Yesterday's plan to go and see the Lewisham stone circle with Aleemah never happened. Aleemah was not feeling up to the extra walk involved. Instead I met her at Catford Bridge station, and we walked down to the cafe as normal.
After Aleemah left I didn't get up to much, but somehow I didn't manage to get to bed until midnight. That was very late for me, and I am not sure how it happened. I know I did some reading, and I remember watching a couple of episodes of Red Dwarf on TV, but that still doesn't account for all the time. I guess the rest of the time must have been used to edit photographs, and make up my latest "day out" web page about Friday's outing to Pegwell Bay. The finished result can be seen right
here
.
After my very late night, last night, I had a lie in this morning. I did get up at 5 am as usual, and fed Smudge before doing a bit of web surfing. Eventually I went back to bed, and didn't get up again until 10 am. The first thing I did once I was washed and dressed was to go out to the 99p shop where I wanted to buy some sealant, and one of those gun type things to squeeze the sealant out of the tube like a huge syringe. This failed on two parts. The sealants I had seen there on an earlier visit were not exactly what I was looking for, and they had run out of the tools to squeeze the stuff out of the tube anyway. The idea for this was to renew the seal around the external air vent of my gas water heater where the ivy had got in, and possibly provided a conduit where rain water is getting in. I am still undecided as to whether the dripping from the water heater is rain getting in, and pooling somewhere, or a leak in the heat exchanger. I am still trying to convince myself it is the former, but I fear it is actually the latter. The idea of the disruption, and expense that will involve is making me feel quite stressed.
In preparation for either me renewing the seal around the air vent, or worse still the whole heater and air vent being replaced, I set about clearing the jungle outside my back door this afternoon. There is still some junk that I can't justify filling the remaining space in my wheelie bin with, but essentially I have cleared back a 10 ft path. It is surprising just how much vegetation that involved. It was mainly brambles and ivy, and I pulled/hacked/cut/slashed enough to fill an average sized dustbin. Together with the case from an old 20" monitor, and other bits of junk, my wheelie bin has now just enough space for one, or two small semi-filled black bin bags from the kitchen. The wheelie bin is not emptied until Thursday, and so I will need that bit of space or I will end up with a bag of stinky old cat food containers stuck in the kitchen. Perhaps next weekend I will find the time or inclination to cut a further swathe through the jungle that is my back garden. The bit I did today was only the side of the kitchen. The back of the house is still behind an impenetrable wall of mostly sharp and prickly foliage.
Without actually measuring it, it is hard to say if all the sweat I generated while hacking through the jungle was caused by my blood glocose level being too high, or if it was just the seemingly high humidity today. It was probably a bit of both. As so often happens, my food intake at the weekend is richer than a typical weekday, and my blood glucose level does go up at the weekend. Whatever the ultimate cause was, within five minutes of starting work in the garden I was sweating buckets at a similar rate to when I had walked 2 miles over loose shingle in direct harsh sunlight while I was walking from St leonards to Bexhill. It was quite a relief when I realised that I had to stop having run out of space in the wheelie bin, and even more relief when I washed my face in cold water.
Saturday 8th August 2009
07:08 BST



I slept later than usual this morning, and that means the sun has had a chance to get up properly as I write this. It looks to be a good day. The sky is s slightly milky blue, and the sun is already bright. I think it could get pleasantly warm today.

Yesterday was fairly warm, but at Ramsgate, where I was exploring with Iain, the sky was often very cloudy. We did see several sunny intervals, but all the time the clouds threatened rain. Fortunately it remained dry, and we were able to do a fair amount of exploration. We walked quite a considerable distance yesterday. According to Google maps, the distance by road between the two furthest points, Ramsgate railway station and The Sportsman Pub at Pegwell bay, was 2.5 miles. We not only walked there and back, but also walked quite a bit extra as we explored the seashore, and the remains of the old Hoverport at Pegwell Bay. We estimated that the distance covered by our exploration added at least another mile to that.

I must be getting used to this amount of walking because it didn't seem that much like hard work. I was still going strong until we reached the steep hill on the last half mile back to the station. After a short rest while we had a quick pint in The Wheatsheaf pub at the top of the hill, I was practically recovered, and ready to walk more. I'll admit that it did take a minute or two before some stiffness in my legs recovered, but after that I felt fine.

Somehow I managed to fight the nicotine urge enough to endure the train ride back to Catford non stop. On the way there we had time to leave the station while changing trains at Bromley South, and I had a fag there. We deliberately caught a slightly earlier train at Bromley South that was only going as far as Faversham, and had a 9 minute wait to change trains at Rainham so I could have a fag there too. Coming home I had a fag at Ramsgate, and the next one was outside Catford station slightly more than two hours later. That must be some sort of record for me.

Later this evening I shall make up another of my special web pages with pictures and commentary about our day out. Right now I have to rush to make preparations for a visit from Aleemah.

By now I should be washed and dressed and heading out to do a bit of shopping, but I am not even washed yet !

(Maybe the strain of these last two days out has scrambled my brain - I was convinced I had started writing this at 08:08. In fact it was 07:08 D'oh !).

One unusual thing about today is that I am going to do a little extra walking. I don't know how Aleemah found out about it, because I had never heard of it, but there is a stone circle in Lewisham. It's not quite as ancient as Stonehenge being only built some nine years ago as part of the Millenium clebrations, nor quite as magnificent as Stonehenge, but it's worth a look. So I will be meeting Aleemah at Ladywell station where we will be going for a little, but probably rather steep, walk before coming back to Catford.

Friday 7th August 2009
05:10 BST
It is cool, damp, and cloudy as I write this. By now the sky should be starting to brighten up as the sun slowly hauls itself up towards the eastern horizon, but it still looks very dark outside. I think sunrise is around 05:30, perhaps a little later, but I am sure it was a lot brighter than this yesterday. It is not looking promising for going out today, but things may improve over the next few hours.
The weather was certainly good for my day out yesterday. At least it was good where I was. I have no idea what it was like during the day in London. On the south coast, between St leonards and Bexhill, it was a glorious hot sunny day. You can read all about it, and see some pictures on my "
day out at St Leonards
" web page.
When I returned to London the sky was a lot greyer, and quite early in the evening the rain began to fall. Some of the rain was quite heavy, but I think most of it was over by 11 pm. I am surprised that we got away with no thunder and lightning because it seemed to be a very hot and humid evening. It was certainly too hot for me to sleep under my duvet, and I spent the first couple of hours of just lying on my bed with the fan on.
The air has cooled right down overnight, and I had to close the window I had left open for Smudge, because after a while I was actually feeling too cold sitting here at the computer. I am not too sure how well I slept last night. In some ways it felt like I had been awake many times in the night, but I suspect many of those times I was just dreaming. Many of those dreams were almost lucid. I was obviously unaware that I was dreaming, but I did seem to have a lot of control of what happened in those dreams. Perhaps I was actually awake, but if I try to ignore the belief that I may not have slept well, and concentrate on whether I actually feel refreshed, I think I come out on the side that I did get a reasonable nights sleep. That's not to say that I won't be going back to bed after writing this, and trying for another hours sleep.
Today, depending on a few provisos, is that I am meeting Iain at Catford station for another day out. Today we should be going to take a look at the
old hoverport at Pegwell bay
. Nearby there is also the reconstruction of a Viking ship that may warrant a bit of photography. The provisos for this day out are firstly that it is not pouring with rain at 9 am, but before that there is the question of how I feel. I am still feeling the effects of my day out yesterday, but past experience suggests that I should be OK once I get moving. Worse than that, is that after eating like a horse when I got home yesterday, I now feel rather constipated, and I will not be happy venturing into parts unknown without first getting more comfortable. Well, there are a few hours to go yet, and something may move before then.
Thursday 6th August 2009
05:21 BST



At this early hour in the morning it is still dry, but there are plenty of clouds in the sky, and some of them have a red twinge. It looks like the forecasts for today being a rainy day are correct. On the plus side it is fairly mild outside, and that follows on from a warm night, last night. When I went to bed last night it did feel unpleasantly hot and sticky. For the first time in many weeks I slept on top of the duvet instead of under it.

As the sun continues to rise the clouds I can see through the window here in my back room, are getting increasingly red. That redness heralds bad weather, and that suggests I ought to call off my day out today. However, checking Accuweather, the handy plug in for Firefox (as Forecastfox), and checking the weather for Hastings (being the nearest centre to St Leonards) I found this.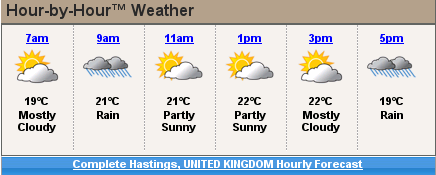 It looks like I have a window of opportunity to go exploring in the dry, and the timing is quite good. I aim to get there at around midday, and I only expect to be there for a few hours. During that time the sun looks as if it will be obscured a lot, and I will probably forget to put on any sun block and get burnt.
One unfortunate thing with my timing, but this is more to do with my choice of day rather than the hours I will be there, is that it will be high tide according to the
Hastings town website
.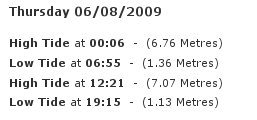 I much prefer to do my my beach exploring at low tide - there is more of it, and it is more interesting. Hopefully the sea will be calm, or at least far calmer than it was on
my last day out to Rye
.
As usual I will be lugging my netbook along with me. If I get the chance I may add some more to this page while I am out.
Wednesday 5th August 2009
20:20 BST



It was most unfortunate that this morning I wrote a whole load of stuff here, and just before I saved it Kompozer crashed, and took all my writing with it. Such are the perils of entrusting Windows XP to run a program !

In contrast to yesterday, this morning was bright and sunny. It made for a very cheerful journey to work. After that it started to get cloudy, but it never got that bad, and later on the amount of cloud decreased again leaving a mostly sunny afternoon. That made the temperature rise far higher than it has been of late. I think it reached 25 or 26° C in London, but with the high temperature came high humidity. That made for a rather sticky journey home again tonight.

I spent rather more time than I should have this morning writing a shell script (equivalent to a dos/windows batch file) to do some automatic backups on my server. That part I got right, and it seems to work OK. The second part to synchronise my web page files on my back up server (for when it's switched on) was less succesful, and that is going to need more work done on it. At least I really ought to work on it just for my own self satisfaction. It is not really needed because the only time the standby server needs to be switched on is when the main server blows up. In which case I will be manually copying files across by attaching the main server hard disk to the standby server machine (because obviously the main machine will be dead).

I came home from work via Lewisham where I did some shopping. I have bought, at great expense from Marks And Spencer, a pair of shorts for my days out when the weather is hot. I am not used to wearing shorts in public, and it is going to take some nerve to expose my kneecaps in public ! I am off work tomorrow and Friday, and it is quite possible that I will be exposing my kneecaps tomorrow.

It is forecast that it will be hot tomorrow, but there is also a very good chance of rain, and maybe lots of it. So at this point I am unsure if I will make make it out tomorrow, but if it is dry here in Catford when I am due to leave then I may take a chance on the weather. When Iain and I went to Rye, the actual weather defied the forecast, and we had a near perfect day. If I do go out my plan is to go to West St Leonards station, and walk down to the beach which is fairly close by the shortest route. From there I hope I can go west and walk along the coast for a mile or two.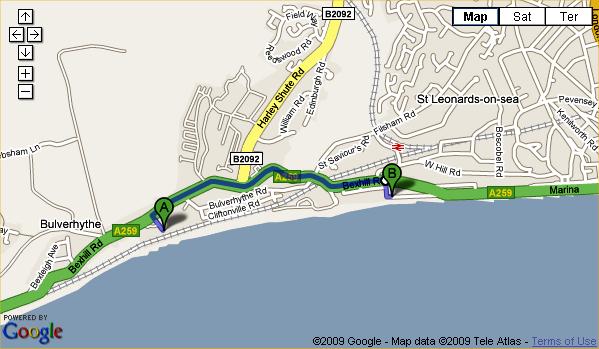 View Larger Map
The map shows where I would walk if I was going by road, but I think I can do it along the seashore. The point I am aiming for is marked as "A" on the map, and is the approximate location of the bridge over the railway line. As far as I can see, the bridge also crosses the middle of the St Leonards Railway depot, and it will be interesting to see what I can see in there. It is the home to
Hastings Diesels Ltd
who run a "heritage" diesel (
demu
) train.
If I do get out tomorrow, and I find a suitable place to do it (and a working GSM mobile broadband connection) I will attempt to update this page as I go.
Tuesday 4th August 2009
08:06 BST


The weather has changed again, or maybe it is just a natural progression continuing from where yesterday left off. This morning it is very grey outside. Sometime between when I woke up at 4.15, and when I left for work at 6.45, there was a sprinkling of rain or two. It hasn't rained since then, and I was able to come to work in my shirtsleeves and stay dry. Well almost dry. It might just be me, but it seems to be fairly humid this morning, and all the rushing around involved in commuting, or they way I do it, meant that I did arrive at work perspiring a bit. It is very likely that there will be more rain today, and from the way it feels close, some of that rain could be quite heavy. Perhaps even stormy. On the other hand the sun may come out later, but maybe that's just a fantasy.

I am reasonably well prepared for rain. I stuffed my coat into my back pack, and brought that to work, and I even have a spare pair of shoes in my back pack. I thought I would try out my new white baseball (or was it basketball - oh hell, lets just call them canvas) shoes today. I was dubious as to whether they would be comfortable for serious walking, but with a few reservations, I found them to be quite good as I put them through the rigours of commuting. My chief problem is whether to wear them with socks, or without. This has thrown up a major paradox. Initially I wore them with socks. My right foot seemed very comfortable, but my left foot was less so. It seemed like the sock on my left foot kept getting rucked up around my toes. So halfway through my journey to work I took my socks off. That cured the problem with my left foot, which was now very comfortable, but my right foot became less comfortable, and seemed to be chafing slightly in just one spot. Hopefully this will all work out as my feet get used to my shoes, and vice versa, because I am definitely not going to go around wearing just one sock !

While putting on my white canvas shoes this morning, it occurred to me that it might seem a bit odd to have this new found obsession with canvas shoes. To explain I have to go back to when I did my first trip to Rye. I was under the impression that flip-flops were ideal beach wear when you wanted some protection against shingle beaches with sharp bits of shell, and other dangers on them. On a pure sandy beach they probably would work OK, but then would probably not be needed anyway. I found that they were too slippery, particularly when lubricated with the sort of silty sand found near a river mouth (as Rye had). I really didn't want to walk barefoot over shingle, nor paddle barefoot in water with rocks, and other obstructions in it. Apart from the inherent dangers, I prefer the more rugged beach to pretty, but ultimately boring stretches of golden sands. I'll leave those to the idle sunworshippers while I go about exploring.

Having found that flip-flops to be unsuitable, if not actually dangerous, I turned to very plain, very cheap, lightweight canvas shoes. The pair I tried at Minster (the end of my walk that started at Sheerness) were excellent. The "beach" there is truly rugged with sharp shingle, bits rock, and who knows what assorted flotsam and jetsam. While sloshing about in all that, while wearing the canvas shoes, I got the full benefit of the cool water on my hot feet, and they had plenty of grip on the varying surface. Once I had finished my sloshing around I took the shoes off, flicked as much water out as possible, wrapped them up in a plastic bag, and shoved them back in my back pack. The only problem was that I don't like they style of those particular shoes, and, as I discovered later, I could have bought a size smaller for a better fit.

For my next visit to the sea (which could be as early as Thursday) I am spoilt for choice with black, blue, and white canvas shoes. I think the white ones I am wearing now would be the best choice, but they seem to be good enough for everyday use, and although I don't think I would want to wear them for long walks, I think I will reserve them for dry land.

Last night I had a brief go at getting some sort of script prepared so I could do a "one button" update of my backup server web pages from my main server. The first step in all this was to work out the correct incantation for using rsync on the command line. After a bit of experimentation I got that right, and I copied that into a plain text file for later use. I did a bit of research for a shell script to semi-automate the process, but it started getting a bit heavy and I decided to watch some TV instead. I haven't given up though, and I will be tackling this again, and probably tonight.
Monday 3rd August 2009
08:41 BST


It took a little while for the sun to climb high enough in the sky, and to burn off some of the mist lurking up in the sky, but it is now bright and sunny. It should end up as a nice warm day, but apparently there is a chance of a light shower some time today. I suspect that today will actually be very like yesterday. There was a fair bit of sunshine yesterday, but also times when the sky got very cloudy. As far as I can recall, not a single spot of rain fell yesterday. had there been longer spells of sunshine it could have got almost hot, but it was merely warm. After only getting warm during the day, the night got fairly cold, and this morning it was close to chilly when I left home to come to work.

Of all the ideas I had for things to do yesterday, I ended up only doing a couple of them. At 10 am I went out to do some shopping. My first port of call was to Peacocks for yet another pair of canvas shoes. I found the cheapest pair ever. They were half price at just £4, and were white basketball shoes according to the label. To me they just looked like plimsolls (as we used to call them in junior school). I bought them is size 10, a size smaller than I usually buy, and the fitted just fine. Being white they may be too good for sloshing about in the sea, but that is probably their fate in life, and I'll use the black pair I have for muddier occasions (or something). Actually I seem to now have rather an excessive amount of cheap canvas shoes. I must try and acclimatise my feet for walking in these very flat shoes, and get more use out of them.

The thing that seemed to occupy the greatest proportion of my time yesterday was playing with my new server. It became very educational because something went wrong with it. It happened as I was copying configuration files from the current server to the standby server. I can only imagine that I managed to copy something to somewhere it shouldn't go. While the machine was running quite happy at the system level, and the web and ftp servers were doing as they should, I lost all control of configuration settings at the desktop level. I was still able to open up the command line to do some configuration there, but I was not happy with bits broken. After a lot of educational experimentation I threw in the towel and went for the quicker option of re-installing Xubuntu from scratch. Then when I came to copy my configuration files I took extra care, and didn't bork things up again.

At the moment the server is running quite happily, and there is very little left to do to it. I have a small permission error to deal with for the web statistics program (it can't read the web server log, or so it seems). The final thing to do (I think) is to write a script to synchronise my web pages from the current server, to the standby server. To say I am going to write the script is a bit over the top. I already have a script that I think I can modify just by changing a few things. Provided I don't end up copying files in the wrong direction I should be able to do little damage, but that could just be famous last words !
Sunday 2nd August 2009
07:03 BST


August got off to a good start. Then it got bad, and now it is good again. As I write this the sky is blue and the sun, although still low in the sky, is shining. If it wasn't rather cool outside it would feel like the start of a fine summers day. Apparently it will warm up today, and I am looking forward to a fine summers afternoon.

Yesterday started almost as good as this. There was a fair bit of cloud in the sky, but the sun still managed to shine for a while. As the morning progressed the cloud gathered, and the afternoon was fairly dull, but not quite bad enough to be gloomy. That was to happen later. As the afternoon started to approach the evening the rain started. Some of it was quite heavy, but I think the worst of it was over by 9pm.

Aleemah came over to visit me yesterday, and I decided that I ought to get up very early to try and get the place sort of cleaned up for her. I am not sure how I did it, but I managed to do a basic cosmetic job rather quicker than I thought it would take. That gave me enough time to go out and do some extra shopping. Apart from Tesco, I also called in to Peacocks. They had some lightweight canvas shoes that were more to my liking than the ones I bought for my trip t Sheerness recently. Rather than black, the new pair I bought are blue, but more importantly, the styling is more to my taste. The only problem with these canvas shoes is that it would appear that I probably need a size smaller than the size I actually bought. I guess my feet are wider than the norm, and I buy larger sizes to accommodate that. These canvas shoes seem naturally wider, and because they are very cheap I am going to try a smaller size next. Possibly I'll go out and buy them today. If the price is anything to go by they will soon wear out, and having extra pairs will not be any great extravagance. On the other hand, they do feel like they will actually last quite a long time just getting tattier and tattier (which is fine for shoes that are "beyond casual").

After Aleemah left to go home I had something to eat, and then made a decision to be lazy and convert my standby/backup server from Centos to Xubuntu. The lazy part is that my primary server already runs Xubuntu so all I needed to do was copy several configuration files from one server to the other for instant configuration (or at least that's the theory !). What I actually did was to take out the hard disk with Centos on it, and put in a new pair of disks to install Xubuntu on. This way I can always put the Centos hard disk back in if my Xubuntu setup goes completely wrong - as it may if my theories about swapping configuration files around prove to be wrong.

Today I have several things to do. Even now I am copying files from my main server to the standby one, and then when that is finished I will be able to test whether any of it actually works. If it does then all is well and good, but if it doesn't I may have to spend many hours scratching my head trying to figure what I need to do to bring the thing to life. One other little project is to repair my settee. Yesterday morning I discovered the reason why some parts of it are sagging, and also how to fix it. Many, if not all, of the elasticated/rubberised webbing straps have stretched over the years. It is almost, but not quite, simple to fix this. I did a temporary fix to many of them yesterday, but that involved a lot of cable ties to hold things together. Today I will use some wood screws to hold in the wedges that, in turn, fix the webbing to the frame. If my repairs succeeds as I think it will I will be able to do some intensive slouching in comfort this afternoon.

I was in two minds about going out today. The weather forecasts suggest that it would be a fine day for some exploring, and a paddle in the sea, but if that forecast is as accurate as the one which said my last day out to Rye would be a complete washout then it is probably wise not to pay them too much attention. I think the main reason why I decided not to go out today was that train services on Sunday are a bit sparse. The journey time is similar to a weekday, but if one train gets cancelled I could be stuck waiting for an hour for the next. So today I stay in and do a bit of computer stuff, a bit of DIY, and some intensive relaxation. On the other hand I could go for a long walk somewhere locally. Will I, or won't I ? Who knows ???