Not a single living soul in this view.
If you look very carefully you can just about see two red pixels in the distance. That was someone with a red umbrella, but there is no one else visible even in the full resolution picture straight off my camera - not even a jogger !
Along the river bank, that is possibly a degree warmer than the rest of the park, the daffodils are now fully out, and looking magnificent - even when being pounded by rain.
All these pictures, plus quite a few others not shown here, were taken on my waterproof camera. I think I paid something like £50 for this camera in a secondhand shop, and while it does not get a lot of use, it is great to have it for the occasional photography in the rain. As the picture shows, it is waterproof to 33ft below the surface. If I did any diving it would be useful for that, but I would more likely use it just under the surface of the sea, or a river, for some novelty shots. In fact I must try that this summer.
After Angela's quick and positive sounding reply to my message saying I would be in the pub, I was wondering if something had happened that Angela wanted to talk about, but apparently not. We just chatted about this and that. Our conversation could have continued while I walked her back to work, but there was a problem. We both wore hooded coats, and with the hoods up because of the rain. I don't either of us realised just how those hoods affected our hearing - particularly on a busy main road. Unless we stopped, and turned face to face, we sometimes couldn't even hear that the other was speaking, let alone what the words were ! I can imagine the same thing happening today.
When I got home I was feeling a bit cool. The raincoat I was wearing kept me dry, but it was very thin, and so did not keep me warm. It sometimes felt like I could feel each and every icy drop of rain that fell on me. The answer was hot soup as soon as possible, and I had two large bowls of cup-a-soup. That warmed me up a bit. These walks, plus stopping for a couple of pints of Guinness with Angela, are usually the highlight of my day, and seeing Angela really brightens my day, but there is a downside.
I very rarely manage to do much for the rest of the afternoon. My usual routine is that after having some sort of lunch I transfer any pictures I have taken to my PC. I then select and edit what I think are the most usable photos. After that I usually lay on my bed to read. Very soon it is time to take my evening medication (blood pressure pills and stuff) - although by "evening" I mean 4pm, but until recently, 4pm was just about the start of the evening. Now there is a couple more hours of daylight still, but I don't feel particularly motivated by it.
I probably should try and do more in the afternoon, but I think that will come naturally once the afternoon are a bit longer, and sunny and warm. Yesterday I continued doing stuff by stealth. I think most time I went down to the kitchen, and sometimes coming back from it, I would spend 5 minutes, maybe sometimes 15 minutes, sorting out the desk in teh back room. The top of it is now almost cleared, and I have made good progress on the second drawer. There is some stuff in that second drawer that will need a lot of thinking about, but I'll probably end up scrapping most of it.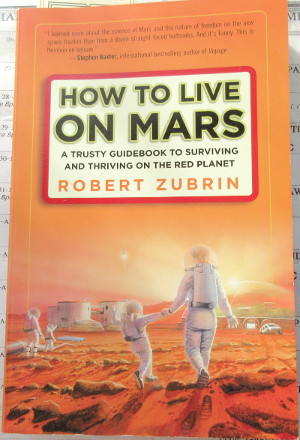 I was in, or more accurately, on my bed very early again last night. I have started reading a new book. It is the book pictured on the left - "How To Live On Mars" by Robert Zubrin. The author works/worked for NASA, and while written in a very humorous way, including many digs at NASA policy, it is a sort of distillation of all that was known about Mars when it was written (about 10 years ago), plus lots of theories about actually living on Mars. It is all based on hard science, but written in a "soft" way. One day some of it may become true, and other bits may turn out to be wrong. For the moment the book is both educational, and great entertainment.
I probably put the book down at 10pm (but a nagging thought at the back of my mind says 11pm), and went through that process that feels like sleep will never happen, but somehow you are fast asleep 15 minutes later. I didn't take any painkillers last night, and either the first or second time I woke up for a pee my ribs felt very crunchy and sore. I then took a couple of Ibuprofen to reduce the inflammation, and as usual they calmed things down again.
I probably ended up having a good night's sleep, but I did seem to be dreaming all the time. I can barely remember any details from these dreams, but one thing sticks in my memory, although I can't remember the build up to it, or if anything happened afterwards. In this brief, almost snapshot, memory of part of a dream the wife of a friend, as she was 40 years ago, whispered something in my ear, and then licked my ear. I must admit it was quite weird, but also quite erotic.
Today may well be much like yesterday - a walk in the park, and drink with Angela, and then just being lazy for the rest of the day. Before that I need to get ready to go out - and quite soon - to get a bit of shopping in from (probably) Aldi. My fridge is looking remarkably bare at the moment. If I am lucky I will get to Aldi and back in the dry, and possibly even in periods of sunshine. It is cold out, and so I'll need a warm coat, but when I go for my walk in the park it will probably rain at some point, and today I will wear my hooded winter coat - so very little conversation possible as I walk Angela back to work again. I'll probably cook in the winter coat, but that may be preferable to wet and shivering !