There are two thing about this morning that differ from even the latest revision to the forecast. First there are the occasional sunny spells, and then there is the fact that it was only a tenth of a degree short of 10° C at 8am. With the air hardly moving, it almost felt warm. All this is due to change dramatically later this afternoon when dark clouds fill the sky, the temperature starts to drop from it's predicted peak of 12° C, the wind gets very strong, and rain starts to fall. Some of it, a little later in the afternoon, and into the evening could be very heavy. The strong wind will continue into tomorrow. Tomorrow looks like it may be mostly dull with occasional light showers. It should still be 12° C.
Yesterday was a peculiar day when nothing happened, but also a lot happened - which doesn't make sense, but neither did the day. I was quite active doing very little, or at least very little in the grand scheme of things. Obviously waiting for two parcel deliveries was something, but also nothing. This is starting to set the tome for the day in a weird sort of way, but the day being weird in a weird way was what it was all about.
During the morning I brought my trail cameras in, and checked what they had recorded. One camera had some semi interesting stuff on it, but either the tripod legs had slipped, or the garden tilted, but the video looked like someone had just dropped the camera and run. The other camera wasn't perfectly placed, but it did capture some nice moments that I could have, and probably still will edit together to make a short video. This time both cameras recorded good sound.
Having checked the cameras memory cards I put on a pair of rubber gloves to clean up all the litter in front of the foxes earth. The ground is very dry, and I was happy about how easy it was to run a rake across the grass to pull all the litter, rubble, and some of the earth across towards the (not currently used) flower bed. I picked all the litter, and didn't worry if some of the stones ended up inside the black bin liner that I would drop in the black wheelie bin.
With the rubbish cleared away I decided to clean the kitchen windows so I can get some better photos of the foxes playing in the garden while it is daylight. They are doing this a lot now. The final thing I did was to find a dinner plate sized bit of old pavement from one of my rubble heaps and use it as a plate for the freshly delivered dog food I meant to feed the foxes with. The trouble with putting that dog food out early is that most of it ended up being eaten by a large crow, and a magpie. I put a second time out an hour or two before sunset, and I think, or hope the fox cubs got most of it.
It was while working in the garden that it started to rain. There was no mention in the forecast about rain until much later on, and even that disappeared in a later revision. The rain was very light, and generally ignorable, but after an hour or so the road outside was looking very wet. Then the sun came out, and I was able to get some washing on the line for maybe 3 hours before it started looking dull and miserable again, and I brought it inside to finish drying.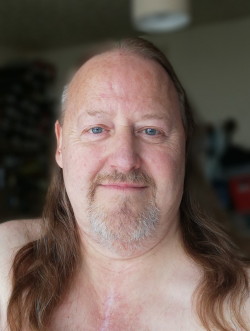 It was not long after putting the washing on the line that I found the nerve to get out my shaving kit (pictured yesterday), and had what was probably my first wet shave in decades ! It was a moment of madness - probably - but I shaved my beard down to a goatee. Unfortunately it looks a bit asymmetrical in the picture on the left. It looked OK in the bathroom mirror, and so I hope that slightly lopsided look is just because my face is not lit evenly on both sides.
Yesterday morning my blood glucose started off very high (9.9mmol/l), and I should have been fasting instead of eating some of the stuff that I did eat. There were a few things that came in my big box of stuff from Star Bargains that really wanted to be tried. One such thing was some chocolate. It was made by, or at least was branded "Red", and it made a big thing about each bar (which was a small bar) was only 75 calories, and it's sugar content was claimed to be very low too. It was dark chocolate, and dark chocolates usually have a lot less sugar than milk chocolate. I ate one bar of it, and it was rather nice.
It wasn't just the chocolate that I ate though. I also ate two small (25gm) bags of barbecue flavour Cheesy Wotsits. For my lunch I got through 8 quite thick brown rice, rice cakes with salami stuck on them with either mayonnaise or tomato purée. The very worst thing was two slices of cherry cake. I think there was other stuff I might have eaten too, but by dinner time I felt so guilty about it that I just had a couple of cans of known low sugar soup for my dinner. I felt rather full at that point, but I also had 4 cans of strong Polish beer inside me as well.
The last thing I did before going to bed was to watch an old edition of "Have I Got News For You" on Dave. I think that finished at 10pm, and I went to bed and tried to read then, but I only managed a few pages before I turned the light off, and I was soon asleep. I sort of slept well, but I woke up at one point feeling cold, and I was woken up at 5am by my computer rebooting. I think was had a very brief power cut just before 5am. With the computer rebooted, and a some of my usual programs started, I went back to sleep to dream more dreams about Concord. I seemed to have quite a few dreams about, or featuring Concord, but I can't remember what else was going on in enough detail to write it down.
Having got back to sleep I didn't want to allow myself to sleep for too long because I wanted to be at Aldi at 8am this morning. I almost made it, but it was a bit of a rush to have a shower, check my blood glucose, put some clothes on, and still make it to the almost empty store at about 8.15am. I almost had a spring in my step as I walked to Aldi. This was partly because I was almost feeling lightheaded when my blood glucose was just 7.8mmol/l instead of something like the 12mmol/l that I was expecting. It was over a year ago when I found that an occasional sugar overdose would kick my body into producing and using more insulin. Maybe it was a lesson I had forgotten, and relearned again this morning. Of course officially that is bullshit - but it is not the first time it has happened in reality.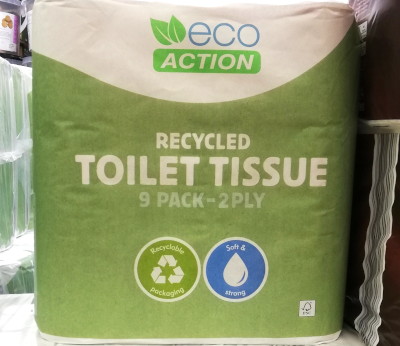 I was relatively careful about what I bought while in Aldi. For instance I definitely didn't buy any recycled toilet paper (Ewwwwwh). Mostly I tried to but food that would be fairly safe if eaten carefully. I even bought some more of the no sugar chocolate they sell. I think in reality it is more low sugar rather than no sugar, and so still has to be treated with respect. The odd thing is that I didn't really like chocolate until I couldn't eat it.
Once again I spent an awful lot of money in Aldi, but this time it did include buying two bottles of vodka. One was an intriguing lime flavoured vodka. It might be nice, but is probably nothing special. However if it is nice I'll need to try and remember to get the mango flavour version of it next week. One unusual thing I bought was a litre of milk. I had bought two packets of No Sugar Gravola (most call it Granola, but it's resemblance to gravel is very obvious). I used some for bird seed, which it is also what it looks like, but this morning I had a proper breakfast of gravel and milk. It was sort of nice, and sort of filled a cavity somewhere in my body, but I may have to wait until tomorrow before saying any more about it.
It is still bright with some slightly hazy sunshine outside (it is now 10:35am). This is contrary to even the latest revision of the forecast. It makes me wonder if it will start to rain, and go onto to be heavy rain by mid evening. At the moment it almost looks nice enough for a walk, but I think I'll be saving my energy for another boozing session with Jodie this afternoon (held back from yesterday because of the bank holiday - it's complicated).