It seems we may not get much sunshine today, but at the moment the cloud is not dense enough to block the sun. It is possible we may see more sunshine than shown in the forecast, although the latest revision seems not to have changed anything. After a very hot night we start the morning with the temperature up at 20° C, and this afternoon should still see 29° C. It looks like another very warm night coming up. Of course the BBC website gives a totally different forecast, and that says sunny spells all day, and a top temperature of 31° C. Tomorrow could be a couple of degrees cooler, and there could be sunny spells for most of the day.
I finally got back on my quest to visit all the extremes that my Freedom Pass allows free travel to. I think I knew soon after I got up yesterday that it was going to be the day. My guts seemed to be quite stable, and my high blood glucose meant that a day away from the fridge would be beneficial. I was washed and dressed quite early, and I set out to catch the 11.35am train from Catford station.
As usual, the worst part, even the hardest part was the walk from home to the station. I guess that just over half mile walk is needed to get my legs running smoothly after seizing up slightly overnight. It was already gloriously hot at 11:30am, and the sun was really bright. I thought, incorrectly as it would turn out, that it would make for some good photography. All I can say is that I am glad that I took my Canon EOS 600D along so I had more control over the settings than an automatic camera.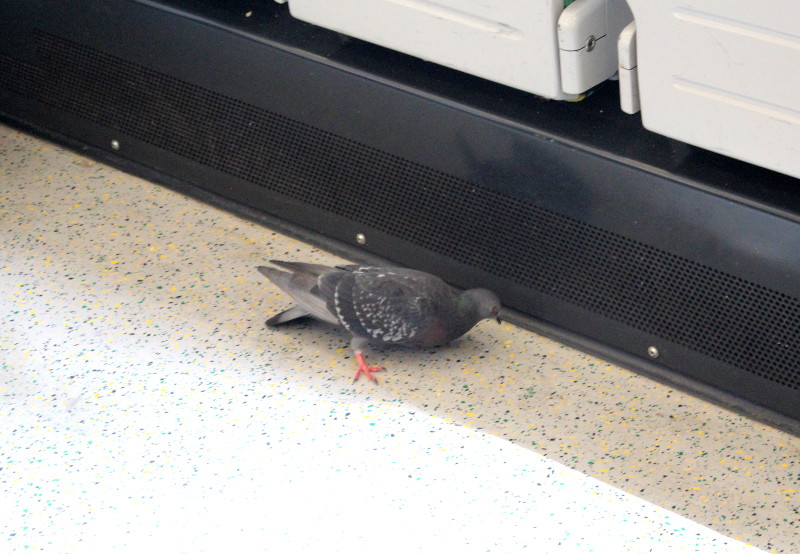 Even with full control of my camera it was hard to find a good setting at times. I had started out from Catford to Blackfriars station where I changed train for one going through to Farringdon station. From there I could change to a Metroplitan line service. It was handy that the first train was a semi fast to Chesham. I first became aware of the this pigeon travelling with us at around Finchley Road station. I have no idea where it got off again. It was hard to photograph because it was often in shadow, but right next to blinding bright. On top of that it was difficult holding the camera steady when standing up on a moving train with nothing to hold on to.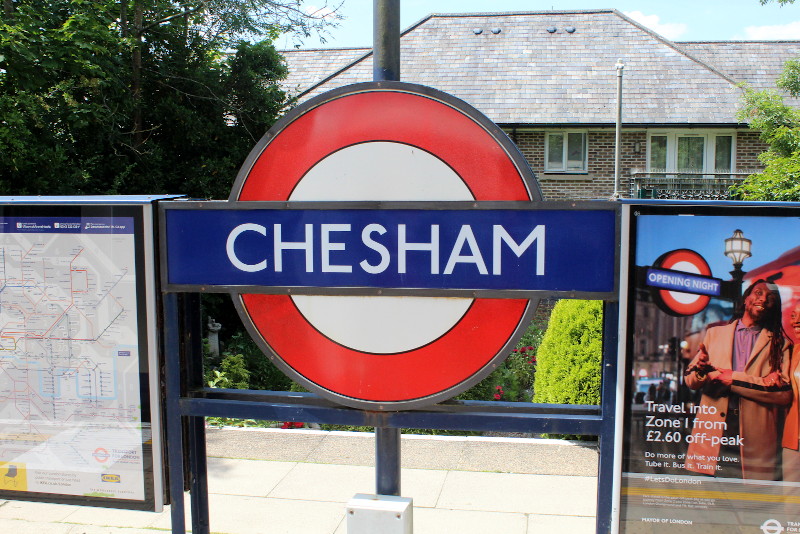 It is a very long ride, even on a semi-fast train to get to Chesham. Even when you get there I have found very little to see there.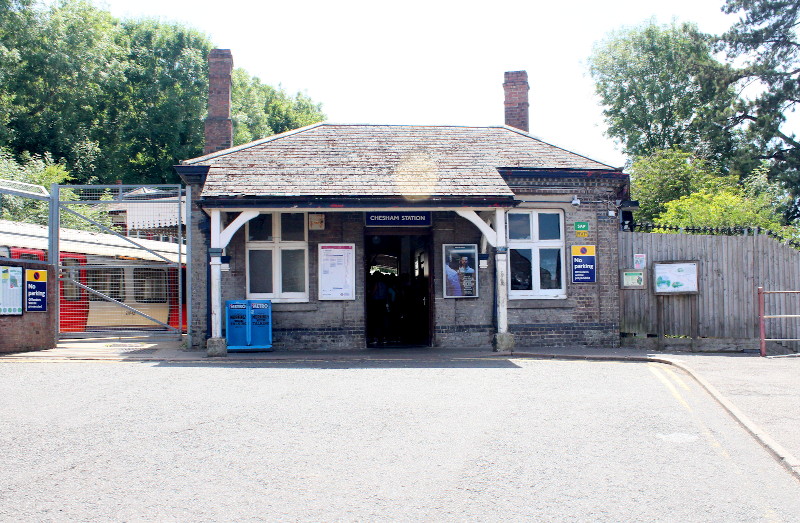 One thing that would plague me on this outing was that it seems all the Metropolitan Line stations seemed to have been built to have the sun behind them. This shot of the outside of Chesham station even has a bit of lens flare because the sun is only just off the top of the page. It was tricky getting the exposure right to keep most of the detail visible without making the picture looked washed out.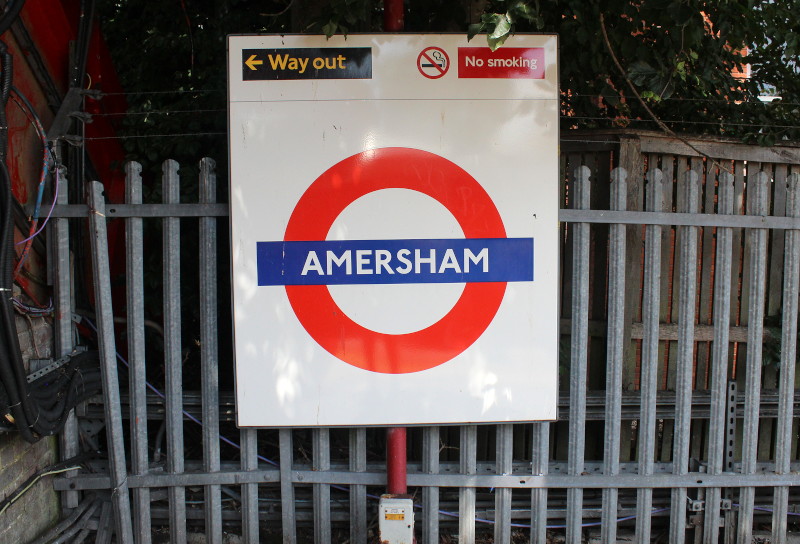 I had to get the next train (which was actually the train that brought me there) back to Chalfont And Latimer station to catch a train going through to Amersham. I had hoped that it might be a Chiltern Trains class 165 diesel train, but a London Underground train arrived first. Although the next (and final) stop was Amersham, the stations are well spaced out at that end of the line, and it seemed like a long ride to get to Amersham.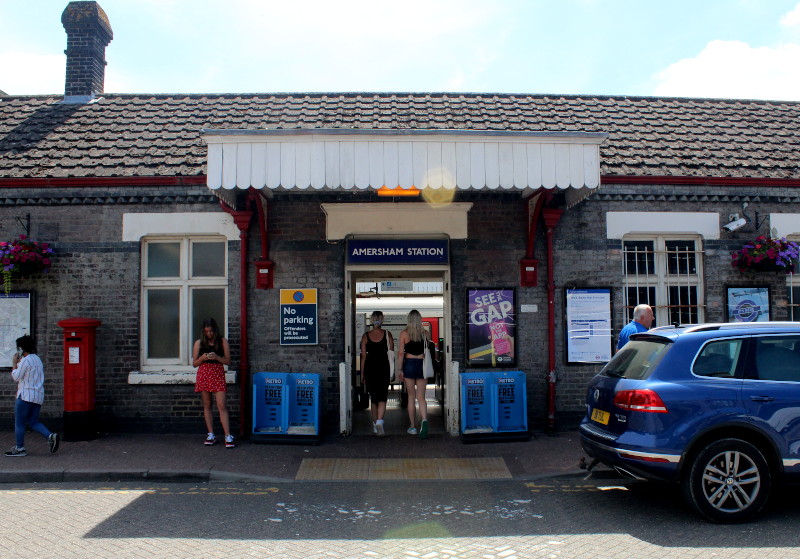 Once again the sun was facing right at me as I took this picture of Amersham station entrance. In the past it has proved a tricky station to photograph because there is too much street clutter if you step back too far, but fortunately I had a fairly wide angle lens with me.
I was lucky that my timing was such that the next train going south was a Chiltern Trains call 168 diesel. It was a modernised version with strip glass windows, and extremely good air conditioning. I didn't realise how good it was until I got off the train at Rickmansworth. It felt like I was walking into an oven. Curiously enough, I could have waited for my next train under the shelter of the canopy, but I elected to stay in the blazing sunshine.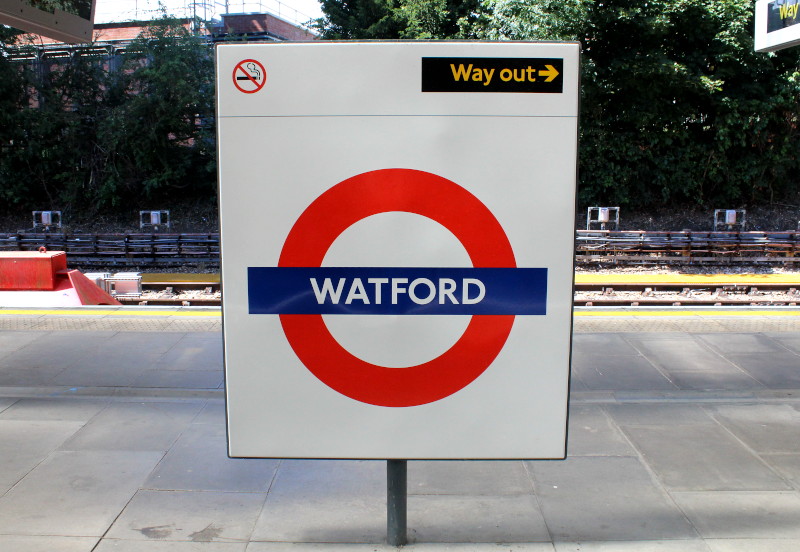 At Rickmansworth I had to get back on a London Underground train for one stop to Moor Park, and from there I could get a north bound train it Watford. One useful feature of Watford station is that there is a fairly decent gents toilet there. I wasn't desperate, but I thought I would take advantage of it for a quick pee while I was there.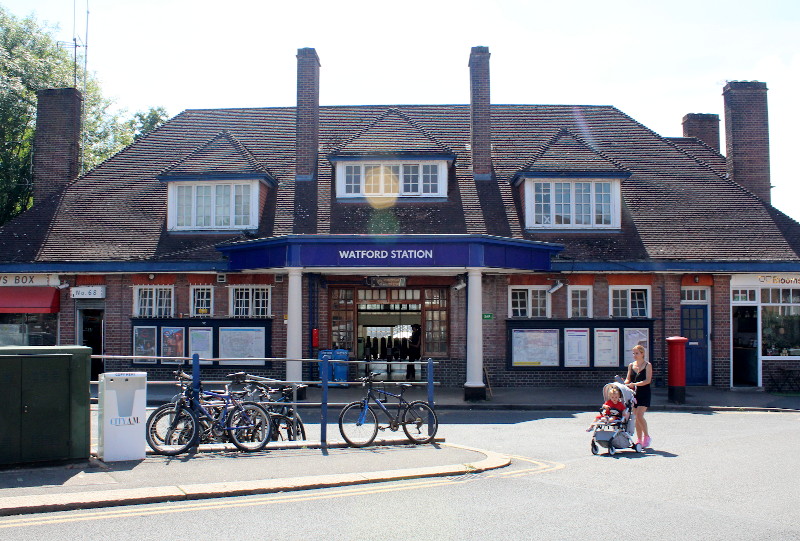 The third station in a row with the sun blazing down just above it. Apart from the lens flare, I think I got a reasonable snap of the entrance to Watford station. From here I face a long rise back to Harrow On The Hill station where I could change, yet again, from a southbound train to a northbound train for my final station of yesterday's quest.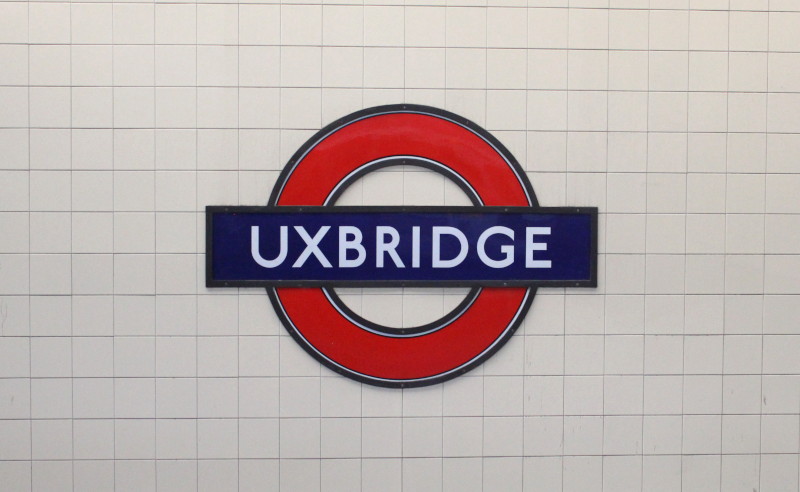 That last station was Uxbridge, and it is a rather special station as the next picture shows.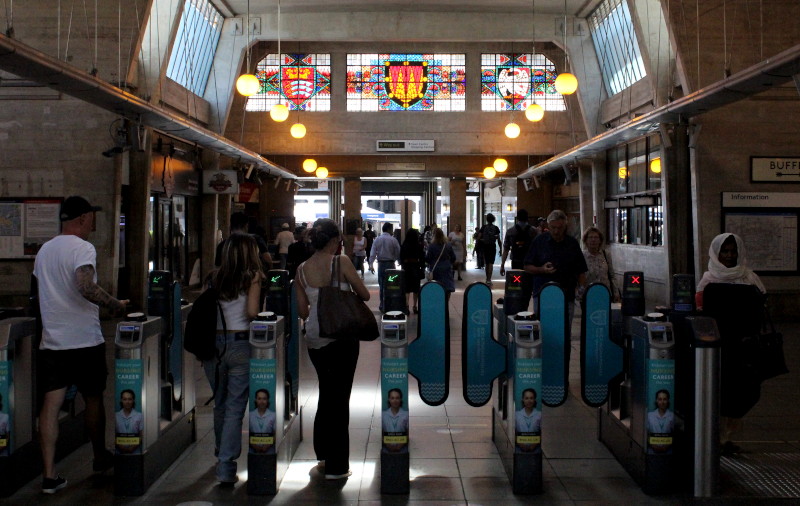 Somewhere on the station forecourt there is a plaque that explains how and when it was built, but I didn't look for it this time to refresh my memory. The station is not an original Metropolitan line station, and the line to it may have been tacked on half a century later. It was built during a time when the art of using concrete allowed a station to be built cheaply, but before ideals of beauty seemed to vanish from the architects book. Apart from being big and airy, it has the three big stained glass windows.
Wikipedia
explains all about the station better than I can.
For my final station the sun was in the best position - over my left shoulder. With a wide angle lens I was able to get a clear shot of the entrance to Uxbridge station. You'll note it is also a terminus of the Piccadilly line, and so I won't have to venture here when I come to visit the extremes of the Piccadilly line some day. The significance of the two sculptures at the very top are explained in the Wikipedia article I linked to above.
From Uxbridge station I faced a long journey home, and to make matters worse, this part of my quest took so long that I was encroaching into rush hour travel. From Uxbridge I took the first Metropolitan line train back to Harrow On The Hill. I had hoped to change there for a semi fast train, but the advance information on the platform indicators was extremely poor, and I ended up taking the next train, that like the train I had just got off, stopped at all stations back to Farringdon.
Maybe adding 7 or 8 minutes to my journey was a good thing. It was a relief to get off the Metroplitan line train because it was getting very busy, but out of the fat, and into the fire..... It was good when I spotted that if I waited for about 10 minutes, there was a through train going straight to Catford from Farringdon without having to change at Blackfriars. These only run in the rush hour, and it was certainly rush hour on my train to Catford. I was fortunate to get a seat by myself at Farrigndon, but after three stops the train was full to bursting point, and the air conditioning was losing the battle.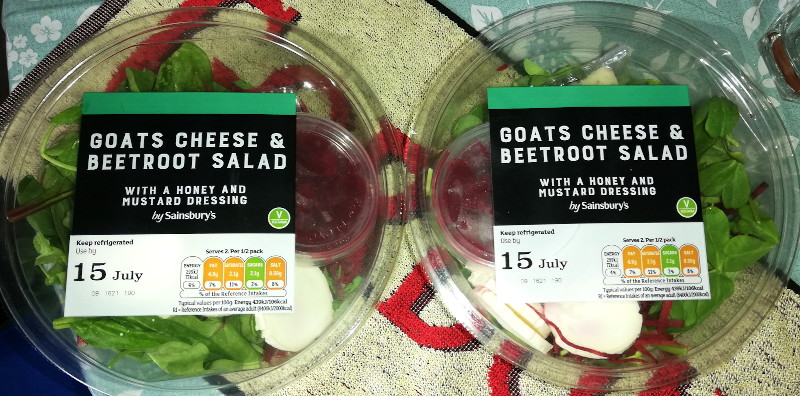 It was a minute or two before 6pm when I finally arrived at home. That was a long day out ! The Sainsbury's Local shop only adds 40ft to my walk home from Catford station, and I called in to buy some salad. All they had left was these goats cheese and beetroot salads, and I bought two of them. They may be terribly healthy for some, but for me their sugar content is a bit high. You can't read it in this shrunken picture, but the sugar content is shown as 2.1gm
per half pack
! I don't know who eats just a half of one of these things. My sugar intake from these two alone was 8.4mg. I might as well eaten a deep fried Mars bar !
I did very little after getting home except eat, and spend hours in the "digital darkroom" going through all the snaps I had taken. There were a lot more than shown here. I had taken many pictures of trains, and I think I added another half dozen number to my great spreadsheet that records examples of every train I have ever photographed. There were some pictures for the disused stations website (via social media) because it has expanded it's gamut to include disused platforms at otherwise working stations. (There are disused platforms at Chalfont And Latimer, and Rickmansworth stations).
I found time to watch one episode of QI before it seemed like a good time to go to bed. That was at 10pm (I think). It was another hot and steamy night, and hot enough that I slept with the fan on full blast all night, but like the night before I had the fan adjusted to blow air over me rather than straight at me. I slept really rather well last night. I only seemed to wake a few times, and after each time I went through 5 or 10 minutes of "will I, or won't I ever get to sleep again), and then suddenly 2 or 3 hours had passed.
The worst time was about 4am. I had pulled the curtains apart before I went to bed to let in some of the slightly cooler night air, but at 4am it was as good as daylight. I remember looking at the light coming in the window, and thinking I would never get to sleep again. I don't think I even remember laying down properly at that point, but I was surprised that another 2 hours had passed without realising it. I did close the curtains then, and tried for just another half hours sleep. I woke up nearly an hour later.
I think it was 2 minutes before 7am, and it definitely felt like time to get up. I was surprised hat I was feeling quite good, but I think I was a bit dehydrated despite only getting up for a pee maybe twice in the night. That made it seem like my blood glucose should be nice and low. I don't consider I ate much yesterday, and it should have been as little as needed to actually lose weight. It was a bit of a blow to find my blood glucose was very high again. It was 9.1mmol/lm and while I suppose that is not
very high
, it was a lot higher than I was expecting. I guess it is because I am a bit dehydrated after a sticky night, although curiously I don't seem to be sweating as much as usual recently - which is also an indicator that my blood glucose is lower in reality than my meter is telling me.
Today I am going to try and fast for a lot of the day, but I shall try and increase the amount of water I consume. I am unsure what I will be doing today. I have to try and get hold of the pharmacy to order my next repeat prescription. I tried phoning a few times yesterday, but kept getting recorded announcements. I may go there in person this morning. I am also contemplating going out to photograph a few more trains. Maybe I could spend an hour at Clapham Junction, and maybe I could even go to Ewell West and Chessington South stations as part of my ongoing Freedom Pass Quest. Maybe I might just stay indoors, in the cool, and do something else.