The Met Office have issued an amber alert for hot weather today, and yet the maximum predicted temperature is 29° C. That doesn't sound particularly high to me, although if the humidity is very high it will feel very muggy. That is possible because it may be a a bit cloudy this afternoon. The latest revision to the forecast now shows several hours in the afternoon with no sunshine at all, and also a few as only having sunny spells. On the other hand, the BBC weather forecast shows non stop, full on sunshine with a peak temperature of 30° C. Tomorrow there is a red alert for very high temperatures. Both forecasts show non stop sunshine. The BBC reckon the temperature may hit 37° C, and the Met Office say only 35° C. Tuesday may be even very slightly hotter....and the next day may see rain !
Yesterday turned out well, although the end wasn't so good. All the pieces seemed to fall into place for a good day out. My blood glucose was stupidly high, and so a day out, to make fasting easier, was essential. Considering I finished off the rest of the previous night's Indian takeaway the day before yesterday, my guts seems to be very calm, and I had no fears about needing a toilet in an emergency.
I started writing quite late yesterday morning, and by the time I had finished that, did a few other things, and than had a shower, it was very close to the afternoon. Somehow things speeded up, and to my surprise I was ready to go and get the 12:19 train from Catford Bridge as far as Waterloo East station. I then had to cross the long, up and down, walkway to Waterloo Main line station. I don't know how I did that every day when I was commuting, but I guess I was in practice then.
I had taken a few snaps of trains on the way, and at Waterloo I took a few more before getting a train to Clapham Junction. Until I got there I was not sure what exactly I would be doing. I initially thought that maybe I might just take a few more snaps of trains while there, and then maybe even start heading home, but I got to be enjoying myself. It seemed an excellent time to resume my quest to visit all the extremes that my Freedom Pass would take me to for free.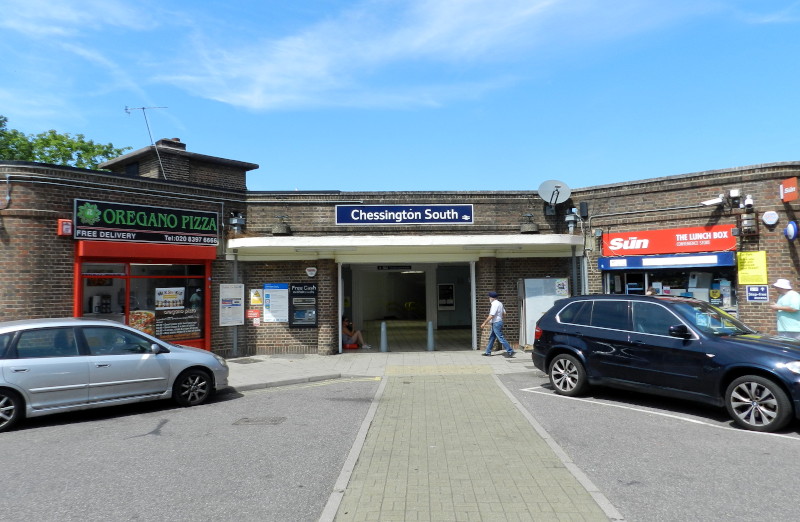 I think it was about a half hour ride, and maybe a little more, to go direct from Clapham Junction to Chessington South station. It is a terminal station, and now has only one platform face. I think it generates a fair bit of revenue from visitos going to the Chessington World Of Adventures.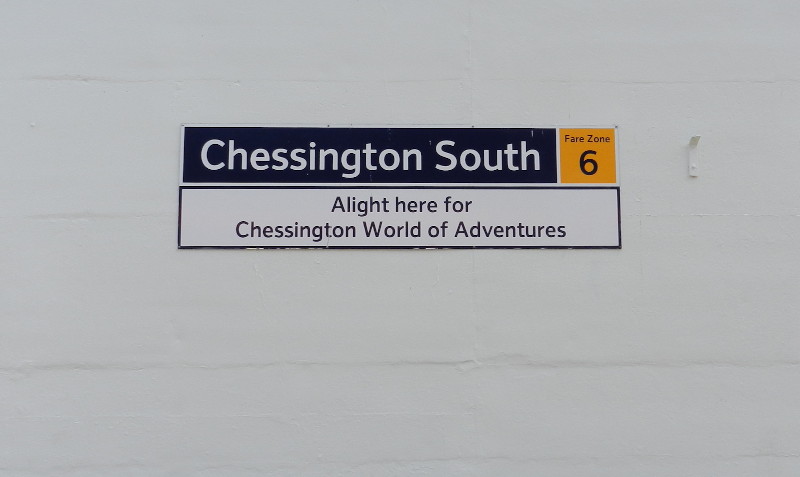 The next bit of my own adventure was to visit Ewell West station. To get there I had to get the train back to Motspur Park station. It was this going backwards and forwards that took up a lot of time yesterday.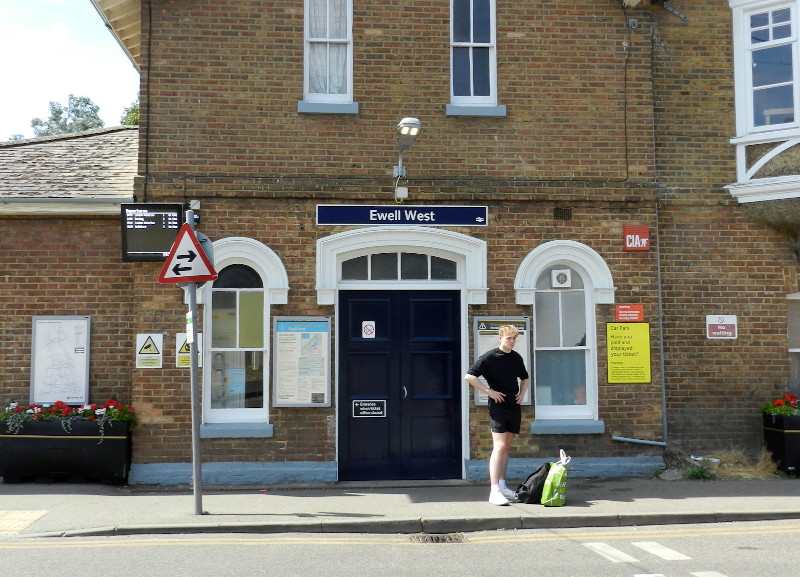 Ewell West station is a through station on the line to Dorking and Guilford, and has two platforms, but only a half hourly train service. It is only just in travel zone 6, and it s a shame that my Freedom Pass can't take me any further on this line.
It was at Ewell West that I had my first long wait for a train. I think it was about a 20 minute wait for the next London bound train. My original plan was to make this my last station, and to head home, but again I seemed very comfortable, and pushed on for one more station.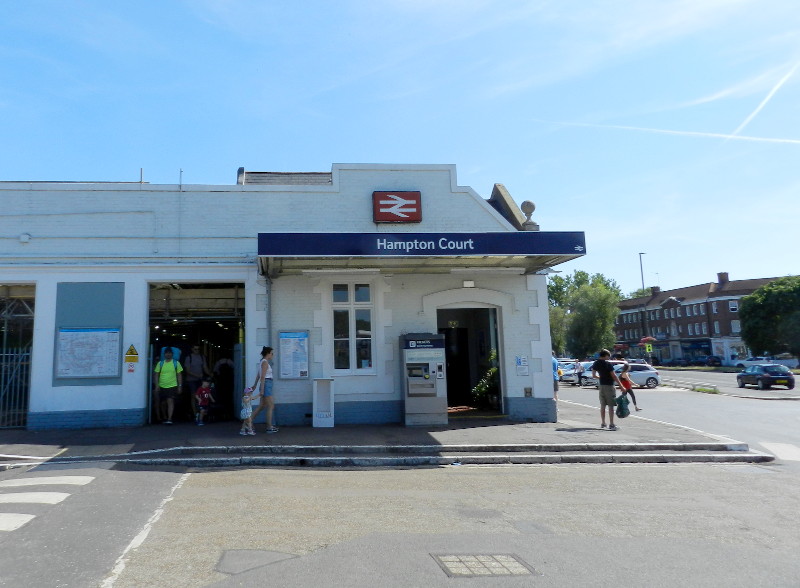 Getting to Hampton Court station meant a long ride back to Raynes Park station to change trains again. That had one benefit - from the train it is hard to see the layout of Raynes Park station. It has 4 platform faces, but they are staggered. It may be that at one time they were two different stations before they were joined by a long footbridge. It was quite a good place for me to take more pictures of trains.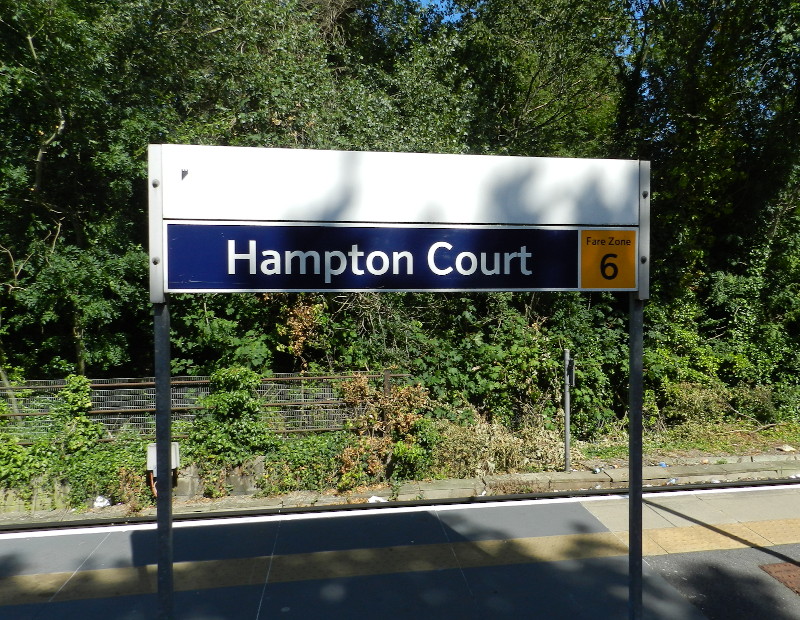 I have only been to Hampton Court station once before, and I have a very vague memory of it being a big, and well equipped station. Yesterday I found a lot of it surrounded by scaffolding. It is evidently being renovated - or ruined, depending on what they are ultimately going to do with it.
Hampton Court was the last station on yesterday's quest, but I did visit one more station. I did a bit of research while on the train from Hampton Court. Three station from Hampton Court is Surbiton station, and that is on the main line. I could change there for a fast train stopping at only Clapham Junction and Waterloo. It meant just waiting on the same platform for 4 minutes. It seemed ideal, but there was a catch.
That catch may have been the result of a signal failing in the Vauxhall area that made for a few delays. We were caught at red signals twice, and had to run fairly slowly until we could switch from following the stopping train I had originally got off, onto the fast line. The net result was that I think the fast train may have arrived a minute or two after the slow train. It didn't matter though because it was a chance to sample the fast train with it's air conditioning - the only train I rode on for the whole day that had air conditioning !
When we arrived at Waterloo I took the opportunity to take snaps of quite a few trains until I came up against a "jobsworth". He said that if I wanted to take pictures around the station I should go to the office, and get a visitor lanyard, and then I could go anywhere. That was fair enough, but I couldn't be bothered with it. I took one final snap of a departing train as he explained it all at length, and then left to get a train home from Waterloo East station.
I had almost a 20 minute wait for a train to Catford Bridge station. I did consider getting the first train to London Bridge, and changing there, but at best it might have saved 10 minutes, and it didn't seem worthwhile. It was about getting on for 6pm when I got home. The odd thing was that I did not feel terribly hungry or thirsty, although I had drunk the best part of a 500ml bottle of water while I was out. Before I considered eating I drunk almost a pint and half of water to make sure I was sufficiently hydrated.
I then checked my blood glucose. As expected it had dropped a lot since the morning. In the morning it was a ludicrous 11.1mmol/l, and at about 6.30pm it had come down to an acceptable 8.3mmol/l. That was still a bit high, and so I tried to be very careful about what I ate last night. I had half a small bag of mixed nuts, a bean salad, and finally some grilled bacon. I thought that should have been reasonable. The salad, and the beans were dressed with balsamic dressing, and that does have some sugar in it, but not much. The 3 or 4 cherry tomatoes in the salad do contain a fair bit of sugar, and the reduced sugar ketchup I had on the bacon has some sugar in it.
Unfortunately it did nothing for my blood glucose this morning. Once again it was right up at 11.1mmol/l. Unless my pancreas has finally died, and I am now a type 1 diabetic, there must be another explanation for these high readings. One thing I have a vague memory of happening once was that the batteries in the meter are almost flat. It is supposed to warn of low battery voltage, but I think I shall change the batteries anyway.
If that does turn out to be the solution then at least my attempts to restrict my diet haven't gone to waste. Yesterday it seemed easy to do my trouser belt up to the tightest notch there is. If my waist gets smaller I will have to punch an extra hole in my belt. I am assuming that if I were to get on the scales I might see some improvement, but I am too scared for that.....I have now changed the batteries on my blood glucose meter, and taken another reading. The new reading is 8.9mmol/l. That is still higher than ideal, but well below the danger line at 10.0mmol/l.
I also had to change the batteries in my blood pressure meter. That has a battery level indicator, but it never seems to show anything useful. All that happens is that a cryptic error is shown when the batteries are low - it just shows "E" with no other explanation. The handbook says to check for leaks, but changing the batteries always cures it. However, my blood pressure is a bit high this morning - it is on the slightly high side of perfectly normal ! It is usually lower when I am not feeling hungry - like right now !
I will eat something, maybe a bowl of instant noodles before I start drinking/tasting more beers with Jodie this afternoon. Before then I have a few things to do. I was going to go to Tesco, but I think I will avoid the temptation until tomorrow. After I have had a shower I am going to wash my medium big bath towel. Any spare time I have, which I am not using for resting or something, I will be using to edit and save over 30 photos of trains I took yesterday, and which are not yet logged in my huge spreadsheet of train photos.