I'm sure weather forecasts from a few days ago suggested today could be bright and sunny, but that seems like fantasy. Most the day will be grey, but the clouds may break up late in the afternoon. The latest revision shows the first sunny spells an hour earlier at 3pm compared to the earlier version as seen above. I expect reality to be different, and maybe an improvement on the forecast, although the temperature may still be the forecast 25° C. Tomorrow may feature thinner cloud than today, but once again it may be late afternoon when the sun finally breaks through. It should be very warm with 27° C predicted.
I had a good time yesterday. However there were a few annoyances. One of the good things is that the buses were not packed when I went to Chattfest for the second and final day. One of the bad things about the bus, and maybe the only bad thing beyond the usual tedium of a long bus ride, was that we had to stop for a very long feeling 5 minutes to "regulate the service".
It was good to arrive at Chattfest not feeling like I was melting (like the day before), although I was still feeling a bit sticky. The annoying thing is that I left home late, and it would have been a lot better if I could have got a bus half an hour earlier. The trouble was that Burning Chrome sounded really good when I arrived at The Chatterton Arms. They were playing a Motorhead cover, and making a righteous noise !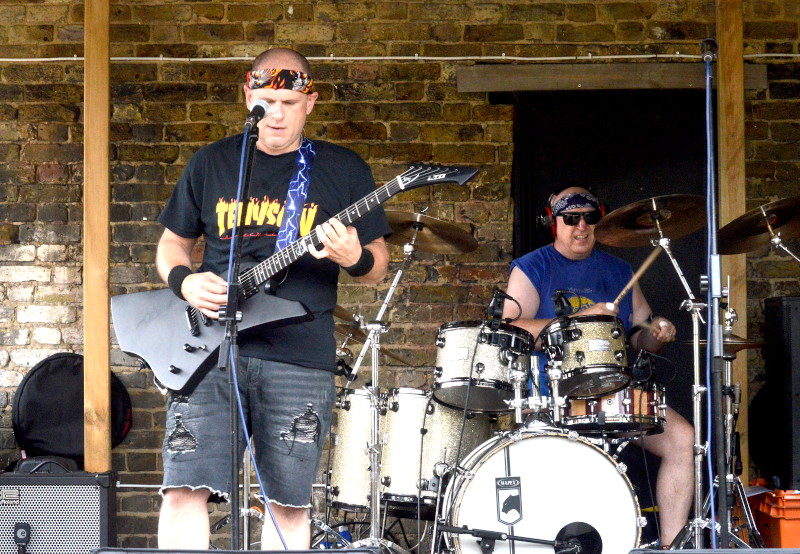 It took a long time (a couple of minutes) to get through "security". I was impeded by the man in front of me wearing a huge back pack, and I couldn't get around him. I finally got to the stage, checked my camera settings, and managed just two very quick snaps before the band finished. The picture above is one of them. I am sort of pleased that both came out fairly well with so little preparation.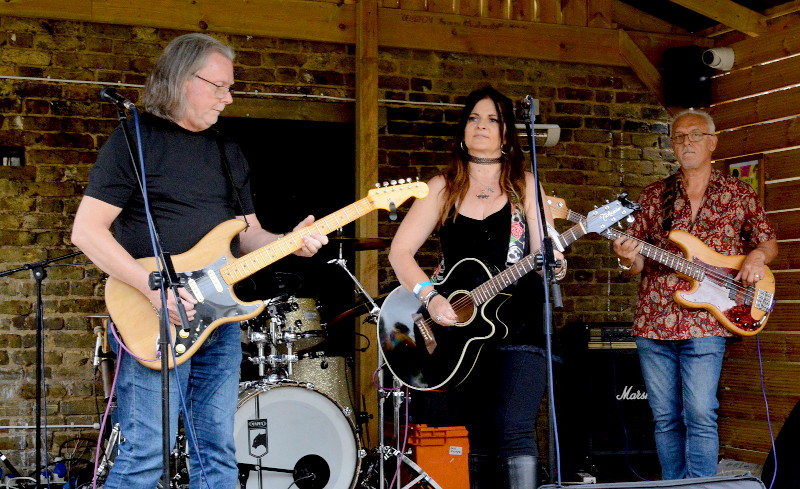 The next band on were Chain. There was a 15 minute intermission while the bands changed over, and I used that time to buy a pint of Guinness. I would end up having three pints of Guinness yesterday. Chain were sounding good, but the sky had gone quite grey while they were on, and that left the interior of the "stage" looking quite dim, and those horrible brown bricks gave a terrible backdrop for my photos.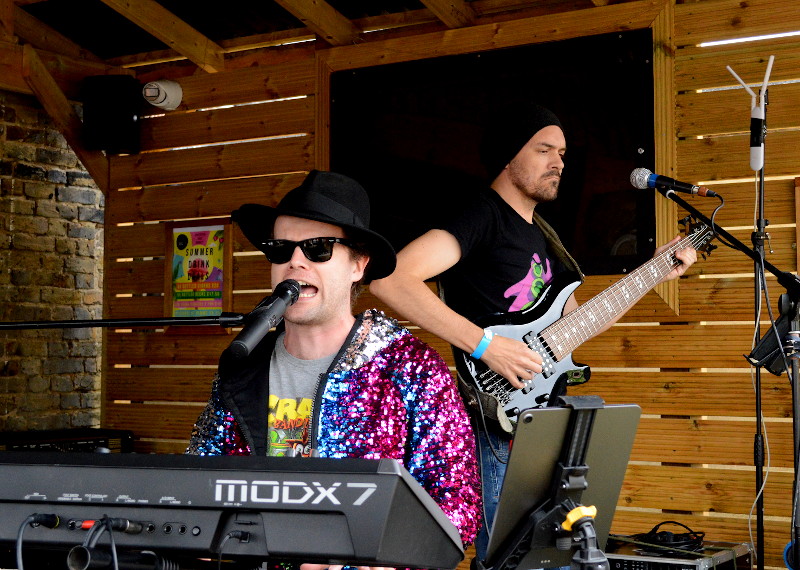 The next band were The Nameless with Jamie Bull mostly doing Elton John covers. I can't say I enjoyed it that much, but my sciatic came to the rescue. Almost on cue after two hours the pain had grown to "quite annoying", but this time, instead of going home, I went for a walk around the nearby Whitehall Recreation Ground. I even sat down on a park bench for a couple of minutes. I was probably out for around 15 minutes but returned to hear the last notes of The Nameless with the no pain in my leg at all.
It was in the quiet(ish) changeover time that I was made two offers I couldn't refuse. Jo, of Chain, and organizer of both Chattfest and Petts Wood Calling (the new name for Pettswoodstock after the originator reclaimed the name) offered my a drink, and also said a back stage pass would be waiting for me at the "artistes" entrance for Petts Wood Calling. I decided not to ask for one this year because I didn't feel I had the stamina to do a good job, but with one so freely offered I can't pass it up, and I'll try and stay there for many hours. The good thing there is I have access to the green room, and can sit down on a proper chair, and rest my legs between bands. I'll also go for short walk to the Daylight Inn pub to buy Guinness there because it may be almost half the price of the beer tent at Petts Wood Calling.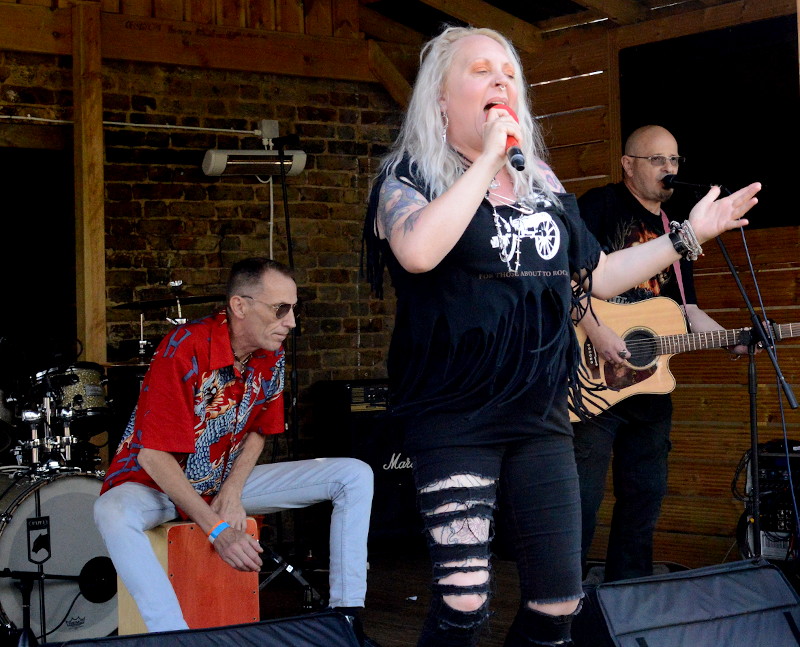 The last band I saw was The L & K Duo with Stretch on Cajon. Loisa, the frontswoman, is a good singer, and a great performer who never stays still. She did quite a few wanders through the audience with her radio mic. The only trouble is that I didn't really care for a lot of what she sung. Some of it sounded like gospel music !!! I think I stayed until close to the end of their set, but I stopped taking photos and tried to be a bit more sociable - which I failed at because I find it hard to communicate over the top of the P.A. !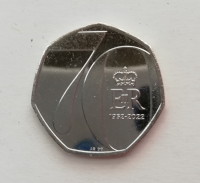 One nice souvenir of the festival was a Platinum Jubilee 50p coin that I got in my change at the bar. In fact I got two of them that I gave to Chris Mayer (Chain lead guitar), but he insisted on paying for it with five 10p coins.
When I finally left the pub my sciatica was staring to get annoying again, but a brisk walk to the bus stop cured it completely. The bus ride home seemed long and tedious, as it always does, but we didn't have to stop "to regulate the service", and that made it very, very slightly less tedious. The other thing that made it slightly less tedious is that there didn't appear to be any smelly people on the bus. I still couldn't wait until we got to Catford, and it was a joy to walk off the bus into a nice cooling breeze.
I had been feeling rather hungry earlier in the afternoon, but that feeling passed quickly once I was at the festival. When I got home I wasn't feeling ravenous, but I definitely fancied something to eat. I had instant noodles for breakfast, and I would have two more packets of instant noodles for dinner part 1 and 2 - about an hour apart. One of them was a large 120gm pack of Kimchi flavour, and it was rather nice !
After eating my first noodles I copied the pictures, and a video off my Nikon D3200 camera to my PC, and started by checking the video. The video was very good except for the times when the focus changed, and all the camera shake at times, but the sound was dreadful. It was incredibly low and distorted. It certainly wasn't over recorded, but I suspect the batteries in my external stereo microphone, which hadn't been used in years, were totally flat - even f the power LED looked ok......Hmm, I've just checked the batteries, and they seem fine. That is a bit worrying.
The sound on this video, apart from the first 10 or 20 seconds is pretty fair. It was shot on my Huawei P20 lite mobile phone (obviously with my steadycam gadget). That phone seems to be pretty good for video, although I've never stretched it to full resolution. This is Chain performing a cover of Jefferson Airplane's 1960s hit "Somebody To Love".

After editing the video I took my first looks at the photos I had taken. Many looked OK, but I still hate that stage with it's grim brick background, and the wooden post in the middle. I pulled out a quick edit of a photo of each band to show here this morning, but left the rest for today. I ended up in bed before 9pm (I think), and read for a short while, but couldn't keep my eyes open.
I must have been asleep well before 10pm, but I woke up just before midnight, rather surprised that it was still the same day. I also had a pain right in the middle of my chest. I thought it was the usual stressed sternum and ribs, but it was actually heartburn. I had forgotten to take my early evening medication until I was just about to fall asleep. I quickly gulped it down, and one of the drugs was just low dose aspirin. I would usually eat after that medication, but on this occasion I think that aspirin settled in my stomach and burnt it.
A couple of antacid tablets and I was finally good for sleep again, and did indeed sleep ! I heard not the slightest suspicious sound from the (maybe now deceased) mouse, and my sleep was (hopefully) more restful last night. It was certainly more dream packed in the last hours of the morning. I can't describe the dream(s) in detail, but can give a sort of loose overview of some parts of it.
I think I remember being on a train journey to the west country when a general mobilisation was called. I think it may have been more to do with a political coup than war, but we all ended up in some sort of centre where we were asked our occupations. When I said I retired a few years ago the woman at the desk said she didn't have a box to tick for that, and would have to ask a superior for instructions. I got bored waiting, and just wandered off. No one challenged me, and I had quite an adventure wandering around what was a bit like an army camp. I just can't remember enough to give any details, but the whole thing was probably inspired by
Spike Milligan's war memoirs
- complete chaos, but somehow it worked (or it did in 1939).
I spent just the last hour of my sleep actually covered up by just the double duvet cover. It did feel a lot fresher this morning compared to last night. I resisted checking my blood glucose until I had drunk a pint and a half of chilled water, and let it percolate through my body for a short while. I fed the poor starving (!!!!) pigeons while I waited. Finally I checked my blood glucose, and it was just about OK by a whisker at 8.9mmol/l. I did expect it not to be very low after eating noodles late in the evening. Those noodles contain very little sugar (usually) but all the carbohydrate gets converted to sugar in the gut. When I get a moment I'll try and work out how many calories I ate yesterday. I have a feeling it may have been moderately low.
While I feel moderately good, or very good compared to how I thought I might feel, I don't feel like rushing around today. I have a lot of photos to go through, and edit the better ones. I also have some laundry to do. It looks like it may stay dry today, and it should be warm enough to dry clothes, and if the sun makes it out later in the afternoon that should finish the job nicely. Other than that I am looking forward to doing some quiet reading....and snoozing !