09:15 BST

Yesterday was the real build up to today's heatwave. There was loads of hot sunshine all day, the temperature reached 28° C.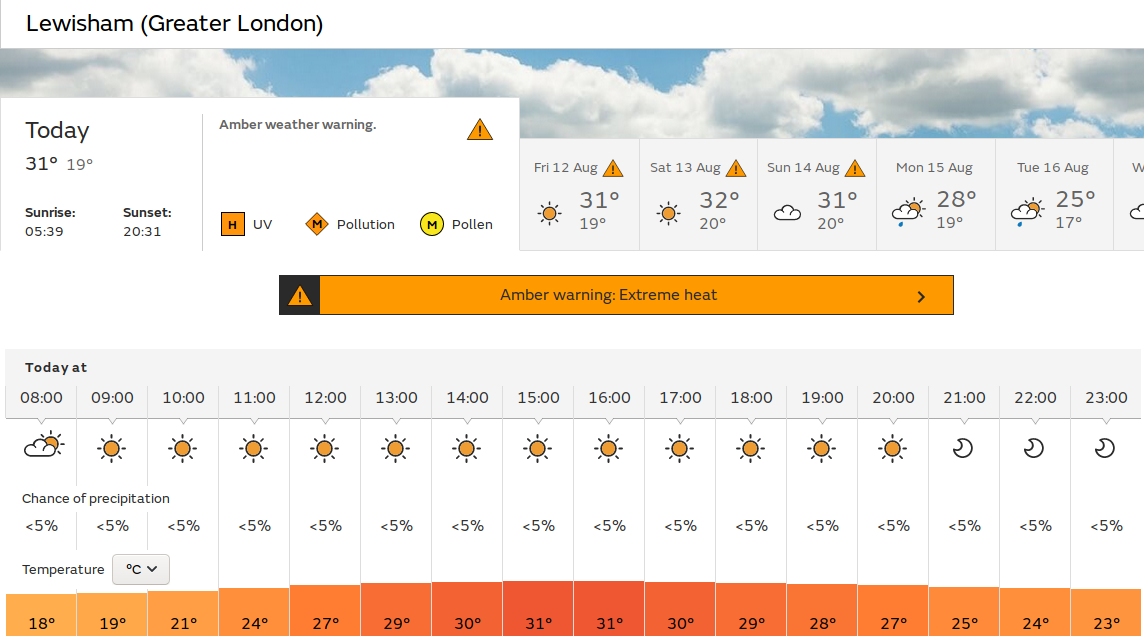 Today is the first day of a run of 4 days where the temperature will rise to above 30° C, although only by a degree or two, and not as hot as the few very hot days we had in June (or was it July ?) when we almost reached 38° C. There was a little bit of hazy early this morning, but now it is full on sunshine for the next couple of days. This coming Sunday will be the changeover point when the sun will be mostly hidden by cloud, and the temperature starts to drop. Monday 15th August might even feature some rain, or a lot of rain, with thunderstorms if the BBC forecast turns out to be correct.
Most of yesterday seems to be a blur. I washed yet more clothes, and hung them out on the line, in hot sunshine, to dry. I brought them in feeling hot to the touch 5 or so hours later. Of course there was a highlight to the day when I met Angela in the pub during her lunchbreak. Maybe it is because it was hot, or maybe something else, but just recently we don't seem to be so close. There is no magic spark, but it was still very good to see her, and have a couple of pints of refreshing Guinness. The rest of my day, night, and this morning, is described in
my complete archived page for today
.