07:56 BST

Yesterday morning, and afternoon featured completely different weather. The morning featured a lot of rain, and there were several hours with very heavy rain. By contrast, the afternoon was generally bright with some sunny spells. It was a slightly cool day with the temperature only just reaching 21° C.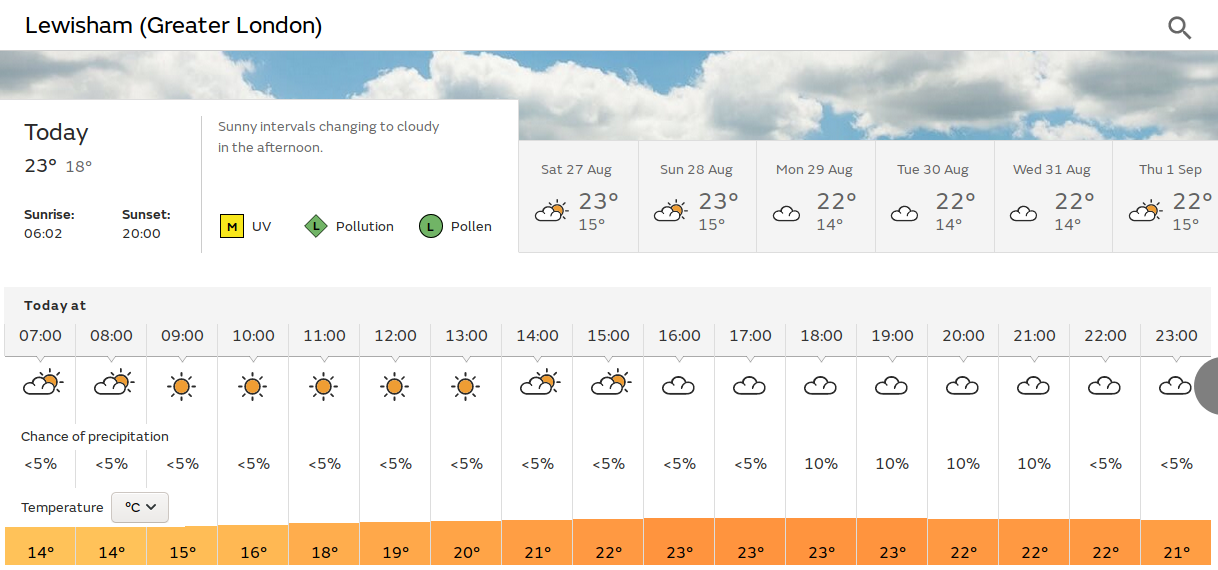 Today promises to be a lot nicer than yesterday. The latest revision to the forecast has changed a few of the hours of sunshine, shown in the screenshot above, to just sunny spells, but has extended them to 4pm. It should be a little warmer than yesterday with a maximum of 23° C, although it looks like it could take until 5pm to get there. A lot of tomorrow may be dull, but at the moment the prediction is for a few hours of sunny spells in the afternoon, but also one hour might feature a light shower. Once again the temperature should reach 23° C, but maybe only briefly.
The main feature yesterday was the rain, and there was a lot of it. The worst, and the thunder and lightning, was over by 7 or 8am, but rain continued to fall, sometimes heavily, until almost midday. It was probably weird, but with little else to do, I decided to go out in the rain. I went to Poundland where I did want a few things, and of course I took my waterproof Fuji Finepix XP71 camera with me. You can see the pictures I took, plus read about my day, night, and the start of this morning in
my complete archived page for today
.