Page composed using


1


| | |
| --- | --- |
| | |
Wednesday 19th February 2020
09:31 GMT

Yesterday morning started bright and sunny, but eventually the sunshine gave way to clouds. Initially there were sunny periods, but by 1pm the cloud cover was complete, and by 3pm it was raining. For a few minutes the rain was very heavy with hail mixed in with it. The afternoon was about 10° C, but it felt much cooler in the wind.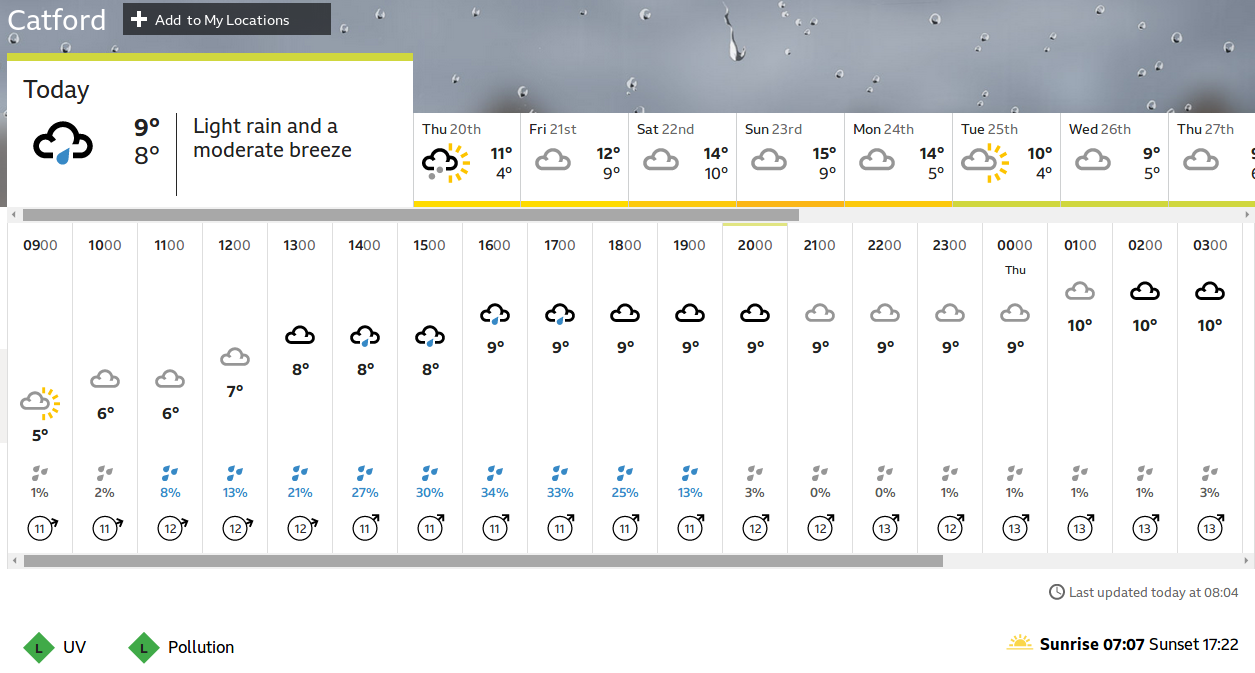 Today has started off cold and bright, but like yesterday the clouds are starting to thicken, and we are in for another wet afternoon. With any luck it will only be light rain, and it may finish at about sunset. The start of the afternoon will only see a chilly 8° C, but by mid afternoon the temperature may rise to 9° C. Just after midnight the temperature is supposed to rise to 10° C. The headline feature for tomorrow is hail showers, but they are only shown for 6pm. The day will be heavily overcast, and rain may start at around midday, and if we are lucky it will stop after the hail at 6pm. Tomorrow morning will probably be 10° C rising to 11°C by midday, and then the rain will cool things off again.

Although it was rather cool, I was looking forward to going out in the sunshine yesterday morning. It turned out to be less pleasant than I hoped. The sun did feel nice, and the angle of the sun gave a strong impression that it should almost be spring, but the cold wind blew any warmth away, and left me feeling a bit chilly. That didn't matter too much because it was a relatively short walk. I first walked to the Tesco Express store on the high street to use their cash machine, and then I walked down to Poundland.

There was one particular thing I wanted from Poundland. On my previous visit I had noticed they had some A3 sized picture frames, and I had use for maybe a couple of them. It wasn't until I got home that I realised I really wanted A2 sized picture frames, and my desire to frame a couple of posters will have to wait for now. It wasn't a wasted journey because I managed to spend £15 in there. I didn't measure my walk, but the round trip was over half a mile, and possible a full mile.

I had a bit of time to pass before going out for my lunchtime walk. I had intended to try and walk for about three miles yesterday, but circumstances proved otherwise. To pass a bit of time I did some tidying up in the back room. There is a pile of stuff on the desk in there that needs sorting into rubbish or to be filed away somewhere. That pile is now getting quite small after I spent a bit of time on it. It takes me a long time to go through stuff like this to decided what to bin, and what not too. Mixed in with the mundane is important stuff. One thing I hadn't seen for a long time was a little photo album book. It was mostly pictures of me while in Infants and Junior school, but tucked in with them was this -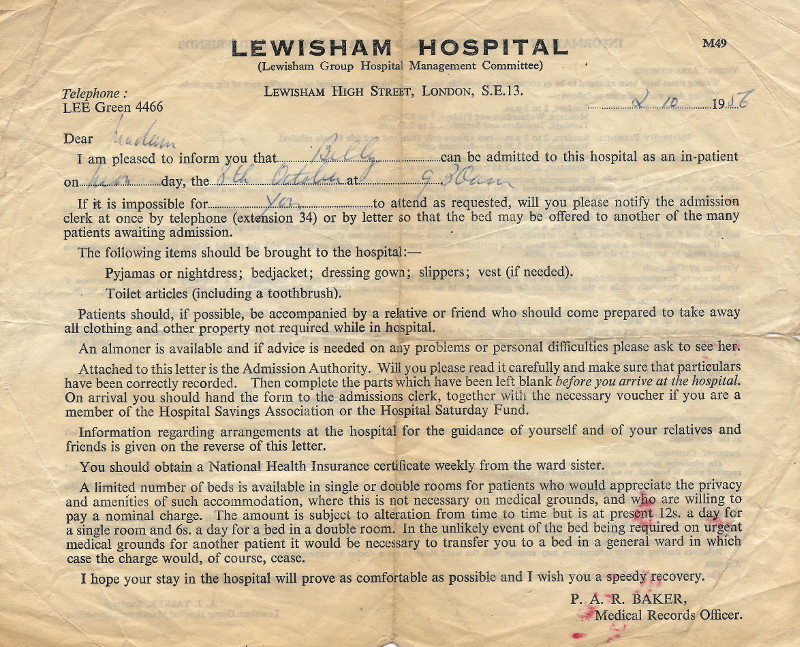 This form, dated 2nd October 1956 was from when I was admitted to Lewisham Hospital after suffering from severe scalding after pulling a saucepan of just boiled greens onto me. It was a rather traumatic time for all, but fortunately I remember nothing about it. The first medical aid on the scene after the accident was a local doctor. So family legend has it, he administered a potentially lethal overdose of Bromine - a sedative used in those days. He also bandaged the burns.

Apart from the overdose of sedative, his bandages just made things worse for me. When the hospital removed them they pulled a lot of skin off. The prognosis was that I would probably not survive the first night. Perhaps fortunately I had the attitude I still have today - laziness - I can't be bothered to die today. maybe I'll do it tomorrow. That accident left some interesting mental legacy. To this day I have a phobia about babies crying. It is not as bad as it once was, but I still have it. The theory is that it is echoing my own screams while I was in terrible pain.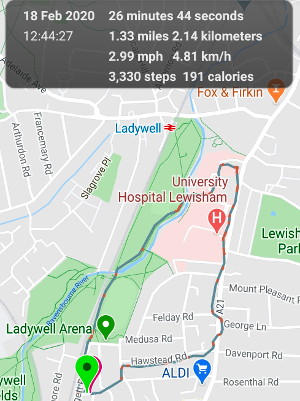 My idea of going out for a long walk yesterday was thwarted by an almost sudden stomach ache. I had to make two visits to the toilet in quick succession before I began to feel comfortable. Evidently I am eating more than I think I am because I thought what I had done earlier in the morning was quite sufficient. Perhaps I underestimate how much indigestible fibre there is in salad ingredients.

Once I felt comfortable to leave home I barely had time to walk to the pub, and walked there by the most direct route. I only arrived a few minutes before 1pm. I knew that Angela would be meeting me there, and ordered her usual. I then learned the bad news that they only had enough for one single vodka left in the pub. It is the second time this has happened.

Angela was fascinated by the pictures of me in infants and junior school, and even more fascinated by my hospital admission form. She said that it was such a special relic that it should be framed, and that is what I did later on when I got home. It is useful keeping a small stock of £1 photo frames from Poundland (and some slightly better £1.49 frames from Poundstretcher). It is probably only in the last 12 months that I have appreciated that some of my own photos can look very good when printed and framed. They have made what I hope were nice presents (although maybe some people were just being polite, and dumped them in the bin on the way home).

My lunchtime meeting was a short one yesterday. Angela had drunk the pub dry, and so couldn't have a second drink, and lover boy kept trying to phone her. Sometime I wonder, but it seems that sometime I am very important to Angela, and she didn't answer the phone while we were together. We left the pub about a quarter of an hour early - most unusual ! - and before we got to Angela's work entrance we had a quick hug before she pulled out her phone to call lover boy. I headed home by a slightly longer route that took in the Tesco Express where I bought some salads and a few other bits.

I was hurrying home because I had some work to do. For a few nights I have had my trailcam out again to see what has been happening in my garden at night. I might have mentioned yesterday that I had seen fresh earth outside the old foxes earth under the fence. When I looked at the memory card in the trailcam there was quite a bit of activity going on. One interesting thing is that the two cats, one black, the other Siamese, that are regular visitors, and I have seen go into the foxes earth in the past, both sniffed it, and decided to move on. I also saw a fox digging out the entrance to the hole - that was the fresh earth I had seen in the morning. At one point I nearly had two foxes in my garden. While one was doing the rounds of my garden, another appeared on the back fence, but didn't come in. The best video was the fox in daylight.


This is only a very short clip, but seeing the fox by natural light, instead of by infra red light, which doesn't show colours, is a rarity. I am no expert, but my guess is that this is a vixen who may well be pregnant by now. If so I can look forward to seeing cubs playing in my back garden later in the year. I'll have to be a bit careful how I do my gardening now.

Yesterday I did some unusual eating. After getting back from the pub I would have liked to have had something hot (and probably greasy), but I had a ready made salad in the fridge that needed to be used as soon as possible. I had that, and a ready made salad I had bought on the way home. Both had added ham, and both had extra dressing on - balsamic vienagr and oil instead of lashings of mayonnaise. There was a theory that it might have been a healthy meal.

When it came to dinner I took a completely different tack. I just had a couple of big bowls of cup-a-soup. One was chicken and leek, and the other was my second attempt at trying the chicken noodle soup. I made the latter with less water, and it was much nicer when thicker. If I understood the nutritional information, and sometimes I doubt that I do, it should have been a low calorie/low sugar meal.

I spent the evening watching some TV, and scanning old photos. I turned the TV off early because I thought I was getting tired, but it turned out I wasn't. I was in bed by about 9.30pm, and I read until about 10pm. Then I turned the light out, rolled onto my left side, and then onto the other side. Then I tried laying on my back before trying both sides again. It seemed like I wasn't tired at all ! It seemed to take ages before I eventually got to sleep, but I think it felt a lot longer than it actually took. I may have been asleep by 10.30pm

I can't be sure, but I think I may have only woken up 2 or 3 times in the night. At the time it felt more frequent, but I think that was because on each occasion it seemed to take a long time to get back to sleep again. It may have been that I actually fell asleep for a few minutes while I thought I was awake trying to get to sleep. My last bit of sleep was surprising. I had woken up at about the time when the sky had the first hint of dawn in it, and I knew that it would be not that long until it was light. I thought I would never get to sleep, but the next think I knew was that the sun was shining behind the curtains, and I had slept for over 2 hours.

I had some dreams last night, but unlike the night before I can't seem to recall any details beyond that fact that I knew I dreamed. I guess I don't feel too bad this morning, but I don't feel very dynamic at the moment. My blood glucose was a bit disappointing. My first measurement was 7.30mmol/l. That is perfectly OK, and maybe even very slightly lower than my running average, but I was hoping it might be a bit lower. Out of curiosity I took another measurement from a pin prick of blood from the other hand. That said 7.00mmol/l. That was more like I was hoping for, but really it just shows that the blood glucose meter is not terribly accurate - either that or one hand is running richer than the other. The other good-ish news is that I may still be ever so slowly creeping back down to the lowest weight I achieved before my mid January 'flu-like illness messed everything up. The trouble is that I can't speed things up. I am clutching at straws, or in this case milligrams !

Oh well, maybe in spring I can start doing some long coastal or country walks. A few 5 mile walks can have a most beneficial effect. I won't be doing anything like that today though. I want to go to Aldi, and hopefully I can get there and back before it rains. I am unsure if I will be ready soon enough to do both Aldi, and take a walk in the park to possibly see Angela at lunchtime. It is rare to see Angela on a Wednesday, although it is good when I do because I often wil not see her again until the next week. I'll see how things go.