Page composed using


1


| | |
| --- | --- |
| | |
Friday 21st February 2020
09:37 GMT

Yesterday's rain was mostly drizzle. There was some drizzle that finished around sunrise, and it started again around 11am rather than the forecast time of 1pm. By 6pm, when hail had been forecast for 36, or even 48 hours in advance, it was dry, and the sky was partly clear. There were a couple of hours around midday when the wind contained some quite strong gusts, and was other wise strong enough to make 11° C feel quite cool. Later in the afternoon the temperature dropped to 7° C, and then to just 5° C by midnight, and it was definitely feeling cold.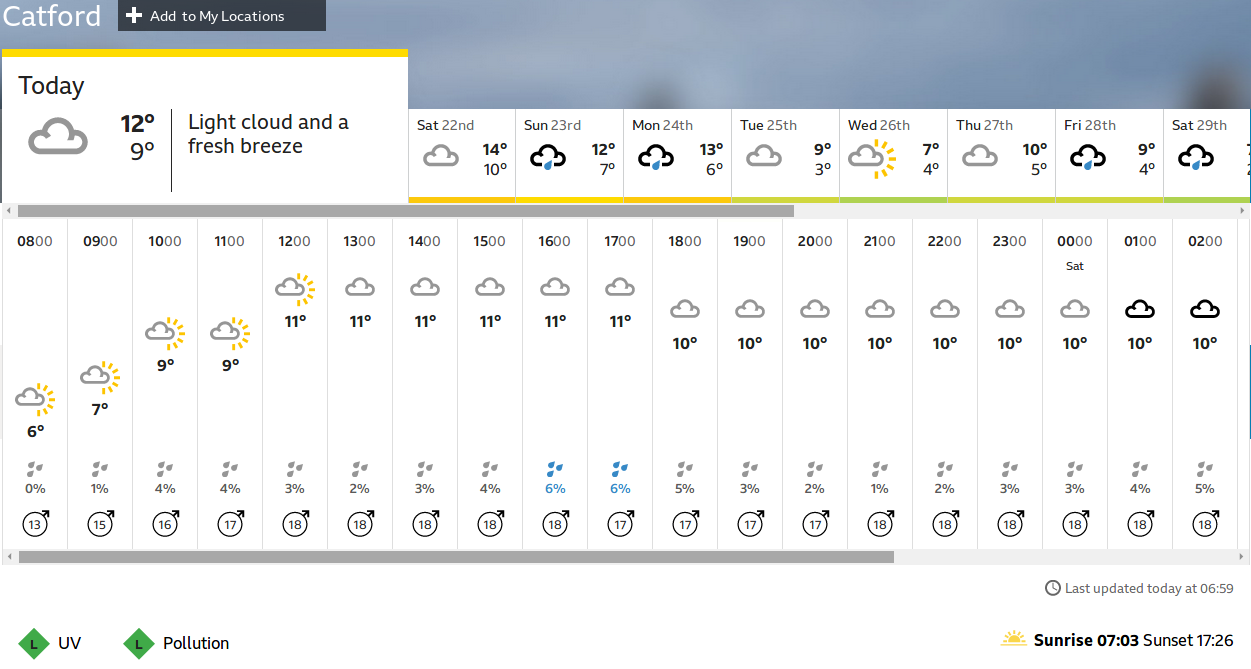 As yet I have seen no sunny spells, but I have seen an intensely bright patch of sky that was strong enough to cast a very blurry shadow. The latest revision to the forecast starts at 10am, and shows no sunny spells. It seems today will be overcast by light cloud, but should stay dry. Most of the afternoon should be 11° C, and the temperature may not drop below 10° C all night. Tomorrow may start with some heavier cloud, but the cloud should get lighter during the day - but never enough for the sun to get through. There is a very small chance of rain at any time. It should be a little warmer than today, and possibly hit 14° C for a short while.

My idea of doing most of this writing in the evening didn't seem to be such a good idea upon reflection. It obviously would not work if I was going to a gig in the evening - something I am still not doing very frequently, but intend to do as the days get longer, and the nights get warmer. I have now thought up an alternative idea. I now save a full archive of every day's diary entry, and only saving a précis on the month page. What I might start doing is to write the "today" page in increments during the day, and then save the complete day at the end of the day. One other thing I must do is to add "previous day" and "next day" navigation buttons on the daily archives. At the moment the only way to navigate to a different day is to go via the monthly pages. Anyway.....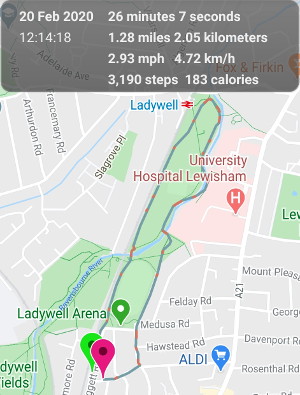 I didn't want to try and meet Angela at lunchtime yesterday, despite her often being there on a Thursday, but on Thursday I go out for a drink in the late afternoon. That didn't stop me going out for a quick walk around the park yesterday. Instead of the rather metaphysical idea that it might be good for me, I had a very specific purpose for this walk.

I wanted to take my new boots for a test drive to assess their comfort level. At first I was not sure if they would be OK. I could feel some pressure points, and being made of synthetic material, I was not sure that they would mould to me, and I would have to let my feet be re-modelled to fit the boots - a very painful, and incomplete process. However, by maybe halfway through the walk they were starting to feel much more comfortable.

I thought there was hope that they may become as comfortable as the boots they will replace, but later on I would have second thoughts about it. One other positive thing at the time was that I felt in no hurry to take those new boots off when I got home, and spent a while wearing them in the kitchen as I prepared some lunch. That lunch was 5 port sausages. I wanted something to "line my stomach" before embarking on a drinking spree - of precisely three pints !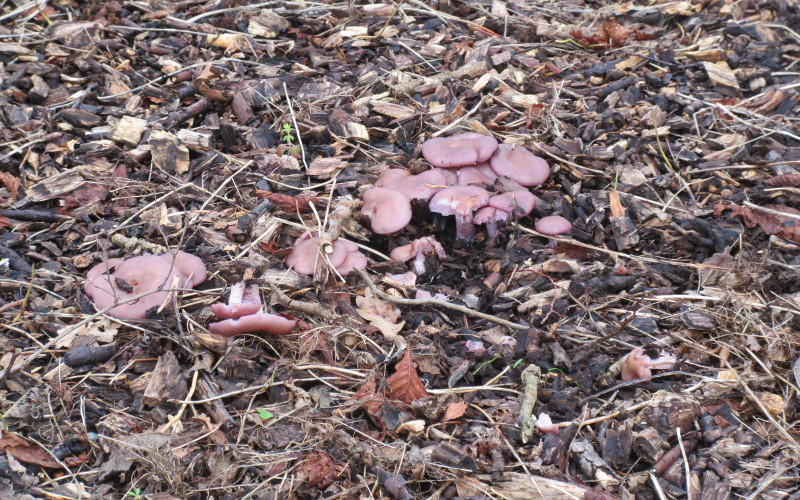 It was about this time last year (or the year before) that I saw some purple fungus in the park. It is odd for two reasons. Autumn is the more common time for fungi, and purple fungus is very unusual. The last time I saw it, in almost the same place, it seemed a bit darker, but I suspect it will be a bit darker today. There seems to be much more of it this year.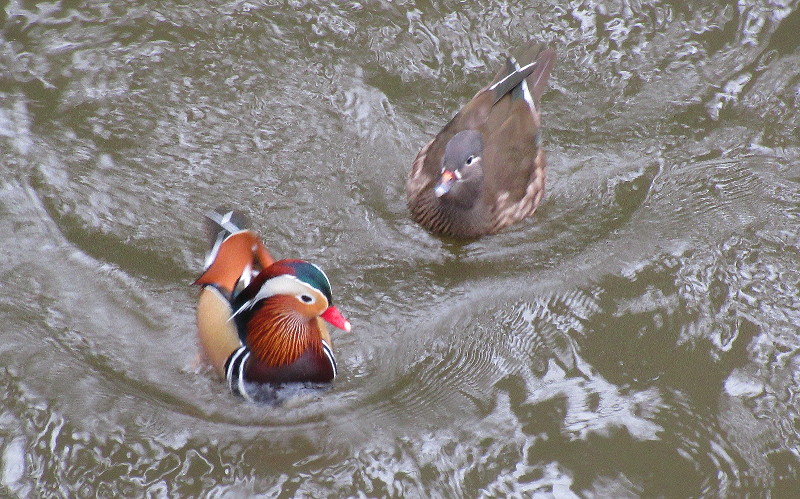 There seemed to be a bit of commotion on the river, and it seemed to centre around the mandarin duck. Maybe it was a territorial thing with the usual ducks, or maybe it was some sort of mating ritual.

At 3.55pm I set out to get a train to go to my Thursday drink. I thought I would give my new boots another test. This time I was no so sure that they would turn comfortable as time passed. They weren't actually that uncomfortable though. One thing they did do was to slow my walk down a bit. It took nearly 10 minutes to walk to my favourite spot on the station. Normally I can do it in 9 minutes, and occasionally less. Maybe I am underestimating the time I took investigating something.

When I arrived at the station I saw a civil engineer with a theodolite. I also noticed that a lot of the vegetation had been clear either side of the stairs going up to the platform. It is possible that I wasted a whole 60 seconds admiring "the view". At first I wondered if the integrity of the bridge and embankment was being checked, but a later theory was that it was a survey prior to adding lifts to the station. I subsequently heard this latter theory was right.

I chose some of the less strong beers in the pub. They were not so nice, but I thought it would be a good idea to not get too drunk - not that I get drunk on three pints, but it can make me very sleepy when I get home again - more so with a warming dinner in me. I had toyed with the idea of going to one, or even potentially two open mic nights last night, but as usual, once I got home, had some dinner, and was sitting all warm and cozy, I didn't fancy going out again. Maybe it will happen in the mystical times to come when the evenings are lighter, and warmer.

My dinner was boiled beef and sprouts - not the legendary boiled beef and carrots. It should have been nice, but I found the sprouts to be unusually bitter, and the diced beef to be not nice - it's texture suggested it should have been cooked for a lot longer to soften it up, and it seemed to have very little flavour. Had the whole meal been a lot nicer I may not have been tempted to have a healthy-ish "pudding". My desert was actually an apple and some nuts follwed by some sugar free vanilla wafers.

That kept my stomach amused for an hour or two, but before I went to bed I got the munchies again, and devoured a packet of Aldi own brand spicy pepperoni. Another hour, or so, and I was in bed reading. It must have been approaching 11pm when I put the book down, and was soon fast asleep. I had no nasty dreams last night - or none that I recall. I seem to recall having some confusing dreams where nothing was quite correct. Sometimes two or more places would be sort of merged into one, and it was difficult to predict where the join was.

I don't know if I slept well or not, but I do know I slept a lot later than usual. It was another one of those "I'll just close my eyes for a minute" scenarios where you wake up an hour or two later. I think I feel as good as most mornings, this morning. My blood glucose was just over 7 again. I have been unable to weigh myself properly because I have yet to go to the toilet. Sooner or later those sprouts are going to move, and then it it is possible that I'll find my weight is about as expected.

I am currently still thinking about my options for today. I think I ought to go for a walk in the park. The unknown is currently "when". Angela often goes shopping during her Friday lunchbreak, and so it is probably not worth timing my walk to arrive at the pub at 1pm, but maybe I'll check with her first. I would have liked to go to a gig tonight. M.T. Pockets are playing in what looks like a big pub in Dartford tonight. At the risk of repeating myself for the third time, if it was warmer, and the day was longer, I would consider it a possibility, but I don't fancy trying to navigate through Dartford after dark. Maybe I'll do something in the garden this afternoon - I'll have to sooner or later, and at least today should be dry....but tomorrow could be better.