15:57 GMT

There were some strong winds yesterday, but only occasionally. The rest of the time there were strong breezes ! The wind, whether very strong, or just light, made the day feel cooler than the 13° C that was reached even before midday. Unfortunately it was overcast all day, and so there was no sunshine to make that 13° C feel even slightly warm.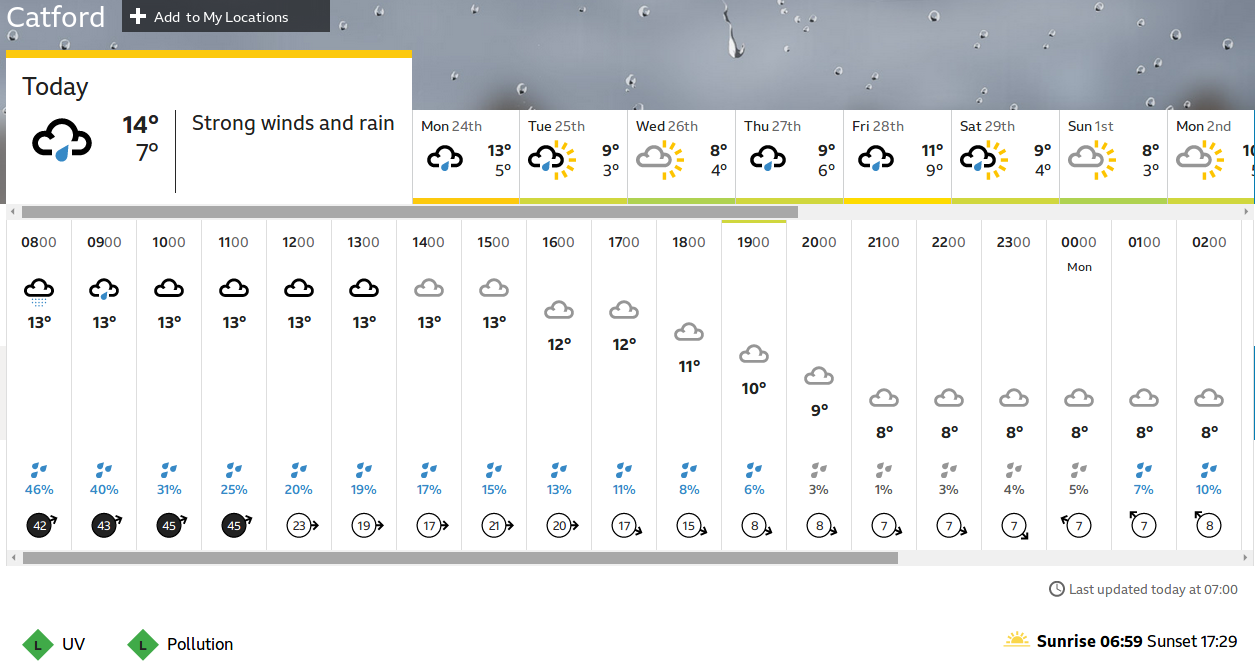 With most of the daylight hours already passed it is difficult to match reality with what was forecast for today. For instance there has been a fair bit of sunshine this afternoon, and I think there was some late in the morning. There were some light showers soon after sunrise, but they wee almost ignorable. There was also a period of time earlier this afternoon when the sky became very dark, and there was a light shower, but it probably lasted no more than 15 to 20 minutes. The current temperature is around the forecast 13° C, but it will soon start dropping. It shouldn't drop that far, and tonight may be only as low as 8° C. At 3am tomorrow morning the temperature is supposed to start rising again. Unfortunately it will probably be accompanied by rain. Tomorrow is forecast to be wet, and maybe very wet at lunchtime - when I will be walking through the park to (hopefully) meet Angela.

I started yesterday morning feeling ill. I had woken up with a few aches and pains plus a feeling very similar to a hangover. It didn't take long to throw off the worst of the symptoms, but I still felt mildly off colour for much of the day. It didn't stop me making two shopping trips. My first shopping trip was to Poundstretcher where I came away with 12 cans of pop (4 cans of Ginger Pepsi Max, 4 cans of Raspberry Pepsi Max, and 4 cans of sugar free Irn Bru), plus some other stuff.

Ginger flavoured Pepsi Max tastes sort of weird. It is almost, but not quite nice. If it wasn't for a hint of cleaning fluid it might actually be nice. A good slug of whisky in it seems to improve it a lot. Raspberry Pepsi Max is quite pleasant, ut I wouldn't pay full price for it. It is my belief, right or wrong, that Poundstretcher have the contract to dispose of Pepsi's less successful experiments. The ginger variety is currently being sold for 29p a can to clear it, and the Raspberry is 39p a can. The sugar free Irn Bru is good stuff, and is, if I recall correctly, 45p a can.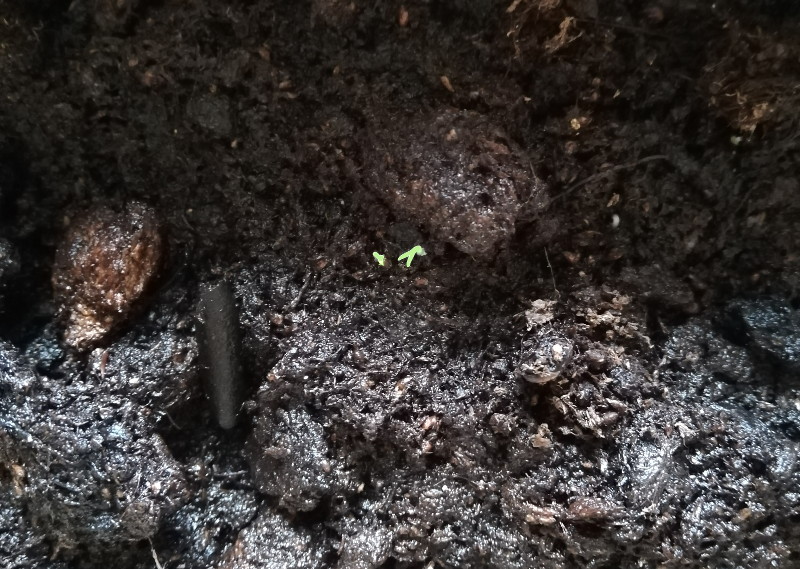 One thing I noticed yesterday morning was that the seeds I planted in what will be window boxes, has started to sprout. The little green splodge in the picture above was the first obvious leaf shaped sprout (when looked at carefully). 24 hours later and there are many shoots. I wish I could say the same for the seeds I planted in the front garden, but I guess keeping those window boxes indoors, in the warm, will really have brought them on a lot faster. I live in hope that eventually my front garden will be a riot of colours, but it seems the window boxes will get there first.

My second shopping trip was to Tesco. I had a few definite items on my shopping list. It included another 5 packets of Batchelors Cup-A-Soups. I seem to like them, and because they have a very long life (at least I imagine they should do) they will still be handy in the future if I go off them for a while. I also wanted some more fruit. The 6 pack of Braeburn apples I bought from Aldi, earlier in the week, were tasty, and seemed to have no consequences for my blood glucose level. They may have had a profound effect on my bowels though, and apart from the inconvenience when it happened at annoying times, it must be good for the health...probably.

Yesterday I bought another 6 pack of Braeburn apples from Tesco, as well as a couple of loose conference pears. I also bought some whisky - two bottles of it ! One was yet another one litre bottle of Haig - still selling for less than the price of the 70cl bottle. I now have quite a good stock of Haig, and when my money runs out I be able to drink myself into oblivion with no expense. The other bottle was a single malt whisky. I generally don't favour single malts, but this one was on special offer - £13 off, and only £20 a bottle. I only had a little shot glass of it, and it seemed to be quite good.

During the afternoon I washed another towel. It was the towel I use for drying my hair. It is just the right thickness, size and absorbency. I don't know where I will find another if this one goes out of service. Washing it was less a physical thing that the bath towel I did the day before. This morning it was dry, and ready to use. Washing that towel was just about the only thing I did yesterday afternoon - not included a few odd minutes here and there doing tiny little tidying jobs in the back room. Mostly I was saving myself for the evening.

It felt far too much like going to work on a cold dark morning, but I ventured, with little enthusiasm, into the night to go and see Something Else playing in The Railway pub next door to Blackheath Station. The notion that it was like going to work was actually more or less true. Some of my motivation was curiosity - I had never been in the pub before, and I had never seen the band play before - but I was principally going as a photographer with a job of work to do. It didn't matter that no one asked me to do this job, but a lot of the band invites I get seem to be because I can take a reasonable, although far from award winning, gig photo.

I still wasn't feel all that good when I left home, and that reduced my enthusiasm. My enthusiasm was reduced further when I got to the bus stop just in time to miss a 54 bus that would take me to Blackheath. Perhaps my enthusiasm crept off rock bottom when saw that I only had about a 10 minute wait for the next bus. I guess it took just 15 to 20 minutes to get to Blackheath (I didn't actually time it). When I arrived at the pub I found the volume level of the recorded music was really high. Apparently the youngsters like it that way, although how the boys and girls manage to chat each other up through that sonic wall of sound is a mystery.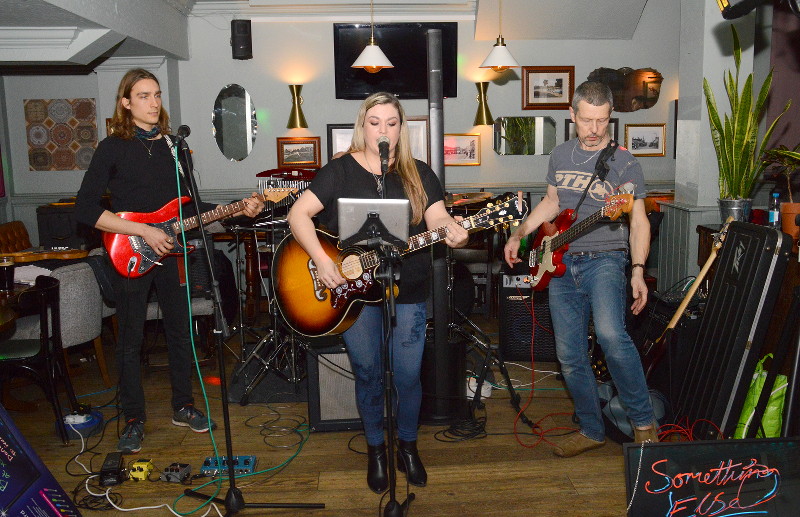 The band, Something Else" are 4 piece, but maybe with only 2 constant members - Sasha in the middle, and James on the right. I think the guitarist on the left was a freelancer.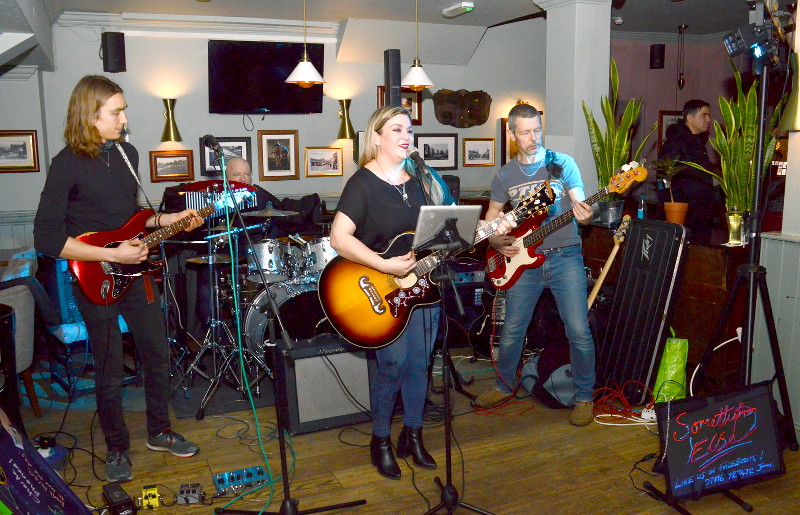 In this second photo you can just see the drummer peeping over the top of his drums. He is John Sutcliff, and I know he plays with many bands, and if he is not playing with a band he is playing at an open mic. I think he is at his drums 8 days a week. He is the man who invited me to the gig.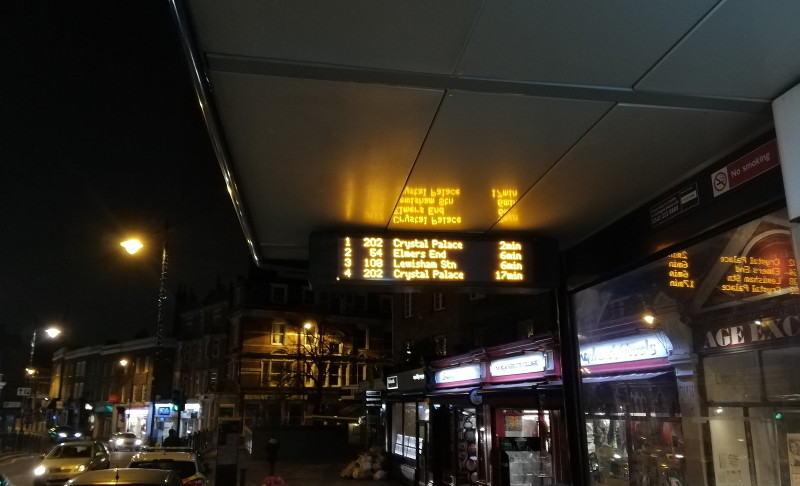 I probably stayed for about an hour and a bit. As is so often the case, the advertised time of a 9pm start never happened, but it may have only been 10 minutes later that the band finally started. Maybe I watched the band for 45 minutes, and that was quite long enough to judge them to be very good. Even their selection of songs that they covered (while I was there) met with my approval. At the end of that 45 minutes I felt like I had taken enough photos to make a fair photo album. There was no one else there that I knew, and I decided to go home again. At the bus stop I was reminded that there were two bus routes that go back to Catford.

I could get either the 54, and I had used to get to Blackheath, or the 202 bus. These buses stop at well separated bus stops in Catford, and to get to Blackheath I have to one or other bus stops. Going home I can get either, and as the picture above shows, the 202 bus was due in just 2 minutes, and so I caught that bus. That was a big mistake. There are roadworks that seem to have been going on for ages on Brownhill Road as you approach Catford. The temporary traffic lights, and one direction working, really slows down the traffic there. Had I waited the extra 4 minutes for a 54 bus I may have been home at least 15 minutes earlier.

When I got home I had a treat waiting for me. It was a load of grilled chicken wings that I had ordered as part of my takeaway order the night before. I am not sure sure they were grilled because they seemed to have a thin batter on them. That made them less healthy than I hoped, but they were still very nice. As much as I try to, I can't think of any way those chicken wings could have contributed to the lousy night I had.

When I first came home I found my room to be rather cool because the heater was off while I was out. I put the heater on full blast, and promptly forgot about it. I slept under the duvet for maybe 2 hours before waking up feeling like I was being cooked. It was very strange because my skin was very dry. It doesn't usually need much heat to get me sweating. When I went out to the toilet I felt shivery cold, and couldn't wait to get back to bed (but this time with the heater on low). I can remember what pains I might have had at that time, but the next time I woke up I had quite a selection of pains.

Many depended on what position I was in bed. The worst pain, and it could be quite fierce if I made the wrong movement, was my right shoulder. It is now a frequent source of pain, but last night it excelled itself with the pain sometimes seeming to cross the top of my back. Less painful, but in some ways more annoying, was a pain in my right leg - mostly from the right knee. It was really only there when laying down in a certain position, but very hard to ignore. I also had some pain from my right ankle, and some twinges from my other favourite - my right elbow. All the tossing and turning was really inflaming my dodgy ribs/tendons/whotsits, and so I also had a painful chest. Just to complete things I started suffering from trapped wind pains.

I seemed to wake up more frequently than usual last night, and at about 6am I gave up trying to sleep for a while. I took two Ibuprofen, and two Paracetamol tablets. After giving them 20 minutes to work I went back to bed, and managed a bit more poor quality sleep. When I got up again didn't feel to be in much pain, and moving around reduced it further. I was surprised that my knee, for one thing, seemed almost normal - maybe even normal because it has been no impediment to walking around indoors - I haven't been out today.

While I wasn't in pain, I still felt very groggy, and it was a real effort to sit down and start going through the photos I had taken the night before. Curiously enough, I felt my best when doing some light tidying up in the cool back room. Little by little, sometimes just in 10 minute sessions, I am clearing the desk in there. Once I finally get my new firewall up and running I can clear the desk totally, and probably use the desk in my bedroom.

In some ways I am not looking forward to my bed tonight because I fear that all the pains will start up again. On the other hand the idea of sleep is ultra appealing. I would definitely love to get 8 hours of quality sleep. It was some relief when I realised that a gig I thought I was going to have to really push myself to go to this afternoon is not until next Sunday afternoon ! I hope that by then this bug I am suffering from, because it must be some sort of bug, will be over, and I will be firing on all cylinders next weekend. At the moment it does feel like I have been suffering from a mild version of 'flu for over a week now....but probably not because it comes and goes.

To finish off, a video of Something Else I shot last night. The almost constant green stage lighting made it a bit gloomy, and I have brightened it up a bit. The biggest problem is that in the middle of shooting it I was suddenly struck down with a cough I just could not stop. It made holding my phone steady impossible, although it doesn't seem to be as bad as it seemed on the night. This is Something Else covering Sheryl Crow's "If It Makes You Happy"