08:53 GMT

Compared to the previous couple of days, yesterday was a bit grim. The early version of the forecast turned out to be correct with regard to the heavy cloud cover, and the temperature. The afternoon just about managed 9° C, but it cooled quite quickly in the evening. I suspect it was even cooler than the 7° C predicted for midnight. Maybe it was just the wind blowing through the slightly open window, but it felt absolutely freezing in my bathroom at midnight. I don't know if it appeared in later revisions of the weather forecast, but the early versions only acknowledged a bit of light rain in the morning - which was so light it couldn't easily be seen, but was keeping the ground wet. No version of the forecast I saw showed fine misty drizzle for the later half of the afternoon, and continuing into the evening - maybe even later. It was the sort of rain you can completely ignore until you realise you are getting damp.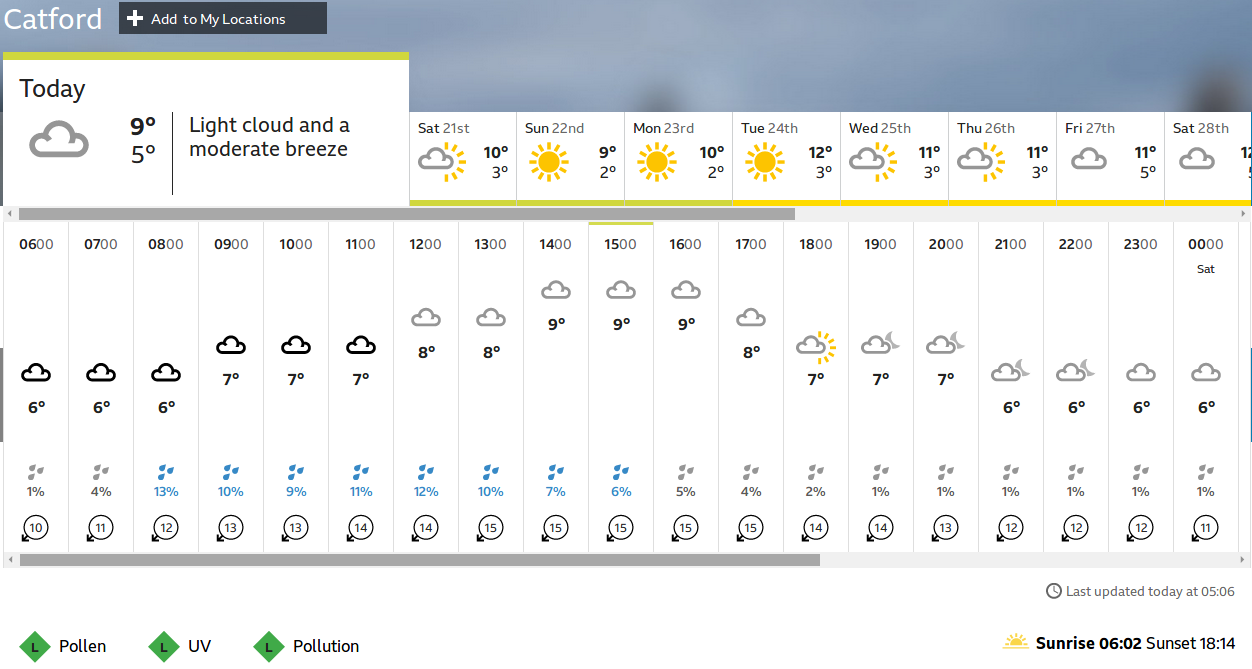 The forecast for today has got off to a bad start, and the latest revision is no different. So far this morning there have been no black looking clouds, as in the pictograms of the weather forecast above, although I do note that the headline says "light cloud". At the moment the cloud is thin enough to let enough light through for the day to appear fairly bright. Every now and then there is a very brief, literally just a few seconds, sunny interval. They have been slightly hazy, and casting a fuzzy shadow, but this still feel much, much better than the forecast suggests. Maybe the clouds will thicken up to more resemble the forecast, but then again, light cloud is forecast from midday onwards (or now 2pm in the latest update). The latest update quashes any idea of a sunny period at 6pm (as above), but I am thinking that if the current cloud doesn't thicken, but actually thins, as the forecast claims it will, then there could be sunny periods this afternoon in defiance of the forecast. It may still be a rather cool 9° C though. Tomorrow is still predicted to be a mostly sunny day, but at just 9° C again, it will not feel that warm in the sun (although it will probably warm my front, south facing, rooms up a treat !

Yesterday was another busy day, or at least was busy at times. I spent quite a lot of time messing about with old videos (while completely forgetting that I was going to prepare one to show here - oh well maybe I'll do one today to include tomorrow). In between that I did some laundry, I hand washed two pillowcases, a bottom sheet, recently taken off my bed, and while doing those I also washed a small hand towel. In the late afternoon I went for a drink. Instead of the usual Thursday drinking club, this session was local and started in a very expensive (and pointlessly noisy) pub with Jodie, before going on to the 'Spoons to meet up with Kevin and Iain. I haven't drunk with those two together for countless years. It could have been a very long session, but I only allowed myself 5 pints. That was still enough to stop me going into the fried chicken shop. There are pictures of three of the beers I drank, plus pictures of the laundry I did drying, and other pictures all stitched together with assorted words and punctuation. There is also how I managed to pay off an overdue electricity bill painlessly (except for the time on hold). Read all about it in the archive for the day HERE.