09:54 GMT

Yesterday's weather was pretty miserable, although the forecast worst wasn't quite as worst as reality ! The morning was cold, but dry, and not all that dull. The afternoon featured rain, but I can't recall it being heavy rain, or at least no sustained heavy rain as featured in the forecast. I tried not to look outside most of the time, and so I can't really say when it stopped, or even if there were heavier bursts that I missed. The highest temperature was a degree less than the 8° C in the early forecast, but the later revision said 7° C, and that was about right.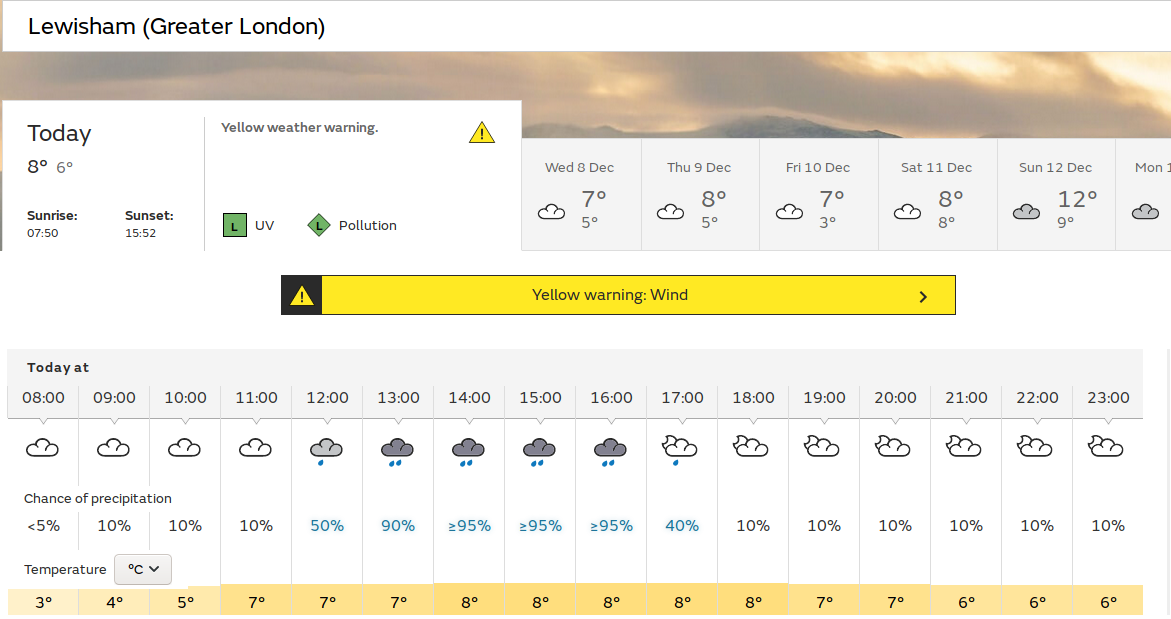 Today will be a lot like yesterday. It is cold dry this morning (cold enough for a light frost at sunrise), and it is only mildly gloomy. That will all change this afternoon when it could get as gloomy as night, and possibly torrential rain will all afternoon, and into the evening. Today, unlike yesterday, the afternoon temperature should reach 8° C for 3 or more hours. The weather warming is for wind, and not rain. As far as I can see, in Catford, the wind will mostly be quite light, but there could be occasional gusts of 40mph. Even that does not seem to be exceptionally high. The predictions for wind look only slight less tomorrow compared to today, and yet no wind warning is issued. The thing about tomorrow is that it is almost going to be 6° C from midnight to midnight (maybe 5° C at the edges). The morning may see a brief sunny spell, and the afternoon a couple of hours of light rain.
I felt very different yesterday, but I can't really explain why it was different in a positive direction to the day before when I felt very miserable. Maybe getting out to go shopping in Aldi was a positive action that felt good, or maybe it was just that having no trouble at all not wearing a mask - no looks, no threats from "security" - felt very positive. Maybe it was just that the "exercise" of walking to and from Aldi felt OK, although if you read yesterday's scribblings you'll see it wasn't exactly pure pleasure. I describe the describable bits of my day yesterday, plus the other stuff like eating and dreaming, and how I feel this morning, and what I might do today, in
my full archive page for today
.