The big question about today's weather is not "will it", "but when will it snow ?". Both forecasters I consult, The Met Office, and The BBC (Meteogroup), say it will snow. The BBC are quite enthusiastic about the idea it will be snowing heavily by 9am, and the Met Office are a bit more restrained as you can see in the screenshot above. They even downgrade some showers as just sleet instead of snow. There is one more forecast.....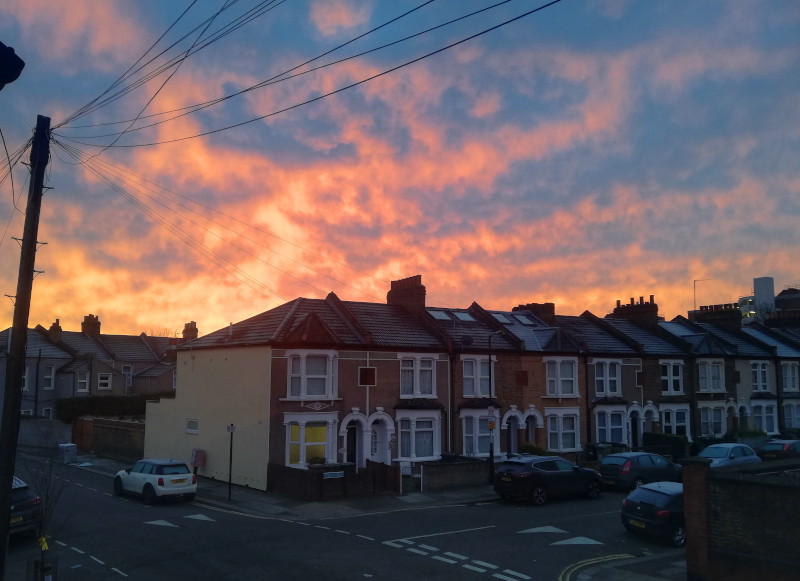 This was how the sky looked at 7.47am. The old weather saying "red sky in the morning, shepherds warning" seems to apply strongly here. It doesn't actually signify snow, but what we see here is the leading edge of the cloud that could bring rain, sleet, snow, or just dull overcast weather. One thing is for certain, if it should start to snow soon it will be falling on frosty ground, and none will be wasted by melting as soon as it hits the ground. With a maximum temperature currently predicted to be no more than 2° C today, any snow will be melting quite slowly. The latest revision to the forecast predicts heavy snow at 10am, light snowfall at 11am and midday, sleet at 1pm, and finally, light snow at 2pm. It is starting to look like an anti-climax. Tomorrow is currently forecast to be a completely sunny day, but the temperature will start below zero, and only climb to a maximum of 4° C.
Not a lot happened yesterday. If I had known that it would be bright and sunny from late morning onwards, I might have got myself in the mood to go out, but the heavy morning cloud did the exact opposite. It made me think along the lines of "batten down the hatches, and weather the storm", or something like that. It meant there was not a lot to write about until it came to the evening, my sleep, and my thoughts this morning (very biassed towards snow) in
my full archive page for today
.