08:11 BST

Yesterday was the final sunny day in a string of sunny of sunny days, and it was like the best was saved for last. Maybe I only say that after looking at the start of today. Anyway, there was non stop sunshine from dawn to dusk, and the afternoon temperature reached a nice warm feeling 17° C. The only problem is that the sky stayed clear beyond the end of the day, and by 11pm the temperature had fallen to 9° C, and continued to fall.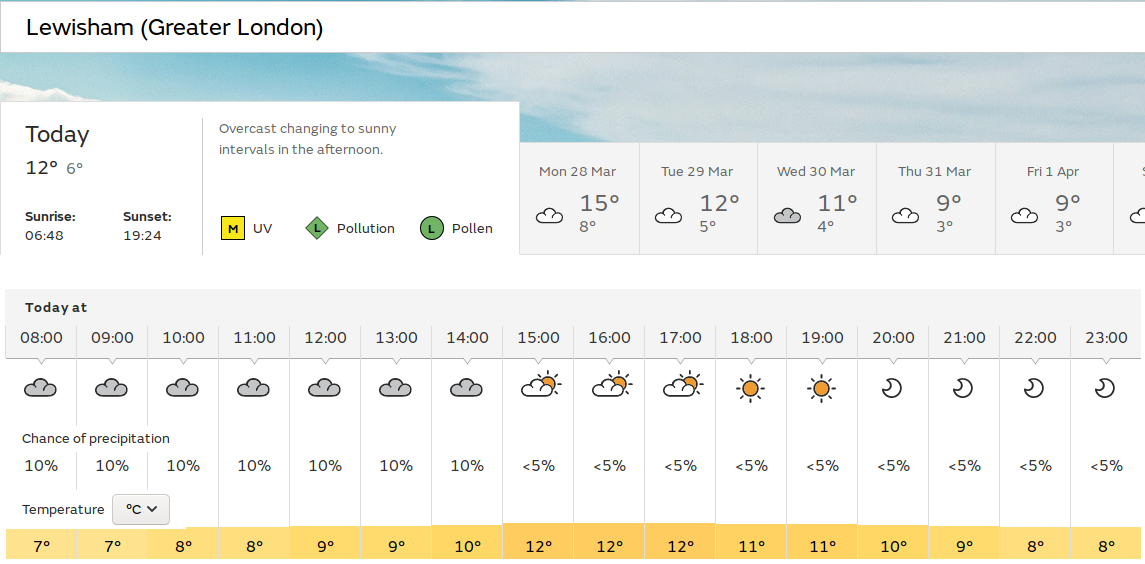 Maybe the temperature only fell to 6 or 7° C this morning, but the dark and gloomy sky make it feel even colder. Earlier forecasts for this morning predicted mist or fog. This morning's early forecast said not even mist, and yet it is misty, and it is condensing into dew fast enough to make it seem like there is a very fine drizzle out there (enough to make it a waste of time to water the flower beds last night). This misery may continue until 3pm when the sun may break through to give some sunny spells, and raise the temperature to 12° C. 6 and 7pm could feature full sunshine. The current prediction for tomorrow is for 3 hours of fog followed by three hours of mist. The middle of the day could feature 2 hours of sunny spells, but then white cloud will fill the sky. The only good thing is that the temperature in the afternoon could be 15° C.

In the early hours of this morning, 1am to be precise, the clocks changed to British Summer Time. It meant getting up an hour earlier - according to my mechanical clock, which I haven't changed to BST yet, it is only 7.25am as I write this, although my computer correctly says it is 8.25am. As a consequence I feel tired, but there are other reasons for that, and I'll come to those later. Those reasons, plus a description of what I was up to yesterday, with pictures, plus my evening, night, and thoughts this morning, can be read in
my full archived page for today
.