This morning has started off very dull and gloomy, but according to the latest revision there is still hope that it should brighten up sooner or later. In fact the latest revision has moved the start of the non stop sunshine to 10am. As I look out the window I find it hard to believe, but even the BBC weather forecast is predicting sunny spells by 9am (half an hours time as I write this). Unfortunately they also predict there will only be sunny spells instead of non stop sunshine today. The afternoon temperature should reach 22° C (or 23° C if you believe the BBC). Tomorrow may still reach 21° C, but it is forecast to be dull, but dry all day. After that the next few days may well feature rain, and by the end of the month the daytime temperature may be down to just 16 or 17° C.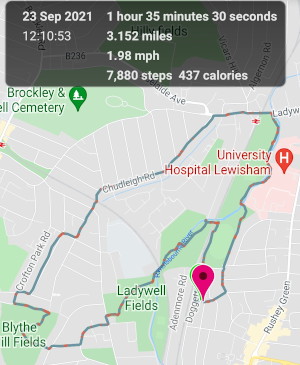 I felt semi-good yesterday morning - in so much as nothing ached beyond a mild background level. That made it easy to imagine doing all sorts of stuff. The reality was more having to force myself into the right frame of mind to make some sort of start in making imagination reality.
Yesterday morning's glorious sunshine really called out for a nice walk - and that is what I did, and on the whole it was nice. More than a modicum of madness was involved to consider walking to the top of Blythe Hill for my first semi-long walk since late June ! I guess it was interesting to see what fitness I had retained, and what I had lost. I must admit it was hard work walking to the top of Blythe Hill, and I had to stop for 10 to 30 seconds a few times to get my breath back.
I thought this walk, after so many weeks of comparative inactivity, was worth keeping the map, and the part description. I would normally not include these things in the précis that links to the full story. The full story of the day, my night, my first observations this morning, plus quite a few pictures, can be seen/read on
my full archive page for today
.